WAITING FOR TOMMY: RICHARD EMMS OF AP COMICS
By Richard Johnston
JOHNSTON: Okay, okay, we'll wait till November for the big reveal. Remake the comics industry in your own image. How would it look?
EMMS: I think that the industry has got to take a look of the stores that sell comics. Run-down, dark and lifeless. Most of the shops are really not a type of shop you'd feel welcome in for the very first time. Retailers only have one interest --- and that's to pocket every penny that goes through their tills. Have they ever heard of refurbishment? Bright lighting? Mr. Sheen? Most of the shops I've been into certainly haven't.
I really believe that in the next 10 years comic shops will start to suffer because of this. Book shops will be the place to buy comics... Places like Borders! Which, incidentally, stock all of APC's titles! And they have a really cool Starbucks cafe in each store! So you can buy your comics, get a coffee and a sandwich and spend an hour or so chilling out reading your purchases! Now that is my type of store!
JOHNSTON: Referencing some comments made by Bryan Talbot in a recent Waiting For Tommy, ever been to Page 45 in Nottingham?
EMMS: Yeah! Page 45 is what I see comic stores becoming. If shops don't grow with the market they will be left behind. TPB + GN sales are booming, in fact we've just sold 1200 copies of the Monster Club TPB.
JOHNSTON: Do you see the original graphic novel replacing the monthly/bi-monthly floppy comic? How long before APC moves over?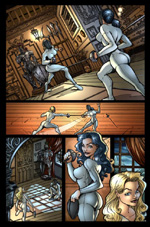 EMMS: TPB and GN's will, I think, replace the regular comic book. There will be fans out there who will want to buy the regular comics --- but it will diminish eventually. Comics have a shelf life of, say, 2 months maximum with TPB and GNs... well, take Preacher and Sandman for instance.
JOHNSTON: When will APC make the jump?
EMMS: When the market dictates such a jump.
JOHNSTON: Pretty much what the majors have been doing. Thank you, Richard, I guess we'll all be paying close attention to what November brings.
More details on AP Comics can be found here. Rich Johnston writes Lying In The Gutters every Monday. Ish.
The Waiting For Tommy Archive