WAITING FOR TOMMY: RICHARD EMMS OF AP COMICS

By Richard Johnston
Richard Emms is director of AP Comics. Just another self-publisher, with a few vanity projects clogging space in Previews. Hardly. APC has a line of stylish, flash, colour titles, featuring the kind of material one used to associate with the likes of Wildstorm. Young, hip and full of pizzazz. The production qualities are high, the material 'uncomplex', but tapping youth culture. AP will not be to the taste of most comic book readers, whether Marvel zombies, Vertigo ghouls of Fantagraphics fanboys. They publish mainstream material. The kind of books that have more in common with Charmed or Smallville, with manga-influenced art styles and attitudes. Nothing too clever, nothing too edgy or challenging, but the kind of material and storytelling skills that could tap into a huge market. given the chance. And AP Comics may be about to get that chance.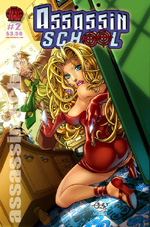 Among the books they publish are Darkham Vale, Monster Club, both light-hearted looks at the darkness. Think Buffy meets Gen13. Then there's the upcoming Digital Graffiti, with some stunning Adam Hughes-meets-Travis Charest explorations of youth culture. There's Slaughter, a disturbing and degraded aristocratic drama. Assassin School, Alias meets Saved by The Bell. Next year sees Kid Bonzai And The Bot, a kind of sci-fi Calvin and Hobbes. And then there's Ruy Jose and Joe Bennett's Neutral World.
So how come these colourful, bright and snazzy comics have passed so many by? Richard Emms took time out for Waiting For Tommy.
RICHARD JOHNSTON: You're publishing a line of colour comics, attracting an audience, with rather fashionable material, and have been doing so regularly for quite a while now. How come we've never really heard of you?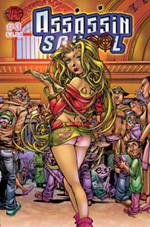 RICHARD EMMS: We're not Crossgen. We can't afford millions of dollars on advertising - or we'd be dead within a day! So we produce great looking comics with great production values... the rest is up to the readers and the shops to take the gamble and try us out!
Comic fans will hear a lot more from us in the future... as we've got something massive for Monster Club - and it'll be the first of its kind for the UK and especially an indie publisher!!! I can't say any more - but watch this space around November for the announcement!
JOHNSTON: Any hints you can drop?
EMMS: NOPE! But all I can say is that it is very exciting for the UK comic scene and it could make us a household name very quickly!