WAITING FOR TOMMY 3
Hi people. Rich Johnston here, from the gossip column Lying In The Gutters to spread a few bits and pieces with my fellow Dynamic Forces patrons. This week, still undiscouraged by Mike Carlin's rejection of my Plasticman proposal, I decided I needed a more mature level of editor to review my work. So what better person to pitch to than Karen Berger. So mature and level headed she, that I have yet to receive a response. Still, I expect one any day now. Maybe this column will help nudge a few grey cells.

SHITE
As part of the upcoming Vertigo Vanity imprint-within-an-imprint-within-an-imprint, Shite is a creator-owned series about an Englishman called Colin Shite. Shite is many things, a street level magician, a noisy journalist, the last man on Earth who still likes Morrissey and a living allegory for at least seven of Aesop's fables (although they won't be revealed for at least twenty issues). I haven't quite worked out what the comic is going to be about, but there will be a lot of walking around and then sitting in pubs making pointed remarks.
Shite is not so much written as cobbled together from many of my columns, recognised as award winning by the seventeen people who voted in the Usenet Squiddy Awards. Which means it probably won't be late for at least the first couple of years.
I intend to use Shite to launch a career away from comics, which frankly take too much of my time and leave me trapped in Forbidden Planet signings. I will however grace your convention presence every now and then with a sneer. And as I've been a reader of Vertigo titles for ten years, I believe that you owe me a series. Or I'll tell The Comics Journal on you.
I expect a response any day.
Talking of DC/Vertigo Y: The Last Man is their new headline title, right? Until Shite comes along anyway. The new Swamp Thing/Sandman/Transmetropolitan/100 Bullets, right? Well not everyone thinks so. Especially not one chap on eBay who decided to sell off the top half of the first issue that he'd ripped in twain. Here's the listing visual.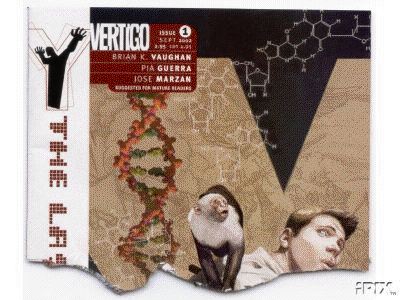 The Last Half Of A Man
I understand that writer Brian Vaughan had "words" with the seller in question and the auction was soon ended. See it here while it still stands.