WAITING FOR TOMMY: RICHARD EMMS OF AP COMICS
By Richard Johnston
JOHNSTON: Manga and manga-inspired comics seem to be all the rage right now. Especially in US bookstores. Do you feel there's a danger of a glut being reached anytime soon?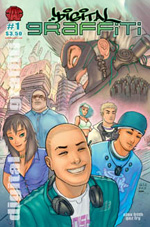 EMMS: Already has... to be quite honest. But we don't only do "manga-esque" books. We have two new books planned for early 2004 - one of which is "animation-esque" the other is more like what Image would put out!
JOHNSTON: Hey, DC are about to hire a manga editor. Do you not see any kind of, well maybe not "house style" but trend in the type of material AP produces? Maybe more of a brand?
EMMS: Mmmm... house style. If people want to connect us to an animation-manga-style then that is cool! It's great to hear that DC has employed a manga editor and Marvel has its new range of manga-style comics - although I'd like to refer them to "animation" style. Manga, to me, means Japanese creators working in the US industry. After all, the majority of Japanese creators were influence by Disney and the Fleisher Bros.
JOHNSTON: Pedantic spoilsport. Oh all right, I'll give you that. So. What is missing from comics that you think AP adds?
EMMS: Shiny staples! Nah! Seriously... we add to the market by giving kids and unknown creators a chance to shine! Already two of our artists have already been approached by "big named" publishers... and if they go to work for them - then they have our blessing! (as long as they finish off the books with us first!!). It's all about everyone getting a fair chance to be part of this industry.
JOHNSTON: Well, that's where Image is heading right now it seems... certainly the AP books have the kind of pizzazz you'd expect from Image - certainly shiny, bright and glittery. The kind of thing DC bought Wildstorm for. Ahem. How important do you feel that appeal is to your success?
EMMS: Appeal to the masses, obviously means success. It's just a shame that Diamond's Previews magazine doesn't list all publishers alphabetically; as we'd sell at least five times the amount we are selling now! Sales are good, though - so I'm not complaining. I really do believe that the majority of our titles are far better than the stuff Image is putting out at the moment. Hopefully our advert we placed in the current Previews mag - should be the start of much higher orders.