WAITING FOR TOMMY: RICHARD EMMS OF AP COMICS
By Richard Johnston
JOHNSTON: It seems a bad time for smaller publishers right now - a lot of problems with bookstores, cash-flow going wrong, and the feeling that we might get a few more collapses without having the benefit of a boom first. What are AP's chances?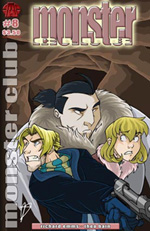 EMMS: APC's chances are good. In fact very good. Yes, the market is quite bad for small press... but we put ourselves higher than your average small press publisher. I know that sounds big-headed - but we do have something that most other publishers don't have... which is linked to what we are going to announce come the end of this year!
The shops that have pushed and promoted our books are selling good numbers... like anywhere between 20 and 50 copies of each book. If every shop around the world did that - we'd be driving around in brand-new BMW's.
JOHNSTON: If every shop did that you'd own the world. iIm presuming you mean comic shop... 8-). Still, butchers in Northampton used to sell copies of Big Numbers... I digress. So what are we looking at? Infusion of capital? Merger/buyout from a major publisher? A big licence? Getting Jim Lee as an exclusive creator? Am I getting close?
EMMS: We've started to try and push our books into stores that haven't seen them yet. It's really funny that when we went to Bristol, this year, the local FP hadn't even heard of APC and had never seen our titles in the raw. But they did purchase a large box of our titles and the sales, they say, are good. So, what we are doing is giving away 200 copies of each book to DCD accounts who don't order our titles. If every store order, say, five copies then that would be great. I think we're worthy of 5 copies per store in the UK.
We've also have the chance of getting APC's titles through WH Smiths. We had a meeting last year and they wanted to take our titles. But, as yet, we've been a bit busy to actually plan ahead for the Smith's shops. But exciting nevertheless.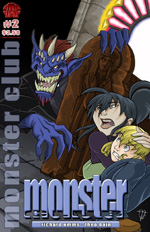 JOHNSTON: A few publishers have come quite a cropper over returnablility on newsstands. Do you think you'd have a better chance?
EMMS: Newsstand is a tough one to crack. We could afford (and I've done the math) to take a return of up to 70% - which would make us as much money as we do out of any title at the moment. So above those figure it would be a tremendous achievement and would see us through any bad patches. I think we've got a fair chance to break newsstand, as there's not a lot of comics out there in newsagents that appeal to a wider audience. 2000AD has its core readers and probably the best we've got on the newsstand, Beano and Dandy have such a great history and titles like Commando and the "soccer" titles have a limited readership.