WAITING FOR TOMMY: RICHARD EMMS OF AP COMICS
By Richard Johnston
JOHNSTON: Bought out by DC? Movie deal? Microsoft? Rupert Murdoch? The Catholic Church? You've have been allied with that other fairly successful British indie publisher, Com.X on occasion. They've managed to get mainstream attention... and seen all their creators stolen by the majors. You're not playing stealthy on purpose are you? What have you learned from Com.X?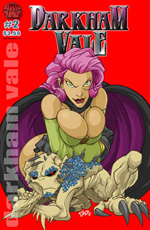 EMMS: The affiliation with com.x goes back to when I was running my own store. The guys approached me to do some sales for them to other stores - which I did, as I thought that Com.x's titles were far the best I've seen from any UK publisher. It sort of grew from there. I have a lot of respect for the guys and I think they deserve a lot more than the "slagging off" that they have received from this industry. You have to feel sorry for them as you could say that things haven't run totally smoothly over the past 2/3 years. What I have learnt from Com.x is; contract your artists so they finish a series. Yes, you are liable for paying them, but that comes with believing in what you are doing. Get stuff out on time! Every reader and every store hates late books. Yes, we're late with Monster Club--- but that was because of a change in artist. In fact, Diamond Comics even applauded us for getting another artist on board within two weeks of Kit (Wallis) leaving. The whole industry is a learning curve and every day is different. I have stepped down from Com.x as, a few months ago, I did my back in and I was out of action for 2 weeks, thus the work piling up on top. I'm still in contact with the guys as we use the same printers for all of our books. There's no rivalry between us... and when we meet up it's a case of what each other is doing
JOHNSTON: So what goes where? Which APC books do you see appealing to which kind of people?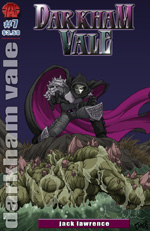 EMMS: It's hard to actually put an age group on our titles - but we do aim for the adolescent age category. I would say that Assassin School is for teenagers, Monster Club for the same age group and Darkham Vale for every age (as it is so cool!). The new titles we are releasing will appeal to every age group... we feel that we've got to be a little more commercial to really make a go of what we're doing. Digital Graffiti is going stun a lot of comic fans - it is awesome. Gez (the artist) is a great talent. We've already printed Digital Graffiti #1 - and it will be on sale at the Comics 2003 Update show in London in November. We hoping to have Slaughter #1 and Neutral World #1 (Joe Bennett's title) ready as well... but the deadline is quite tight!
JOHNSTON: The absorption of simple surface elements of East Asian cartoon art, manga, into US and UK comics is a betrayal of the work that inspired it. Discuss, in relation to AP Comics' output.
EMMS: Don't care! We're just here to make great comics for a new generation of comic fans. If it means getting little Johnny through that comic shop door - to buy our comics - then we've done our job! We're also trying to keep those fans happy who have been collecting for years... but it's hard to break into that market - as DC and Marvel have it "in the bag" already!