WAITING FOR TOMMY

By Richard Johnston
THE POSTMAN ALWAYS KNOCKS TWICE. BEFORE BENDING YOUR COMIC IN HALF AND SHOVING IT THROUGH THE LETTERBOX.
My feet are sore and all because of comics. But is it part of some global conspiracy? Let's find out.
I've just got back from the Bristol comics convention. The new Alan Moore: Portrait Of An Extraordinary Gentleman graphic anthology is out. Heavy. Did a Live-Ing In The Gutters panel, to much acclaim, got given a couple of hardcover freebies from grateful viewers. Thump. Then there was that Viz Comic hardcover, The Dog's Bollocks for only 2.99. Whack. Saw grown men brought to tears by the very presence of Jim Lee. Bought the two Luther Arkwright volumes from Bryan Talbot. Crash. And realised that fans are generally far cooler and more interesting than the people they're fans of. So I added the free Sandman Companion they were giving away at the door.
By this stage, I was starting to get a little weighed down. And that was before I added the rest of the goodie bags, the samples and the free stuff publishers wanting to get plugs were heaping upon me. And I can never say no to a freebie.
Now, any decent sized convention sees you walking back and forth between panels, to dealers to venues, all day long. Part of the process. And any smaller convention (like Bristol) seems to try to replicate that by spreading itself out over different venues.
And your feet suffer.
It's not the distance per se, more like the ton of comics you've got on your shoulder at the same time. I mean, this is good exercise, sure, I managed to lose a kilo. And lets face it, there are many people at comic conventions who could use a few shedded pounds here and there. Usually there. But the fact that you didn't sleep last night, because you were listening to John McCrea tell filthy jokes till dawn, your head is still fogged from trying to drink along with Andy Diggle when, let's face it, you'd rather be at home with a Lemsip, can make the whole experience a chore. Yet you end up loving it, even if it means expensive chiropractic surgery on your return home.
I think there's only one explanation. Comic conventions are trying to train us all to be postmen.
Think about it, ludicrously different sleeping schedule, carrying metric tonnes of pulped wood up and down, up and down, with a cheery smile on our face and an inner sense that we're actually lucky to be there. Whistling even. We go to table, clip through boxes, next table, more boxes, then half way across town to hear a publisher read aloud from their Previews entry, then back across town to watch a couple of fans ask questions to a comic book pros that belie their inner seething jealously. To anyone else, this kind of thing would be boringly hellish. Yet we do it, because we want to.
Some time ago, the post office system must have looked at all those subscriptions they were sending out to kids in the second class post. Children who were quite willingly paying good money for the privilege of having mind-numbing superhero twaddle delivered to their door. And some clever executive, realising that these weak-willed individuals could be manipulated for evil, took note of all their names and addresses.
And through the years, these people were monitored. Nurtured. Loved. The post office then developed a high class training facility based around their comic books. Post office managers bought up thousands of back issues, raising the prices, creating a collectors market and fuelling the rush to conventions. They took a few of their backroom boys who were handy writing the old address labels, McFarlane, Lee and Liefeld, then let them loose in the comics industry.
Between them, they managed to get high profile artist work on Marvel's top titles. But they were working for a higher purpose and, while recruiting their peers to their devious cause, they broke away from Marvel, creating their own publisher and fuelling the collector boom through the roof.
More people went to comic conventions to get more comics signed, bought more comics and slogged round that convention room like hunchbacks. Whistling.
This spilled over into comic shops, collectors buying multiple copies of their favourite book and then trudging home, crippling their own spines, but keeping the spines of their comics in mint condition. X-Men, Avengers, Spawn, Youngblood, Savage Dragon, Danger Girl, Tomb Raider, whatever it took.
And when the bubble burst, and the collections were worth more as pulp than bagged and boarded, they found themselves penniless, with a mountain of debt and no recognisable job qualifications.
Except to be postmen.
Quickly the executives acted, swooping on conventions, shops, marts, anywhere these Quasimodos of the Mylar congregate, pleading, trying to offload their life's longboxes.
A quick flash of the razzle dazzle glamourous life of the postie, an assortment of slides featuring bored housewives and a promise of access to Superman postage stamps was all it took for these feral fanboys to smarten up to the merely slovenly requirement of the postal services.
Don't believe me? Sometimes their smile cracks, sometimes their sheen fades, sometimes they break down on the doorstep, sobbing into the cracks and requiring expensive postal psychiatric help. And sometimes they take a gun to their workmates, their customers, anyone who's passing. They go postal, taking out ten, twenty at a time. It's an unfortunate side effect, but the savings in training still make it a cost efficient form of recruitment. Just make sure that when you see a postman, walk into a Post Office, you never, ever say the word "Deathmate".
And the project continues. Oh, it's not so high profile as it used to be, there seems to be a bit of a postman glut. But they keep it ticking over, you never know when a postman shortage might strike.
And then they'll be ready. And then they'll come down amongst us. And then we few, we lucky few will be chosen.
We will all be postmen.
This is me at the Bristol comics convention, not being a postman but certainly delivering the goods to these lucky ladies. That's right, sometimes you all wish you were me. I rock.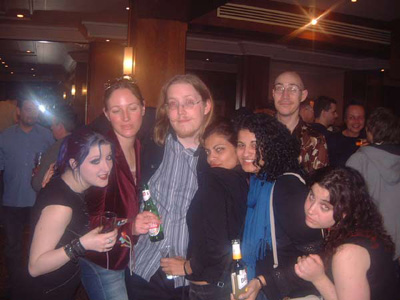 I've been asked to interview Jim Starlin for Dynamic Forces, as part of their promotion for re-mastering and printing the first 12 issues of Dreadstar in one volume. It all looks rather spiffy. My Starlin experiences aren't as full as I'd like, so unless I get some decent research in, it could start badly.
"So, how do you spell your name? What do you do around here? Can you get me some coffee?"
Look forward to it in an upcoming Waiting For Tommy.
Rich Johnston writes Lying In The Gutters every Monday.
The Waiting For Tommy Archive