WAITING FOR TOMMY - DAN FRAGA
By Richard Johnston
Before Dan Fraga, a special word…
Evan Dorkin writes to clarify a moment from last week's Kyle Baker's interview:
"For the record, I never sold off any art Kyle drew for me. I sold exactly one piece on e-bay (which was listed twice), a section of a Legion of Superheroes piece that Kyle did for a DC Who's Who project. Otherwise, I have kept everything from my past friendship with Kyle; comic pages, birthday cards, drawings. To tell Kyle that I'm "selling off" his art, some of which he'd know to be of a personal nature -- is simple untrue and possibly hurtful. I know that I'd feel lousy if I heard that Kyle was dumping the art that he had of mine."
The column regrets the error, the misleading impression given, and any misrepresentation of the situation.
Dan Fraga is a peculiar chap. He kind of pops-up on projects unexpectedly. One of Rob Liefeld's boys, he's had quite a success on working on a number of projects, high-profile and otherwise, for a number of publishers. Some, the company's best known characters, others unknowns. So why does he do what he does?
RICHARD JOHNSTON: Your journey into comics seems to have been a tempestuous one. A young creator, picked by Rob Liefeld to put out some of his many, many titles. Do you think you had too much too soon, and do you have any regrets over how you entered the industry?
DAN FRAGA: Rich, this is a very observant question. One that I've asked myself a few times. I'm gonna be long-winded, I apologize.
RICHARD: No, no. I like long-winded.
DAN: When I was 13 I decided I wanted to be a comic book artist. 1986 was the year and Dark Knight was the book. I know that I don't have to elaborate, because so many people feel the way I do about the Dark Knight.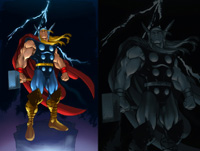 In 1988 I got to see my first comic convention. It was Wonder-Con #2. I got to meet so many creators at that show. Arthur Adams, Bob Shreck, Larry Marder, Michael Kaluta, Sergio Aragones , Erik Larsen, and Ron Lim... it was amazing. It was at that show that I was certain that I wanted to draw comics. In 1988 I made my first zine, it was called ChessKnight Views. It featured an interview with the great Carl Potts. That interview is still one of the best pieces of advice for aspiring comic book artists. Carl knows his stuff.
In 1989 I went to another convention where I met Rob Liefeld for the first time. The dude was really cool. He was one of the few creators who really seemed to care when he gave you a critique of your work. He'd suggest books and artists and was really specific with his advice. I found that to be very encouraging and refreshing. Most of the time I'd show my work and get replies from the editor that sounded exactly the same as the one he gave the ten guys who showed their work before me. Rob's advice was really tailored for the person he was critiquing. I was a really grateful for his time and for his attention to my work. My buddy Mike, who went to the show with me, bought a sketch from Rob that was drawn on the back of his personal stationary. It had Rob's number and address on it. I took that opportunity and called Rob that following week to thank him for his time. He was gracious and took my call and was really cool about a stranger calling his house. I started sending him more of my pages and drawings as I'd get them done. I'd send a fax daily when I was on lunch break in high school. I was a pest. Seriously. That's when I got to meet Marat Mychaels. He was Rob's assistant at the time. Marat and I became friends over the phone and used to talk shop all of the time. We were about the craft. Every aspect of it. It was a really cool time to be into comics. The time before Image Comics happened. 1991, I had just graduated from High School and I was walking into the new exhibition hall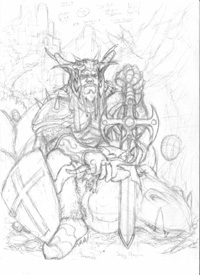 for the San Diego Comic-Con. T2 opened that weekend. Man, it was cool. I ran into Rob and Marat and they had told me how they were going to start a comic studio and wanted to tell me about it. This was the first time I had heard about what would later become Extreme Studios. This wasn't the only excited news that I had heard at that show. I had done samples for the show and I had shown them to DC comics editors Neil Pozner and Brian Augustyn. They were so pleased with the samples that they gave me a tryout story. It was the one they gave to guys that showed potential, the JLA carnival story. I sent in my pages and I hadn't heard anything back. I was a little discouraged but I still kept plugging away and inquiring with both DC and Rob about a job. In February of 1992 I got that break. I was asked if I would be willing to relocate and join the newly formed Extreme Studios. It was a dream come true. I was there to see Image Comics birth. I relocated in March of 1992 and I moved into the loft space on top of Comicmania, a local comic book store. The owner, Jon Beck, was pals with Rob, and did Rob a favor by letting me live there. The way I paid for my stay was by working in the store. No money, just a roof. The way I ate was to play basketball for money. There was a basketball hoop in the back of the store warehouse. I would make wagers with some of the customers. I would tell them that if they beat me, I would draw them a picture of anything the wanted, and if I won, I'd get five bucks. The customers were really nice. Even when I lost, some would still give me five dollars. Many times, the guys at the studio would buy me lunch if it was a place I couldn't afford. I lived in a loft of a comic book store with no running hot water and about 5 dollars to my name on some days. It was a really trying time. Less that a year from that time, I was signing autographs and making stupid money. A really giant shift of lifestyle. I can honestly say that I was jaded at that point. It left as quick as it came. You should never pay someone what you think they deserve, pay them what they will accept. This sounds harsh, but it's the truth. Rob paid us all too much, gave us all too much, and made too many promises. There wasn't anywhere to go but down. And down it went.
Pages: 1 | 2 | 3 Continued Here...