Daily Special for 02/23/2018

RUN THEM JEWELS FAST FRIDAY!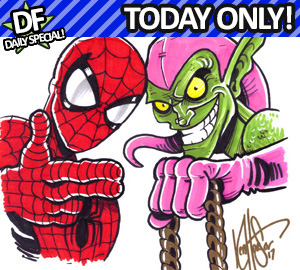 HURRY! - WE ONLY HAVE 5 LEFT!

RUN THEM JEWELS FAST FRIDAY!
Price: $64.20
Shipping: In-Stock!
HEY KIDS, it's FRIDAY and with the success of the BLACK PANTHER movie hitting silver screens last week, we figured the most appropriate thing to do today is RUN THE JEWELS with SPIDER-MAN and GREEN GOBLIN!!! RTJ's LEGEND HAS IT was featured in the BLACK PANTHER trailer and we've got another RUN THE JEWELS/MARVEL COMICS mash-up for you today!!! Now EVERYBODY STAY CALM because you too can own this masterpiece gem TODAY!!! You'll be the coolest kid on the block with this work of art and all your friends will be saying OH MAMA how can I get my hands on that!?!?!? LEGEND HAS IT that the first and now infamous RUN THE JOULES sketch featuring SPIDER-MAN and ELECTRO by KEN HAESER was an electrifying smash hit, so why can't the GREEN GOBLIN get in on some of that RTJ action? This ULTRA-LIMITED hand-drawn FULL-COLOR sketch will be topped with Ken's signature in GOLD INK and available today alongside TWO BONUS COMICS!!! 1 SIGNED SPIDEY COMIC & 1 LIMITED EDITION VARIANT SPIDEY COMIC!!! All for the event price of $64.20 in mash-up honor of the first appearance of THE GREEN GOBLIN in The Amazing Spider-Man #14 (July 1964) along with Killer Mike's birthday (4/20/75)!!! Get yours if you're DOWN and STAY GOLD!!! Hurry!!! Only 7 lucky sets are available today!!! In stock and ready to ship!!!

* SUPERIOR SPIDER-MAN #27.NOW BLANK VARIANT WITH A RUN THE JEWELS SKETCH FT SPIDER-MAN AND GREEN GOBLIN AND SIGNED IN GOLD BY KEN HAESER!!! (Regular MSRP $114.20)

* BONUS SIGNED SPIDER-MAN COMIC!!!

* BONUS LIMITED EDITION OR VARIANT SPIDER-MAN COMIC!!!


DF Daily Specials are our way of saying an extra special thanks to our customers! Each and every day, look for a brand new item or package at a special price that is good for ONE DAY ONLY! Wholesale/Dealer orders will not receive an additional discount. Limited sets are available and items are good for only one customer/household and sold first-come, first-served. When they're gone — they're GONE!