Daily Special for 09/23/2018

SILVER SYMBIOTE SUNDAY! HAS SOLD OUT!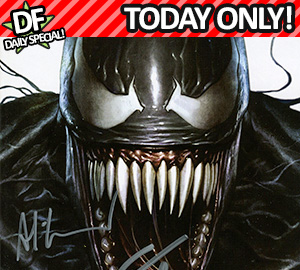 SORRY, BUT TODAY'S DAILY SPECIAL
HAS SOLD OUT!
WE WILL RETURN AT NOON WITH ANOTHER DF SPECIAL!
SILVER SYMBIOTE SUNDAY!
Price: $30.00
Shipping: In-Stock!
It's Sunday and for today's DF Daily Special, we're offering a SUPER COLLECTIBLE DOUBLE SIGNED GEM!!! This rare COMIC SKETCH ART exclusive VENOM #1 VARIANT by ADI GRANOV will be signed in SYMBIOTE SILVER by both ADI GRANOV and DONNY CATES!!! In the spirit of TWO we're pairing this sweet signed signed comic with a rare SPIDEY UNIVERSE retailer incentive or exclusive comic!!! Get both today for the low, LOW EVENT PRICE of $30.00 in honor of the first appearance of VENOM in AMAZING SPIDER-MAN #300 (May 1988)!!! In stock and ready to ship!!!

* VENOM #1 COMIC SKETCH ART RETAILER EXCLUSIVE VARIANT BY ADI GRANOV DOUBLE SIGNED BY ADI GRANOV AND DONNY CATES!!! (Regular MSRP of $99.99)

* BONUS SPIDEY UNIVERSE RETAILER INCENTIVE OR EXCLUSIVE VARIANT COMIC!!! (Regular MSRP of $19.99 or higher!)

* Please note, bonus items are chosen at random, multiple orders may receive duplicate books.


DF Daily Specials are our way of saying an extra special thanks to our customers! Each and every day, look for a brand new item or package at a special price that is good for ONE DAY ONLY! Wholesale/Dealer orders will not receive an additional discount. Limited sets are available and items are good for only one customer/household and sold first-come, first-served. When they're gone — they're GONE!