Daily Special for 12/10/2017

STAN WARS SUNDAY!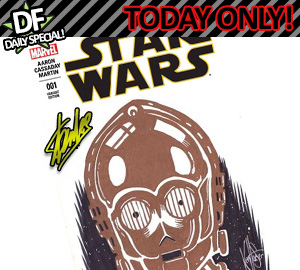 HURRY! - WE ONLY HAVE 4 LEFT!

STAN WARS SUNDAY!
Price: $525.77
Shipping: December, 2017
STAR WARS THE LAST JEDI hits the silver screen in just FIVE DAYS so we're offering a rare ENCORE of one of the most unique items we've ever offered!!! STAR WARS #1 SIGNED BY STAN "THE MAN" LEE with a FULL COLOR SKETCH of the STAR WARS character of YOUR CHOICE!!! That's right!!! YOU, THE FAN, gets to choose!!! This RARE issue will feature the STAR WARS character of YOUR choosing!!! These original works of art are being offered for one day only for the DF Daily Special Price of $525.77 celebrating the release of STAR WARS back on May 25th 1977!!! Only FIVE are available TODAY, so do not delay!

* STAR WARS #1 BLANK VARIANT SIGNED BY STAN "THE MAN" LEE AND REMARKED BY KEN HEASER WITH A FULL COLOR SKETCH STAR WARS CHARACTER OF YOUR CHOICE!!! (Regular MSRP $999.99)

* Here's how to order: Make your request on the "Notes" field located on the order form for proper tracking. If you want a random Star Wars character, leave the "Notes" field blank and we will select one for you. Only one character selection per book is permitted. E-mails with character requests or adjustments are not accepted, so please select carefully before placing your order.


DF Daily Specials are our way of saying an extra special thanks to our customers! Each and every day, look for a brand new item or package at a special price that is good for ONE DAY ONLY! Wholesale/Dealer orders will not receive an additional discount. Limited sets are available and items are good for only one customer/household and sold first-come, first-served. When they're gone — they're GONE!