Daily Special for 05/20/2022

FORCE FRIDAY!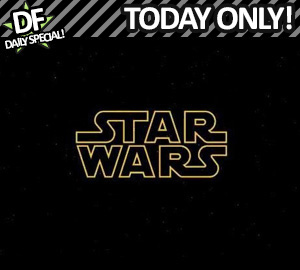 HURRY! - WE ONLY HAVE 3 LEFT!

FORCE FRIDAY!
Price: $77.77
Shipping: In-Stock!
It's FRIDAY and we're using THE FORCE today!!! Star Wars returning to Marvel has been one of the biggest success stories in modern comics and this weekend we're celebrating!!! We could not possibly be more excited!!! In honor of this most monumental event, we're offering an out of this world mix of STELLAR STAR WARS COMICS!!! ULTRA-LIMITED signed editions!!! RARE variant covers!!! First, you'll receive not one, but TWO randomly chosen signed STAR WARS comics!!! One from the SILVER SIGNATURE SERIES and one from the GOLD ELITE EDITION SIGNATURE SERIES!!! And the fun doesn't stop there!!! Next, you'll receive FIVE randomly chosen rare and out of print STAR WARS comics including limited edition variants, FOIL editions, and more!!! This is one STAR WARS deal that can't be beat! Combined regular MSRP $89.99, available today only for $77.77! Get yours now before it's too late! Only 7 sets are available for today's special!

* 2 RANDOMLY CHOSEN ULTRA-LIMITED SIGNATURE SERIES SIGNED STAR WARS COMICS!!! ONE SILVER AND ONE GOLD!!! (Combined regular MSRP over $150!!!)

* 5 RANDOMLY CHOSEN OUT OF PRINT STAR WARS COMICS INCLUDING RARE LIMITED VARIANTS! (Combined regular MSRP over $50!!!)

* Please note: Multiple orders may receive duplicate books.


DF Daily Specials are our way of saying an extra special thanks to our customers! Each and every day, look for a brand new item or package at a special price that is good for ONE DAY ONLY! Wholesale/Dealer orders will not receive an additional discount. Limited sets are available and items are good for only one customer/household and sold first-come, first-served. When they're gone — they're GONE!