WAITING FOR TOMMY: TED ADAMS

By Richard Johnston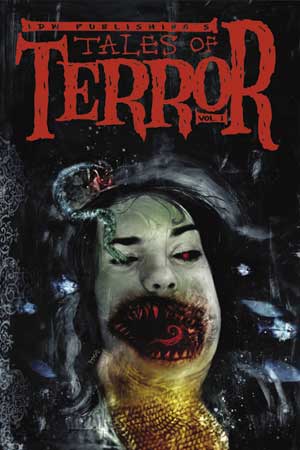 RICH: Someone has to be.
TED: July sees the release of our first comic based on Fox's 24. It also the launch month for Ben Templesmith's Singularity Seven (which I think will do for science fiction comics what 30 Days of Night did for horror comics) and Kevin Munroe's Olympus Heights (a terrific adventure comic that features the return of Zeus). We're also releasing 2nd printings of Steve's Savage Membrane and Guns, Drugs, & Monsters novels.
In August we've got the start of our next CSI Vegas mini-series, subtitled Dominoes. New titles include CVO: Human Touch and Steve's Secret Skull (an incredible take on the pulp stores of the past). August also brings the collection of our red hot title Silent Hill. We literally couldn't keep the Silent Hill comics in print. Every time I'd do another printing, they'd sell out.
September sees the launch of Metal Gear Solid -- based on Konami's incredibly popular video game. At E3 this year, the creator of MGS, Mr. Kojima, allowed us to sit in on some of his press meetings. As a result, we've got incredible support from the media that covers video games. This comic is going to be covered like no video game comic has ever been before. I'm talking about multi-page, full-page previews in all of the major magazines. There are literally going to be millions of hardcore MGS fans clamoring for it -- this should be our biggest book of the year. The art Ash has done is incredible -- later this month we're releasing a full-color ashcan to retailers, along with a large POP poster. I'm really keeping my fingers crossed that our retailers are paying attention to this one. The demand is going to be huge.
September will also see the launch of 2 horror anthologies from us -- the first is a 48-page comic with all the stories written by Steve Niles and with art by Josh Medors, Ben Templesmith, and Chee. The other is IDW's Tales of Terror, a 96-page hardcover featuring all-new stories set in the words of 30 Days of Night, Wynonna Earp, Wake the Dead, CVO, and Singularity 7.
We've also got some great projects lined up for later this year and next, including the return of John Ostrander and Timothy Truman's Grimjack, a CSI: New York mini-series written by Max Allan Collins, a new Desperadoes mini-series from Jeff Mariotte, a Silent Hill one-shot, and a bunch of other things that I can't announce yet, including several projects with Steve that are going to be some of the best books we've ever done.
RICH: I think that's what you call a comprehensive plug. Thanks Ted!
Ted Adams is the publisher of ID+W (hurrah! victory for the plus sign). Rich Johnston write Lying In The Gutters and Holed Up.
The Waiting For Tommy Archive