WAITING FOR TOMMY: JASON LIEBIG
By Richard Johnston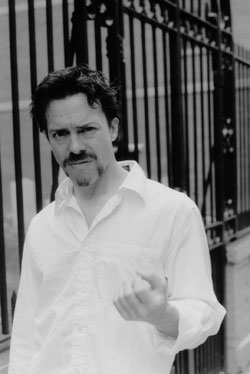 I'm proud of Counter-X. Calling Warren Ellis for Counter-X was my idea, and I received nothing but support from Bob Harras and Mark Powers once I decided it's what I was doing. If you weren't liking what Warren was writing at the time, you probably weren't reading it. And although Warren had a disdain for superheroes, he understood them, and how to make them relevant. Counter-X had its problems, I'll admit, but look no further than X-Man for the clearest vision of what I wanted to see for those titles. Counter-X was an idea whose time had come, and I think the X-Men group later took on that idea with books like Allred's X-Force and Morrison's New X-Men. I'm sure I'll get slapped for this, but THOSE could have been Counter-X books... ;-)
And to be really gushy, I'm proud to have worked with the people I did. Bob Harras and Mark Powers first and foremost, but there were so many others. Tim Townsend, Joe Harris, Whilce Portacio, Jim Mahfood... Steven Grant, Richard Starkings, Chris Lichtner (and too many other creators to mention), all of editorial, really., and on and on.
Working at Marvel was a gift to me, and I felt fortunate that I got to spend a single day there, let alone four-and-a-half years. I was proud to work on the X-Men, too. Byrne and Claremont turned a little failing comic title into a phenomenon, and a franchise. I got to ride that phenomenon, and it provided for me the chance to work with people I idolized and the chance to see new talent come up (like Lenil Yu and Jose Ladronn, to name two.) I LOVED IT, and I'm so proud of my time there.
RICHARD: Do you have any judgment on New Marvel today? Has anything you feared come to fruition? And what might that hold for the future?
JASON: Judgement on New Marvel? I love the covers... and if I was spending my money and time on comics, I'll bet I'd be enjoying what Marvel is doing. But I don't buy them. My discretionary income goes elsewhere. From what little I DO see and hear, they certainly seem to be the kinds of books that I'd like. If I were reading comics. I think dropping the comics code was a great idea, and the fact that there were no negative ramifications surprised me. So I think that's great. Opening Marvel up to the kinds of creators they have is a great move. It's nice to see that happening, and have happened.
As for the Ultimates, I never was much for them. It is so Bill Jemas' pet project. I'd seen re-doing Stan & Jack stories with Heroes Reborn, and this just seemed like another crack at that. But it sounds as if they're quite successful, so what do I know? Clearly if the president has moderately good ideas, and puts every resource of the company behind them, it can work. And that's clearly what's happened. But is anybody out there suffering for it? I dunno. I'd probably enjoy those books, too, IF I were reading them. I just remember them supposedly being created so that Marvel would have "new-reader-friendly" books. Is that what they are? Somehow I doubt it, really. They appear to just be good books for the relatively staid direct market. As for what I feared? Well, before I was let go from Marvel I insisted that all of these books and approaches that we were taking were not going to "save" comics. I always thought we needed to get kids. Yes, this IS obvious, but I was clear that I wasn't interested in, or had the skills needed, to get those kids, or to make those comics to get them. What I feared then stands now: I don't think anyone up there has the least idea of how to get new readers. That's too bad. But for a 35 year-old comic fan, they're doing some cool stuff.
One comment on ORIGIN (the "origin" of Wolverine). When this was first proposed, I couldn't have been any LESS interested in it. My response to ORIGIN was "Why?" I said that I would much rather have seen the ORIGIN of the NEXT Wolverine; meaning, I'd like to see some exciting NEW characters. Somehow it's still not happening, at least as far as I know. Allred's X-Force book, excluded, as I believe those are all nifty new characters (can you tell I'm a fan of Mike's work?) Creating a NEW character that was even half as exciting as Wolverine would have been truly extraordinary. It hasn't happened. So you ultimately have a lot of "looking back" at the characters that already exist. A necessary part of moving Marvel forward, to be sure. But so would creating lots of new characters.
RICHARD: What are you up to now? Can you ever see a return for yourself to the comics industry?
JASON: These days I'm an actor in New York City. I also tend bar when acting isn't enough to pay my rent, which it often isn't. I occasionally take a crack at writing, which, and any of the writers who worked for me can verify this, was never my strong suit. But I manage to put pen to paper. Writing is just damned hard work, and I respect writers a great deal. Even the ones who, when I was working in comics, got off saying I should be dead. But they were just being idiots.
As for returning to the comic industry, I can't imagine I'd ever return to the business. I still have a wealth of friends in comics, and I still love the craft of it, but what would I do if I went back? Edit Batman? First off, I couldn't GET THAT job if I begged for it, and I don't think it'd be that interesting to me, anyway, I've already worked on the X-Men, so anything else would probably feel small. What I'm saying is, I still love the business, but I loved high school too, and I don't want to go back there.
But I'd sweep floors before I'd go hungry, so never say never!
Jason Liebig no longer works in comics. Rich Johnston writes Lying In The Gutters apart from the next two weeks when he's in South Africa!
Pages: 1 | 2 | 3 | 4 | 5 | 6 | 7
The Waiting For Tommy Archive