WAITING FOR TOMMY: RETURN TO SPECULATION

By Richard Johnston
LONG TERM
John Byrne's Lab Rats. No don't laugh. With the lowest print run a John Byrne book has had in decades, his continual presence in the industry, especially True Brit and Generations, make these instantly collectibles. especially if you can find them in quarter bins, you might be able to quadruple your money!
Agent X. Gail Simone is one of the industry's most prominent "newcomers". And those Agent X issues are going for quarters again. Now there's Udon art in there, something that might become very popular indeed, and if Gail takes advantage of the respect she's gaining as a writer within companies and in the fanbase, people might start thinking that she's British. Take a gross of Agent X, Deadpools, maybe even Gus Beezer's off your retailers hands for as little as you can get away with and sit on them.
Antony Johnston's going the same way, Snap up Three Days In Europe for pennies if you can, even first prints of Rosemary's Backpack. The latter looks set to storm through the libraries as a result of recommendations, and his connections to Alan Moore at Avatar can only help the attention given to his upcoming graphic novels.
AVOID
1602 has been oh-so-slightly over-ordered. The trade will pop the rest of interest, despite being Neil Gaiman and Andy Kubert, the market seems to have judged well, and demand has been supplied. You might make a dollar over cover price after a short while, but the risks are too large. Avoid.
Supreme Power. There's a lot of heat about this book. which is why there are orders of over 100,000 for a mature readers title. Demand has been satisfied, it may go up by a dollar, but there should be plenty to go around.
And also avoid anything I say. Hell, if I was this confident, I'd be putting all my money in speculation. But I'm not, mine's in property. If it all goes tits up, I've got a house. If it all goes wrong for you, then you've got hundreds of copies of an identical comic. There are only so many you can read before your brain melts.
So, there you go. A few little thoughts on how to make some Christmas money. Naturally comic prices can go down as well as up. The only intrinsic value of a comic book is in the reading of it. Still, there's no law against parting a fool with his money.
Just, you know, watch out for when the mobsters come round with threats.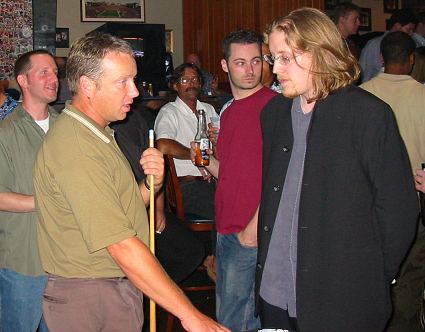 WAITING FOR TOMMY INTERVIEWS ON THE WAY: Bryan Talbot, Pete Hogan. and Jason Liebig. Who you ask? How soon ye forget. Rich Johnston writes Lying In The Gutters
The Waiting For Tommy Archive