WAITING FOR TOMMY - DAN FRAGA

By Richard Johnston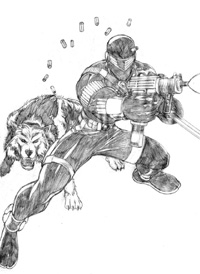 RICHARD: Will we be able to see those unpublished issues? Where should we be looking for your new work?
DAN: I sure hope so. There is an issue of Weapon X and an issue of Superman. I'm not sure which Superman, though.
My newest work can be seen in a book called 365, an anthology book, and the upcoming CBLDF charity book.
I'm currently working with Anthony Bozzi on our project called Darwin Lightwing. I'm not sure when we plan to publish it, but I know I'm having a good time.
RICHARD: There are some who might seek to spoil that. Recently, one of the Team Red Star creators identified Gear Station as a reason why Red Star initially failed to gain retailer interest - burnt once on CGI background projects with Gear Station, they were unwilling to try another. What's your reaction to that?
DAN: I sent Goss a letter about how I feel on this subject. I don't think it's a fair representation to say that Red Star failed to achieve numbers because I tried CGI unsuccessfully in Gear Station. Why would you put all of your eggs in that your book uses CGI? They were unknowns doing a book about Cold War Russia. The Red Star team wanted Gear Station numbers and they didn't get them. I had my pals doing covers for me. It was an unfair comparison. Why post blame on the CGI of someone else's book? If he really believes his statement, he shouldn't have marketed his book as a CGI book. His book was a success because it was a good book. Red Star was great. In Goss' column, he suggests that it's because The Gear Station was so bad. Man, get a grip. Goss is talented and should focus on that.
RICHARD: So how do you use computers and computer design in your current work? What lessons did you learn from Gear Station?
DAN: I use computers mostly for color work or for animation/ video projects. I still break out my washes and paint for learning. When doing jobs, I find that computers are less messy, they're faster, and computers have the all-valuable undo key. I see the computer as another tool in my art bin.
I learned quite a few lessons from The Gear Station. I learned to not unveil something that wasn't ready to be seen. I had a vision of what I wanted and was excited about it, but I didn't have the full knowledge to pull it off successfully. I don't regret any of it. I learned priceless lessons from my mistakes.
Another lesson I learned was similar to the CGI mistake, but had nothing to do with the CGI. The lesson learned was to think my ideas out and learn how to present them clearer. I still believe that Gear Station has many great concepts and ideas in it. I know that I didn't present them in a just fashion. I didn't and still don't know how to write with proper structure. I've been reading books on writing.
Most of the mistakes that they warn you about in those books are mistakes that I made. Life is a journey. I'm still learning.
Dan Fraga's work can be found here, Rich Johnston writes Lying In The Gutters .
The Waiting For Tommy Archive