And now, the bad. And how.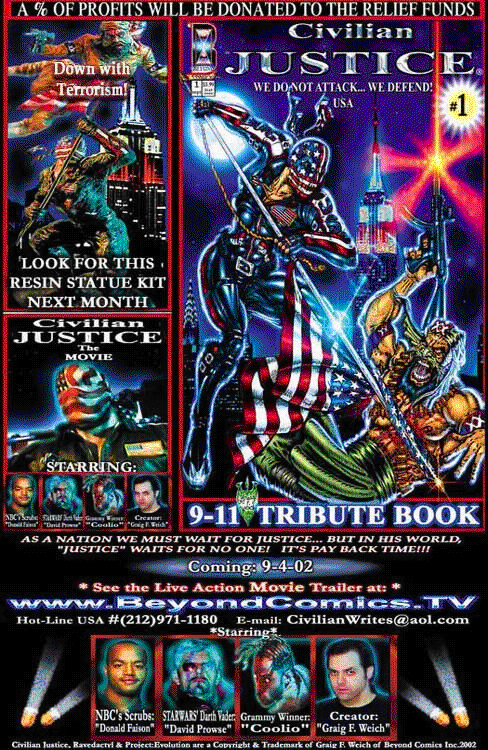 Click for a larger image...
Run, run, run for the hills…
Civilian Justice 1 by Graig F Weich, from Beyond Comics. At last the industry has a new scorn-figure to replace Rob Liefeld. This is a very bad comic in so many ways. Where, oh where to start.
The production values are high, which makes this so much more fun to poke at. Very glossy pages full of the very best of "When Colourists Attack", overbearing colours and effects throughout.
How about a quote? Maybe something from the overbearing narrative forced on art that can't hold it. "the information landed me smack in the middle of an FBI "crime scene". Thank capitalism for internet "spy stories" and overnight delivery - on time once again thanks to good old American resolve." I haven't quite worked out what it means, but one thing's for sure, this is serious. It's not a joke.
This is a story about a chap whose family are policemen and firefighters, whose girlfriend is killed in the 9/11 attack and who changes his ways to become a vigilante tracking down al Qaeda across the USA, dressed in the flag and wielding… well… a flag. Which when spun can deflect machine gun fire. Somehow. And becomes a handy spear for Arab terrorists to jump on (see the statue you can buy!).
Queasy yet? More to come. How about when Civilian Justice attacks the main baddie of the piece, screaming "Take off that turban you piece of sh!*. It represents something to the real Muslims. How dare you deface their religion with your twisted sense of raucousness." Okay, twisted raucousness aside, turbans mean more to Sikhs than Muslims. And anyway, the guy isn't actually wearing a turban.
But there's no sense in applying logic here. After all, this is a comic where FBI agents where short skirts and shirts that show off their erect nipples beneath. All good stuff. More quotes I hear you cry?
"The even eerier symphony of shrieking screams". I love a good shrieking scream myself. "This country is in need of a radical terrorectomy and I volunteer to be the scalpel."
"This one was not so forthcoming with his answers - a clear sign of guilt". Ah yes, the good old 'guilty until proved innocent' schtick again. However, you're meant to be agreeing here.
And the master villain's master plan… ready folks? "Yes, all is going to plan. Let these terrorists sue the name of Allah and an innocent religion to create hate and havoc in our lovely world, making me more money everyday." You see? The World Trade Center attack was just some version of the old Make Money Fast scam.
There's much, much more here and you will all have your favourites (possibly the Marvel Comics approved photo meeting between Civilian Justice and Captain America? The total homoeroticism of the Civilian Justice costume? How about the ridiculous mask label?). You must go out and buy this comic, read it, enjoy it, love it. because only then will we get a chance to read issue 2, a "mind blowing sequel with many new and disturbing twists that no one could imagine".
Buy it people. It's our only hope.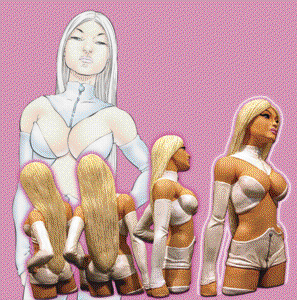 I'd enter that through the eye of a needle
I'd also like to raise a large cheer to Dynamic Forces for their White Queen Camel Toe Bust. This statue modelled on Frank Quitely's portrayal of the Emma Frost character in New X-Men has broken new grounds in displaying the power of cloth to adhere to vaginal walls whenever certain conditions apply.
Still waiting. But not for long.
The Waiting For Tommy Archive