Time to announce the launch of American Art Idol! And you don't even have to be American!

I've had a project filling my head for a small time and now it's ready to be shared. Called 1602, it's a superhero story set in Medieval Italy. Which, yes, means extensive artistic research. Anyone fancy the challenge? All participants will be seen here, and if anyone's up for it, here's your first page of script. Who's up for it?

1602

PAGE ONE

Four thin widescreen panels going down the page, the last being larger.

PANEL 1:

17th century Italy, countryside, night time, the horizon, we can almost all sky, a little bit of horizon.

CAPTION: It's how every idea starts.

PANEL 2:

Same scene, slightly lower down, we can see more land. There is a small shooting star seen in the top right hand corner.

CAPTION: A flash, a spark, a light going on somewhere.

PANEL 3:

Same scene lower down. The shooting star is bigger now, centre panel. There are two figures standing in the foreground, but currently we can only see one. The father, a well dressed man for the times, his younger son is standing next to him below the panel border, they Are standing here, looking at the sky.

SON (OFF): Father! Is it an angel?

PANEL 4:

We can now see both of them, as the land takes up most of the panel. The star is now at the left of the panel, bigger, about to hit the horizon. The father smacks his son, a bald headed boy, across the head.

FATHER: Foolish child. Naught but metal and stone or such.

FATHER: Nothing more.

SON: Y... yes, father…


And finally, from the Todd McFarlane/Neil Gaiman trial,
I bring you a shot of the all-female jury.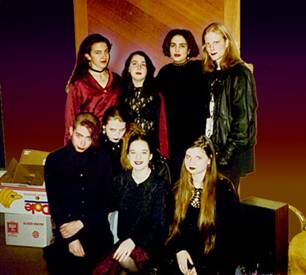 It's going to be a tight run thing isn't it?
I understand a Waiting For Tommy message board has started. Do my job for me and bring me amusing visuals, eBay auctions, stories about Tom Baker, whatever!


The Waiting For Tommy Archive