CULLEN BUNN

SEND THIS TO A FRIEND!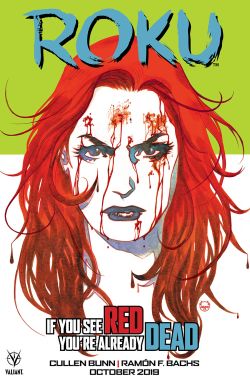 DF Interview: Cullen Bunn gives Ninjak foe her first solo series in 'Roku'
By Byron Brewer
How many lives must a lethal assassin take in her first series? Killing her way around the globe, the deadly weapon called Roku will face a challenge she can't simply execute. Being bad has never been so fun.
Ninjak's old foe gets her own solo 4-issue limited series from writer Cullen Bunn and artist Ramón F. Bachs this October. It pits Angelina Alcott (Roku) against a moral conundrum when her mercenary attitude is challenged by the dark underbelly of the Valiant Universe.
DF wanted the lowdown on this new LS, so we chatted with scribe Cullen Bunn.
Dynamic Forces: Cullen, with this limited series on Roku, you really entrench yourself in the Valiant Universe. Describe for readers your perceptions of the "dark underbelly of the Valiant Universe, a corner of the world populated by powerful criminal organizations," [your quote] that you hope to showcase here.
Cullen Bunn: With this book, I wanted to introduce this idea of a criminal underworld that showcases both a unified group as well as numerous groups that are competing with one another on various levels. There's an entire world to be explored, and tons of new characters—especially villains! I wanted to whet the appetites of readers, introduce them to new characters that they'll long to see in other books and learn more about.


DF: Give us your take, if you will, on Valiant's villainous redhead.
Cullen Bunn: Roku is a no-nonsense killer. She's one of the deadliest assassins in the world. She's a psychic ninja with telekinetic blade hair. How fun is that? She's also a character who, whether she'll admit it or not, is haunted because she has no memory of her past.


DF: What can you tell us about the storyline of this 4-issue limited series?
Cullen Bunn: This story moves at a breakneck pace. We're going to see Roku in action—a lot. The focus of this story is a "weapon" that numerous criminal organizations want to obtain. Roku is hired to retrieve it first. But the asset in question opens up a number of interesting possibilities for Roku. And every criminal outfit has skin in the game.


DF: Can you clue us in to some of the criminal outfits you may be introducing here? Their makeup, goals, etc.
Cullen Bunn: One group in particular will prove interesting to readers. It is a shadow council of criminals who hires Roku from time to time. They only work through an intermediary. And they pay very well for their privacy.


DF: Can you tell readers anything about the asset that mercenary Roku is attempting to retrieve?
Cullen Bunn: I don't want to spoil too much about this. Like Roku, the readers will have to discover the secrets of this asset over the course of the series.
DF: Who will these greedy dark forces be sending against Roku to stymie her success at retrieval? Will there be some new foes? Some familiar VU faces?
Cullen Bunn: We'll be seeing a number of characters who are new to the Valiant Universe. As with the criminal outfits, I wanted to create some heroes and villains who might show up in other books and in other situations down the line. A couple in particular will cause Roku some hassle. Ember-1 is a superspy who seems to have worked with Roku in the past. So, she knows more about Roku than Roku knows herself. Another, the Minister of Blades, will be a very, very nasty adversary for Roku. His name hints at his own special abilities.
DF: How does it feel being reteamed with artist Ramón F. Bachs?
Cullen Bunn: I love working with Ramón, and I love the fun and excitement he brings to this book. I couldn't ask for a better partner in crime.


DF: Cullen, what else is spinning out of the Cullenverse for our readers in the near-future that you can confirm?
Cullen Bunn: I'm always cooking up a bunch of new creator-owned projects, but I'm also working on something new for Valiant. I can't say much about it, but it's going to be awesome.
Dynamic Forces would like to thank Cullen Bunn for taking time out of his busy schedule to answer our questions. Roku #1 from Valiant Entertainment hits stores Oct. 30th!
For more news and up-to-date announcements, join us here at Dynamic Forces, www.dynamicforces.com/htmlfiles/, "LIKE" us on Facebook, www.facebook.com/dynamicforcesinc, and follow us on Twitter, www.twitter.com/dynamicforces.
ABSOLUTE CARNAGE: SCREAM #1 SIGNED BY CULLEN BUNN DUAL PACK!
ABSOLUTE CARNAGE: SCREAM #1 SIGNED BY CULLEN BUNN!
MOON KNIGHT ANNUAL #1 SIGNED BY CULLEN BUNN DUAL PACK!
MOON KNIGHT ANNUAL #1 SIGNED BY CULLEN BUNN!
VAMPIRELLA VS. REANIMATOR #1 ATLAS EDITION - SIGNED BY CULLEN BUNN
DEADPOOL: SPECIAL MISSIONS #1 SIGNED BY CULLEN BUNN
VAMPIRELLA VS. REANIMATOR TRADE PAPERBACK
PUMPKINHEAD VOL. 1: SINS REVISITED TRADE PAPERBACK
---
NEW! 1. 11/25/2020 - STEVE SKROCE
4. 11/16/2020 - RYAN O'SULLIVAN
5. 11/16/2020 - RYAN O'SULLIVAN