A portal to ideaspace! The bastards!!
If anyone else is attempting a 24 hour comic, my advice to you - get a good comfortable place to sit, have a 24 hour osteopath on hand, and don't draw with a slice of pizza in your hand. And if someone does decide to put The Iron Giant on DVD, let them.
In the UK, currently, the media has been obsessed with the disappearance of
two ten year old girls. Their mutilated bodies were found, and a couple were
arrested. The initial hearing had the defendant Maxine Carr, a teaching
assistant, appearing in court through a television link. Not uncommon,
especially with the crowd outside baying for blood.
Photography and filming is very restricted in the UK, though courtroom
drawings are permitted. Here is the court artist's impression of Maxine's
appearance.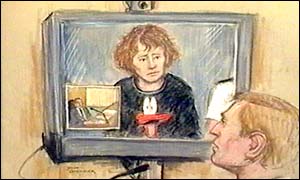 Picture the scene. You're being charged with the murder of a young girl in a
case that's received maximum publicity. What do *you* choose to wear on the
morning of your appearance. As your head is bowed through testimony, you are
quiet, afraid, and unsure. Your top however is grinning a big beaky grin and
its eyes are screaming "Thuckering Thuckertash!!!"
You have to wonder.

Goodness me, how contentious.
To see my completed work, click here. To see the run down of the day, click here. To see the genius that is Al Davison's 24 hour comic from a few years ago, click here.
I think everyone in that little flat in Tooting, London want to kill Al Davison with spanners.
And yes, I know, we're still waiting for Tommy. Until then, I'm offloading all this bollocks here