Antony Hopkins, a proud standing Welshman - sorry, American.
I've just finished a 24 hour comic. The 24 Hour Comic challenge was started by Scott McCloud http://www.scottMcCloud.com - you must, over a 24 hour period, create a comic book totalling 24 pages from scratch. Writing, drawing, lettering, the lot. No preparation beforehand is allowed. Creators such as Dave Sim, Neil Gaiman, Erik Larsen and Rick Vietch have risen to the challenge as well as a bunch of comic book amateurs. This weekend, the comic critique website Ninth Art requested volunteers to take part in a social gathering with that very purpose.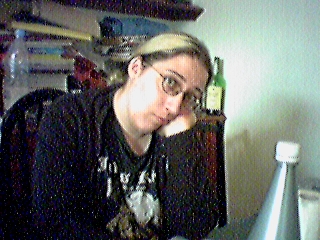 The rot sets in early.
It was a long stretch, strained in parts and with backaches all round. Some people bunked off to sleep, others hobbled round the flat gibbering. I gained the ire of most everyone by being fast - my aim was to try and do a page in every 45 minutes, gaining some time to sleep as we went. It worked and I kept everyone else awake and working with my snores. Every email we received, each comment on the John Byrne Message Board, each pizza donation through PayPal ($60 worth!!!) was gratefully received and helped morale even more than Natalie's Chocolate Truffle Roulade, and small press publisher Adrian Brown turning up to cook us all a fried breakfast in the morning. These are the things that keep a 24 Hour comic going through the time period.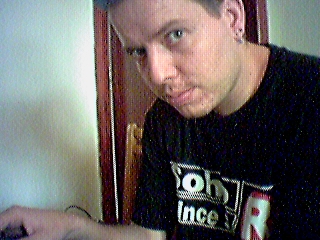 We're all going to die.
My finished piece, Soulless was ripped from two of the day's headlines, the announcement of a McAfrica burger in Norway, timed to coincide (but not to raise money for) the southern African famine, and a discussion piece about whether '9-11' could be treated as a brand. Working in advertising for a living, a fake advert was the easy way in to portray a bunch of creeps working in the industry without any morals at all. But by the fourth page I liked them even less than the audience probably did, so I blew them up and see where it took me. Apparently into the idea space of Alistair and Naalie, sitting close to me and already working on a story about angels and God. Still, they got their own back, one if their characters became an advertising executive. Funny thing, ideaspace.