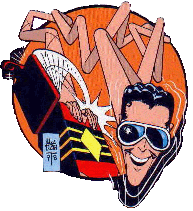 Father to us all
Tom Baker is known, affectionately, in the voiceover industry as an 'ad slag'. The former Doctor Who star is known for doing anything for anyone if you've got the spondoolicks. Which, for his rich, velvet and furthermore trustworthy tone, people are happy to cough up. Any Doctor Who stalker worth his salt should consider camping out at Charing Cross Road station in London - most days Baker will walk up to the Soho studios from there.
Anyway, during one run of voiceovers, Tom is asked to read a script for an agricultural fair radio ad. Happily trousering the cash, Tom takes to the mike, script in hand and starts bellowing out
"We've got everything from harvesters to hedging, tractors to tarpaulin, barns to."
Except that Tom, decides to pronounce tarpaulin as, well, 'tarplin'. All emphasis on the 'tar' and not the 'paul'. This is swiftly brought to Tom's attention, who then dictates that this is how the word tarpaulin is pronounced, no he won't change it, no he doesn't care how much they're paying him, he's not going to murder the Queen's English for some grubby little farmyard advert. No he won't say it just in case. No he won't say it for level. No.
"For the last time, it's fucking 'tarplin', I am only saying fucking 'tarplin', I am not going to say fucking  'tar-*paul*-in'". In front of a microphone. Cut, paste, job done, everyone can go home.
More Tom Baker advertising experiences nest week.
Now.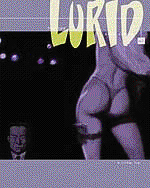 Lurid is a new comic from Paul Lee and Adam Huntley, published through IDW.
There's been a lot of fuss from IDW over the last few months. This small publisher has caught a fair few people on the hop it seems. Originally known (if known be the right word) for putting out Ashley Wood's very occasional Popbot, they've recently diversified into publishing a bunch of diverse, high profile books that retailers are rapidly clambering to reorder - if they ordered them in the first place that is.
Steve Niles' 30 Days And Nights has had the highest profile, after a Hollywood deal was announced just after issue 1 shipped, leading to a mad frenzy for more issues and a hurried second printing. Recently they've announced a comic based on the CSI TV series. That surprised a lot of people.
With more Niles/Wood projects coming out such as Savage Membrane and Guns, Drugs And Monsters, this ex-Spawn team are rapidly building a brand of comics that's still fairly under much of the industry's rader. When it hits, it's going to hit big. Following the AiT/Planet Lar model, they're also collecting Image series that Image refused to collect,. Such as the Wyonna Earp miniseries by Beau Smith, Joyce Chin and Pat Lee. Familiar names there...
So now we come to Lurid. With no familiar names at all, at least there's a blurred image of the back of a fairly naked girl to attract attention. And Lurid it is, this is not a new story or concept being explored here, it's a stripper story, filled with landlord who wants sex for the rent, bitchy co-workers, a manager who just doesn't understand and mundane bickering between the cast. The storytelling is pedestrian, the art a kind of sub-David Lapham mix with some interesting use of music effects as background decoration.
But there's also a fantastic bait and switch with a Japanese businessman and a naļve Japanese newcomer that kicks off a subplot that drives the main plot rather than running alongside it, some offbeat and unusual relationships and a genuine sense of place. In some places you can even smell the semen dribbling down these guys trouser legs. Or maybe that was just my copy - I wonder what the guys at Gosh Comics (Great Russell Street, London) were doing with it before I slapped down my cash?
Anyway, Lurid is a pretty fine comic that overcomes its own limitations and delivers some remarkable moments. This is a small comic hiding inside a small publishers line hiding inside Previews. Somewhere. Hardly anyone will have picked up on this comic, and that's a shame because it does a lot of new things here, well, and the industry should be looking.
Hell, there's even some breasts scattered throughout. Some of them are even pert.

Pages: Last Page | 1 | 2 | 3 | 4 | Next Page