DARK CRISIS ON INFINITE EARTHS #2 SECOND PRINTING VARIANT SIGNED BY JOSHUA WILLIAMSON!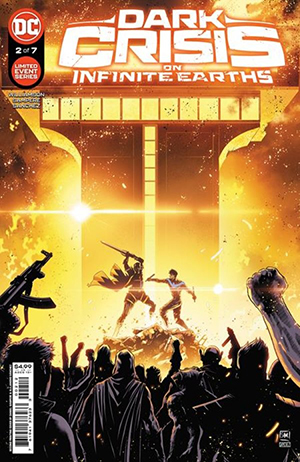 PRICE:
$19.85 MSRP: $49.99 YOU SAVE 60%
Offered at the dynamic price of $19.85 for a limited time!!! Returns to regular MSRP of $49.99 soon!!!!! CHAPTER TWO: FALL OF THE TITANS. THE HOUSE OF NIGHTWING BURNS! As the good people of the world mourn the loss of the Justice League, the forces of evil have seized the opportunity to wreak havoc in a world without its heroes! Leading the charge is a super-powered Slade Wilson...but this time there's something dark fueling his rage. With a massive army laying siege to Titans Tower, only Nightwing will have what it takes to stand in the way of Deathstroke's forces-but is this a fight Dick Grayson can win? Look, up in the sky-reinforcements are on the way! It's a bird! It's a plane! It's...uh-oh...it's Cyborg Superman. The world burns as Pariah and the Great Darkness make their play for planet Earth in this jaw-dropping second issue!