STAN LEE'S HOW TO DRAW COMICS LIMITED EDITION TRADE PAPERBACK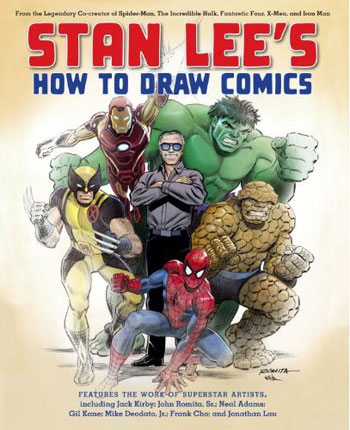 PRICE:
$24.99
Stan Lee's How to Draw Comics: From the Legendary Co-Creator of Spider-Man, The Incredible Hulk, Fantastic Four, X-Men, and Iron Man

Rating: All Ages
Cover: John Romita
Writer: Stan Lee
Artists: John Romita, Jack Kirby, Neal Adams, Gil Kane, Frank Cho, Jonthan Lau and many more!
Genre: Art
Publication Date: December, 2010
Format: Trade Paperback
Page Count: 224
Dimensions: Approx. 10.6 x 8.6 x 0.6 inches
ISBN: 978-0823000838
In Stan Lee's How to Draw Comics, Stan Lee sets out to teach everything he knows about drawing and comic book characters, The book focuses primarily on action-adventure comics, but will touch upon other genres and styles, such as romance, humor, horror, and the widely influential manga style. From producing concepts and character sketches to laying out the final page of art, the man with no peer?Stan Lee?is the ultimate guide to the world of creating comics.