RED SONJA #3 - FIERY RED FOIL COVER BY MEL RUBI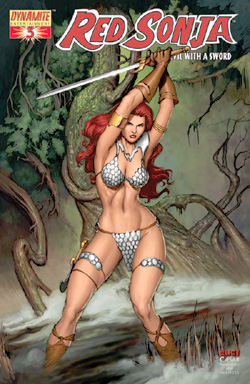 PRICE:


$19.95
Based on the Heroine created by Robert E. Howard
Michael Avon Oeming and Mike Carey (co-Writers); Mel Rubi (Artist); Ceasar Rodriguez with Richard Isanove (Colorists); Cover artists (Shipping in Equal Ration): Gabrielle Dell'Otto John Romita Sr. Michael William Kaluta Mel Rubi (wrap-around) and; Ultra Limited Cover (1-in-50) by Neal Adams.

The return of Red Sonja continues!

When we left the deadliest warrior of the Hyborean Age in issue #2 thinks seemed bleak and in the opening of issue #3 they go from BAD to WORSE. As Sonja heads back to Gathia to confront the King she takes on a group of wary allies and in the end a traitor will be revealed and an army raised against her!

Writers Michael Avon Oeming Mike Carey Artists Mel Rubi Ceasar Rodriguez and Richard Isanove are joined by a 5-Star line-up of cover artists including (Shipping in Equal Ratio): the legendary John Romita Sr. the incredible Adam Hughes the fantastic Michael William Kaluta the incomparable Mel Rubi (wrap-around) and SUPER-HOT PAINTER Gabrielle (SECRET WAR) Dell'Otto; Plus an Ultra Limited Cover (1-in-50) by another living legend - Neal Adams!