BERNIE WRIGHTSON TRIBUTE PROJECT TO INCLUDE LEE, MIGNOLA, BISSETTE, BRADSTREET AND MORE
07/08/17 @ 4:04 pm EST
Source:
Bleeding Cool
| Categories:
MIsc
|
Comments
(0) |
E-mail Article
|
Add a Comment
Steve Wyatt, a retailer, con-promoter, artist and president of C.A.P.S. (Comic Art Professional Society), is putting together a tribute to Bernie Wrightson.
The idea is to put together a high quality coffee table book featuring some of the top names in the comic industry. You'd see a piece of art by that artist on one side and the other would have their picture and how Bernie was an influence to them. Some of the artists already on board are: Jim Lee, Mike Mignola, Stephen Bissette, Tim Bradstreet, James O'Barr, Simon Bisley, Richard Corben, Mike Kaluta, Frank Cho, Dan Brereton, and Bill Morrison who offered their assistance from the beginning. The forward is to be written by Steve Niles.
The book will be called
Nightmares & Dreams; Inspired by Bernie Wrightson
.
They're looking to have 100 artists in the book, and while they've already got some big names and received some images… they are still looking for more artists to contribute. They're wish list is over three pages long and includes some amazing names including writers to do written tributes. There are plans for a special edition of the book featuring the signatures of all the artists participating as well as signed prints. These will be used as rewards for the upcoming Kickstarter project.
And after the book is ready, they will be auctioning off the original art with 100% of the proceeds net of the art and book going to Bernie's wife Liz Wrightson. The idea is to not only help alleviate the strain from Bernie's medical bills, but also to help Liz keep the legacy of Bernie alive.
The Book: It will be published and distributed by IDW. There will be both a Hardcover for the Kickstarter and a Softcover to be sold thru stores and distributed thru Diamond and IDW. It will be published in a 8 1/2 X 11 vertical format. Each piece of art will be printed on the right page with a picture of the artist and the inspiration/text from the artist under the picture. Thru IDW we also have permission from DC & Dan DiDio to use their properties in the art.
If you are a comic professional and were influenced by the amazing work of Bernie Wrightson, they are still looking for more artists.
AMAZON SHARES FIRST FOOTAGE OF FALLOUT SERIES
12/02/23 @ 1:29 pm EST
Source:
YouTube
|
Comments
(0) |
E-mail Article
|
Add a Comment
We got our first look at the Amazon Prime series
Fallout
during the series' panel Saturday at CCXP in São Paulo, Brazil. Based on the video game series of the same name,
Fallout
is the story of haves and have-nots in a world in which there's almost nothing left to have. Two-hundred years after the apocalypse, the gentle denizens of luxury fallout shelters are forced to return to the irradiated hellscape their ancestors left behind—and are shocked to discover an incredibly complex, gleefully weird, and highly violent universe waiting for them. The cast is led by
Ella Purnell
as Lucy,
Aaron Moten
as Maximus,
Walton Goggins
as The Ghoul, and
Kyle MacLachlan
as Overseer Hank. The cast includes
Moisés Arias, Sarita Choudhury, Michael Emerson, Leslie Uggams, Frances Turner, Dave Register, Zach Cherry, Johnny Pemberton, Rodrigo Luzzi, Annabel O'Hagan
and
Xelia Mendes-Jones
.
Fallout
will premiere on Amazon Prime Video April 12, 2024.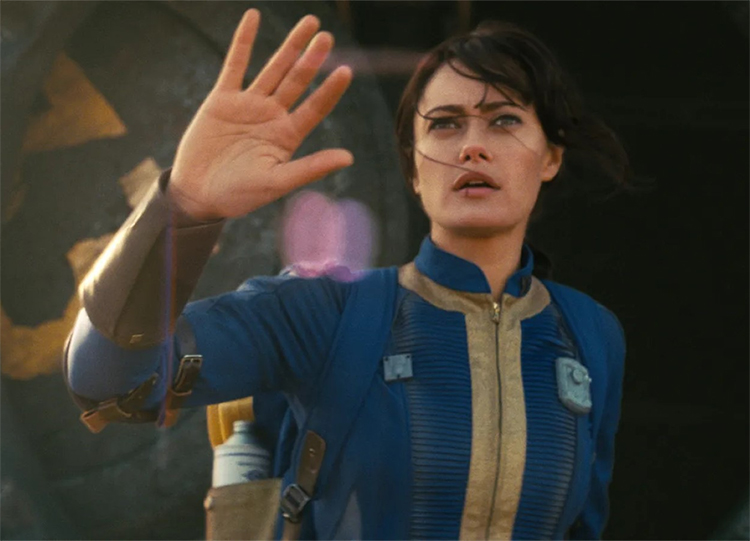 HBO RELEASES SEASON 2 TRAILER FOR HOUSE OF THE DRAGON
12/02/23 @ 1:20 pm EST
Source:
YouTube
|
Comments
(0) |
E-mail Article
|
Add a Comment
HBO has released the first teaser trailer for
House of the Dragon
Season 2 today during the show's CCXP23 panel in São Paulo, Brazil. The second season is set to release in summer of 2024 with returning stars
Matt Smith, Olivia Cooke, Emma D'Arcy, Eve Best, Steve Toussaint, Fabien Frankel, Ewan Mitchell, Tom Glynn-Carney, Sonoya Mizuno
and
Rhys Ifans
. We also get to see multiple new cast members and the roles they'll play including
Clinton Liberty
as Addam of Hull,
Jamie Kenna
as Ser Alfred Broome,
Kieran Bew
as Hugh,
Tom Bennett
as Ulf,
Tom Taylor
as Lord Cregan Stark, and
Vincent Regan
as Ser Rickard Thorne.
House of the Dragon
is set 172 years before the events of
Game of Thrones
and tells the story of House Targaryen.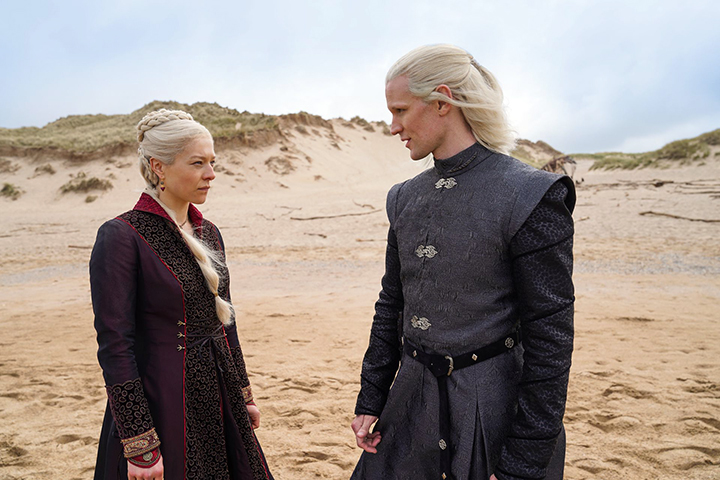 DEMOCRACY IS DYING IN THE BOYS SEASON 4
12/02/23 @ 1:12 pm EST
Source:
YouTube
|
Comments
(0) |
E-mail Article
|
Add a Comment
With
Gen V
already wrapped up, Amazon Prime is staring the push for
The Boys
season four with a new teaser trailer released first at at the comic event CCXP in São Paulo, Brazil on Saturday and now on-line. The new season is set to release in 2024 and features a world divided and on the brink. Victoria Neuman is on the verge of the White House and controlled by Homelander, who is pulling together his power while Butcher has lost everything. Now he must convince The Boys to work with him again before it's too late.
The Boys
stars
Karl Urban
,
Jack Quaid
,
Antony Starr
,
Erin Moriarty
,
Jessie T. Usher
,
Laz Alonso
,
Chace Crawford
,
Tomer Capone
,
Karen Fukuhara
,
Colby Minifie
,
Claudia Doumit
, and
Cameron Crovetti
. And joining the cast in the new season will be
Susan Heyward
,
Valorie Curry
, and
Jeffrey Dean Morgan
. The series is based on
The New York Times
best-selling comic by
Garth Ennis
and
Darick Robertson
, who also serve as executive producers.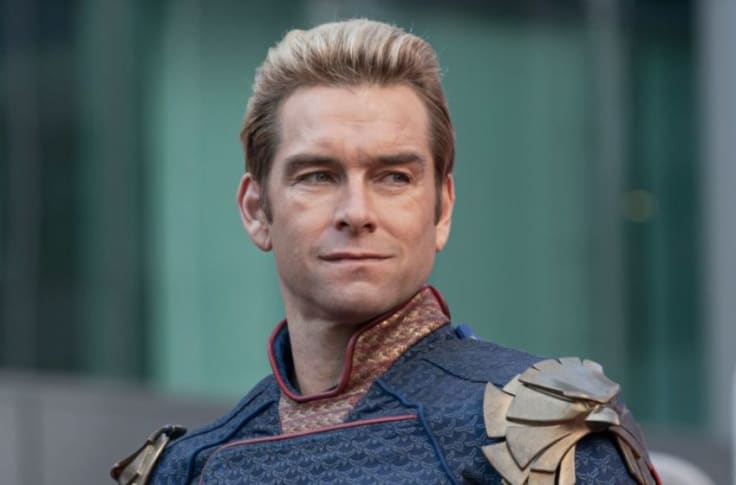 BOB IGER WAS RIGHT ABOUT THE MARVELS, BUT NOT WHAT YOU THINK
12/02/23 @ 1:01 pm EST
Source:
Deadline
|
Comments
(0) |
E-mail Article
|
Add a Comment
While most people are focused on one comment Disney CEO
Bob Iger
said at the New York Times business summit earlier this week, another comment is most likely the real reason
The Marvels
and other films aren't doing as well at the box office. The headline catcher was Iger saying there wasn't enough supervision on set, ″
The Marvels
was shot during Covid. There wasn't as much supervision on the set, so to speak, where we have executives [that are] really looking over what's being done day after day after day." But the other thing he said is more likely the culprit as the moviegoing experience has changed since Covid and people aren't just going to the movies to go to the movies, their going for specific films and they're deciding to wait and watch some at home. "The experience of accessing [the films] and watching them in the home is better than it ever was. And [it's] a bargain when you think about it. Streaming Disney+ you can get for $7 a month. That's a lot cheaper than taking your whole family to a film. So, I think the bar is now raised in terms of quality about what gets people out of their homes, into movie theaters."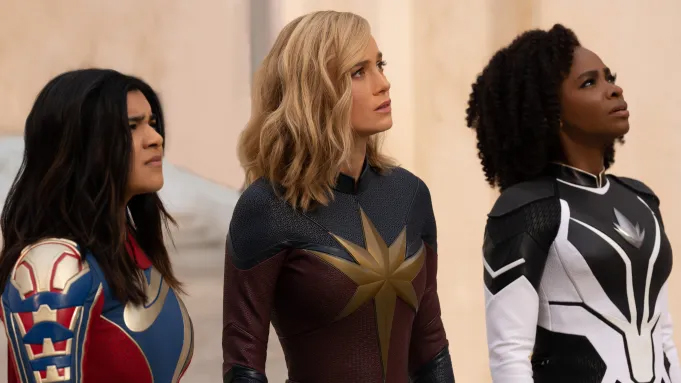 REACHER GETS 3RD SEASON RENEWAL BEFORE 2ND SEASON DEBUT
12/02/23 @ 12:52 pm EST
Source:
Deadline
|
Comments
(0) |
E-mail Article
|
Add a Comment
We haven't even started season two of
Reacher
and Amazon Prime Video has already given the
Alan Ritchson
lead series a third season renewal. The series which will return on December 15th, features Ritchson in the title role as veteran military police investigator Jack Reacher, who receives a coded message that the members of his former U.S. Army unit, the 110th MP Special Investigations, are being mysteriously and brutally murdered one by one. Pulled from his drifter lifestyle, Reacher reunites with three of his former teammates turned chosen family to investigate, including Frances Neagley (
Maria Sten
); Karla Dixon (
Serinda Swan
), a forensic accountant; and fast-talking David O'Donnell (
Shaun Sipos
). Sten is the only other actor to return from season one. The series is based on Lee Child's novels with the second season based on the 11th book in the series, Bad Luck and Trouble. Ritchson announced the renewal while at a panel at CCXP in São Paulo, Brazil where he also showed an extended trailer for season two.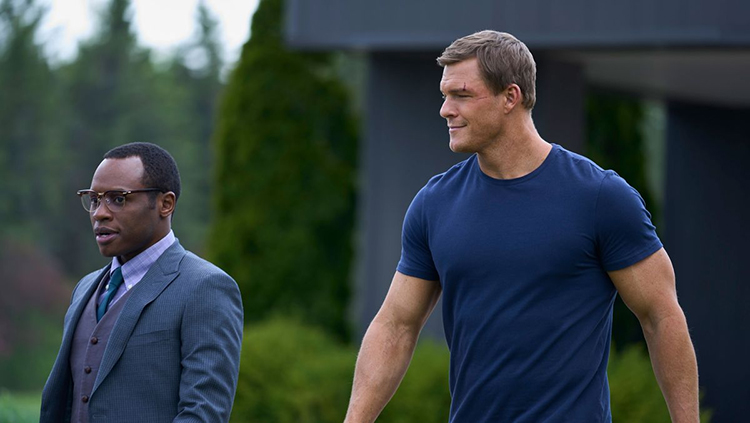 'MARVEL MUTTS' LAUNCHES ON MARVEL UNLIMITED
12/01/23 @ 9:14 pm EST
Source:
Marvel
| Categories:
Marvel
|
Comments
(0) |
E-mail Article
|
Add a Comment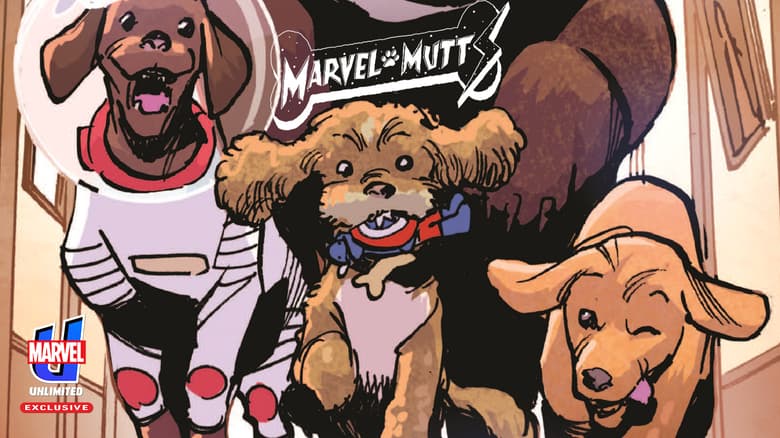 Join Marvel's Mightiest Mutts in their very own Infinity Comic! When Ms. Marvel and Kraven the Hunter crash through the Best Buds animal shelter, Kamala discovers an adorable ally and new best friend. MARVEL MUTTS #1 has launched on Marvel Unlimited in the exclusive Infinity Comic format. This six-part series from creators Mackenzie Cadenhead, Takeshi Miyazawa, and Raúl Angulo is the latest drop from Infinity Comics' "Friday Funnies," the line of humor titles designed for fans of all ages. And in MARVEL MUTTS it all goes to the dogs: The pooches of the super-powered are now the stars of their own Marvel Unlimited-exclusive series, and they'll get in all kinds of cute, cuddly, and (sometimes) mischievous adventures while they show newbie, Mittens, what it's like to roll with a pack. "[Marvel Comics Editor in Chief] C.B. Cebulski, a tried-and-true cat lover, called me one day and asked if I'd be interested in writing a 'Friday Funnies' series about the dogs of the Marvel U," writer MacKenzie Cadenhead recalls on how the series came to be. "And when he said it would be called MARVEL MUTTS, I was in. I honestly think his entire criteria for approaching me was that he knew I was a serious dog lover."
SCOTT SPEEDMAN NABS VILLAIN ROLE IN THRILLER 'SUNFLOWER'
12/01/23 @ 9:06 pm EST
Source:
Hollywood Reporter
| Categories:
MIsc
|
Comments
(0) |
E-mail Article
|
Add a Comment
Scott Speedman is going bad.The actor, most recently seen co-starring on ABC's
Grey's Anatomy
, has joined the cast of
Sunflower
, the thriller that
Lovecraft Country
creator Misha Green is writing and directing for Lionsgate.Jurnee Smollett and Isabel May are already on the call sheet for the feature that will shoot in South Africa in spring of 2024.In
Sunflower
, two women, played by Smollett and May, struggle to escape from a deranged college professor who holds them hostage on a remote sunflower farm. Speedman is playing the deranged college professor. (via
The Hollywood Reporter
)
'THE BOY AND THE HERON' WINS MAJOR NY FILM CRITICS AWARD
12/01/23 @ 2:33 pm EST
Source:
ComicBook
| Categories:
MIsc
|
Comments
(0) |
E-mail Article
|
Add a Comment
The Boy And The Heron
is set to arrive in theaters in North America on December 8th. Following a solid theatrical run in Japan, the latest from Studio Ghibli, titled "
How Do You Live
" in its country of origin, is already receiving wide acclaim before it hits the West. Originally billed as the last film from legendary director Hayao Miyazaki, Ghibli's latest has been granted prestigious recognition by the New York Film Critics Circle. The Circle ranked
The Boy And The Heron
as the best animated film of this year, which is impressive considering some of its competition. (via
ComicBook.com
)
Here is the film's official English trailer:
https://youtu.be/t5khm-VjEu4
FIRST LOOK AT 'CREEPSHOW' VOLUME 2 #5: SERIES' FREAKY FINALE
12/01/23 @ 2:22 pm EST
Source:
Skybound
| Categories:
Creepshow
|
Comments
(0) |
E-mail Article
|
Add a Comment
Today Skybound unveiled a horrifying first look at Creepshow Vol. 2 #5, the finale of the second volume of the smash-hit comic book anthology based on Greg Nicotero's hit Shudder TV series produced and licensed by Cartel Entertainment. Season 4 of the Shudder TV series of the same name is out now on AMC and AMC+. Brian Witten is overseeing on behalf of Nicotero's Monster Agency Productions. Creepshow Vol.2 #5 features stories by Saladin Ahmed (Miles Morales: Spider-Man), Artyom Topilin (I Hate This Place), DB Andry (Resonant) & Tim Daniel (End After End), and Matthew Roberts (Manifest Destiny). The conclusion to the second volume of Creepshow arrives in comic book shops on January 17, 2024. In the freaky finale, "Sinister" Saladin Ahmed and "Hair-Raising" Artyom Topilin first spin a horrifying yarn about a politician who tries to protect the youth from "dangerous" comic books in "Burning Ambition"! Then, "Dastardly" DB Andry & "Terrifying" Tim Daniel are joined by "Murderous" Matthew Roberts to tell the story of a boy who sacrifices the things he loves to feed the monster under his bed in "Keep It Fed"! In addition to the main cover by Guillem March (Batman), Creepshow Vol. 2 #5 comes with an incredible lineup of variant covers, including a cover by Artyom Toplin and the final cover in the set of 1:10 incentive connecting covers by iconic horror artist Skinner. Creepshow Volume 2's all-star creative roster also includes Garth Ennis (Preacher, The Boys), Becky Cloonan (Wonder Woman), Phil Hester (Gotham City: Year One), Michael Wash (The Silver Coin), Dan Watters (Homesick Pilots, Arkham City), Abigail Larson (Sandman Universe: The Dreaming), Zoe Thorogood (It's Lonely at the Centre of the Earth), Joel Farrelly (Tell Me a Story), Nick Dragotta (East of West), Alisa Kwitney (Mystik U), and Goran Sudžuka (Ghosted, Year Zero). The Creepshow comic miniseries deal was brokered by Striker Entertainment. Creepshow Volume 2 #5 (of 5) (Lunar Codes below SRP $3.99) will be available at comic book shops and digital platforms including Amazon Kindle, Apple Books, comiXology, and Google Play on Wednesday, January 17, 2024.
The full list of covers is below:
Creepshow 2 #5 CVR A by Guillem March (1123IM256)
Creepshow 2 #5 CVR B by Artyom Topilin (1123IM257) 
Creepshow 2 #5 CVR C by Skinner (1:10 Incentive) (1123IM258)
JACKPOT AND BLACK CAT'S LUCK RUNS OUT IN NEW TEAMUP SERIES
12/01/23 @ 2:16 pm EST
Source:
Marvel
| Categories:
Marvel
|
Comments
(0) |
E-mail Article
|
Add a Comment
Felicia Hardy and Mary Jane Watson have always had more in common than they think, and this March, they'll combine their wits, expertise, and superpowers to take down an emerging new threat in JACKPOT AND BLACK CAT! The four-issue limited series is written by Celeste Bronfman, who penned both Mary Jane's first outing as Jackpot earlier this year in
Amazing Spider-Man
#925 and her first solo issue as Jackpot that hits stands in January. Bronfman will be joined by rising Marvel star Emilio Laiso, the acclaimed artist known for his recent work on
Guardians of the Galaxy
and
X-Men Unlimited
. The series' covers will come from renowned artist Adam Hughes. After teaming up in Jed MacKay and C.F. Villa's Eisner-nominated
Black Cat & Mary Jane: Beyond
one-shot as well as the
Mary Jane & Black Cat
"Dark Web" tie-in series, Mary Jane and Felicia Hardy have risen to be one of Marvel's most dynamic duos. Now that Mary Jane is an up-and-coming super hero herself, they'll take their bond to the next level on an action-packed adventure to take down a villain that's blackmailing… EVERYONE, including Black Cat and Mary Jane. Tough choices and daring missions await as Mary Jane and Black Cat become entangled in a plot that's brought the world to its knees. LUCK BE THE LADIES! When someone blackmails Black Cat into a public and blatant crime spree, Jackpot comes to her aid! What classic Spider-Villain is behind the blackmail?! Someone with history with at least one of our titular heroines! "MJ's been a hero since day one, and I'm so excited to continue her journey as Jackpot – this time with Felicia Hardy by her side!" Bronfman shared. "Opposites attract, and I've always loved the push and pull of their friendship. Expect them to butt heads through heists, betrayals, and the unexpected!" Check out the debut issue's cover now and be there for Mary Jane and Black Cat's next great caper when JACKPOT AND BLACK CAT #1 hits stands in March.