AUDIBLE, SKYBOUND, ANNONYMOUS CONTENT ANNOUNCE SEASON 2 OF 'IMPACT WINTER'
06/06/23 @ 12:14 pm EST
Source:
Skybound
| Categories:
Skybound
|
Comments
(0) |
E-mail Article
|
Add a Comment
Audible Inc., the leading creator and provider of premium audio storytelling, multiplatform content company Skybound Entertainment, and visionary media company Anonymous Content today announced the cast and premiere date for the second season of the epic post-apocalyptic drama,
Impact Winter
, debuting on July 13. At its launch in February 2022, Impact Winter was Audible Plus' #1 bestseller across all categories and the #1 Audible Original fiction bestseller in its debut week, in addition to taking the #3 fiction spot on Apple podcast charts. Following the incredible fan reception, Impact Winter's third season has been officially greenlit.
From executive producers of The Walking Dead and the writer of Pacific Rim, Audible's groundbreaking vampire-apocalypse series is back. Eight years after a cataclysmic comet impact blotted out the sun and triggered an endless winter in which vampires rule the Earth, two sisters — one training to fulfill her apparent destiny as humanity's savior, and the other finding purpose and her true self while protecting a group of survivors in her elder sibling's stead — are confronted with an inescapable truth: even if they succeed in fending off the biggest threat to humanity's future, they still have to face their fate.
"The hit first season of Impact Winter combined extraordinary storytelling with the highest-quality production value and performances. We're delighted to deliver two new seasons of this powerful series that has captivated audiences across the globe," said Zola Mashariki, Head of Audible Studios. "With the addition of new characters and a similarly immersive soundscape, we are confident that this epic tale will continue to provide listeners with a uniquely entertaining experience."
Returning cast members include Holliday Grainger (CB Strike, My Cousin Rachel), Esmé Creed-Miles (Hanna), David Gyasi (The Diplomat, Interstellar), Caroline Ford (Carnival Row), Bella Ramsey (The Last of Us, Game of Thrones) and Liam Cunningham (Game of Thrones) who will all be joined by newcomers Sacha Dhawan (Doctor Who, The Great), Ralph Ineson (Game of Thrones, The Witch), Ellie Bamber (Willow), Danielle Galligan (Shadow and Bone) and Andrew Gower (Being Human, Outlander), amongst others. Skybound and Anonymous Content serve as co-studios on the project which is co-produced in collaboration with Cliff Roberts (The Midnight Sky). From Travis Beacham, the mind behind Carnival Row and Pacific Rim, season 2 of this ambitious series brings listeners a combination of masterful storytelling, incredible binaural audio, superb performances, and extraordinary world-building, to continue the immersive story that originally enchanted audiences in 2022.
Revisit season 1 of Impact Winter, now on Audible:
audible.com/ImpactWinter
, and listen to season 2 of
Impact Winter
on Audible or wherever you get your podcasts, beginning July 13. In addition, Impact Winter S2 joins Audible's growing catalog of Originals Audible members can listen to in immersive spatial audio with Dolby Atmos from the Audible app at no additional cost. Visit audible.com/dolbyatmos for more information.
This upcoming Audible Original joins a powerful slate of original audio dramas including Audible's first foray with Skybound Entertainment, the best-selling series
Death By Unknown Event
, narrated by Pamela Adlon; James Patterson's
The Coldest Case: A Black Book Audio Drama
, a prequel to his #1 New York Times Bestseller The Black Book and performed by Aaron Paul; the #1 New York Times best-selling audio fiction
The Sandman
from Neil Gaiman, performed by James McAvoy, Kat Dennings, Michael Sheen and a full cast; the highly anticipated sequels
The Sandman: Act II
; and
The Sandman: Act III
;
The Dispatcher
series from New York Times best-selling author John Scalzi; Carnival Row, set in the world of the Amazon Original series 
Carnival Row
, created by Travis Beacham and René Echevarria; and many more.
PLOT A COURSE TO THE FUTURE OF STAR WARS COMIC BOOKS
09/23/23 @ 12:56 pm EST
Source:
Marvel.com
|
Comments
(0) |
E-mail Article
|
Add a Comment
PLOT A COURSE TO THE FUTURE OF STAR WARS COMIC BOOK STORYTELLING IN STAR WARS: REVELATIONS #1!
The special one-shot that sets the stage for what's to come to the galaxy far, far away returns this December.
New York, NY— September 22, 2023 —
Announced earlier this week at StarWars.com
,
STAR WARS: REVELATIONS, the can't miss issue that offers readers a startling glimpse at what's to come next year in
Star Wars
comics, is back with more surprises than ever this December! Last year's
Star Wars: Revelations
prepared fans for a dramatic year of
Star Wars
sagas including putting the pieces in place for the current crossover event,
Star Wars: Dark Droids
. This year will be no different with a giant-sized installment packed with the first appearances of major players, and new twists and turns across all of Marvel's STAR WARS line! Crafted by an army of current and upcoming
Star Wars
talent including writers Marc Guggenheim (
Star Wars: Dark Droids - D-Squad
), Charles Soule (
Star Wars
,
Star Wars: Dark Droids
,
Star Wars: The High Republic - Shadows of Starlight
), Greg Pak (
Star Wars: Darth Vader
), Alyssa Wong (
Star Wars: Doctor Aphra
), Ethan Sacks (
Star Wars: Bounty Hunters
), Cavan Scott (
Star Wars: The High Republic Phase III
), and Marc Bernardin, this star-studded issue will impact the titles currently exploring the era between
The Empire Strikes Back
and
Return of the Jedi as
well as Marvel's upcoming
Star Wars: High Republic Phase III
titles. In addition, the one-shot will lay the groundwork for exciting all-new comic series that have yet to be announced!
Check out Phil Noto's cover below which teases a host of upcoming appearances including Mace Windu and Grand Admiral Thrawn, and find out what's on the horizon for Darth Vader, the heroes of the Rebellion, the Jedi Knights of the High Republic, and many more this December! For more information, visit
Marvel.com
.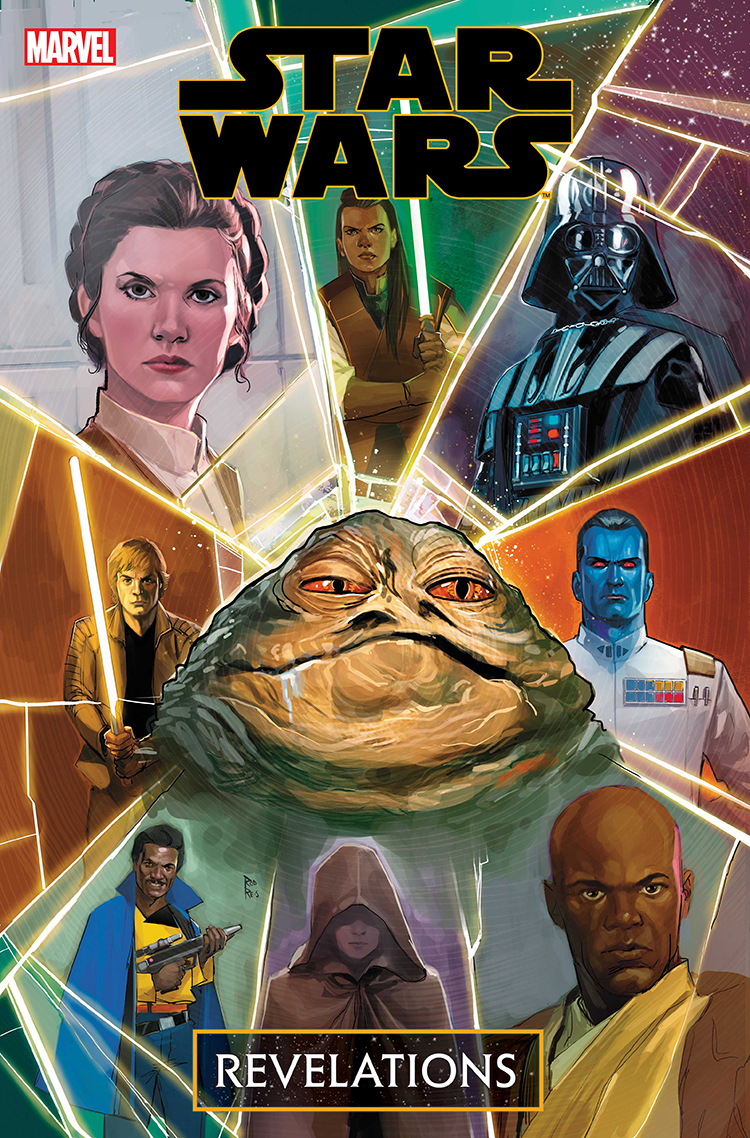 STAR WARS: REVELATIONS [2023] #1
Written by MARC GUGGENHEIM, CHARLES SOULE, GREK PAK, MARC BERNARDIN, ALYSSA WONG, ETHAN SACKS & CAVAN SCOTT Art by SALVADOR LARROCA, WILL SLINEY, MARIKA CRESTA, IBRAIM ROBERSON & MORE! Cover by ROD REIS On Sale 12/20
JENNIFER BLOOD'S BACK FROM THE DEAD (AGAIN)
09/23/23 @ 12:50 pm EST
Source:
Dynamite Entertainment
|
Comments
(0) |
E-mail Article
|
Add a Comment
Jennifer Blood's Back From the Dead (Again)
Fred Van Lente Puts the "Die" in Diary
<!--[if !supportLineBreakNewLine]-->
<!--[endif]-->
September 21, Mt. Laurel, NJ:
The one and only Jennifer Blood returns for an all-new tale of extralegal killing and ruthless vigilantism this December from ongoing writer Fred Van Lente!
The iconic suburban housewife turned brutal crusader against crime created by author extraordinaire Garth Ennis is back from the grave once more and she's setting her sights on a new dangerous target, vicious neo-Nazi prison gangs.
Writer Fred Van Lente (
DIE!namite, Incredible Hercules
) continues his epic chronicles of Dynamite's top gunslinging force of vengeance following the grisly events of "Bloodlines" where she took down swaths of mafia made men. Van Lente is reunited with artist Robert Carey following their collaboration on the
Jennifer Blood Presents... Giulietta Romeo: Hitwoman
special.
"She's a vigilante who cares more about killing any criminal she happens to come across than her own life," said writer Fred Van Lente. "As a character she's a live hand grenade you just lob in the middle of any situation and it instantly becomes dramatic. It's hard not to get the blood pumping when you have such a limitless possibility of stories like that. I'm just thrilled the readers are responding too, and keep us coming back out for encores. What's not to love?"
The modern Jennifer Blood is the daughter of the original, Jennifer Blute, created by Garth Ennis, her daughter Alice all grown up and taking on her mantle of cleaning the streets of bad actors and up against the whole world for the life she was cursed with. At the end of her last adventure, the new Blood was once again presumed dead in action, the one-woman army believed buried. That's always her master plan though, but it's torn to pieces when she decides to visit her mother's original penitentiary gravesite.
This time Jennifer Blood will find herself under the aim of America's white supremacist groups, prolific in and out of the prison system. Nothing is ever simple with Blood involved though, so she finds herself stuck between two rival factions, the Volk and Crooked Cross. With fake, testy alliances and playing both sides, this can only end up with one outcome... Blood, and lots of dead Nazis.
The new series
Battle Diary
features covers by Joseph Michael Linsner, Lesley "Leirix" Li, and Rebeca Puebla.
Its first issue is also set to coincide with the release of the collected graphic novel of her last adventure "Blood Debt" and readers and retailers can also order the previous volumes by Van Lente, Garth Ennis, and Al Ewing (
Immortal Hulk, Immortal Thor
).
JENNIFER BLOOD: BATTLE DIARY #1
is solicited in Diamond Comic Distributors' October 2023 Previews catalog, the premier source of merchandise for the comic book specialty market, and slated for release in December 2023. Comic book fans are encouraged to preorder copies of the issue with their local comic book retailers. It will also be available for individual customer purchase through digital platforms courtesy of Comixology, Kindle, iBooks, Google Play, Dynamite Digital, ComicsPlus, and more!
LEGENDERRY RED SONJA RETURNS
09/23/23 @ 12:47 pm EST
Source:
Dynamite Entertainment
|
Comments
(0) |
E-mail Article
|
Add a Comment
Legenderry Red Sonja Returns to Her Steampunk World!
Katana Collins Writes Special Plus Sean Gordon Murphy Cover!
September 21, Mt. Laurel, NJ:
Dynamite invites readers to once more journey to the steampunk world of
Legenderry
for a new adventure of this multiversal take on Red Sonja!
USA Today bestselling author Katana Collins, renowned for her work in the
Batman: White Knight
titles and recent Dynamite title
Cherish
, as well as her prose writing in romance novels and beyond, is taking on the She-Devil With a Sword (and gun!). She's trying her hand at art theft, and she's going to steal more than she bargained for!
"To date, this is one of my favorite stories and characters I've ever written!," said writer Katana Collins. "As soon as this project was in discussion, all I needed to hear was 'steampunk Red Sonja' and I was all in. And in true steampunk style, we have one hell of a cameo within the story."
When last we saw the Red Sonja of
Legenderry
, she was living the pirate's life aboard her ship The Nautilus. Times have changed and this special 40-page special adventure tied to Red Sonja's 50th anniversary weaves a tale of thievery, deception, and a mysterious artifact into an action-packed epic. An infamous painting with a decidedly handsome and un-aging owner is set in the sights of her revolver, and she intends to walk away with it at the end of her journey.
Collins is joined by incomparable artist Kewber Baal (
Vengeance of Vampirella, Elvira in Monsterland
), as well as a trio of tantalizing covers. Frequent collaborator and husband Sean Gordon Murphy lends his superstar talents to the main cover. He's joined by artist Corin M. Howell and cosplayer Shannon Kingston.
"In my entire career, I've never drawn Red Sonja until now," said Sean Gordon Murphy. "I loved getting to do something a little outside the norm for me and tweaking her original look to combine it with the steampunk elements in Legenderry's version in an empowering way."
The 50th anniversary of Red Sonja continues here, and in the steampunk world of
Legenderry
the possibilities are endless, like the gear wheels!
LEGENDERRY RED SONJA
is solicited in Diamond Comic Distributors' October 2023 Previews catalog, the premier source of merchandise for the comic book specialty market, and slated for release in December 2023. Comic book fans are encouraged to preorder copies of the issue with their local comic book retailers. It will also be available for individual customer purchase through digital platforms courtesy of Comixology, Kindle, iBooks, Google Play, Dynamite Digital, ComicsPlus, and more!
NEW BUNDLE INCLUDES 6K PAGES OF FANTASY ADVENTURE INCLUDING WHEEL OF TIME!
09/03/23 @ 1:43 pm EST
Source:
Humble Bundle
|
Comments
(0) |
E-mail Article
|
Add a Comment
Dynamite Entertainment and Humble Bundle invite fans to explore worlds of fantasy in a bursting treasury of digital comics, headlined by the graphic novel adaptations of Robert Jordan's beloved epic
The Wheel of Time
released to date. Additional fantasy and adjacent genre titles round out a massive digital bundle including the likes of Red Sonja, Vampirella, Dejah Thoris, John Carter, and many more beloved characters. With a fabulous charity partner as well, this is a can't-miss deal!
With the second season of Amazon's Prime series adaptation kicking off this Friday, September 1, and a new comic series adapting the second novel
The Great Hunt
coming in November, it's the perfect time to dig into the comics alongside this new burst of content for fans old and new.
The bundle is live right now, and it's only available for a limited time, so jump in!
https://www.humblebundle.com/books/wheel-time-and-more-dynamite-books-books

Humble Bundle's innovative bundle system gives readers the opportunity to choose between three tiers with different costs to customize their digital haul to their budget and liking.
It all starts at just a single dollar! Supporters at that level can walk away with three diverse classics to dig into. Power couple Leah Moore and John Reppion's top of class graphic novel adaptation of Lewis Carroll's classic
Alice in Wonderland
- also including
Through the Looking Glass
and the "lost" chapter of "The Wasp in a Wig!" Then for a true celebration of fantasy epics and classic literature, fans can join Bill Willingham of
Fables
fame for
The Greatest Adventure,
the ultimate team-up between the creations of Edgar Rice Burroughs. That includes Tarzan, Jane, John Carter and Dejah Thoris, Korak the Killer, and many more across time and space. Across Earth, Mars, and 250 pages, it's a blast. Last but certainly not least, the intro level also includes the recent
Savage Tales: Winter Special
with tales of Vampirella, Draculina, John Carter and Dejah Thoris, and Captain Gullivar Jones.
A second tier at just $10 is highlighted by Willingham's other crossover epic from Dynamite, the steampunk celebration of
Legenderry
as well as its spinoffs. Even more Tarzan adventures can be found in this tier. Then two legendary creators are spotlighted, with hotly anticipated restored reprints of their works and follow ups, in Frank Frazetta's
Thun'Da
and Bill Mantlo's
Swords of the Swashbucklers.


For $18 at the top tier, the avalanche of awesome comics really unleashes. Fans can dive into the graphic adaptations of the inaugural
Wheel of Time
novel,
Eye of the World
as well as its essential prequel chapter
New Spring.
Also bundled in are additional takes on the
Savage Tales
anthology concept, with the full 2007 series, as well as more recent one-off specials. Each of these issues is stacked with multiple thrilling tales across fantasy, horror, sword and sorcery, and surprises. Dynamite's all-out action event
Prophecy
including all its biggest characters is included. Plus, readers can travel to the jungles with
Sheena
and
Jungle Girl.
Or they can rocket off to Mars, or Barsoom as the locals call it, to learn more about John Carter and Dejah Thoris.
Countless writers and artists have contributions included within this bundle, including but not limited to Bill Willingham, Frank Frazetta, John Cassaday, Bill Mantlo, Colleen Doran, Frank Cho, Marguerite Bennett, David Avallone, Nick Bradshaw, Walter Geovani, Leah Moore, John Reppion, Ron Marz, Arvid Nelson, Butch Guice, Geof Isherwood, Marc Guggenheim, Chuck Dixon, Aneke, and more.
The charity partner for this bundle is Direct Relief, a nonprofit humanitarian aid organization. Active across the United States and beyond across the world, their mission is to help people affected by poverty or emergencies. Right now some primary focuses of Direct Relief are the wildfires in Hawaii, the impacts of Hurricane Idalia, and efforts in Ukraine.
https://www.humblebundle.com/books/wheel-time-and-more-dynamite-books-books
DENZEL GRABS TOP SPOT WHILE GRAN TURISMO HITS BREAKS
09/03/23 @ 1:37 pm EST
Source:
Deadline
|
Comments
(0) |
E-mail Article
|
Add a Comment
An interesting box office weekend with last week's number one dropping to fourth place, a new film in the top slot at the second highest Labor Day Weekend opening and a little superhero film that keeps chugging along.
Denzel Washington
has a hit with the third
Equalizer
film with an estimated 4-day total of $42M, behind only
Shang-Chi and the Legend of the Ten Rings
for opening on this holiday.
Barbie
continued its path towards the highest grossing film of the year, adding another $13M domestically taking it to $1.38B worldwide passing
Super Mario Bros
.
Blue Beetle
continues to pull fans in, making another $9M over the for days and hanging on to the third spot for the second week in a row.
Gran Turismo
drops from a controversial first down to fourth with $8.5M and
Oppenheimer
stays in the top five with $7.2M. Next weekend should be interesting as there are a few films opening wide, but none of them have an particular buzz with the only one getting any decent marketing being
My Big Fat Greek Wedding 3
, could that be the new #1 or will Barbie rise to the top again?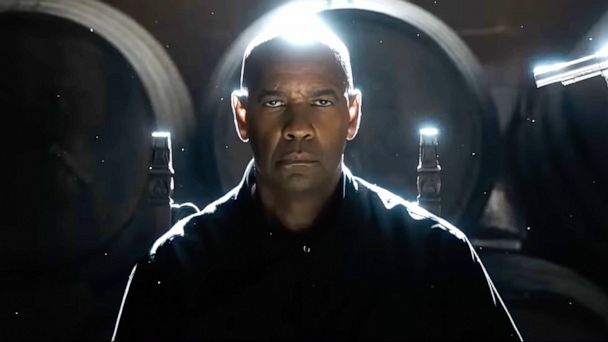 JAMES BURROW ON WHY ROSS' FIRST MARRIAGE DIDN'T WORK ON FRIENDS
09/03/23 @ 1:22 pm EST
Source:
Deadline
|
Comments
(0) |
E-mail Article
|
Add a Comment
It was never originally planned for Ross Keller to get married then divorced so quickly in the fourth and fifth seasons of
Friends
. According to director
James Burrows
new memoir, the character of Emily Waltham was meant to stick around but they found that
Helen Baxendale
, the actress playing Emily, and
David Schwimmer
had zero on-screen chemistry and to bring in a character like that, they needed her to be as funny as Rachel played by
Jennifer Aniston
. "She was nice, but not particularly funny," Burrows wrote of Baxendale. "Schwimmer had no one to bounce off. It was like clapping with one hand. In sitcoms and any type of romantic comedy, the funny is just as important as the chemistry. We discovered that any new girlfriend for Ross needed to be as funny as Rachel." While there was talk about recasting, the tight deadlines on the series made it impossible, so Emily was around for 14 episodes before the fifth season opened with their marriage and Ross almost saying Rachel's name… the character was written out shortly after.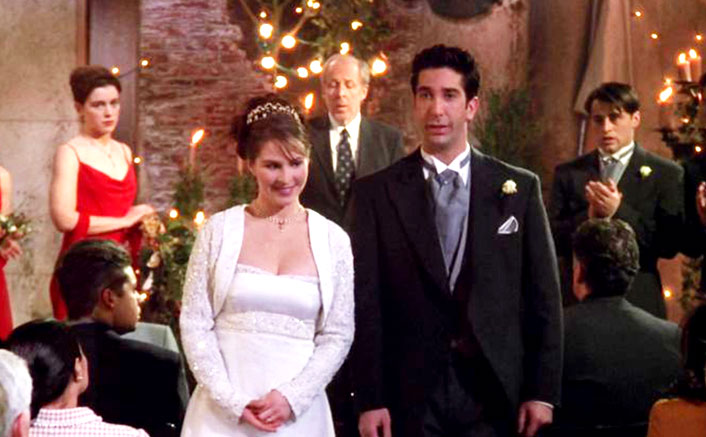 DENZEL TO HAVE STRONG OPENING WITH THE THIRD EQUALIZER
09/02/23 @ 2:01 pm EST
Source:
Deadline
|
Comments
(0) |
E-mail Article
|
Add a Comment
I don't know if its revenge movies are still hot or people just want more
Denzel Washington,
but
The Equalizer 3
is on its way to the second highest Labor Day weekend opening of all time. Charting to come in around $42M, it would become the highest debuting film in the franchise and the best opening for an
Antoine Fuqua
project. It won't challenged for the best Labor Day weekend opening of all time, which goes to
Shang-Chi and the Legend of the Ten Rings
, which made $94.6M a few years back, but this is still a really strong opening for a holiday weekend where most everyone is out at the beach or a barbecue. It's also an impressive number factoring in that Washington and the other actors from the film are not out promoting it due to the actors' strike, something that has affected other films this summer.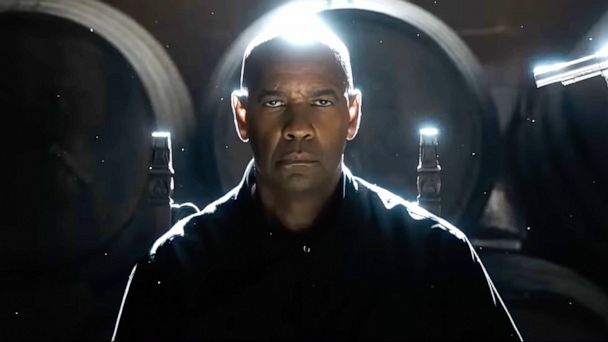 JIMMY BUFFETT PASSES AWAY AT 76
09/02/23 @ 1:49 pm EST
Source:
The Hollywood Reporter
|
Comments
(0) |
E-mail Article
|
Add a Comment
Jimmy Buffett
, the singer of "
Margaritaville"
and embodiment of the beach bum lifestyle, has passed away at the age of 76. While mostly known for his popular music, Buffett was an exceptional businessman who worked his Margaritaville brand into a billion-dollar business including themed restaurants and hotels. This statement was posted on his social media: "Jimmy passed away peacefully on the night of September 1st surrounded by his family, friends, music and dogs. He lived his life like a song till the very last breath and will be missed beyond measure by so many." Buffett began his career as a country singer and in a cover band until he decided to focus on his solo work and adapted to the low-key, laid-back style of his new home, Key West. It was in 1977 with the release of "
Margaritaville"
that skyrocketed Buffett to the fame he would build on for the rest of his life. Buffett's other popular tracks include "
Cheeseburger in Paradise
," "
It's 5 O'Clock Somewhere
," "
Come Monday
," "
Volcano
" and "
It's My Job
," to name a few. The musician also took some turns as an actor in projects like:
Jurassic World
,
Billionaire Boys Club
,
Hawaii Five-0
and
Blue Bloods
. Buffett is survived by his wife
Jane Slagsvol
and their three children, Savannah, Sarah and Cameron.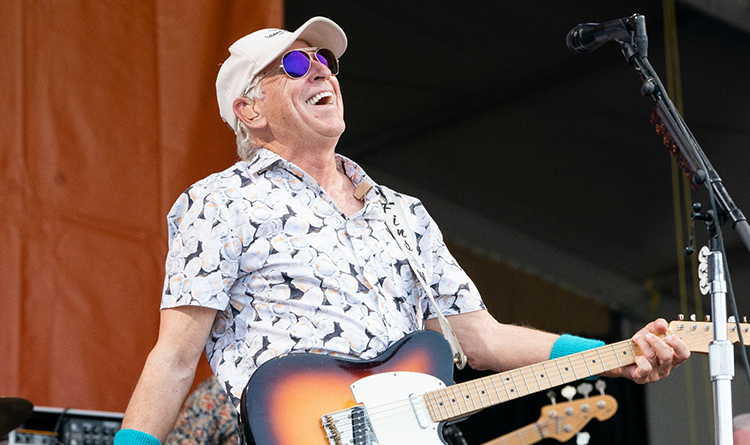 MARVEL'S DISNEY+ SCHEDULE CHANGES
09/02/23 @ 1:25 pm EST
Source:
The Hollywood Reporter
|
Comments
(0) |
E-mail Article
|
Add a Comment
Marvel is making some scheduling changes again. According to
THR
,
Loki
is still on track for its October release but everything else is moving and some projects are even getting a name change. After
Loki's
debut on October 6th, the next thing out will now my
What If…?!
season 2 sometime around Christmas.
Echo
, the
Hawkeye
spinoff series, was originally planned for late November but is now moving to January. No word if they'll still do the full season drop or switch back to weekly releases. After that will see the return of the animated
X-Men '97
continuation and then we'll finally see the
WandaVision
spinoff series starring
Kathryn Hahn
… though it's getting it's third subtitle, originally called
Agatha: House of Harkness
, it was later changed to
Agatha: Coven of Chaos
and is now called
Agatha: Darkhold Diaries
… not sure I like the last one. Later next year we're expected to get the
Ironheart
series starring
Dominique Thorne
as Riri Williams, a character we met in
Black Panther: Wakanda Forever
and of course the 18-episode long
Daredevil: Born Again
with the return of
Charlie Cox
and
Vincent D'Onofrio
. These last two series have been delayed by the actors' and writers' strikes.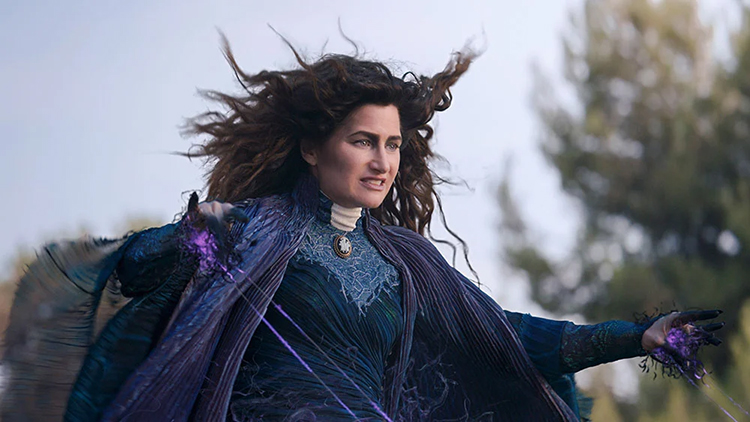 BARBIE TAKES TOP SPOT FOR THE YEAR SO FAR
09/02/23 @ 12:52 pm EST
Source:
Deadline
|
Comments
(0) |
E-mail Article
|
Add a Comment
The two big surprises at the box office continue to make noise as with Friday's take, Greta Gerwig's
Barbie
has become the No.1 film of the year globally, passing The Super Mario Bros Movie with $1.365B. At the same time, Christopher Nolan's
Oppenheimer
is set to reach $850M globally through Sunday, passing the filmmaker's 2010 Inception as his 3rd highest-grossing title ever worldwide. Barbie is showing in 75 overseas markets and through Friday has grossed $763.4M at the
international box office
. Meanwhile, Oppenheimer is due to surpass Guardians of the Galaxy Vol. 3 as the No. 3 movie of 2023 globally, coming in behind just Barbie and Super Mario. With the success of Oppenheimer, Universal now has three of the Top 5 films this year globally to date.