'TEEN TITANS GO!': MARV WOLFMAN & GEORGE PEREZ TO APPEAR
05/13/21 @ 11:29 am EST
Source:
ComicBook
| Categories:
DC
|
Comments
(0) |
E-mail Article
|
Add a Comment
The Teen Titans have become a unique cornerstone of the DC Comics world, with the ensemble of superheroes being adapted in countless ways across comics, television, and movies. One of the most popular among those is easily
Teen Titans Go!
, the Cartoon Network mainstay that provides a lighthearted and often surreal take on the team.
As the Teen Titans prepare for their latest major crossover, which will see them joining forces with
DC's Super-Hero Girls
, another upcoming episode of their series is set to pay homage to their comic roots in a pretty epic way.
Late last month, Cartoon Network released a trailer for the
Teen Titans Go!
and
DC's Super-Hero Girls
crossover, as well as some other details regarding their May programming. Hidden among that was confirmation of an upcoming
Teen Titans Go!
episode titled "Marv Wolfman and George Perez," which will feature appearances of some kind from comic greats and
The New Teen Titans
creators Marv Wolfman and George Perez.
Airing on Saturday, May 29th at 9 a.m. ET/PT, the
Teen Titans Go!
episode sees Marv Wolfman and George Perez in a situation in which they must pitch an idea for the new Teen Titans in 24 hours, so they brainstorm different concepts for the team. (via
ComicBook
)
'THE WITCHER: NIGHTMARE OF THE WOLF' HEADLINES NETFLIX'S UPCOMING ANIME LINEUP
06/15/21 @ 6:22 am EST
Source:
Variety
| Categories:
MIsc
|
Comments
(0) |
E-mail Article
|
Add a Comment
As streamers continue to carve out their niches for specialized content, Netflix has established a firm foothold in original anime production of both established and original IP. On Tuesday morning, the platform outlined a group of exciting upcoming titles, headlined by the hugely anticipated
The Witcher: Nightmare of the Wolf
animated spinoff, in a pre-recorded Studio Focus panel, streamed as part of the Annecy Film Festival.
Lauren Schmidt Hissrich, creator, showrunner and executive producer of Netflix's live action
The Witcher
series, will also showrun and co-executive produce animated spinoff
The Witcher: Nightmare of the Wolf
with Kwang Il Han in the directors' chair. Original series writer Beau DeMayo penned the scripts and Korean company Studio Mir is handling animation production.
Specific plot details were limited during the presentation. "There are things I wanted to know about, what it takes to become a witcher, how Geralt became a witcher, where his journey started and who was important to him," Hissrich explained of her ambitions for the show.
Mark Millar and Leinil Yu's original graphic novel
Super Crooks
will be adapted as a Netflix Original, headed by Motonobu Hori, who previously directed
Carole & Tuesday
and was an animator on several classic features. Tokyo studio Bones will handle animation production. In the series, two-bit criminal Johnny Bolt assembles a crack team of the world's greatest criminals for one final super-powered heist.
Netflix has commissioned the all-women mangaka-team Clamp and production outfit WIT Studio to develop and produce a new series based on the classic Grimm's fairy tales, with the former handling character design and the later animation production. The new series proposes a modern twist on the well-established fables by adding horror and suspense elements to heighten the stories' impact.
Another manga adaptation, Mari Yamazaki's
Thermae Romae Novae,
will get the series treatment at Netflix as well, directed by Tetsuya Tatamitani and adapted by screenwriter Yuichiro Momose, who previously teamed on the workplace comedy satire
Africa no Salaryman
. Japanese studio Naz will handle animation production. (via
Variety
)
'ASSASSIN'S CREED' LIVE-ACTION NETFLIX SERIES TAPS 'DIE HARD'S' JEB STUART TO WRITE
06/15/21 @ 5:58 am EST
Source:
Variety
| Categories:
MIsc
|
Comments
(0) |
E-mail Article
|
Add a Comment
The
Assassin's Creed
live-action series at Netflix has enlisted Jeb Stuart to serve as writer,
Variety
reports.
The series was first announced as being in development in October as part of a deal between Netflix and Ubisoft to develop content based on the best-selling video game franchise. The deal includes live-action, animated, and anime series. Ubisoft Film & Television's Jason Altman and Danielle Kreinik serve as executive producers.
Reps for Netflix and Stuart did not immediately respond to requests for comment.
Assassin's Creed
first debuted in 2007 and became an instant hit, with over 155 million copies of the various titles in the franchise having been sold. The open world games explore the war between the rival secret orders of the Assassins and the Templars as they use advanced machines to access the genetic memories of Assassins in different periods of the past to track down powerful artifacts called Pieces of Eden.
KA-ZAR RETURNS MORE POWERFUL THAN EVER IN NEW SERIES
06/15/21 @ 5:54 am EST
Source:
Marvel
| Categories:
Marvel
|
Comments
(0) |
E-mail Article
|
Add a Comment
Marvel's Lord of the Jungle is back! The iconic Ka-Zar will be starring in a brand-new limited series this September. Written by Zac Thompson (
Yondu
,
Age of X-Man
) and drawn by Germán Garcia (
Immortal Hulk
,
X-Men
), KA-ZAR: LORD OF THE SAVAGE LAND will pick up on the hero's exciting journey since his death and resurrection during last year's
Empyre
. Back from the dead with a whole new terrifying set of powers, the saga will serve as a bold evolution of the character while staying true to his jungle roots as the mighty hero goes up against a mysterious new villain with twisted plans for the Savage Land.
The alien Cotati murdered him. The Savage Land brought him back. Lord Plunder has returned — with a vastly new perspective! Now united with Shanna the She-Devil in a mystical merging of life energies, Ka-Zar has new abilities, new needs…and new enemies. An ancient evil has surfaced in the Savage Land — one that is rapidly reshaping the forgotten world and its inhabitants. Ka-Zar and Shanna must fight together to protect their home and family! But their son Matthew has plans of his own…
"Ka-Zar: Lord of the Savage Land is the book I've always wanted to write," Thompson said. "It's an absolute dream-come-true to take a character created by Stan Lee and Jack Kirby and propel them into the modern Marvel universe with a whole host of horrifying new powers! It's been years since Ka-Zar had his own series and we wanted to mark the occasion with an evolution that channels something like
Immortal Hulk
but with a distinct throwback to the old adventure pulps that inspired the character's creation 65 years ago. I'm in awe of our team. Germán Garcia is delivering mind-blowing work that channels the best of Jack Kirby. I've literally gasped at multiple pages in each issue. Then we have the gorgeous colors by Mat Lopes that feel organic and ethereal. We're all under the leadership of our brilliant editor Sarah Brunstad who's expertly guided the vision of this ambitious book from day one. Together we've created a story that's epic, personal, and terrifying. One that's going to change Ka-Zar and the Savage Land forever!"
"There's nothing better than having the opportunity to explore a classic Marvel character under a new light, and this is what we're doing here," Garcia said. "And it's not just Ka-zar, but the whole family, and as important as them, the Savage Land itself! It's unreal and fantastic and I'm having a great time trying to portray the way I imagine it."
Since his Silver Age debut in
X-Men
#10 by Stan Lee and Jack Kirby, Ka-Zar has delighted fans of every generation with unique jungle-jaunting adventures that no other hero can deliver! Don't miss his latest spectacular quest through the lost lands when KA-ZAR: LORD OF THE SAVAGE LAND #1 hits stands on September 9th.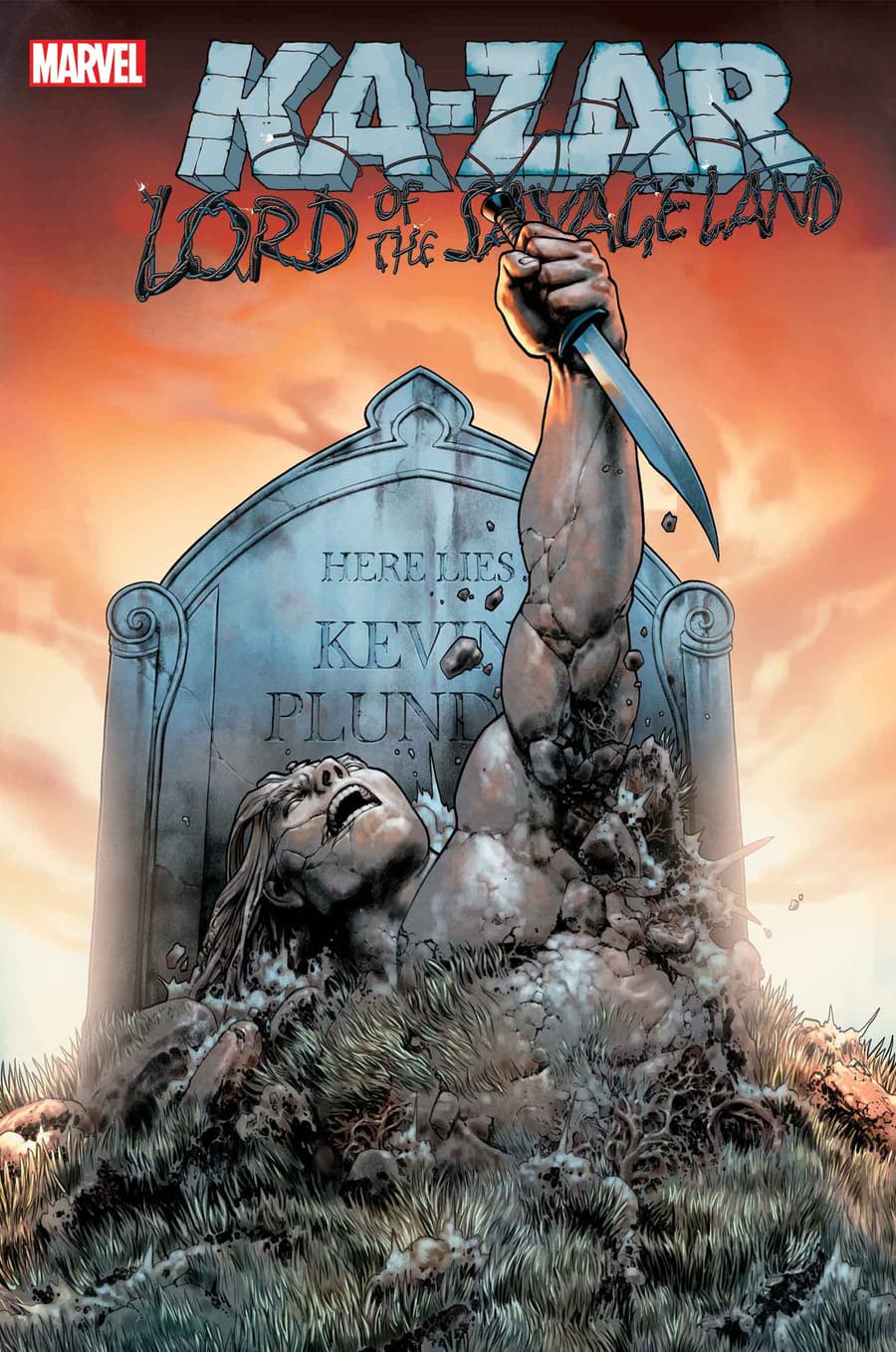 'THOR' STAR JAIMIE ALEXANDER TEASES 'RED SONJA' MOVIE ROLE
06/14/21 @ 3:50 pm EST
Source:
ComicBook
| Categories:
Red Sonja
|
Comments
(0) |
E-mail Article
|
Add a Comment
Thor
star Jaimie Alexander may have a role in the upcoming
Red Sonja movie.

Marvel fans already know that Alexander will return as Asgardian warrior Sif in Thor: Love and Thunder. She'll be sticking to the fantasy warrior mold if she joins Red Sonja, the film about the sword and sorcery comic book character inspired by the works of Conan the Barbarian creator Robert E. Howard. Alexander shared an Instagram story in which she suggested she's digging into the Red Sonja movie's script as "light reading" on a plane flight. That's not confirmation that she's in the movie, but it seems like she may have been offered a part.

Red Sonja already cast another Marvel Studios actor, Ant-Man and the Wasp's Hannah John-Kamen, as the title character. That would suggest Alexander should play a supporting character or possibly an antagonist if she joins the film.




Red Sonja comics writer Gail Simone is involved with the film. Joey Soloway co-wrote the film and will direct it.

Mark Canton and Courtney Solomon will produce the film with Christa Campbell and Lati Grobman of Campbell Grobman Films. Adrea Sperling of Topple and Yariv Lerner, Jeffrey Greenstein, Younger, Les Weldon, Joe Gatta, and Tanner Mobley of Millenium are also producers.

Millennium's Avi Lerner, Boaz Davidson, and Traver Short are executive producers, with Luke Lieberman for Red Sonja LLC. and Nick Barrucci of Dynamite Entertainment. Dorothy Canton will also be an executive producer. (via ComicBook.com)
'STAR TREK: PRODIGY' FIRST LOOK IMAGES: ALIEN STARSHIP CREW, VOICE CAST REVEALED
06/14/21 @ 3:39 pm EST
Source:
Deadline
| Categories:
Star Trek
|
Comments
(0) |
E-mail Article
|
Add a Comment
Paramount+ today offered up a first-look at the alien starship crew – and the voice actors behind it – for the upcoming all-new animated children's series
Star Trek: Prodigy
.
See all of the new images below.
Joining the previously announced Kate Mulgrew, who will reprise her
Star Trek: Voyager
role of Kathryn Janeway, will be Rylee Alazraqui, Brett Gray, Angus Imrie, Jason Mantzoukas, Ella Purnell and Dee Bradley Baker, all voicing the series' young aliens. In the series, Mulgrew's Janeway will serve as the starship's built-in emergency training hologram. (via
Deadline
)
'KNIVES OUT 2': 'MATRIX 4'S JESSICA HENWICK JOINS DANIEL CRAIG IN SEQUEL
06/14/21 @ 3:52 pm EST
Source:
Deadline
| Categories:
MIsc
|
Comments
(0) |
E-mail Article
|
Add a Comment
Jessica Henwick, who recently landed one of the leads in the new
The Matrix
movie, has rounded out the cast for the next installment of
Knives Out,
which Daniel Craig is returning to star in and Rian Johnson is returning to write and direct.
Dave Bautista, Janelle Monáe, Kathryn Hahn, Leslie Odom Jr., Kate Hudson, Madelyn Cline and Edward Norton were also recently added to the cast.
Deadline
first reported in March that Netflix was closing a deal north of $400 million for the next two installments, a historic deal for streamers. Johnson is also producing with his partner Ram Bergman, with Craig reprising the role of super sleuth Benoit Blanc.
Plot details are unknown at this time other than Craig returning to solve another mystery involving a large cast of suspects. It is also unknown who Henwick will be playing.
Production is set to start this summer in Greece.
NETFLIX LANDS WORLDWIDE RIGHTS TO SCI-FI SEQUEL 'CODE 8: PART II'
06/14/21 @ 3:30 pm EST
Source:
Deadline
| Categories:
MIsc
|
Comments
(0) |
E-mail Article
|
Add a Comment
Netflix Co-CEO and Chief Content Officer Ted Sarandos announced today as part of his keynote speech at Banff World Media Festival that the streamer is taking global rights to Canadian sci-fi movie
Code 8: Part II
.
It's the streamer's first original Canadian English-language feature acquisition.
Deadline
first reported on the casting of the sequel with Robbie Amell (
Upload
) and Stephen Amell (
Arrow
) reprising their roles from the first film.
In Part 2, after witnessing the murder of her brother and subsequent cover up, a teenage girl with abnormal abilities seeks the help of an ex-con (Robbie Amell) and his former partner-in-crime (Stephen Amell). Together, they face a unit of corrupt police officers who deploy advanced robotic technology to prevent themselves from being exposed.
The pic will shoot in Canada and drop on Netflix this year.
Code 8
raised $2.5 million from more than 35K backers through Indiegogo, making it the second-largest crowdfunded original film of all time. It set the record for the highest-grossing day-and-date release for Elevation Pictures in Canada and for Vertical Entertainment in the U.S.
'THE FLASH' MOVIE: REPORTED SURPRISE CAMEO REVEALED
06/14/21 @ 3:25 pm EST
Source:
ComicBook
| Categories:
DC
|
Comments
(0) |
E-mail Article
|
Add a Comment
Spoilers ahoy!
ComicBook.com
reports that Grant Gustin's Flash is the latest DC superhero racing into
The Flash
feature film as a cameo.
The star of The CW's long-running
The Flash
series plays super speedster Barry Allen, who crossed over with Ezra Miller's Barry Allen when the Arrowverse met the DC Extended Universe in Part Four of television's
Crisis on Infinite Earths
event. After seven seasons of the CW series, Gustin's version of the character will reportedly make his feature film debut when director Andy Muschietti's
Flash
goes where "the DC Universe hasn't gone before": into the Multiverse.
Gustin would join a cast that includes Miller, reprising his role from
Justice League
, Ben Affleck as the Batman of the DCEU, Michael Keaton as a 30-years-older Dark Knight, Kiersey Clemons as Iris West, Maribel Verdú and Ron Livingston as Nora and Henry Allen, and Sasha Calle as the Krypton-born Supergirl.
"This movie is a bit of a hinge in the sense that it presents a story that implies a unified universe where all the cinematic iterations that we've seen before are valid," Muschietti said. "It's inclusive in the sense that it is saying all that you've seen exists, and everything that you will see exists, in the same unified multiverse."
Warner Bros. Pictures releases
The Flash
in theaters on November 4, 2022.
'THE WALKING DEAD' SEASON 11 PREVIEW SPECIAL TO AIR AHEAD OF PREMIERE
06/14/21 @ 9:19 am EST
Source:
ComicBook
| Categories:
Walking Dead
|
Comments
(0) |
E-mail Article
|
Add a Comment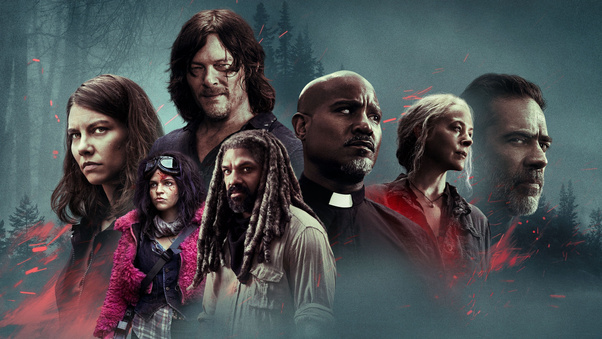 AMC Networks sets
The Walking Dead Season 11 Preview Special
with
Talking Dead
host Chris Hardwick for August 15.
Announced by Hardwick during
Talking Dead
's at-home edition discussing Sunday's Season 6 finale of
Fear the Walking Dead
, the virtual special takes a look ahead at the eight episodes of
The Walking Dead Final Season: Part 1
before the new season premieres one week later on August 22. Guests are TBA, but past
Preview Specials
have featured intel from cast and crew, including showrunner Angela Kang and executive producer Scott Gimple, exclusive first-look footage from upcoming episodes, and other surprises from the
Walking Dead
Universe.
June 11 was the start of AMC's "11 Weeks of Reveals until Season 11" countdown, a weekly event revealing photos, trailers, and other surprises on Thursdays.
The Walking Dead: Origins,
a new series of four special episodes exploring the post-zombie apocalypse histories of Daryl (Norman Reedus), Maggie (Lauren Cohan), Negan (Jeffrey Dean Morgan), and Carol (Melissa McBride), was the first reveal and will launch on AMC+ with "Daryl's Story" on July 15.
"Coming off of the six additional episodes for Season 10, which focused on smaller, character-driven stories, we're excited to kick off Season 11 bigger than ever," Kang said in a statement revealing the August 22 premiere of
The Walking Dead
Season 11. "The stakes will be high — we'll see more zombies, tons of action, intriguing new stories, never-before-seen locations and our groups together in one community for the first time, trying to rebuild what the Whisperers took from them." (via
ComicBook
)
'LOKI': NEW EPISODE 2 IMAGES REVEALED
06/14/21 @ 12:56 pm EST
Source:
Disney+
| Categories:
Marvel
|
Comments
(0) |
E-mail Article
|
Add a Comment
Disney+ has released a pair of stills from the coming second episode of Loki.

The first episode of Loki is now streaming on Disney+. The second episode drops this coming Wednesday, June 16th.