ART THIBERT CELEBRATES DUAL ANNIVERSARIES WITH VAMPIRELLA/BLACK & WHITE ON INDIEGOGO!
03/25/20 @ 4:58 pm EST
Source:
Dynamite
| Categories:
Dynamite
|
Comments
(0) |
E-mail Article
|
Add a Comment
Art Thibert and Dynamite together announce a special exclusive crossover cover variant for
Vampirella
#1!
Live right now (
CLICK HERE!
)! Available only on Indiegogo for a limited time, the cover celebrates the 25th anniversary of Thibert's independent creation Black & White as well as Vampi's big 50th.
"I am pleased to be involved in this amazing pairing of Dynamite's character, Vampirella, and my creator-owned characters, Black & White," said artist Art Thibert. "Black & White has been around for 25 years and Vampirella for 50 great years! I'd say that a book showcasing characters with that kind of staying power calls for a party! So please jump on board and grab your very own copy of this team-up cover of epic proportions."
The Indiegogo campaign has a curated set of options for fans and collectors with different tastes. Both the standard dressed cover and logo-free "virgin" editions are set at the same price, allowing fans to pick their preference. For the art fans, the campaign offers a black and white (no pun intended!) inks-only version to marvel at Thibert's famous abilities. Bundles for all three as well as all three signed are available. Plus, a limited number of one-of-a-kind sketches from Art of either Black & White or Vampirella will be offered.
Art Thibert has been a professional comic book artist for over 35 years. Principally known as one of the greatest inkers of all time, he's also contributed as a writer and penciler. As an inker, Art's brush and pens have enhanced the artwork of such fellow legends as Jim Lee, Greg Capullo, Art Adams, Steve Ditko, Joe Quesada, Adam Kubert, David Finch, Rob Liefeld, Dan Jurgens, Whilce Portacio, Ron Lim, Curt Swan, Salvador Larroca, Mark Bagley and countless more.
He was the ongoing inker of the 1991
X-Men
series at its peak popularity, influencing the style and dreams of so many young creators at the time. Following his collaborators Jim Lee and Rob Liefeld's exit to form Image Comics, Thibert became one of the hottest talents, stepping in as penciler of
X-Men
and launching the ongoing
Cable
series. In the meantime, he also found time to play a part in the famous
Death and Return of Superman
saga. Originally published by Image in 1994, Black & White were serialized across multiple titles and then received their own series. In 2018, Thibert relaunched the characters for a remastered and expanded hardcover graphic novel, successfully crowdfunded through Indiegogo. As well as his new currently available creation
Chrono Mechanics.
Underneath Art's great cover is the critically acclaimed bestselling Dynamite comic book of all time,
Vampirella
#1 by Christopher Priest and Ergün Gündüz. Selling over 150,000 copies through the traditional comic book market and other innovative and diverse avenues like this here Indiegogo, the title has reignited a rapidly expanding fanbase for the Daughter of Drakulon and garnered glowing reviews. Available every month and soon to expand into the companion title
sacredsix,
this issue is the perfect entry point!
"I've been friends with Art since around 1990, well before launching Dynamite Entertainment and even before Dynamic Forces," said Nick Barrucci, Dynamite CEO & Publisher. "Art's been at the forefront of some of the best-selling titles in the history of the industry, and with his talent, it's obvious why. Having inked all of the greats from Jim Lee to Andy Kubert, as well as having penciled and inked some titles, he has been one of the most important creators of the last four decades. We've also been fortunate enough for Art to create covers for some of our Dynamite titles, including Red Sonja and Sheena. He continues to show not only his versatility in stories and styles, but also how he can engage his audience through unique avenues like Indiegogo. Both Chrono Mechanics and Black and White have been huge hits. I couldn't be more honored to have his signature characters appear with Vampirella on our own bestseller for Art's and Dynamite's fans."
Don't miss out on this slick crossover cover! Available for a limited time and in limited quantities on Indiegogo!
TOM HANKS SCI-FI MOVIE 'BIOS' GETS NEW RELEASE DATE
01/21/21 @ 3:13 pm EST
Source:
Variety
| Categories:
MIsc
|
Comments
(0) |
E-mail Article
|
Add a Comment
Variety
reports that
Bios
, an upcoming sci-fi movie starring Tom Hanks and a pup named Goodyear, has been delayed.
The movie, from Universal Pictures and Amblin Entertainment, was initially scheduled for April 16, 2021. It has been pushed back by four months and will now open on Aug. 13.
Bios
is taking the place of an untitled Blumhouse Productions project.
Bios
is directed by Miguel Sapochnik, best known for his work on HBO's fantasy epic
Game of Thrones
. Craig Luck wrote the script with Ivor Powell.
The post-apocalyptic drama follows the last man on Earth, an ailing inventor name Finch (Hanks). As he nears death, he builds an android to protect his beloved dog. The cast also includes Caleb Landry Jones, Samira Wiley, Skeet Ulrich and Laura Harrier.
'JURASSIC WORLD: CAMP CRETACEOUS' SETS THE DINOSAURS FREE IN SEASON 2 CLIP
01/21/21 @ 2:56 pm EST
Source:
ComicBook
| Categories:
MIsc
|
Comments
(0) |
E-mail Article
|
Add a Comment
Jurassic Park might have been part of our popular culture for decades, but the franchise is still finding new and creative ways to reinvent itself. One of the most buzzed-about additions to that world has been
Jurassic World: Camp Cretaceous
, a new animated series that debuted its first season on Netflix last fall.
After a groundbreaking cliffhanger, Season 2 of
Camp Cretaceous
is set to premiere tomorrow (Jan. 22), and a clip can be viewed below. (via
ComicBook
)
Season 2 of
Jurassic World: Camp Cretaceous
will debut on Netflix on Friday, January 22nd.
Clip:
https://youtu.be/wOVvqDVdjGg
ALL-STAR CREATORS CELEBRATE THE WOMEN OF MARVEL IN NEW SPECIAL
01/21/21 @ 2:45 pm EST
Source:
Marvel
| Categories:
Marvel
|
Comments
(0) |
E-mail Article
|
Add a Comment
Announced earlier today on the
Women of Marvel
podcast, a new giant-sized special celebrating Marvel's heroes will debut in April. WOMEN OF MARVEL #1 will proudly spotlight iconic characters from the X-Men to the Avengers in a collection of tales by an all-female lineup of incredible talent from throughout the entertainment industry.
Kicking things off will be comics legend Louise Simonson with a must-read introduction. Simonson will be followed by some of the hottest rising stars in the graphic novel industry. Nadia Shammas punches the glass ceiling with an action-packed She-Hulk adventure, Elsa Sjunneson grits her way to the front line with a tale about Captain Peggy Carter, Sophie Campbell goes feral with a bone-grinding Marrow story, video game and comics writer Anne Toole gets gritty in the streets of Hell's Kitchen, and Natasha Alterici of
Heathen
fame charges sword-first into the Marvel Universe with a revelatory tale about Rogue and Mystique. With astonishing art from new and established artists Kei Zama (
Transformers
,
Death's Head
), Eleonora Carlini (
Power Rangers
,
Batgirl
), Skylar Patridge (
Resonant
,
Relics of Youth
), Joanna Estep (
Fantastic Four
,
Fraggle Rock
) and more, readers are sure to come away powered up and ready to slay.
"I've always loved the Women of Marvel program for the way it opened the door – it said to women everywhere, this fandom is for you. There have always been powerful women in comics – and behind them, writing and drawing and editing and reading them – but spotlighting those characters, creators and fans felt like someone reaching out their hand. So it's with great gratitude that I curated this special one-shot. The women in this special are powerhouse creators from all over the place; it's truly a celebration of Marvel Comics and a love letter to the women who paved the way," Editor Sarah Brunstad said. "These stories are bold, bombastic and big-hearted in the best ways. I can't wait for people to read them and get a little glimpse of what the future of comics has in store."
Stay tuned for more news about WOMEN OF MARVEL #1 and pick up this extraordinary issue when it hits stands in April.
'GAME OF THRONES' PREQUEL 'TALES OF DUNK AND EGG' IN EARLY DEVELOPMENT AT HBO
01/21/21 @ 2:42 pm EST
Source:
Variety
| Categories:
MIsc
|
Comments
(0) |
E-mail Article
|
Add a Comment
Variety
reports that a series adaptation of
Tales of Dunk and Egg
, a prequel to the events of
Game of Thrones
, is in early development at HBO.
The one-hour show would be based on the series of fantasy novellas by George R. R. Martin, which follow the adventures of Ser Duncan the Tall (Dunk) and a young Aegon V Targaryen (Egg) 90 years prior to the events of
A Song of Ice and Fire
.
Martin has published three novellas in the
Tales of Dunk and Egg
series to date:
The Hedge Knight
in 1998,
The Sworn Sword
in 2003, and
The Mystery Knight
in 2010. The three novellas were then collected and published together as
A Knight of the Seven Kingdoms
in 2015.
'THE WALKING DEAD': SEASON 10C BONUS EPISODE TRAILER RELEASED
01/21/21 @ 3:15 pm EST
Source:
AMC
| Categories:
Walking Dead
|
Comments
(0) |
E-mail Article
|
Add a Comment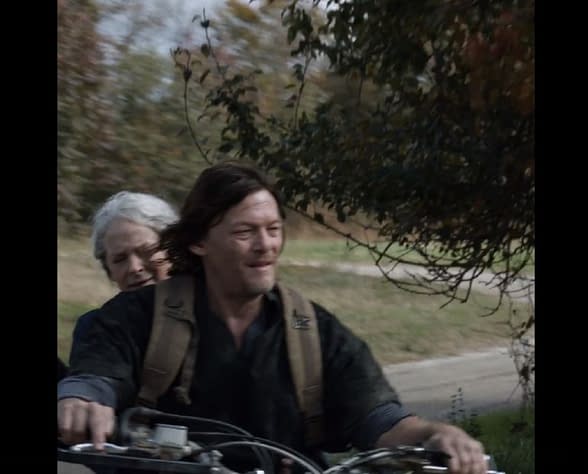 AMC
has released the first full trailer for
The Walking Dead's
six bonus episodes which are being added to the show's 10th season.
Trailer:
https://youtu.be/BUgLxr3KKtI
'BLACK WIDOW' IS EXPECTED TO BE DELAYED AGAIN
01/21/21 @ 11:40 am EST
Source:
ComicBookMovie
| Categories:
Marvel
|
Comments
(0) |
E-mail Article
|
Add a Comment
Black Widow
was supposed to be released last May, but after being pushed back to November thanks to COVID-19, it suffered yet another delay. Now, it's set to arrive in theaters
this
May.
However, with January, February, and March now without any major blockbusters, there's already speculation that April and May will be next to empty out. That doesn't bode well for the Marvel Studios movie, but many fans have remained optimistic that a Disney+ "Premier Access" release will be considered.
And it sounds like that's a last resort for Disney.
According to new reports,
Black Widow
is expected to get the delay treatment should the theater situation not improve. Since it's the first 2020s film from the franchise that propelled the studio to a now fictional-seeming $11 billion global gross in 2019, another delay before a last-ditch Disney+ release is more likely to occur. (via
ComicBookMovie
)
TAZ FACES OFF WITH BUGS BUNNY IN NEW 'LOONEY TUNES' CLIP
01/21/21 @ 11:41 am EST
Source:
HBO Max
| Categories:
MIsc
|
Comments
(0) |
E-mail Article
|
Add a Comment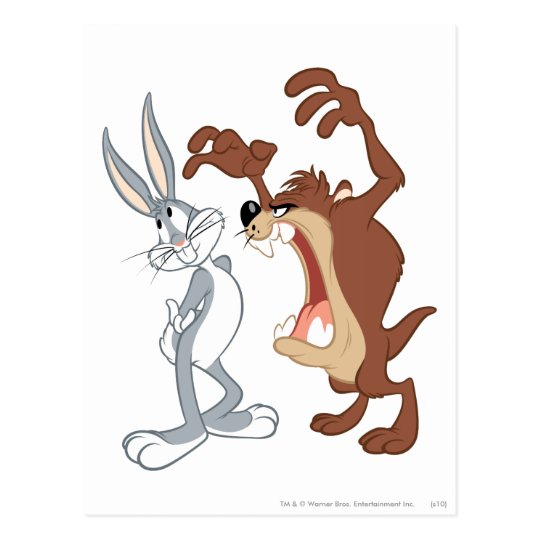 HBO Max
has released a clip of the new episodes of
Looney Tunes Cartoon
s debuting on the streaming service today (January 21st) and in it, Taz and Bugs Bunny face off in gladiatorial combat, though someone might want to let Bugs know that's what's going on.
This episode will mark Taz's HBO Max full-length
Looney Tunes
debut.
Check out the clip of the toon
by clicking here.
'RIVERDALE': "THE PREPPY MURDERS" PREVIEW RELEASED
01/21/21 @ 11:20 am EST
Source:
The CW
| Categories:
Archie
|
Comments
(0) |
E-mail Article
|
Add a Comment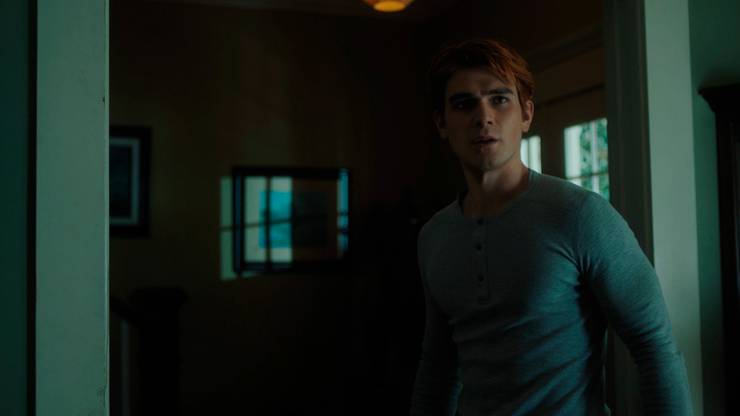 The CW
has released a preview for an episode of its
Archie
-inspired series
Riverdale
titled "The Preppy Murders."
Riverdale
airs Wednesdays at 8/7c on The CW. "Chapter Seventy-Eight: The Preppy Murders" will air on January 27th.
Preview:
https://youtu.be/WwNjkgHj0A8
'FORTNITE' CREATOR EPIC GAMES MAKES FORAY INTO MOVIES WITH ANIMATED PIC 'GILGAMESH'
01/21/21 @ 11:10 am EST
Source:
Deadline
| Categories:
MIsc
|
Comments
(0) |
E-mail Article
|
Add a Comment
Deadline
reports that
Fortnite
developer and publisher Epic Games is set to make its first known investment in feature films with animated movie
Gilgamesh
, based on the hero from ancient Mesopotamian mythology.
The developer is teaming up with Latin American animation studio Hook Up and Argentinian firms DuermeVela and FilmSharks on the project, which will use Epic's Unreal Engine technology to chart the exploits and adventures of the king-turned-deity Gilgamesh who was immortalised in the epic poem which bears his name and which is said to have influenced Homer's
Odyssey
and
Iliad
.
The film, which will have English and Spanish versions, will explore demigod Gilgamesh's quest for immortality and his rivalry then friendship with wild man Enkidu.
'GUARDIANS OF THE GALAXY' #13 KICKS OFF MARVEL'S NEW SPACE AGE
01/21/21 @ 11:06 am EST
Source:
Marvel
| Categories:
Marvel
|
Comments
(0) |
E-mail Article
|
Add a Comment
For Earth, there are the Avengers. For everywhere else, there's the Guardians of the Galaxy. This April, writer Al Ewing teams up with artist Juan Frigeri for a new arc of his epic run on GUARDIANS OF THE GALAXY. The double-sized milestone 175th issue, GUARDIANS OF THE GALAXY #13, will introduce the book's new lineup, reveal the Guardian's bold new mission, and welcome readers to Marvel's new space age! They were soldiers, misfits, mercenaries, thieves and a family.
They were heroes… but times have changed. The galaxy no longer needs heroes. It needs super heroes! In the aftermath of their climatic battle with the Olympian gods, the Guardians of the Galaxy have been deputized by the Galactic Council. New adventures call for new teammates and the Guardians have expanded their roster like never before. Joining Star-Lord, Gamora, Rocket, and Groot will be Young Avengers Wiccan and Emperor Hulkling as well as some surprising new teammates yet to be revealed. Now, when the call goes forth – whether it's from a stranded team of planetary explorers or Emperor Hulkling and his Kree/Skrull Alliance – the Guardians of the Galaxy answer!
"GUARDIANS OF THE GALAXY, both the book and the team, are going to be stepping up a gear in 2021, with villains the team have never faced, guest stars you never thought you'd see, and a new teammate you can't even begin to believe - all coming together for a crisis that'll shake every planet in the Marvel universe down to the bedrock... maybe even a backwater planet like Earth," Ewing promises.
The New Age of Space is here. Get on board, True Believer – it's going to be the ride of your life! Don't miss GUARDIANS OF THE GALAXY #13 when it hits stands in April.