NETFLIX ANNOUNCES 'THE WITCHER: NIGHTMARE OF THE WOLF'
01/22/20 @ 2:45 pm EST
Source:
The Wrap
| Categories:
MIsc
|
Comments
(0) |
E-mail Article
|
Add a Comment
Netflix is growing
The Witcher
universe with a new anime spinoff film titled
The Witcher: Nightmare of the Wolf
, the streaming service announced Wednesday.
From
Witcher
showrunner Lauren Schmidt Hissrich and producer Beau DeMayo, Netflix says "the world of 'The Witcher' expands in this anime film that explores a powerful new threat facing the Continent."
The project hails from Studio Mir, the renowned Korean animation studio best known for
The Legend of Korra
and Netflix's
Voltron: Legendary Defender
.
The Witcher
, which launched Dec. 20, follows the stories of monster hunter Geralt of Rivia (Henry Cavill), sorceress Yennefer (Anya Chalotra) and young princess Ciri (Freya Allan).
The
Nightmare of the Wolf
movie announcement comes one day after Netflix said that
The Witcher
TV series, which has already been renewed for Season 2, was watched by 76 million households in its first month on the streaming service, making it the biggest first season debut in Netflix's history, per the streaming service's new "view" counting methods. (via
The Wrap
)
MARVEL: SILK RETURNS!
02/28/20 @ 4:12 pm EST
Source:
Marvel
| Categories:
Marvel
|
Comments
(0) |
E-mail Article
|
Add a Comment
Back in 2014, the world learned that Peter Parker wasn't the only one who was bitten by the radioactive spider in
Amazing Fantasy
#15. Equipped with spider powers of her own, Cindy Moon took the Marvel Universe by storm as the beloved super hero Silk! Just announced at C2E2, Silk will weave a new web this July, filled with ruthless new villains including the cat demon Kasha as Cindy takes on a new investigative reporter gig under the one and only J. Jonah Jameson. Acclaimed novelist Maurene Goo (
I Believe in a Thing Called Love
,
Somewhere Only We Know
) makes her grand foray into comic books alongside superstar artist Takeshi Miyazawa to deliver a thrilling series that will pack action, heart, and relevatory insights about the character. Cindy's new mission will quickly turn as personal as it is deadly and prove Silk to be one of Marvel's most dynamic and intriguing heroes. "The opportunity to write a Korean American super hero—a woman, no less—is one that I never thought would come my way," Goo said. "I'm so excited to flex this writing muscle and to explore new stories for Silk—a character I love. Her fierceness and loyalty are qualities I understand and relate to, and I hope readers feel the same as she fights new foes and protects old friends." Don't miss a beat of the latest adventures of Cindy Moon when SILK #1 swings into comic shops in July!
SILK #1
Written by Maurene GooArt by Takeshi MiyazawaCover by StonehouseOn Sale July 2020
FIRST TIME EVER! MCFARLANE DRAWS SPAWN & SPIDER-MAN TOGETHER!
02/28/20 @ 11:30 am EST
Source:
Twitter
| Categories:
MIsc
|
Comments
(0) |
E-mail Article
|
Add a Comment
Todd McFarlane, one of the artists famed for leaving Marvel Comics to form Image Comics in the 1990s, has returned to the web, so to speak. And brought his greatest creation with him.
McFarlane has tweeted out an image of Spider-Man and his mega-creation, Spawn, together for the first time! The rendering is for a new cover to this year's Overstreet Comic Book Price Guide.
On
Twitter
accompanying the drawing, the comics creator wrote:
"This is a momentous occasion in Comic Book History! It's been 27 years since I left @Marvel Comics and drew Spider-Man professionally. But for the first time ever, Spawn and Spider-man, TOGETHER!"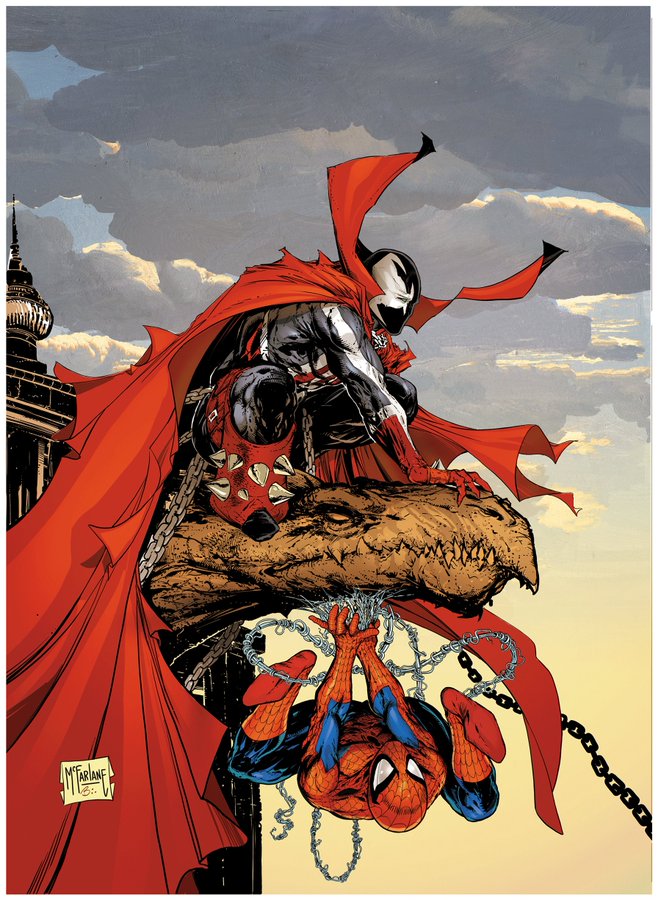 'PENNYWORTH' ADDS FIVE NEW SERIES REGULARS AS PRODUCTION BEGINS ON SEASON 2
02/28/20 @ 11:18 am EST
Source:
Deadline
| Categories:
DC
|
Comments
(0) |
E-mail Article
|
Add a Comment
James Purefoy (
The Following, Sex Education
), Edward Hogg (
Taboo, Harlots)
, Jessye Romeo (
Curfew, In the Long Run
), Ramon Tikaram
(Brassic, The Victim
) and Harriet Slater
(Faunutland and the Lost Magic)
are set as series regulars opposite Jack Bannon for the upcoming second season of Epix's DC origin story
Pennyworth,
from Warner Horizon Scripted Television.
Purefoy, Hogg and Romeo are new cast members for the upcoming season, and Tikaram and Slater, who recurred in season 1, have been promoted to series regulars. The 10-episode sophomore season began production in the UK in January at Warner Bros. Studios Leavesden, with an eye towards a summer 2020 premiere on Epix.
Purefoy will play Captain Gulliver Troy. Alfie's former SAS Captain, Gulliver Troy is a charismatic, cultured brute and a powerful man of appetites – whether that be drink, women or danger.
Hogg will portray Colonel Salt. A would-be despot masquerading as an obedient civil servant, Salt is a calculating killer, whether by pen or sword. (via
Deadline
)
Romeo will play Katie Browning. An idealistic art student whose life is uprooted by civil war, Katie is righteous, defiant and wonderfully naive.
Tikaram is Inspector Victor Aziz. Season one's charming, sardonic Inspector Aziz returns, keeping his clear head and dry wit even as London descends into chaos.
Slater is Sandra Onslow. Budding 60s starlet, Alfie's on-again-off-again girlfriend, Sandra, is now resident singer in his club, with dreams of becoming the next Sandie Shaw.
NEW 'MONSTER HUNTER' MOVIE POSTERS REVEALED
02/28/20 @ 11:12 am EST
Source:
IGN
| Categories:
MIsc
|
Comments
(0) |
E-mail Article
|
Add a Comment
The
Monster Hunter
movie has two new teaser posters which have been revealed by
IGN
.
The posters show stars Tony Jaa and Milla Jovovich respectively, each holding weaponry drawn from the game series. Jaa, who plays The Hunter, is holding the Great Hunter's Bow, Jovovich (playing Lieutenant Artemis) totes a Great Sword, the Giant Jawblade. The desert setting they're in is based on the look of Monster Hunter World's Wildspire Wastes area.
The film arrives in theaters on September 4.
'THE INVISIBLE MAN' SHOWS UP WITH $1.65M ON THURSDAY NIGHT
02/28/20 @ 11:03 am EST
Source:
Deadline
| Categories:
MIsc
|
Comments
(0) |
E-mail Article
|
Add a Comment
Deadline
reports that Universal-Blumhouse's
The Invisible Man
made its first appearance last night at 7PM shows nationwide with $1.65M, an an amount of cash that's near both studios' previous collaborations,
Get Out
($1.8M Thursday) and
Split
($2M).
Both 2017 titles overperformed their $20M-predicted tracking at the time, with
Split
posting a $40M start, and
Get Out
taking $33.3M.
Invisible Man,
directed and written by Leigh Whannell, is forecasted to be in the mid to high $20M range, a solid start for the $7M net production shot with Australian tax credits; however, like
Split
and
Get Out,
it's expected to go higher potentially in the $30M+ zone.
Exits and reviews indicate that's possible with
Invisible Man
's Rotten Tomatoes score at 92% Certified Fresh being just under
Get Out
's 98% certified fresh, but much higher than
Split
's 77% certified fresh and
Halloween
's 79% certified fresh. The RT score is key because that's the catalyst which will persuade non-genre diehards to buy tickets.
'DAY OF THE DEAD' AND 'THE SURREALTOR' TV SERIES ORDERED BY SYFY
02/28/20 @ 11:00 am EST
Source:
Deadline
| Categories:
MIsc
|
Comments
(0) |
E-mail Article
|
Add a Comment
Deadline
reports that Syfy has given 10-episode straight-to series orders to
Day of the Dead,
based on George A. Romero's classic zombie film, from Cartel Entertainment (
Creepshow
); and
The Surrealtor,
from Blue Ice Pictures (
Ginny and Georgia)
. Both are expected to air on Syfy in 2021.
The Day of the Dead
order follows the straight-to-series pickup by Syfy of another classic horror movie title,
Chucky,
as the network continues to expand its slate into the horror genre. Syfy has been investing in high-end scripted content with a focus on edgy, younger-skewing shows with off-kilter sensibility, including comic book adaptations.
The NBCUniversal cable network, which is mounting a major push in animation, also has been increasingly betting on straight-to-series orders vs. pilots with four in a row:
Vagrant Queen
, based on the comic and also produced by Blue Ice Pictures,
Chucky, Day of the Dead
and
The Surrealtor.
'TURNER AND HOOCH': LYNDSY FONSECA AND CARRA PATTERSON TO STAR IN TV SERIES REBOOT FOR DISNEY+
02/27/20 @ 9:30 pm EST
Source:
Deadline
| Categories:
Disney
|
Comments
(0) |
E-mail Article
|
Add a Comment
Deadline
reports that
Nikita
alumna Lyndsy Fonseca and Carra Patterson (
The Arrangement
) have been cast as female leads opposite Josh Peck in
Turner & Hooch,
Disney+'s reboot of the classic 1989 buddy-cop comedy feature. The TV series, which has a 12-episode order, comes from
Burn Notice
creator Matt Nix and 20th Century Fox TV.
Additionally, Fonseca has been tapped for a season-long arc on Fox's
9-1-1: Lone Star,
playing Liv Tyler's sister. Both series are produced by 20th TV, and she will be filming them concurrently.
Like the movie, the hourlong series centers on Scott Turner (Peck), who now is a U.S. marshal — versus the police detective played by Tom Hanks in the movie. When the ambitious, buttoned-up marshal inherits a big unruly dog, he soon realizes the pet he didn't want may be the partner he needs.
Fonseca will play Laura, Scott's sister and the mother of 7-year-old Matthew. Like the rest of her family, Laura is still coming to terms with the death of their father. A dog lover, who currently owns special-needs dogs, Laura (with Matthew) brings over to Scott their father's legacy: a huge, slobbery dog named Hooch. Laura is close to both her brother and mother — with whom she discovers that their father's death might not have been an accident.
Patterson will portray Jessica, Scott's partner, and a sharp contrast to his spit-and-polish ways, which she constantly teases him about. Brave and quick-thinking on the job, though sometimes her sense of humor gets her in trouble, Jessica genuinely respects and supports Scott. Happily married to Grady, Jessica has no problem with Scott's new sidekick, and she's willing to bring Hooch to work with them on a tough case.
'PROUD FAMILY' REVIVAL ORDERED TO SERIES AT DISNEY+
02/27/20 @ 9:25 pm EST
Source:
Variety
| Categories:
Disney
|
Comments
(0) |
E-mail Article
|
Add a Comment
Variety
reports that
The Proud Family
revival has officially been greenlit at Disney+.
The Disney Channel animated series will return with all new episodes on the streamer, with most of the original voice cast returning. The returning cast members are: Kyla Pratt as Penny Proud, Tommy Davidson as Oscar Proud, Paula Jai Parker as Trudy Proud, Jo Marie Payton as Suga Mama, Karen Malina White as Dijonay Jones, Soleil Moon Frye as Zoey Howzer, and Alisa Reyes as LaCienega Boulevardez. Cedric the Entertainer will also return as Uncle Bobby Proud.
The new show, which is titled
The Proud Family: Louder and Prouder
, is currently in production at Disney Television Animation. Series creator Bruce W. Smith and executive producer Ralph Farquhar are returning to lead the revival along with original series writer Calvin Brown Jr., who will serve as co-executive producer and story editor.
YOUR FIRST LOOK AT 'THE QUOTABLE GIANT DAYS'
02/27/20 @ 9:21 pm EST
Source:
BOOM! Studios
| Categories:
MIsc
|
Comments
(0) |
E-mail Article
|
Add a Comment
​
BOOM! Studios today revealed a first look at the brand new THE QUOTABLE GIANT DAYS, collecting a mixture of witty and humorous quotes from the Eisner Award-winning series by creator John Allison (
Bad Machinery
) and panels from the original
Giant Days
comic book series, as well as brand new illustrations from acclaimed series artist Max Sarin, to guide you through the ups and downs of life, available in stores July 2020.
GIANT DAYS fans will delight in this charming collection of the very best zingers and scenes from the acclaimed series about a group of eccentric and eclectic students who manage to survive university and become lifelong friends in the process. Let Daisy, Esther, and Susan's words of relative wisdom and great hilarity provide you with a quote for every occasion.
THE QUOTABLE GIANT DAYS is the latest release from BOOM! Studios' award-winning BOOM! Box imprint, home to groundbreaking original series such as
Lumberjanes
by Shannon Watters, Grace Ellis, Noelle Stevenson and Brooklyn Allen;
The Avant-Guards
by Carly Usdin and Noah Hayes;
b.b. free
by Gabby Rivera and Royal Dunlap;
Fence
by C.S. Pacat and Johanna The Mad; and
Goldie Vance
by Hope Larson and Brittney Williams.
Print copies of THE QUOTABLE GIANT DAYS will be available for sale on July 22, 2020 at local comic book shops (use
comicshoplocator.com
to find the nearest one), July 28, 2020 at bookstores or at the BOOM! Studios webstore. Digital copies can be purchased from content providers, including comiXology, iBooks, Google Play, and Madefire.
HULKLING TAKES THE THRONE IN JAMIE MCKELVIE'S 'EMPYRE' #1 COVER
02/27/20 @ 9:18 pm EST
Source:
Marvel
| Categories:
Marvel
|
Comments
(0) |
E-mail Article
|
Add a Comment
With a Skrull soldier on his right and a Kree soldier on his left, Hulkling takes his rightful place as the Emperor of the new Kree/Skrull alliance on superstar artist Jamie McKelvie's variant cover for Empyre #1. Born to a Kree father and a Skrull mother, the young hero has fulfilled his destiny by putting an end to a millennia-long conflict and uniting the galaxy's two largest armies. Equipped with a powerful sword and leading the greatest armada the universe has ever seen, the new Emperor is ready to take on whatever obstacles are in his path as he makes his way to Earth. Will the Avengers and Fantastic Four dare to get in his way?
EMPYRE #1, the start of Marvel's latest sci-fi epic, hits stands April 15th.
EMPYRE 1 (FEB200753) Written by AL EWING & DAN SLOTT Art by VALERIO SCHITI Cover by JIM CHEUNG
Variant Cover by JAMIE MCKELVIE with colors by MATT WILSON (FEB200758)