CULLEN BUNN

SEND THIS TO A FRIEND!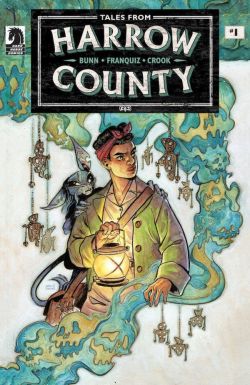 DF Interview: Cullen Bunn creates new from the familiar in 'Tales from Harrow County: Death's Choir'
By Byron Brewer
Ten years have passed since Emmy exited Harrow County, leaving her close friend Bernice as steward of the supernatural home.
But World War II is in full swing, taking Harrow's young men and leaving the community more vulnerable than ever – and when a ghostly choir heralds the resurrection of the dead, Bernice must find a solution before the town is overrun.
Harrow County is back! The award-winning, Eisner-nominated, southern gothic horror series returns with a brand new story. From Dark Horse Comics comes Tales from Harrow County: Death's Choir by writer Cullen Bunn and artist Naomi Franquiz. DF didn't waste any time with this one, having talked with scribe Bunn several times on his Harrow County saga. So let's do it again!
Dynamic Forces: Cullen, why is now the time to return to Harrow County? Tell us a little about what this property means to you as a writer.
Cullen Bunn: It's ALWAYS a great time to return to Harrow County! Since the original series ended, Tyler Crook, editor Daniel Chabon, and I have been discussing how to bring the book back. It was important to me that—no matter what we did—a new series would stand on its own and the original series would stand as complete. We kicked around a few ideas (which may be revisited in the future) but this story—the story of an adult Bernice facing mystical challenges of her own—was the one that seemed right.
DF: Some people have been under a rock (today, I cannot blame them). Tell us an elevator pitch-worth about the preceding series of yours taking place in Harrow.
Cullen Bunn: Harrow County was the story of a young woman—Emmy—who grew up in the country, always knowing that she was surrounded by ghosts and ghouls and things that go bump in the night. On the eve of her 18th birthday, though, she discovers that she may be the reincarnation of an infamous witch. It's a dark fantasy/horror fairy tale.
DF: What type of horror hijinks will be taking place in this sequel, coming from Dark Horse? Will it be an easy jump on the wagon for the vaunted new reader?
Cullen Bunn: Super easy! You don't need to know anything about the original series to enjoy this one. In this story, Bernice is charged with protecting Harrow County from supernatural forces. It's been a pretty easy gig for her. But suddenly, a strange song is heard in the dead of night, and when that song plays, the dead grow restless. Bernice must find out where the song is coming from before something really awful is awakened.
DF: This particular story takes place in the era of World War II. Did the team do any types of specific research to get the atmosphere of the time and place?
Cullen Bunn: Oh, yeah. As usual, I did enough research to make the story ring true (I hope!). Naomi, of course, did a lot in terms of the look and feel of the era.
DF: Returning readers know a little, but give us an author's snapshot of Bernice please. What challenges does she face in this sequel tale? Is Emmy in this story at all?
Cullen Bunn: Emmy is not in this story at all. I love Emmy dearly, but she approaches supernatural dangers in a different way. For this story, I wanted someone who was a little more "normal" and that's Bernice. She isn't some sort of all-powerful superhero. Instead, she's a normal young woman who knows a few rituals and tricks. She's a hedge magician. She has to work at fighting off supernatural threats.
DF: Talk about the great collaboration between you and Tyler Crook.
Cullen Bunn: Tyler is one of my favorite people in comics, and I love working with him. For these new stories in Harrow County, we talk a lot about the kind of tales we want to tell. As we tell more, he may draw some. He may co-write some. He may write some. With this one, I'm writing the book with Tyler's keen eye watching out that I don't screw something up!
DF: What can you say about the absorbing and captivating art of series newcomer Naomi Franquiz? (Loved Misfit City!)
Cullen Bunn: The biggest challenge with this book was finding an artist who could carry on with the story but have the same "feel" that Tyler gave the original series. As soon as I saw Naomi's work, I knew we had a real winner. She's going to blow people away!
DF: Cullen, what's heating up on the Bunn-son burner, ready to leap into our hands in a few days or a few weeks?
Cullen Bunn: I'm working on a LOT of new creator-owned material right now, and I can't really talk about any of it! I'm also working on a new licensed project as well as some new material for Valiant. Stay tuned! There's so many cool projects ahead!
Dynamic Forces would like to thank Cullen Bunn for taking time out of his busy schedule to answer our questions. Tales from Harrow County: Death's Choir #1 from Dark Horse Comics hits stores on Dec. 18th!
For more news and up-to-date announcements, join us here at Dynamic Forces, www.dynamicforces.com/htmlfiles/, "LIKE" us on Facebook, www.facebook.com/dynamicforcesinc, and follow us on Twitter, www.twitter.com/dynamicforces.
ABSOLUTE CARNAGE: SCREAM #1 SIGNED BY CULLEN BUNN DUAL PACK!
ABSOLUTE CARNAGE: SCREAM #1 SIGNED BY CULLEN BUNN!
MOON KNIGHT ANNUAL #1 SIGNED BY CULLEN BUNN DUAL PACK!
MOON KNIGHT ANNUAL #1 SIGNED BY CULLEN BUNN!
VAMPIRELLA VS. REANIMATOR #1 ATLAS EDITION - SIGNED BY CULLEN BUNN
DEADPOOL: SPECIAL MISSIONS #1 SIGNED BY CULLEN BUNN
VENOMVERSE #1 ULTRA-LIMITED SYMBIOTE SILVER EDITION - SIGNED BY CULLEN BUNN
VENOMVERSE #1 - SIGNED BY CULLEN BUNN
X-MEN: BLUE #1 SKOTTIE YOUNG VARIANT ULTRA-LIMITED BLUE SIGNATURE SERIES SIGNED BY CULLEN BUNN
X-MEN: BLUE #1 SIGNED BY CULLEN BUNN
DARTH MAUL #1 ULTRA-LIMITED CRIMSON RED SIGNATURE SERIES EDITION SIGNED BY CULLEN BUNN
MONSTERS UNLEASHED #1 SIGNED BY WRITER EXTRAORDINARE CULLEN BUNN
DEADPOOL BACK IN BLACK #1 SIGNED IN BLOOD RED BY CULLEN BUNN
---
NEW! 1. 11/30/2020 - SKYLAR PATRIDGE
5. 11/16/2020 - RYAN O'SULLIVAN