JAI NITZ

SEND THIS TO A FRIEND!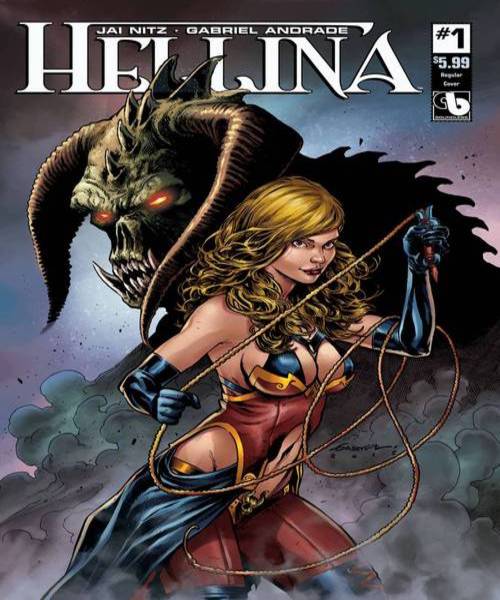 DF Interview: Jai Nitz brings readers a refreshingly new iteration of a classic: Hellina
By Byron Brewer
Hellina is back!
Experience a whole new beginning for Hell's enforcer, given a fresh take by seasoned pro Jai Nitz and stunning artwork by Gabriel Andrade (Crossed + 100, Uber). But she is no less of a sexy slayer than before; in fact now she is Hell's Adjudicator, sent in to clean house when creatures of the night get out of control.
If you either have fond memories of the Hellina that was, or are a new reader wanting to know more about this feisty femme fatale (emphasis on the fatale!), DF has what you need as we sit down with scribe Jai Nitz.
Dynamic Forces: Jai, tell us how this reinvigorated iteration of Hellina (and thus the new Boundless Comics miniseries), who this year I believe is celebrating her 21st anniversary, came about.
Jai Nitz: My buddy Mike Costa contacted me. He was working on some books for Boundless (Belladonna) and their sister company, Avatar (God is Dead). He knew they were looking for capable writers to work on their books and asked if he could suggest me to the publisher, William Christensen. I agreed. I got an email the next day from William asking me to pitch Hellina with a very rough outline for what he wanted the character to be. I gave Boundless an elaborate pitch that spiraled far away from what they wanted. But one line in my pitch really stuck out to them, so we retooled the entire pitch around that one line: "Heaven and Hell have been at war for millennia, and recently, Hell won."
DF: So …who WAS Hellina as an iconic hero and who IS Hellina, the character you will be writing in the mini? Can you compare and contrast? What is the same and what is different?
Jai Nitz: I can honestly say I have no idea who Hellina WAS. I knew the comics from Lightning Comics existed, but I never read them. Those comics were a bit crude in execution, I have no idea about the content. The art was really derivative of the worst of the '90s bad girl art that came about, so I skipped them even though I worked in a comic shop at the time.
But for who she IS, that's a different story. I was allowed to write a backstory for the character that fit in line with the HELL WON story concept. So I got to write the origin of a character who has been around for thousands of years fighting, and I got to talk about how that war would shape the character. One of the biggest subtexts in the series is how you go from fighting, from all you know is fighting, to being a peace keeper. I think that's an interesting vein to mine.
DF: Tell us more about this "Hell Won" theme, and Hellina's job as "Hell's Adjudicator".
Jai Nitz: Heaven and Hell have been at war basically since Lucifer was cast out of Heaven and made his own kingdom of Hell. But rather than Yaweh being all powerful and omnipotent, the sides were well balanced because of the number of angels who split with Lucifer. So evenly matched opponents have fought for thousands of years with man in the middle the way that livestock would be in the middle of a modern war. Hellina was a key part of Hell's victory. And in turn she was rewarded by being made Hell's Adjudicator, or essentially the sheriff of Hell. She's a judge, jury and executioner sent into the world to keep Hell's victorious factions in line and to keep Heaven at bay.
DF: Why is Gabriel Andrade the right artist for this new mini?
Jai Nitz: Holy cow, that guy can draw! You have to understand, that most times when you're working at a smaller publisher, you get an artist who isn't quite ready yet or is past his prime (or sometimes never had a prime). That's the way the comic world works. The artists who are talented, nice and fast rise to the top ranks and out-price the smaller publishers. Gabriel is talented enough, fast enough, and nice enough to be working at Marvel or DC on a big book. William recognizes that, so he takes care of Gabriel accordingly. I went through a lot of Gabriel's art before I wrote the script, and almost all of it was with Alan Moore writing. Why? Because you don't give an Alan Moore script to a chump. And you don't keep a talent like Gabriel around without taking care of him. The more likely question is, "Why did Boundless put one of their top artists on a book with a brand new (to them) writer?" I don't know. I'm very lucky in that regard.
DF: Jai, after the mini – and if it is warranted -- is this a book you would like to continue with as a creator?
Jai Nitz: I think so. I'm doing several other stories in the same universe. The next one, The Ravening, is a story about how two houses of vampires are changed by the events in Hellina #1. In comic terms, Hellina has superpowers on the level of Wonder Woman or Captain Marvel. The vampires have a power level more like Luke Cage or Katana. So the scope is smaller, but the stakes are still very high.
And even beyond The Ravening we're planning on a couple of more books set in the same universe. So I plan on writing more Hellina directly or indirectly. I'm excited for the opportunity.
Dynamic Forces would like to thank Jai Nitz for taking time out of his busy schedule to answer our questions. Hellina #1 is in stores now!
For more news and up-to-date announcements, join us here at Dynamic Forces, www.dynamicforces.com/htmlfiles/, "LIKE" us on Facebook, www.facebook.com/dynamicforcesinc, and follow us on Twitter, www.twitter.com/dynamicforces
GRIMM: THE WARLOCK #3 (OF 4) Written by Jai Nitz
GREEN HORNET #31 Written by Jai Nitz
BRING THE THUNDER #4 Written by Jai Nitz
KATO ORIGINS #11: THE HELLFIRE CLUB Written by Jai Nitz
BRING THE THUNDER #2 (OF 4) Written by Jai Nitz
KATO ORIGINS #1: WAY OF THE NINJA Written by Jai Nitz
GREEN HORNET VOL. 6: LEGACY TPB Written by Jai Nitz
KATO: ORIGINS VOL 2: THE HELLFIRE CLUB TPB Written by Jai Nitz
KATO: ORIGINS VOL. 1: WAY OF THE NINJA TRADE PAPERBACK Written by Jai Nitz
BRING THE THUNDER TPB Written by Jai Nitz
---
NEW! 1. 11/25/2020 - STEVE SKROCE
4. 11/16/2020 - RYAN O'SULLIVAN
5. 11/16/2020 - RYAN O'SULLIVAN