CULLEN BUNN

SEND THIS TO A FRIEND!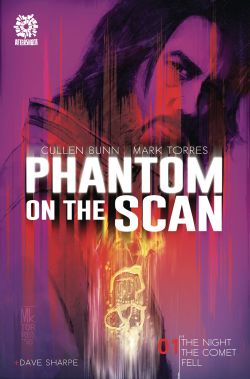 DF Interview: Cullen Bunn brings a new take to the formula psychic powers story in 'Phantom On The Scan'
By Byron Brewer
Twenty years ago, a comet fell to Earth. Since that night, Matthew has been haunted – haunted by a spirit that gives him incredible psychic abilities. But these abilities come with a price… and payment is due.
Every time Matthew uses his gifts, he draws closer to death, and other psychics – all of whom gained their powers on the night the comet fell – are dying in the most horrible of ways. To save himself, Matthew gathers a group of psychics to solve the mystery of their powers before it's too late.
From writer Cullen Bunn and artist Mark Torres comes Phantom On The Scan! DF sought out and sat down with old friend Cullen Bunn to chat up this latest chiller.
Dynamic Forces: Cullen, here we are with you behind the creative pen of a new horror limited series. What is it about the horror genre that keeps you returning with tale after tale, and how do you keep each story fresh yet thrilling, no two exactly alike in their chills?
Cullen Bunn: Keeping the stories distinct is the easy part! Horror is a much more diverse genre than a lot of people think. There are so many "flavors" of horror tale. And there are so many different themes and ideas that can be explored with the backdrop of horror. And, for me, horror is a cathartic genre. It helps me deal with all the awful things that well up in my mind… all the fear and doubt and stress and anxiety. My hope is, in addition to entertaining, these tales help readers too.
DF: Is there any particular inspiration for Phantom On The Scan? Is this one of those long-existing ideas from the Bunn backburner or a concept just sprang to life?
Cullen Bunn: This is an idea that has been in my head for a while, yes. Unlike a lot of those long-standing ideas, this one has always been fully formed. For more than two decades, I've had this idea in mind. In terms of inspiration, I've always been fascinated by psychic phenomenon, and that is at the center of this story. Fiction-wise, stories like Carrie and Firestarter and The Dead Zone were big influences, as were movies like Scanners.
DF: Often in Bunn books, I have found, the world(s), the atmosphere takes on a life of its own (Gotham in Batman, etc.). Tell readers about this world of Phantom, and what effect the coming to Earth of a comet had some two decades ago.
Cullen Bunn: This is our world. It is the world we see when we look out the window. But there is a bit of a dark undercurrent. Shadowy government groups. Mysterious murderers. And Mark has done a very nice job of bringing this mood… this sense of impending dread and entropy… to life. We will also be glimpsing another world—the astral world—and you won't believe how great that stuff looks and feels.
DF: Introduce us to Matthew. Who was he, who is he, and what challenges does he face as we meet him in issue #1?
Cullen Bunn: When Matthew was a boy, he was part of a tragic accident that cost the lives of some of his friends. Now, twenty years later, he is still haunted by that incident. He possesses vast psychic powers. He is an omnipath, meaning he possesses all varieties of psychic abilities. Sounds great, right? Except all of his abilities manifest through a ghostly entity only he can see. The entity, Dorian, appears as the spirit of one of the kids who died that day so long ago. And he's rotting. Every time Matthew uses his gifts, Dorian rots a little more. That leads us to the second major problem. Matthew's psychic powers are killing him. The more he uses them, the closer he draws to death's door.
DF: I understand Matthew will be gathering – perhaps after #1, but as part of the LS – a group of psychics like himself (maybe more like himself than he knows). Can you spotlight a few here… at least some of those who are still with us.
Cullen Bunn: Matthew is not the only psychic who is dying. There are psychics dying all over the world. And it seems that it is their own powers that are killing them. Matthew gathers a few different psychics to help him solve the mystery. Each of them has a special gift—telepathy, astral projection, technopathy, telekinesis … You'll be seeing some very cool powers at work in the story.
DF: Can you give readers an elevator pitch for the book? What should we expect to read about when we pick up Phantom On The Scan?
Cullen Bunn: Phantom On The Scan is a psychic conspiracy/horror story about a group of psychics who discover that their own powers are killing them in the most horrible ways possible. Racing against the clock, they must solve the mystery of their origins in order to save their lives. '
DF: Talk about your collaboration with artist Mark Torres. You guys killed (literally, hee hee!) in the psychological thriller Cold Spots. Will this book have the same "feel"?
Cullen Bunn: I see some comparisons between this book and Cold Spots. Mark is really going all out to sell the mood and feel of the story and the world. It's a pleasure to work with him on this, and we're already talking about what's next!
DF: Cullen, I long ago gave up trying to keep up with your phenomenal output. But are there current or near-future projects in which you are involved that you can tell our readers about?
Cullen Bunn: So, the only other book I can tell you about (because it has been announced) is Eden, a one-shot horror/romance story from AfterShock. It follows Niles, a tattoo artist who is in a bit of a rut. His world gets turned upside down when he meets a young woman—Eden—whose tattoos keep vanishing. It's going to be a lot of fun! I also have Shadowman starting up from Valiant in April. It's a superhero/horror book that you'll love whether or not you have read any Shadowman stories in the past! Other than that, I have several creator-owned books coming out this year. They just haven't been announced yet! But follow me on Twitter (@cullenbunn) or sign up for my e-newsletter to stay up-to-date on everything!
Dynamic Forces would like to thank Cullen Bunn for taking time out of his busy schedule to answer our questions. Phantom On The Scan #1 from AfterShock Comics is slated to be on sale April 14th!
For more news and up-to-date announcements, join us here at Dynamic Forces, www.dynamicforces.com/htmlfiles/, "LIKE" us on Facebook, www.facebook.com/dynamicforcesinc, and follow us on Twitter, www.twitter.com/dynamicforces.
ABSOLUTE CARNAGE: SCREAM #1 SIGNED BY CULLEN BUNN DUAL PACK!
ABSOLUTE CARNAGE: SCREAM #1 SIGNED BY CULLEN BUNN!
MOON KNIGHT ANNUAL #1 SIGNED BY CULLEN BUNN DUAL PACK!
MOON KNIGHT ANNUAL #1 SIGNED BY CULLEN BUNN!
DEADPOOL: SPECIAL MISSIONS #1 SIGNED BY CULLEN BUNN
VENOMVERSE #1 ULTRA-LIMITED SYMBIOTE SILVER EDITION - SIGNED BY CULLEN BUNN
X-MEN: BLUE #1 SKOTTIE YOUNG VARIANT ULTRA-LIMITED BLUE SIGNATURE SERIES SIGNED BY CULLEN BUNN
X-MEN: BLUE #1 ULTRA-LIMITED BLUE SIGNATURE SERIES SIGNED BY CULLEN BUNN
DARTH MAUL #1 ULTRA-LIMITED CRIMSON RED SIGNATURE SERIES EDITION SIGNED BY CULLEN BUNN
DEADPOOL BACK IN BLACK #2 RARE FIRST PRINTING CGC GRADED!
---
NEW! 1. 05/09/2021 - JOE HENDERSON
3. 05/03/2021 - DECLAN SHALVEY
5. 04/26/2021 - PORNSAK PICHETSHOTE