CULLEN BUNN

SEND THIS TO A FRIEND!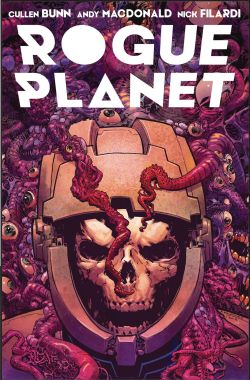 DF Interview: Cullen Bunn mines terror from a world with no star in sci-fi thriller, 'Rogue Planet'
By Byron Brewer
Salvage vessel Cortes tracks Lonely Orphan, a planet with no star system to call its own. Somewhere on this hostile rock is a payload fit for a king. To attain it, though, the crew of The Cortes must brave razor rock, poisonous vapors, treacherous footing, and... the most mind-numbing horrors imaginable. Something nightmarish is at work on Lonely Orphan. Something cruel. Something hungry.
From Oni Press comes Rogue Planet, by writer Cullen Bunn and artist Andy MacDonald. DF sat down with our old friend, scribe Cullen Bunn, and talked about this long-brewing space thriller.
Dynamic Forces: Cullen, Oni Press was the site of some of your earliest works in our industry. How does it feel to return with this sci-fi horror story, Rogue Planet?
Cullen Bunn: I don't know that I'd call this a return. After all, I've been doing books with them pretty much non-stop since I first broke in. We've been working on Shadow Roads in recent months. And what a lot of people don't realize is that Rogue Planet is something I wrote quite a while ago. We've been putting it together for at least a couple of years. So, I'm excited to have a new comic launching because it feels like I've been waiting to talk about it forever!
DF: What was the inspiration behind this book?
Cullen Bunn: I wrote it quite a while ago. I came up with the general concept a few years before that. I remember I was in Portland, hanging out with my pal Brian Hurtt at the coffee shop connected to Powell's Books. We had been browsing the sci-fi and horror aisles, talking about some of our favorite books and movies, and I wrote the words "Rogue Planet" in my notebook. From that moment, the story started coming together.
DF: Tell readers the general storyline of the book, as you can, without spoilers.
Cullen Bunn: The crew of a salvage vessel follows a mysterious signal to a planet that has no solar system of its own. Once they land, they encounter unimaginable horrors. The setup might sound a little familiar to sci-fi and horror fans. That is intentional. But this book is an exploration of personal fears and terror, and where we go from this familiar territory is going to freak people out!
DF: Introduce us to the crew of The Cortes.
Cullen Bunn: We have an interesting ensemble cast for this book. Our lead character, though, is Gloria Enwright, a medical technician. This is her first trip on a salvage vessel. She's an… innocent to some degree. And the horrors she faces will push her to a breaking point.
It's funny. Every script for this series began with a breakdown of the characters and a description of the horrible, horrible things that would happen to them every step of the way.
DF: What if anything can you tell readers about "something nightmarish … at work on Lonely Orphan. Something cruel. Something hungry"?
Cullen Bunn: Lonely Orphan is a very special place. It has a gift. It can "see" into your heart.
DF: Hmm… Okay, Usual Suspects: Cullen, why do you love the horror genre?
Cullen Bunn: You can do almost anything within the horror genre. As a writer, I find that very appealing. And horror—especially in a story like this—gives readers the chance to experience something terrible from a safe distance, to confront the things that scare you without REALLY confronting those things. Believe me, no one really wants to encounter the things that will be found on Lonely Orphan. Let these hapless characters do that for you!
DF: Talk about the eye-popping work of artist Andy MacDonald.
Cullen Bunn: For as long as I've been working in comics, I've been a huge fan of Andy's work. I'm so excited for you to see this book! Andy has brought these characters to life in such a vivid way! And the horrors they encounter! Andy brings the "yeeeeech!" with a lot of gusto!
DF: What other projects, in or out of comics, might you be working on?
Cullen Bunn: I have several new projects—both creator-owned and otherwise—in the works right now. Some of them will likely be announced soon. Others might be announced a little ways off. As always, follow me on Twitter or on my e-newsletter for all the latest!
Dynamic Forces would like to thank Cullen Bunn for taking time out of his busy schedule to answer our questions. Rogue Planet #1 from Oni Press hits stores April 1st!
For more news and up-to-date announcements, join us here at Dynamic Forces, www.dynamicforces.com/htmlfiles/, "LIKE" us on Facebook, www.facebook.com/dynamicforcesinc, and follow us on Twitter, www.twitter.com/dynamicforces.
ABSOLUTE CARNAGE: SCREAM #1 SIGNED BY CULLEN BUNN DUAL PACK!
MOON KNIGHT ANNUAL #1 SIGNED BY CULLEN BUNN DUAL PACK!
VAMPIRELLA VS. REANIMATOR #1 ATLAS EDITION - SIGNED BY CULLEN BUNN
DEADPOOL: SPECIAL MISSIONS #1 SIGNED BY CULLEN BUNN
VENOMVERSE #1 ULTRA-LIMITED SYMBIOTE SILVER EDITION - SIGNED BY CULLEN BUNN
X-MEN: BLUE #1 SKOTTIE YOUNG VARIANT ULTRA-LIMITED BLUE SIGNATURE SERIES SIGNED BY CULLEN BUNN
X-MEN: BLUE #1 ULTRA-LIMITED BLUE SIGNATURE SERIES SIGNED BY CULLEN BUNN
DARTH MAUL #1 ULTRA-LIMITED CRIMSON RED SIGNATURE SERIES EDITION SIGNED BY CULLEN BUNN
DEADPOOL BACK IN BLACK #1 SIGNED IN BLOOD RED BY CULLEN BUNN
VAMPIRELLA VS. REANIMATOR TRADE PAPERBACK
PUMPKINHEAD VOL. 1: SINS REVISITED TRADE PAPERBACK
---
NEW! 1. 12/04/2020 - JOSH BLAYLOCK
3. 11/30/2020 - SKYLAR PATRIDGE