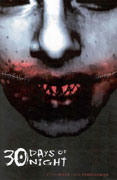 30 DAYS OF NIGHT TPB - 20% OFF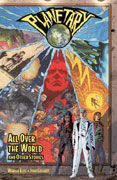 PLANETARY: ALL OVER THE WORLD TPB - 20% OFF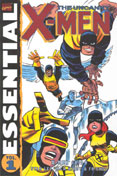 ESSENTIAL UNCANNY X-MEN VOLUME I TPB - 20% OFF
MORE COOL COLLECTED EDITIONS HERE ...
Cotton Review: The Best Books of the Week
Reviews of your favorite titles—and maybe some you've never checked out
By Mike Cotton

Alias #22 Okay, enough with this Brian Michael Bendis - we all know he's one of the top talents in the industry today, but man, can this guy prove it every single week. Kicking off the "Secret origin of Jessica Jones" two-part arc with issue #22, Bendis delves deeper than he ever has into just how Jessica got her powers and why she's distances herself from the people who care the most about her.

100 Bullets #44 The second part of writer Brian Azzarello and artist Eduardo Risso's "Chill in the Oven" storyline catches up with some of the most interesting characters from previous arcs all in one tiny jail. Needless to say, the more you sink deeper into the series the more you feel like you can't breath until the next issue ships. I beg you-begin reading this book immediately!

League of Extraordinary Gentleman Volume II #5 It took a while, but Alan Moore's finally wrapping up his second volume of adventures featuring classic literature heroes such as Alan Quartermain, Mina Harker, the Invisible Man, Captain Nemo and Mr. Hyde. In this re-telling of "War of the Worlds" England is under siege, no one can stop the Martian forces-no one, except the League. For fans of this series, this issue really pays off as Mr. Hyde finally tracks down the Invisible Man for the revenge he's had coming since issue #2.

Venom #1 Writer Daniel Way may be new to the comic's game but his inexperience hasn't hurt him with Venom #1. A cross between "The Thing" and "Friday the 13th" Way nails Venom as the creepy shadow in the corner you're never ready for. Expect some chills in Way's first storyarc, "Shiver."

The Cotton Review Archive

---

New Every Wednesday!

This Week:
Volume XXXVII -
Bryan Hitch

Posted: 5/07/03



By Rob Allstetter
New Every Friday

This Week: Kelly Hu

By Mike Cotton

This Week: Don't F[l]inch

Posted: 5/7/03



Review: The Best Books of the Week

By Nick Barrucci

This Week: Another trip to the comic store

DYNAMIC FORCES logo ™ and © 2003 Dynamic Forces, Inc. All other books, titles, characters, character names, slogans, logos and related indicia are ™ and © 2003 their respective creators.