VAMPIRELLA TRADING CARD SERIES - CASE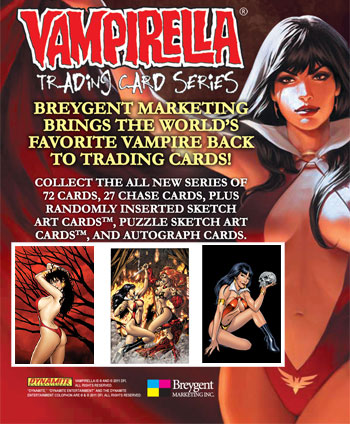 PRICE:


$1200.00
BREYGENT MARKETING BRINGS THE WORLD'S FAVORITE VAMPIRE BACK TO TRADING CARDS!
Over fourteen years in the making, the last Vampirella trading card set was released in 1997! and we're making up for lost time with this stunning set showcasing all of the most memorable images of Vampirella. Some of the hottest artists in the industry have lent their talent to render the scourge of the undead. Including the work of Alex Ross, Dave Stevens, Adam Hughes, Art Adams, Mike Mayhew, Jae Lee, Amanda Conner, Joe Jusko and a whole lot more. Also includes "Vampirella in the flesh" modeled by beauties such as Julie Strain and Maria DiAngelis! This is the ultimate set of Vampirella visions and a must-have for true fans or fans of great art! Close to 90 sketch artists including: Warren Martineck, Brian Kong, Steven Miller, Rhiannon Owens, Elaine & Tony Perna, Axebone, Veronica O'Connel, Tim Shay, Adam Cleveland, Ted Dastick Jr, Charles Hall and many more! Collect the all new series of 72 cards, 27 chase cards, plus randomly inserted sketch art cards, puzzle sketch art cards, and autograph cards.