STAR WARS: YODA #1 CGC GRADED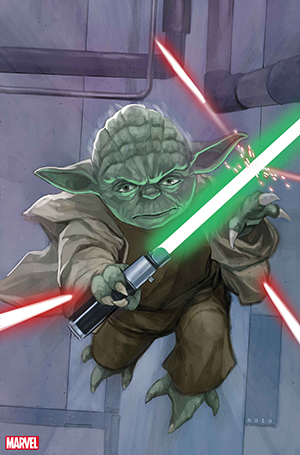 PRICE:


$77.00 MSRP: $99.99 YOU SAVE 23%
UPC: 725130324252
A ten-issue epic, Star Wars: YODA will take place during Yoda's self-imposed exile on Dagobah as he reflects on past adventures. The centuries-spanning saga will be divided into three arcs by three separate creative teams, each set during key moments in the Jedi Master's long and legendary life. New York Times bestselling author Cavan Scott and artist Nico Leon will kick things off with a story set during the Star Wars: The High Republic era. They'll be followed by writers Jody Houser and Marc Guggenheim and artists Luke Ross and Alessandro Miracolo with stories set just before the Prequel Trilogy and near the end of the Clone Wars. Scott and Leon will return to complete the saga in the final issue. Yoda's first-ever solo comic series, Star Wars: YODA will reveal unexplored aspects of the Jedi Master's storied history and shed new light on the mystery that surrounded the iconic character since his debut. CGC GRADED 9.6 OR HIGHER!