RED SONJA: SHE-DEVIL WITH A SWORD VOLUME 1 TPB BY OEMING, CAREY AND RUBI!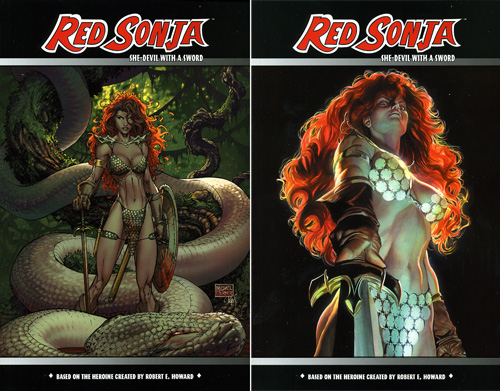 PRICE:
$19.99
Based on the Heroine created by Robert E. Howard
Know also, O Prince, that in the selfsame days that the Cimmerian did stalk the Hyborian Kingdoms, one of the few swords worthy to cross with his was that of a warrior-woman out of majestic Hyrkania. She, the mother of vengeance, hunter of evil, all fear for your souls... fear the Red Sonja!
-The Nemedian Chronicles
Writers Michael Avon Oeming and Mike Carey along with artist Mel Rubi have recreated Sonja for a whole new generation and this is where it all begins! This Dynamite Trade Paperback Collection of the all-new Red Sonja series features:
* Issues 1-6 and the grand finale of the opening arc, issue #0.
* Cover Gallery: Alex Ross, John Cassaday, Mike Turner, Marc Silvestri, Greg Land, and more!
* Two Covers: Ross and Turner (50/50 SPLIT)
* Director's Commentary with the creators
* A look at Mel Rubi's original Sonja designs