GEORGE PEREZ: STORYTELLER THE FIRST 30 YEARS - UNSIGNED VERSION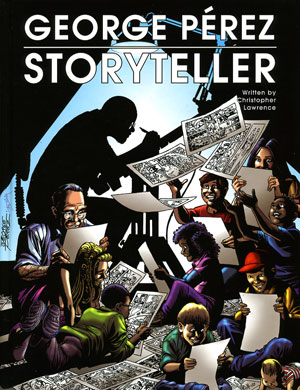 PRICE:
$29.99
Written by Christopher Lawrence and presenting for the first time ever the DEFINITIVE retrospective of George Perez's 30 year career!

From the early days at Marvel and work on such titles as the Fantastic Four and The Avengers to DC landmark titles including the New Teen Titans and Crisis plus independent work for T.H.U.N.D.E.R. Agents and so many others along with his own creations - Sachs and Violens Crimson Plague and his work at Crossgen this book covers it all.... And more!

Over 200 pages in full color highlighting the magnificent career of artistic legend George Perez! This is THE George Perez book!!!

Featuring an all-new cover by Perez as well as an extensive and exhaustive career-spanning interview with Perez conducted in his home by Lawrence.
Click here for an excerpt from the book.

Click here for Paperback Reader review.

Click here for Eye On Comics review.