ARMY OF DARKNESS: ASHES 2 ASHES #2 REGULAR COVER SET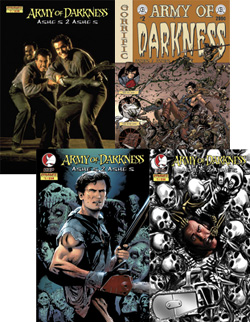 PRICE:


$11.96
This set of 4 comics features all 4 regular Army of Darkness Covers: Greg Land , Richard Isanove, Nick Bradshaw, and the Photo Cover!

Hail to the king, Baby, the second issue of Army of Darkness: Ashes To Ashes is here!

Continuing our story from issue #1, and featuring the incredible creative team of writer Andy (Danger Girl) Hartnell, artist Nick Bradshaw, and finisher/colorist Etienne St-Laurent, this second issue features another 4 exciting Covers: Greg (Sojourn) Land - capturing an iconic image of Ash, colorist to the stars Richard Isanove, Nick Bradshaw - offering an incredible cover in homage to EC Comics, and another incredible photo cover featuring images from the Sam Raimi movie!

Ash also comes face-to-face with ANOTHER face from the past . . . HIMSELF! It's ASH vs. ASH as the wielder of the BOOMSTICK must force his OTHER self to enter the TIME VORTEX that will bring him to 1300 AD and set into motion events that should thwart the evil designs of the BOOK OF THE DEAD. All this, and the RETURN of ASH'S SEVERED HAND, baby!

Response to issue #1 has been amazing, and this second issue in the "Ashes to Ashes" storyline MUST NOT BE MISSED!