ARMY OF DARKNESS: ASHES 2 ASHES #1 REGULAR COVER SET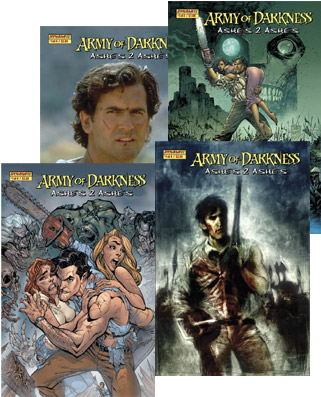 PRICE:


$11.96
Issue Number: #1 - Ongoing Series!
Writer: Andy Hartnell; Artist: Nick Bradshaw; Finishes/Colorist: Etienne St-Laurent
This set of 4 comics features all 4 regular Army of Darkness Covers: Marc Silvestri cover, J. Scott Campbell cover, Ben Templesmith and the Photo cover!
He's back, Baby!
DYNAMITE ENTERTAINMENT and Devil's Due present the all-new comic book featuring Ash and the Army of Darkness!
Written by Andy (Danger Girl) Hartnell, illustrated by red-hot newcomer Nick Bradshaw, finished and colored by Etienne St-Laurent, and featuring 4 covers by today's best and hottest artists - J. Scott Campbell, Marc Silvestri, and Scottie Young, AND a photo cover - this is the biggest comic launch of the year!
Featuring characters from the Sam Raimi (you know, the guy that made Spider-Man look so cool on the big screen and the same guy that's going to make him look cool all over again in Spidey 2 this summer) film Army of Darkness, our first issue of this new ongoing series features ASH having to leave behind the comfort, safety, and convenience of the S-Mart when a face from the past (1300 A.D. to be exact) travels to the present day to recruit him for another go-round with the NECRONOMICON and its minions.
Ash gets a do-over" to set right a new problem caused by his misspeaking those notorious MAGIC WORDS and is charged with the unusual task of returning to a certain CABIN IN THE WOODS on the fateful night he first learned of the existence of DEADITES and The Book of the Dead - in order to make certain the events that led up to Ash's initial trip to the past take place - only THIS time, the Deadites will be waiting for him!
This first issue also marks the re-teaming of writer Andy Hartnell and cover artist J. Scott Campbell since their smash series Danger Girl!"