JLA/AVENGERS: THE COLLECTOR'S EDITION HC - JLA/AVENGERS: THE COLLECTOR'S EDITION HC INCENTIVE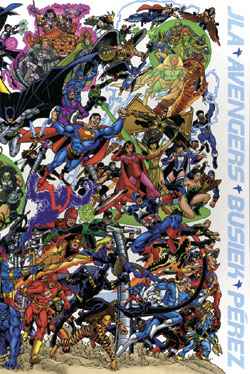 PRICE:


$599.85
The entire team of creators signs this beautiful collection!

The landmark crossover event of the decade is collected in a spectacular 2-volume slipcased hardcover set! Volume 1 presents the 224-page 4-issue miniseries including introductions by Stan Lee and Julius Schwartz and a key to the characters featured on the cover. The 80-page Volume 2 contains the original 21 pages of pencils from the aborted 1980s crossover an article on what went wrong by K.C. Carlson the new miniseries proposal and plot development a Perez portfolio of art done to commemorate the project and annotated notes from Kurt Busiek to the characters and more.

Each Signed copy features a certificate of authenticity and is sealed with a DF Holo-Foil sticker!

* INCENTIVE *
ORDER 3 COPIES OF JLA/Avengers HC AND GET 5 RANDOM DC SIGNED BOOKS AT NO ADDITIONAL COST!