KURT BUSIEK ASSEMBLES AMAZING TALENT FOR MARVEL SNAPSHOTS
12/13/19 @ 7:08 pm EST
Source:
Marvel
| Categories:
Marvel
|
Comments
(0) |
E-mail Article
|
Add a Comment
This March, prepare to see the greatest moments of Marvel's 80-year history told like never before! In MARVEL SNAPSHOTS, industry legend Kurt Busiek will bring together incredible creative teams for eight standalone, double sized issues showcasing Marvel's most beloved characters from the golden age to today. Like 1994's critically acclaimed MARVELS series, MARVEL SNAPSHOTS will be tales told through the eyes of ordinary people, offering unique insights on the legendary mythos of the Marvel Universe. MARVELS SNAPSHOTS also reunites Busiek with renowned MARVELS co-creator Alex Ross who will be providing the series with his iconic painted covers.
It all begins with SUB-MARINER: MARVELS SNAPSHOT #1 when best-selling novelist and Emmy Award-winning TV writer Alan Brennert (L.A. LAW, TWILIGHT ZONE) and superstar artist Jerry Ordway (ALL-STAR SQUADRON, CRISIS ON INFINITE EARTHS) unite to tell an unforgettable story about Marvel's original antihero: Prince Namor! Set circa World War II, things kick off with an action-packed tale featuring Namor, Betty Dean, and the All-Winners Squad--a dream come true for Brennert. "I can honestly say that I enjoyed working on this story more than any comics story I've done in years. I grew up reading (and loving) Marvel's Golden Age heroes in the 1960s, in reprints in FANTASY MASTERPIECES. But I never thought I'd have a shot at writing them--especially the All-Winners Squad!--and I'm grateful to Kurt Busiek and Tom Brevoort for providing me the opportunity, and to Jerry Ordway for bringing it all to glorious life," Brennert says. "I'm enormously proud of 'Reunion' and honored to be the first story published in MARVELS SNAPSHOTS."
Artist Jerry Ordway is just as passionate about bringing this tale to life. "When I was offered this project, I jumped at it, being a big fan of the original MARVELS book by Kurt Busiek and Alex Ross. Getting to draw a Sub-Mariner story set in the 1940s, with appearances by the All-Winners Squad, lets me connect with Marvel's World War II era history, and the work of Subby's creator, Bill Everett," says Ordway. "I've been a Marvel maniac from the age of 10, so this is pretty cool! Alan Brennert wrote a great script which fits neatly into the bigger tapestry that is the Marvel Universe. I'm thrilled to get to play in this sandbox after so many years as an artist."
"The MARVELS SNAPSHOTS books will provide a different perspective on moments throughout Marvel history while also giving a wide range of talent, many of whom are new to Marvel, to play in our sandbox under the expert watch of Kurt Busiek," says Executive Editor Tom Brevoort.
This dramatic, unexpected and revealing tour through the Marvel Universe crafted by a cornucopia of amazing creators begins this March! Don't miss this celebration of Marvel's legacy that's sure to be an instant favorite for True Believers old and new!
Be on the lookout for upcoming announcements revealing which of your favorite characters will star in this landmark series and the incredible talent who will tell their exceptional tales…
SUB-MARINER: MARVELS SNAPSHOT #1 Written by ALAN BRENNERT WITH KURT BUSIEK Art by JERRY ORDWAY Cover by ALEX ROSS
SETH ROGEN, 'THE BATMAN' CO-WRITER TEAM TO ADAPT HORROR COMIC 'MEMETIC'
01/28/20 @ 3:10 pm EST
Source:
Hollywood Reporter
| Categories:
MIsc
|
Comments
(0) |
E-mail Article
|
Add a Comment
THR
reports that Seth Rogen has been part of numerous memes, and now he is developing a movie centered on one.
Lionsgate is in final negotiations to pick up
Memetic,
a horror thriller about a killer meme, that Rogen will produce along with partners Evan Goldberg and James Weaver via their Point Grey banner. BOOM! Studios' Ross Richie and Stephen Christy are also producing.
Mattson Tomlin, the rising scribe who co-wrote
The Batman
with Matt Reeves, is writing the adaptation.
Memetic
is based on the BOOM! comic of the same name, which explored the idea of a weaponized meme. A meme known as the Good Time Sloth becomes a viral sensation, and half a day later everyone from the President to the coffee shop barista become "screamers," succumbing to a murderous rage. Some prove to be immune to the meme and the story centers on a young man, color-blind, who tries to navigate society's fall into an apocalypse as he tried to find his boyfriend.
James Tynion IV, the writer who recently took over DC's flagship Batman comic and who is also behind the buzzy BOOM! Studios horror comic
Something Is Killing the Children,
wrote
Memetic
. Eryk Donovan was the artist for the book that was nominated for the 2015 GLAAD Award for outstanding comic.
BERSERK IMAGE COMICS MINISERIES 'LUDOCRATS' OUT THIS APRIL
01/28/20 @ 3:03 pm EST
Source:
Image
| Categories:
Image
|
Comments
(0) |
E-mail Article
|
Add a Comment
Bestselling writer Kieron Gillen (
Die, The Wicked + The Divine
) will team up with writer Jim Rossignol (
Sir, You Are Being Hunted
) and artist Jeff Stokely (
The Spire
) with colorist Tamra Bonvillain (
Once & Future
) for
Ludocrats
. This five-issue, gonzo-weird fantasy miniseries will launch from Image Comics on April Fools' Day.
"I have a reputation of making intense grimoires about crying," Gillen said. "This isn't that. This is an explosion of glitter and slugs, arranged artfully, nonsense and lack of sensibility. Its aim is to make you happy. Also, horrified."
In short: The Ludocrats! The aristocrats of ludicrous! A collision of the ornate fantasy of
Dune
and an M-rated
Asterix & Obelix
! Baron Otto Von Subertan and Professor Hades Zero-K are here, and they're going save us all have a nice time.
"I'm just happy to be implicated in whatever is happening here," said Rossignol.
Stokely added: "Please help me. They have me trapped. Send help."
Ludocrats #1
(Diamond Code FEB200052) will be available at
comic book shops
on April Fool's Day—Wednesday, April 1. Not joking.
GRAPHIC NOVEL WINS NEWBERY MEDAL FOR THE FIRST TIME
01/28/20 @ 2:59 pm EST
Source:
New York Times
| Categories:
MIsc
|
Comments
(0) |
E-mail Article
|
Add a Comment
Writer and illustrator Jerry Craft won this year's John Newbery Medal for
New Kid
, the first graphic novel to receive the prize for the most outstanding contribution to children's literature.
New Kid
is about a 12-year-old boy named Jordan who lives in New York City's Washington Heights and dreams of going to art school, but his parents instead enroll him in a prestigious private school where he is one of the few students of color. Published by HarperCollins,
New Kid
marks a shift from Craft's previously self-published work and reflects changing attitudes about the literary merits of graphic novels.
The Undefeated
, illustrated by Kadir Nelson and written by Kwame Alexander, won the Randolph Caldecott Medal for the most distinguished American picture book for children. An ode to African-American life and accomplishments, it includes references to slavery, the civil rights movements and black heroes such as Langston Hughes, Gwendolyn Brooks and others.
New Kid
and
The Undefeated
both received Coretta Scott King awards, which recognize African-American authors and illustrators.
The Undefeated
was also named a Newbery Honor Book along with three others:
Scary Stories for Young Foxes
, written by Christian McKay Heidicker and illustrated by Junyi Wu;
Other Words for Home
, by Jasmine Warga; and
Genesis Begins Again
, by Alicia D. Williams. (via
New York Times
)
'SUPERGIRL' CONFIRMS JUSTICE LEAGUE LOCATIONS ON ARROWVERSE'S EARTH-PRIME
01/28/20 @ 2:51 pm EST
Source:
Screen Rant
| Categories:
DC
|
Comments
(0) |
E-mail Article
|
Add a Comment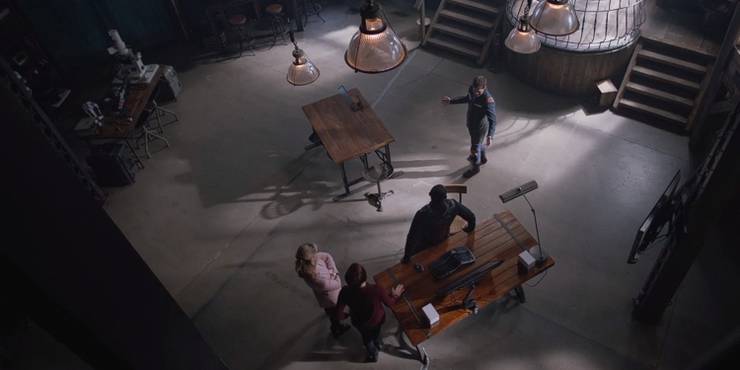 The latest episode of
Supergirl
confirmed the existence of two classic Justice League bases in the Arrowverse. While the headquarters in question may not exist in their final forms, time-traveler Winn Schott affirmed their importance in the future.
"Crisis on Infinite Earths" established the beginnings of a Justice League in the Arrowverse, with Barry Allen setting up an abandoned STAR Labs hangar as a place where the World's Finest heroes could meet to deal with global threats. While the names "Justice League" and "Hall of Justice" were never uttered in the episode, the homage was clear even before the final shot of the crossover revealed that the hangar resembled the classic Hall of Justice.
When Supergirl, Alex Danvers and Winn visited J'onn's office, they were surprised to find a hidden elevator leading to a secret level on the top floor of the building. When Alex asked what this other floor was meant to be, J'onn informed her that immediately after the Crisis he, Supergirl, Superman, The Flash and several other heroes created "a headquarters from which to fight crime." Winn says that in the future they refer to such places as "a hall of Justice." It's a name that resonates with Kara and which she says she loves before J'onn continues his explanation.
With Lex Luthor having taken over the DEO in the new post-Crisis reality, J'onn said he felt that Supergirl and his other "super friends" in National City could use a similar space; "a headquarters to keep this city safe, to work outside of corporate and government oversight, whose interests might not always side with Justice." When Winn asks if J'onn had thought of a name for this new guard-post, J'onn said that he was thinking of calling it "the Tower." While it's not quite "the Watchtower" and it certainly isn't a base on the moon, the inspiration seems clear and the Justice League of the Arrowverse now has a second base to operate from in the post-Crisis reality. (via
Screen Rant
)
'DOCTOR WHO' MAKES HISTORY WITH THE FIRST BLACK DOCTOR
01/28/20 @ 2:30 pm EST
Source:
Huffington Post
| Categories:
Doctor Who
|
Comments
(0) |
E-mail Article
|
Add a Comment
Doctor Who
on Sunday night revealed its first Black incarnation of the title character, known as The Doctor, portrayed by actor Jo Martin. And fans quickly took to social media to celebrate the moment.

Sunday night's "Fugitive of the Judoon" episode involved the Judoon ― a band of rhino-like mercenary cops from space ― chasing down a fugitive on Earth. The current Doctor, portrayed by Jodie Whittaker (the first female incarnation of the character), steps in to protect their target, a tour guide named Ruth Clayton.

However, Ruth isn't a tour guide at all. She's The Doctor.

The Doctor can regenerate when mortally wounded, giving the character a new face and new life, via a new actor. Whittaker officially became the 13th after taking over from Peter Capaldi at the end of 2017.

In this case, Martin is not taking over the role, but instead seems to be part of the season's arc surrounding the destruction of The Doctor's home planet of Gallifrey. It's not yet clear when Martin's incarnation sits in the timeline. It's implied she is an earlier Doctor ― perhaps prior to William Hartnell's original ― but Whittaker's incarnation clearly has no recollection of Martin's form.

One thing is clear: Martin's Doctor will almost certainly turn up again this season, given the events of Sunday night.
ANOTHER MARVEL VALKYRIE DESTINED FOR THE MCU?
01/28/20 @ 9:33 am EST
Source:
MCUCosmic
| Categories:
Marvel
|
Comments
(0) |
E-mail Article
|
Add a Comment
In the Marvel Cinematic Universe, there are multiple Valkyries. They were warrior defenders of Asgard. As we saw in
Thor: Ragnarok,
they bravely faced off against Hela and we're led to believe that Valkyrie was the lone survivor. As with everything in Marvel, there tends to be surprises.
MCUCosmic
is reporting that Marvel Studios plans to use the character Mist sometime in the future.
Created by the legendary Chris Claremont, Art Adams, and Terry Austin in the mid-80s
New Mutants
comic book, Mist is a Valkyrie. She was a friend of Danielle Moonstar, one of the New Mutants and someone who appears in the upcoming movie; although it's doubtful that connection will continue into the MCU due to Marvel planning a long reboot for the Mutants.
Instead, it's likely that Mist will show up in something connected to Thor. Be it the
Loki
series that's filming now, or more realistically
Thor: Love and Thunder
, or possibly something different.
'TRANSFORMERS' FRANCHISE GETS A REVAMP WITH TWO SEPARATE FILMS IN THE WORKS
01/28/20 @ 9:26 am EST
Source:
Variety
| Categories:
Transformers
|
Comments
(0) |
E-mail Article
|
Add a Comment
Variety
reports that Paramount Pictures is looking to revamp its Transformers franchise in a big way, as sources say two simultaneous scripts are now in active development: one by James Vanderbilt and one by Joby Harold.
Paramount's most recent take on the franchise was 2018's
Bumblebee
, a coming-of-age tale that was produced on a smaller budget than other Transformers films. That different approach went over well with both critics and audiences, grossing $465 million worldwide and opening up a new opportunity to continue the franchise, with the studio now expanding the Transformers universe with the development of two scripts.
Details behind both scripts are still vague, but sources say they present an opportunity build out multiple storylines within the franchise.
No directors have been attached to either script and it's also likely that both projects will feature brand-new casts.
BEWARE SPIDER-WOMAN'S VENOM BLASTS ON NEW ARTGERM COVER
01/28/20 @ 9:21 am EST
Source:
Marvel
| Categories:
Marvel
|
Comments
(0) |
E-mail Article
|
Add a Comment
The Spider-Woman book fans have been waiting for is almost here, and Jessica Drew is beyond ready for her new adventure…but are you? In this explosive new series by writer Karla Pacheco and artist Pere Pérez, Marvel's beloved hero will face off against her greatest enemies all while discovering dark secrets from her past. See Jessica blast her way through her latest mission below in a gorgeous variant cover by Stanley "Artgerm" Lau and pick up SPIDER-WOMAN #1 when it lands in comic shops on March 18th!
WOLVERINE ENJOYS A TASTE OF PARADISE IN NEW YOUNG COVER
01/28/20 @ 9:20 am EST
Source:
Marvel
| Categories:
Marvel
|
Comments
(0) |
E-mail Article
|
Add a Comment
After a well-deserved break, Wolverine is back and fiercer than ever in an all-new solo series by writer Benjamin Percy (X-FORCE, WOLVERINE: THE LONG NIGHT) and industry legend Adam Kubert (X-MEN, AVENGERS)! Mutantkind has a new lease on life and Wolverine, surrounded by family and friends, has everything he ever wanted… but will it last?
Check out Wolverine soaking up the sun on the new mutant nation of Krakoa in Skottie Young's delightful variant cover below and pick up WOLVERINE #1 at your local comic shop on Februrary 19th!
WOLVERINE #1 (DEC190753) Written by BENJAMIN PERCY Art by ADAM KUBERT & VIKTOR BONDANOVIC
Young Variant by SKOTTIE YOUNG (DEC190762­)
ARCHIE HAS A BEAR OF A TIME IN 'WORLD OF ARCHIE JUMBO COMICS DIGEST' #96!
01/28/20 @ 9:16 am EST
Source:
Archie Comics
| Categories:
Archie
|
Comments
(0) |
E-mail Article
|
Add a Comment
WORLD OF ARCHIE JUMBO COMICS DIGEST #96NEW CLASSIC-STYLE STORY:
When Mr. Weatherbee gives Archie and Jug the option of community service over detention, the boys volunteer with Riverdale's Wildlife Control Dept. just in time for a rogue bear to take up residence in Pickens Park! A trap is set--and so is the stage! What could POSSIBLY go wrong?!
Script: Jack Morelli
Art: Pat and Tim Kennedy, Bob Smith, Glenn Whitmore, Jack Morelli
Cover: Bill Galvan, Ben Galvan, Rosario "Tito" Peña
On Sale Date: 1/29
192-page, full color comic
$7.99 U.S.