'NATIONAL LAMPOON'S VACATION' SERIES IN DEVELOPMENT AT HBO MAX
12/12/19 @ 3:16 pm EST
Source:
Variety
| Categories:
MIsc
|
Comments
(0) |
E-mail Article
|
Add a Comment
Variety
reports that HBO Max is developing a series based on the Grisworld family from the
National Lampoon's Vacation
films.
Titled
The Griswolds
, the series will see the titular family home from vacation and explore their daily lives in the suburbs of modern-day Chicago. Tim Hobert is attached to write and executive produce the half-hour single-camera series. Johnny Galecki and Holly Brown will also executive produce under their Alcide Bava production banner. Cory Wood of Alcide Bava will produce. Warner Bros. Television will serve as the studio behind the project.
The project represents a homecoming of sorts for Galecki, who starred as Russ Griswold in the third film in the franchise,
National Lampoon's Christmas Vacation
. The other films are
National Lampoon's Vacation
,
National Lampoon's European Vacation
,
Vegas Vacation
, and
Vacation
. The last of those was released in 2015 and starred Ed Helms as an adult Russ as he takes his own family on a trip that does not go as planned.
IDW BUILDS KIDS, FAMILY AND YA DIVISION WITH THREE NEW EXECUTIVE HIRES
09/22/20 @ 3:30 pm EST
Source:
IDW
| Categories:
IDW
|
Comments
(0) |
E-mail Article
|
Add a Comment
IDW Entertainment and IDW Publishing, divisions of IDW Media Holdings Inc., have announced that Jeff Brustrom, Daniel Kendrick and Erika Turner have been handpicked to build the company's concentrated initiative within the Kids, Family and YA division. Brustrom joins IDWE as the newly appointed Vice President of Kids, Family and Animation where he will oversee the development and production of a growing slate of live-action and animated projects (drama and comedy) based on graphic novels, prose and other source material. Kendrick, the new Director of Animation, will oversee development and production of animated series. Turner has been named Senior Editor of Original Content, IDWP, where she will focus on the development and acquisition of original IP, primarily in the categories of kids, middle grade and young adult.
"We are thrilled to have Jeff and Daniel join our team. Their collective experience speaks for itself and we are looking forward to building out this area in partnership with Erika and her deep passion to inspire and empower young readers," said Lydia Antonini, President of IDWE.
Nachie Marsham, Publisher of IDWP, went on to say, "Combining Jeff's deep knowledge of family content with Erika's experience and ambition for young readers, and Daniel's passion for animation, will surely result in the success of this initiative. I couldn't be more excited to see what they will achieve."
Previously, Brustrom spent 17 years working for the Disney Channel where he developed the series that launched the careers of A-list icons such as Miley Cyrus, Selena Gomez, Demi Lovato, Zendaya and The Jonas Brothers. Most recently, Brustrom was an independent consultant, advising international animation studios, production companies and content creators on IP development.
"I've always had a passion for creating content that the whole family can enjoy watching together," said Brustrom, IDWE's Vice President of Kids, Family and Animation. "The opportunity to work with Lydia to help grow this new initiative and develop great shows together was too alluring to pass up. I'm excited about bringing memorable characters and stories to a new generation."
Kendrick was most recently at Chatrone, a Los Angeles based production company, where he represented artists and creators, and oversaw animation projects from initial concept to production, post-production and release.
"One of my favorite aspects of animation is that it sparks limitless imagination," said Kendrick, IDW's Director of Animation. "I'm thrilled to have found my place at the IDW table with some of the best in the business, like Erika, who is an absolute champion for today's youth. I can't wait to put our heads together and come up with new and unique ways to capture the imaginations of folks everywhere...especially the young folks."
Before joining the IDW team, Turner served as the Senior Editor at Versify, an imprint of Houghton Mifflin Harcourt, and prior to that, she held the Editorial Project Manager position within the same company where she focused on the development and acquisition of owned IP primarily in the category of kids, middle grade and YA.
"I'm passionate about harnessing the power of literature to empower young people, especially those from traditionally underrepresented backgrounds," said Turner, IDWP's Senior Editor, Original Content. "I'm so excited to build a division to create original stories for young readers alongside Jeff, who has an impressive track record of developing hit series for young audiences."
This news comes on the heels of IDW announcing the next wave of published offerings in the
Locke & Key
franchise, following the first season success of the Netflix Original Series
Locke & Key
produced by IDWE. Most recently, IDW announced industry veteran, Nachie Marsham, had been tapped as the company's new Publisher and promoted Veronica Brooks to Vice President of Creative Affairs.
MARVEL TEASES FALL OF KREE-SKRULL ALLIANCE, NEW TEAM
09/22/20 @ 3:20 pm EST
Source:
ComicBook
| Categories:
Marvel
|
Comments
(0) |
E-mail Article
|
Add a Comment
Spoilers ahoy for Empyre Aftermath: Avengers
#1
In
Empyre Aftermath: Avengers
#1, one of two epilogues to Marvel's recent cosmic crossover, scenes from the wedding reception of Hulkling and Wiccan are intercut with moments of Hulking interrogating his grandmother, R'Klll, the former ruler of the Skrull empire who impersonated Hulking to bring the Kree under her control. R'Klll warns Hulking that his plans to rule a peaceful alliance will also blow up in his face and lead to his downfall.
At the wedding reception, Abigail Brand, leader of Earth's interstellar security group Alpha Flight, makes her displeasure at being left out of the loop during the Empyre crisis be known. She steps down as Alpha Flight head, affectively dissolving the organization.
These two events collide in the flash-forward sequence that takes place in the final pages of the issue. R'Klll's warnings seem to have come true. Hulking lies battered and beaten on the floor, surrounded by his advisors. He's wallowing in his defeat when a portal opens up nearby and out steps ... Abigail Brand!
Brand -- backed by the mutant Manifold and several other figures seen only in silhouette -- tells Hulking that she built something better to take Alpha Flight's place. She invites him to escape with them through Manifold's portal. (via
ComicBook
)
Is a new SWORD back in business?
Empyre Aftermath: Avengers
#1 is on sale now.
SUICIDE SQUAD KILLS OFF ONE OF ITS MAIN MEMBERS
09/22/20 @ 11:08 am EST
Source:
ComicBook
| Categories:
DC
|
Comments
(0) |
E-mail Article
|
Add a Comment
Spoilers ahoy for Suicide Squad #9
DC and writer Tom Taylor have been teasing the death of Floyd Lawton, aka Deadshot, for months now. Everyone involved with the current
Suicide Squad
run was adamant that the popular character would be meeting his end when the ninth issue of the series arrived. Well,
Suicide Squad
#9 is out today and there are no fakes or surprises in its pages, at least when it comes to Deadshot's ultimate fate. In the final pages of the issue, Floyd Lawton met his end, as advertised. (via
ComicBook
)
In the issue, the team raids Ted Kord's tower to take him down once and for all, only to be stopped by Superman, who has beaten them to the punch. Deadshot sticks around when the rest of the group leaves in frustration, knowing that something isn't right, and talks with Superman about the legacy he's leaving behind for his young daughter. Once Deadshot points out that Superman may not actually be who he's claiming to be, a bullet hits him square in the chest.
Superman is actually Black Mask in disguise, and he stands in front of Deadshot with a smoking gun held in his hand. Deadshot looks down at the bullet wound and blood covering his chest as Black Mask tells him, "You were right, Lawton. All those things you did, it all caught up to you."
With that final, heartbreaking comment, Black Mask shoots Floyd in the head and sends him falling out of the window of the skyscraper they'd been standing in. There's no mistake about this one: Deadshot is officially gone.
'GAME OF THRONES' SPINOFF SERIES STILL TARGETING A 2022 RELEASE
09/22/20 @ 10:54 am EST
Source:
ComicBook
| Categories:
MIsc
|
Comments
(0) |
E-mail Article
|
Add a Comment
Game of Thrones
prequel series,
House of the Dragon
, is still targeting a 2022 release date, according to HBO president Casey Bloys. He also confirmed that casting for the series is underway, though no additional specifics were given about exactly where the series is in the casting process.
Set 300 years before the events of
Game of Thrones
,
House of the Dragon
tells the story of House Targaryen. The spinoff was given a series order back in 2019. HBO ordered
House of the Dragon
straight to series for 10 episodes in October 2019. George R.R. Martin, Vince Gerardis, Ryan Condal, and Miguel Sapochnik are executive producers, with Condal and Sapochnik also serving as showrunners.
A rumor late last month revealed that the series is looking to cast at least one very significant Targaryen, Daemon Targaryen, "the rogue prince," also known as "Lord Flea Bottom". Daemon was the adventurous brother of King Viserys I, the king whose progeny would fight over control of the Iron Throne in the civil war known in Westerosi history as "The Dance with Dragons." Daemon's relationship with his brother is the subject of George R.R. Martin's novelette,
The Rogue Prince
. (via
ComicBook
)
FANS RAISE MONEY FOR 'BATTLESTAR GALACTICA' ACTOR MICHAEL HOGAN AFTER SERIOUS FALL
09/22/20 @ 10:48 am EST
Source:
Variety
| Categories:
Battlestar Galactica
|
Comments
(0) |
E-mail Article
|
Add a Comment
People are raising money online for
Battlestar Galactica
actor Michael Hogan's medical care after he had a serious fall in February.
According to a
GoFundMe page
created on behalf of his wife Susan Hogan, the actor has been suffering from paralysis on his left side, memory loss and other health problems from a fall on Feb. 17 that caused bleeding in his brain. He is currently being cared for at the Berkley Care Center in North Vancouver, Canada.
"Though it is hard to imagine, I think it's fair to say it is unlikely Michael will be able to work again. And for these past seven months, neither has Susan, given the circumstances," the fundraiser description, written by Horgan's neighbor Shari Ulrich, reads. "She is facing an uncertain future to navigate other than knowing that the financial demands will continue to be great."
Fans quickly took notice of the fundraiser, and they began donating money to help reach the overall goal. The donations will be used to fund the family's needs, including long-term care, medications, adaptive clothing and other expenses required to help Hogan return to his daily life. (via
Variety
)
MARVEL PAYS TRIBUTE TO 'BLACK PANTHER' STAR CHADWICK BOSEMAN ON ITS COMIC BOOK COVERS
09/22/20 @ 10:42 am EST
Source:
GamesRadar
| Categories:
Black Panther
|
Comments
(0) |
E-mail Article
|
Add a Comment
For the next few weeks, many of Marvel Comics' main titles will carry a special banner on the cover honoring the memory of
Black Panther
actor Chadwick Boseman, who died on August 28 after a private four-year battle with colon cancer.
The banners, which will begin appearing on the covers of official previews released by Marvel Comics last week, read "Rest in power. Chadwick Boseman: 1977-2020". (An example can be seen below on the cover of September 23's
Immortal She-Hulk
#1.) They will appear on comic books released between September 23 and October 14.
Boseman first portrayed T'Challa/the Black Panther in 2016's
Captain America: Civil War
, which was released the same year Boseman apparently received his diagnosis. He portrayed Black Panther in his own self-titled film, along with
Avengers: Infinity War
and
Avengers: Endgame
. (via
GamesRadar
)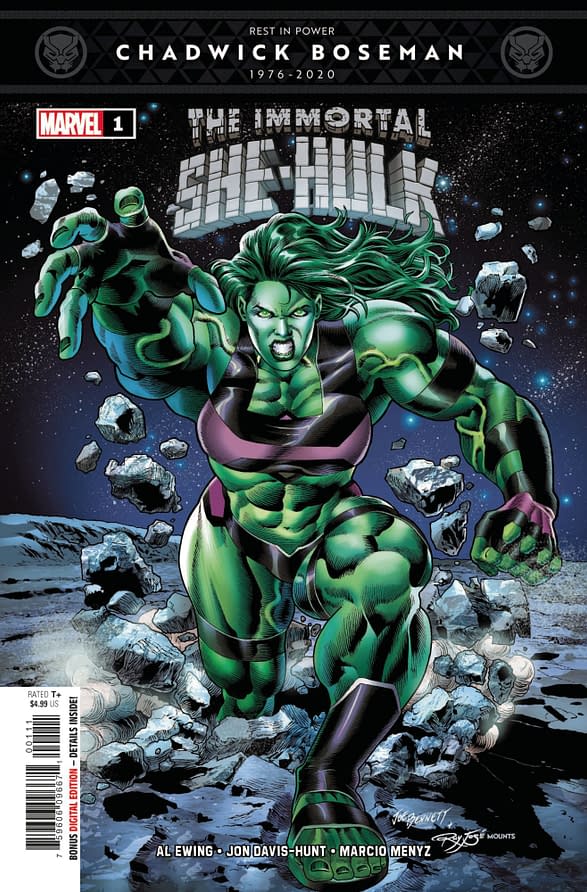 VAULT ANNOUNCES 'THE PICTURE OF EVERYTHING ELSE', A NEW LITERARY HORROR STORY
09/22/20 @ 10:35 am EST
Source:
Vault Comics
| Categories:
MIsc
|
Comments
(0) |
E-mail Article
|
Add a Comment
Vault Comics is thrilled to announce
The PICTURE OF EVERYTHING ELSE
, a dark new literary horror story from star writer Dan Watters (
Coffin Bound
,
Lucifer
), artist Kishore Mohan, letterer Aditya Bidikar (
These Savage Shores, Blue in Green
), and designer Tim Daniel.
As the 20th century dawns, art promises to change the world...and steep it in blood. A rash of impossible killings sweep through Paris, tearing the rich and beautiful apart in their beds. When two art thieves stumble upon the portraits of the victims damaged in the exact same manner they died, it appears the man who once painted the immortal portrait of Dorian Gray has returned—with darker plans for future works. From the minds of Dan Watters (Coffin Bound, Lucifer, Deep Roots) and Kishore Mohan comes a haunting balance of depravity and beauty.
"
The Picture of Dorian Grey
has always been a favorite of mine, both as a novel and a concept," said Watters. "But I think it's been squandered a little when it's been revisited. We'll often see Dorian crop up in other mediums — the immortal, beautiful young decadent with his picture hidden in the attic. But what of the man who made the painting? There was a man who made art which rendered its subject immortal. What if he started to change his works, and change the world with them? What if he sought to make the world a paradise- or a hell? Maybe art could get us there. Maybe it still will."
"I've always been fascinated by how art influences the world, not by merely translating experiences across space and time, but by actually altering opinions, normalising taboos, instilling new values, and changing every damned thing that it touches," added Mohan. "And having grown up on my mother's collection of Classics Illustrated, later discovering all of my favourite characters in Alan Moore's League of Extraordinary Gentlemen, and now being a huge fan of shows like Penny Dreadful, Ripper Street, and The Alienist, I never stopped being enamored by the late 19th and the early 20th centuries. Dan and I have been wanting to create something together for a quite a while and when he told me the story of 'The Picture of Everything Else' I remember thinking to myself that here's a story that'll let me explore all that I've wanted to with my craft. I get to actually let my craft mess around with my favourite time period in all of history!"
THE PICTURE OF EVERYTHING ELSE #1
hits store shelves in December 2020, and will launch with variant covers by Nathan Gooden and Adam Gorham.
THE JUSTICE LEAGUE FACES AN "ENDLESS WINTER" THIS DECEMBER
09/21/20 @ 7:36 pm EST
Source:
DC Comics
| Categories:
DC
|
Comments
(0) |
E-mail Article
|
Add a Comment
This December, the Justice League learns first hand the meaning of "Revenge is a dish best served cold," in
Justice League: Endless Winter
, a nine-issue event taking place throughout the month of December.
1000 years ago, a disparate group of heroes – Hippolyta, Black Adam, Swamp Thing and the Viking Prince – banded together to prevent the world from freezing at the hands of the Frost King, an exiled Norse god with the ability to control entire ecosystems. The heroes triumphed, but victory came at a terrible price, one that has been kept secret until now.
Justice League: Endless Winter
spans a total of nine titles, all co-written by Ron Marz and Andy Lanning. "Getting to play with such a great cast of cool superheroes is like catnip for me," said Lanning. "From the Justice League to Teen Titans, Aquaman to Black Adam and, probably my personal favorite, Justice League Dark, there are so many moments to showcase that there's something for everyone."
The title lineup for
Justice League: Endless Winter
includes:
Justice League: Endless Winter #1 (on sale December 1) with art by Howard Porter and Marco Santucci and cover by Mikel Janin
The Flash #767 (on sale December 8) with art from Clayton Henry and Marco Santucci and cover by Clayton Henry
Superman: Endless Winter Special #1 (on sale December 8), art by Phil Hester, Ande Parks, and Marco Santucci and cover by Francis Manapul
Aquaman #66 (on sale December 15), with art by Miguel Mendonça and Marco Santucci and cover by Mike McKone
Justice League #58 (on December 15), art by Xermanico and Marco Santucci, with cover by Francis Manapul
Teen Titans: Endless Winter Special #1 (on sale December 15), featuring art by Jesus Merino and Marco Santucci, and cover by Bernard Chang
Justice League Dark #29 (on sale December 22), art by Amancay Nahuelpan and Marco Santucci, cover by Kyle Hotz
Black Adam: Endless Winter Special #1 (December 22), art by Brandon Peterson and Marco Santucci, featuring cover by Dale Eaglesham
Justice League: Endless Winter Special #2 (December 29), with art by Howard Porter, Carmine Di Giandomenico and Marco Santucci, and cover by Mikel Janin
"The real spine of this story is the Justice League," says Marz. "This is a big crossover story, with a lot of big visuals and classic characters."
The action all begins on December 1 with Justice League: Endless Winter #1, available at open and operating comic book stores and participating digital retailers including Comixology, Amazon Kindle, Apple and others.
'THE DARK CRYSTAL: AGE OF RESISTANCE' CANCELED AFTER ONE SEASON AT NETFLIX
09/21/20 @ 7:21 pm EST
Source:
Variety
| Categories:
MIsc
|
Comments
(0) |
E-mail Article
|
Add a Comment
Netflix will not be returning to the planet of Thra.
The streamer has canceled its fantasy puppet series
The Dark Crystal: Age of Resistance
after only a single season,
Variety
confirmed.
The show was a prequel series to the original 1982 Jim Henson film, which tells the story of a group of young Gelflings who discover that their overlords — the evil, hideous Skeksis — are duplicitous and plan to consume their subjects' life energy via the dark crystal in order to fuel their own.
News of the cancelation comes mere days after the show won an Emmy for best children's series.
"We can confirm that there will not be an additional season of
The Dark Crystal: Age of Resistance
. We know fans are eager to learn how this chapter of
The Dark Crystal
saga concludes and we'll look for ways to tell that story in the future," said executive producer Lisa Henson. "Our company has a legacy of creating rich and complex worlds that require technical innovation, artistic excellence, and masterful storytelling. Our history also includes productions that are enduring, often finding and growing their audience over time and proving again and again that fantasy and science fiction genres reflect eternal messages and truths that are always relevant. We are so grateful to Netflix for trusting us to realize this ambitious series; we are deeply proud of our work on
Age of Resistance
, and the acclaim it has received from fans, critics and our peers, most recently receiving an Emmy for Outstanding Children's Program."
DC UNIVERSE TRANSFORMS INTO DC UNIVERSE INFINITE, THE ULTIMATE COMIC BOOK SUBSCRIPTION SERVICE
09/21/20 @ 6:46 pm EST
Source:
DC Comics
| Categories:
DC
|
Comments
(0) |
E-mail Article
|
Add a Comment
Calling all comic book fans to Explore the Multiverse! DC has announced the evolution of DC UNIVERSE into DC UNIVERSE INFINITE, a premium digital comic book service set to launch on January 21, 2021. With access to more than 24,000 comic books at launch, DC UNIVERSE INFINITE subscribers will also encounter digital-first comics, exclusive access to DC fan events, as well as a steady stream of recently released comics six months after the physical versions hit store shelves. Following its initial launch, DC UNIVERSE INFINITE will begin expanding globally in SUMMER 2021.
"Our fans love the platform's robust library of comic books and, with the transformation, we will not disappoint," said DC Publisher and Chief Creative Officer Jim Lee. "I'm excited to share that not only will DC UNIVERSE INFINITE members still be able to read all of the great comics that they've enjoyed but new issues are debuting on the platform quicker than before, digital first exclusives are being created, and the members-only events will begin as soon as possible. There has never been a better time to be a DC fan!"
DC's premium digital comic book platform provides members with an expanded collection of comics and Original Graphic Novels, spanning over 80 years of the DC Multiverse. Fans can also download comics, graphic novels and originals for unlimited offline reading on their favorite devices from a smartphone or tablet.
Subscribers will also have earlier access to new Digital First comics that include titles such as Aquaman: Deep Dives, Batman: Gotham Nights, DCeased: Hope at World's End, Harley Quinn: Black + White + Red, Injustice: Year Zero, Shazam!: Lightning Strikes, Superman: Man of Tomorrow, Swamp Thing: New Roots and Wonder Woman 84, and many more. Also debuting on DC UNIVERSE INFINITE will be DC Universe Infinite Originals, including new comic content centered around beloved characters...stay tuned for updates!
The fan-favorite community area will be free to all registered and premium subscribers with a full calendar of events planned for 2021. Current DC UNIVERSE subscribers will not need to create a new account as their DC UNIVERSE login will transfer to DC UNIVERSE INFINITE.
For DC UNIVERSE subscribers who want ongoing access to premium DC originals, the special DC UNIVERSE monthly member offer to HBO MAX has been extended through October 30, 2020.
HBO Max will be the home for premium video content that will include new DC series, key DC classics and DC UNIVERSE originals like Young Justice Seasons 1-4, Titans Seasons 1-3, Doom Patrol Seasons 1-3, and DC's Stargirl Season 1. Additionally, HBO Max has ordered a third season of Warner Bros. Animation's critically acclaimed DC UNIVERSE adult animated comedy series Harley Quinn, starring Kaley Cuoco, who also served as executive producer during the first two seasons along with Justin Halpern, Patrick Schumacker, Dean Lorey, and Sam Register. Harley Quinn will be a Max Original going forward, and all three seasons of the show will be available.
DC UNIVERSE INFINITE will be available online at
DCUniverseInfinite.com
, iOS and Android devices.