NEW MCU VARIANT COVERS CELEBRATE EPIC PHASE 3 FILMS OF 'INFINITY SAGA'
12/06/22 @ 8:36 am EST
Source:
Marvel
| Categories:
Avengers
|
Comments
(0) |
E-mail Article
|
Add a Comment
Throughout next year, Marvel Comics will continue its popular line of INFINITY SAGA VARIANT COVERS! Highlighting each and every Marvel Cinematic Universe film, these covers see some of the industry's greatest artists honor the Marvel Studios' incredible impact with stunning poster-style comic art. The next installment of covers will allow fans to revisit the incredible highs of the films that closed out the groundbreaking INFINITY SAGA. The first three Infinity Saga Phase 3 Variant Covers will hit stands in February with the rest releasing in the following months.
Best-selling cover artist Mark Brooks depicts the unforgettable "Avengers Assemble" moment from
Marvel Studios' Avengers: Endgame
. Thanos and his Black Order reign victorious in superstar artist Leinil Francis Yu's cover spotlighting
Marvel Studios' Avengers: Infinity War
. And artist Dike Ruan, known for his acclaimed work on
Shang-Chi
, presents the dynamite debut of Ant-Man, Wasp, and Ghost from
Marvel Studios' Ant-Man
.
Stay tuned for more INFINITY SAGA PHASE 3 VARIANT COVERS to be revealed in the months ahead.
MIKE JUDGE, ZACH WOODS' PEACOCK ANIMATED COMEDY SERIES 'IN THE KNOW' SETS VOICE CAST
02/07/23 @ 9:27 am EST
Source:
Variety
| Categories:
MIsc
|
Comments
(0) |
E-mail Article
|
Add a Comment
Peacock has set the voice cast for the adult animated series "In the Know,"
Variety
reports.
As previously announced, Mike Judge and Zach Woods will star in the series. They will now be joined by J. Smith-Cameron ("Succession," "Rectify"), Charlie Bushnell ("Diary of a Future President," "Percy Jackson and The Olympians"), Carl Tart ("Grand Crew"), and Caitlin Reilly ("Loot," "Hacks"). The show was originally picked up at the streamer in September in Peacock's first adult animated series order.
Per the official logline, "Lauren Caspian (Woods) is NPR's third most popular host. He's a well-meaning, hypocritical nimrod, just like you and me. He's also a stop motion puppet. Each episode follows the making of an episode of Lauren's show 'In the Know,' in which Lauren conducts in-depth interviews with real world human guests. Lauren collaborates with a diverse crew of NPR staff. They are also puppets and nimrods."
Reilly will voice Fabian, researcher and fact checker. Bushnell will voice Chase, a college intern. Cameron will voice Barb, co-executive producer of "In The Know." Tart will voice Carl, a sound engineer. Judge will voice Sandy, culture critic.
NEW LINEUP OF AVENGERS ASSEMBLE FOR BATTLES ACROSS COSMOS IN DANIEL ACUÑA'S 'AVENGERS' #1 VARIANT COVER
02/07/23 @ 9:20 am EST
Source:
Marvel
| Categories:
Avengers
|
Comments
(0) |
E-mail Article
|
Add a Comment
Announced last month, a new era for Earth's Mightiest Heroes is upon us! Written by Jed MacKay and drawn by Marvel's Stormbreaker artist C.F. Villa, AVENGERS #1 will arrive this May, ushering an age ripe with grand-scale adventure and cosmic mystery just in time for the team's milestone 60th anniversary! The new run will come complete with a fresh lineup consisting of some the biggest icons from throughout the Avengers' storied history including Captain Marvel, Iron Man, Thor, and Scarlet Witch. Fans can see this powerful new team rocketing into action in a variant cover by superstar artist Daniel Acuña. Acuña's piece is the first of many variant covers by top industry talents that will grace the debut issue, and fans can look forward to seeing more stunning AVENGERS #1 covers revealed all week long!

MacKay and Villa's AVENGERS will kick off with a saga that sees the team embrace a new divine purpose after they're gifted with knowledge of THE TRIBULATION EVENTS, a series of grand-scale disasters that will spark upheaval throughout the known universe. Fans got their first glimpse at MacKay's overarching AVENGERS plan in last month's year-ending one-shot, TIMELESS, where readers followed Kang in his hunt for the unobtainable "MISSING MOMENT." Now, a dangerous game is afoot and the prize is greater than anything imaginable… Will the Avengers be able to triumph in the face of the Tribulation Events and learn the connection behind these earth-shattering threats and Kang's quest? Or will they be reduced to mere pawns in an extraordinary scheme beyond their comprehension?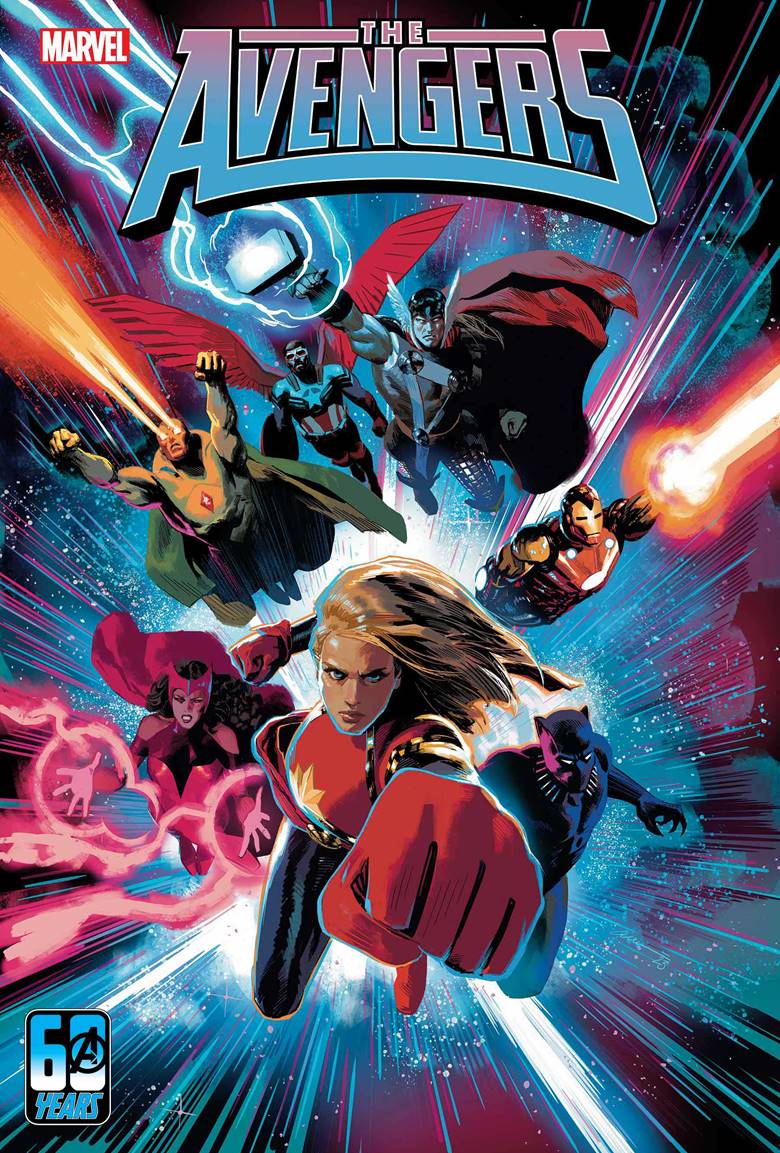 CIVIL WAR BREWS TO A BOIL IN 'EVE: CHILDREN OF THE MOON' #5
02/07/23 @ 9:15 am EST
Source:
BOOM! Studios
| Categories:
MIsc
|
Comments
(0) |
E-mail Article
|
Add a Comment
BOOM! Studios revealed today a first look at EVE: CHILDREN OF THE MOON #5, the final issue of the five-issue EVE sequel series by Hugo and Nebula Award-nominated author Victor LaValle (
Sabretooth, Victor LaValle's Destroyer
), rising star artist Jo Mi-Gyeong (
The Dark Crystal: Age of Resistance
), colorist Brittany Peer, and letterer AndWorld Design, a return to the world of the highly acclaimed sci-fi adventure series in February 2023.
As Eve comes to horrific realizations about her sister, she feels more conflicted than ever as her sister's changes along with her mysterious companion may be part of what it takes to save the Earth! On the surface, civil war brews to a boil, with Selene and her faction of children pitted against Eve and her companions…
EVE: CHILDREN OF THE MOON #5 features main cover art by artist Ario Anindito (
Star Wars: The High Republic
) with Febri Ferdian, and variant covers by acclaimed illustrators Jahnoy Lindsay (
Hawkeye: Kate Bishop
) and Veronica Fish (
Archie
).
EVE: CHILDREN OF THE MOON is the newest release from BOOM! Studios' eponymous imprint, home to critically acclaimed original series, including
BRZRKR
by Keanu Reeves, Matt Kindt, and Ron Garney;
Something is Killing the Children
by James Tynion IV and Werther Dell'Edera;
Once & Future
by Kieron Gillen and Dan Mora;
Eve
by Victor LaValle and Jo Mi-Gyeong;
The Many Deaths of Laila Starr
by Ram V and Filipe Andrade;
Wynd
by James Tynion IV and Michael Dialynas;
Grim
by Stephanie Phillips and Flaviano;
Briar
by Christopher Cantwell and Germán García;
Stuff of Nightmares
by R.L. Stine and A.L. Kaplan;
The Approach
by Jeremy Haun, Jason A. Hurley, and Jesus Hervas;
Damn Them All
by Simon Spurrier and Charlie Adlard;
Behold
,
Behemoth
by Tate Brombal and Nick Robles;
Specs
by David M. Booher and Chris Shehan;
Once Upon a Time at the End of the World
by Jason Aaron, Alexandre Tefenkgi, Leila del Duca, and Nick Dragotta;
Know Your Station
by Sarah Gailey and Liana Kangas;
A Vicious Circle
by Mattson Tomlin and Lee Bermejo;
Mosely
by Rob Guillory and Sam Lotfi; and the upcoming
Harrower
by Justin Jordan and Brahm Revel;
The Neighbors
by Jude Ellison S. Doyle and Letizia Cadonici; and
The Seasons Have Teeth
by Dan Watters and Sebastián Cabrol. The imprint also publishes popular licensed properties, including
Dune: House Harkonnen
from Brian Herbert, Kevin J. Anderson, and Michael Shelfer;
Mighty Morphin Power Rangers
from Melissa Flores and Simona Di Gianfelice;
Magic
from Jed McKay, Rich Douek, and Ig Guara; and
The Expanse: Dragon Tooth
by Andy Diggle and Rubine.
Print copies of EVE: CHILDREN OF THE MOON #5 will be available for sale on February 15, 2023 exclusively at local comic book shops (use
comicshoplocator.com
to find the nearest one) or at the BOOM! Studios webstore. Digital copies can be purchased from content providers, including comiXology, iBooks, Google Play, and Kindle.
Fans and readers can purchase copies of EVE: CHILDREN OF THE MOON SC, collecting the entire five-issue series, in local comic shops on July 26, 2023 and in bookstores everywhere on August 1, 2023.
MELISSA BARRERA FILM 'GOD'S COUNTRY' IN WORKS FROM 6TH & IDAHO, ZQ ENTERTAINMENT
02/07/23 @ 9:11 am EST
Source:
Deadline
| Categories:
MIsc
|
Comments
(0) |
E-mail Article
|
Add a Comment
Matt Reeves' 6th & Idaho is teaming with ZQ Entertainment to produce
God's Country
— a new genre film starring
Scream VI'
s Melissa Barrera, which will mark the American directorial debut of Egor Abramenko (
Sputnik
).
The film going into production this summer will have Barrera playing a young Salvadoran woman who travels to Kentucky to meet her fiancé. What she uncovers is something sinister beyond comprehension, as her American dream curdles into a nightmare of biblical proportions.
Will Soodik (
Westworld
) wrote the script. Reeves (
The Batman
) and Rafi Crohn (
Tales from the Loop
) will produce for 6th & Idaho, alongside ZQ Entertainment's Ara Keshishian and Petr Jákl (who financed the development), Adam Kassan (
End of Watch
), and Barrera. WME reps foreign and co-represents domestic rights with CAA Media Finance, and will introduce the project at EFM.
"Egor is an exciting emerging talent," Reeves told
Deadline
, "and I'm thrilled to be making a monster movie together."
'KINGDOM OF THE PLANET OF THE APES' CASTS DICHEN LACHMAN
02/07/23 @ 9:35 am EST
Source:
Hollywood Reporter
| Categories:
Planet of The Apes
|
Comments
(0) |
E-mail Article
|
Add a Comment
Severance
actress Dichen Lachman is going ape.
Lachman, who plays a key role opposite Adam Scott in the buzzy Apple TV+ show, has joined the chest-thumping cast of
Kingdom of the Planet of the Apes
, 20th Century Studio's latest
Planet of the Apes
movie,
THR
reports.
The new
Apes
movie is set many years after the conclusion of 2017's
War for the Planet of the Apes
. Many apes societies have grown from when the Moses-like Caesar brought his people to an oasis, while humans have been reduced to a feral-like existence. Some groups have never heard of Caesar, while others have contorted his teaching to build burgeoning empires.
In this setting, one ape leader begins to enslave other groups to find human technology, while another ape, who watched his clan be taken, embarks on a journey to find freedom. A young human woman becomes key to latter's quest, although she has plans of her own.
Shooting is underway in Australia with Freya Allan, Owen Teague, William H. Macy and Kevin Durand among the key players. It is unclear who Dichen is playing.
DF INTERVIEW: RON MARZ REWINDS TO AN UNTOLD TALE IN THE PAST OF A COSMIC SAVIOR IN 'WARLOCK: REBIRTH'
02/06/23 @ 12:37 pm EST
Source:
Dynamic Forces
| Categories:
MIsc
|
Comments
(0) |
E-mail Article
|
Add a Comment
DF Interview: Ron Marz rewinds to an untold tale in the past of a cosmic savior in 'Warlock: Rebirth'
By Byron Brewer
Adam Warlock was created to be the perfect human specimen. Since then, Adam has gone on to be a cosmic savior, defending the galaxy from the likes of Thanos, the Universal Church of Truth and the Magus. But what will happen when the next evolution of Warlock emerges? Someone who is stronger, faster and smarter than Adam?
Don't miss this untold story of Adam Warlock and the Infinity Watch as Ron Marz and Ron Lim (Silver Surfer: Rebirth) introduce a new character that will forever impact Warlock's legacy! I sat down with Ron Marz and we blasted off to the land we love: Marvel Cosmic!
Byron Brewer: Ron, I know a lot of Marvel Cosmic fans enjoyed your retro Silver Surfer limited series last year. How does it feel to come almost straight back with an LS on Adam Warlock, re-teaming with cosmic art icon Ron Lim?
Ron Marz:
Feels like the most natural thing in the world. Or universe. Working with Ron Lim and playing in Marvel's cosmic playground were my first professional experiences. It's where I learned how to do what I do. So coming back is great.
Byron: Any connective tissue between these two five-issue mags?
Ron Marz:
There are definitely some aspects from the Surfer series that continue here, some threads involving Captain Mar-Vell's son, Genis-Vell, as he tries to live up to his father's legacy. That said, this Warlock story stands on its own without any knowledge of the Surfer series required. But not out of the question for the silver guy on the surfboard to make an appearance.
Byron: Your tale takes place during Warlock's "early days," says the solicit for Warlock: Rebirth. Which "early days"? The Fantastic Four HIM creation, Adam does Counter-Earth, the Starlin sagas… ?
Ron Marz:
This story is set during the era of Warlock and the Infinity Watch, so not long after the events of the Infinity Gauntlet.
Byron: Give us your take on the character of Adam Warlock, especially during the period in which this Rebirth story occurs. Can you give readers a bit of a summary, an extended elevator pitch on what this particular cosmic saga is all about?
Ron Marz:
Adam Warlock is, for me, a pretty tortured character. Like a lot of Starlin protagonists, right? Adam is engaged in an existential crisis. He is not human, per se, but he was created to be the pinnacle of humanity. So he wrestles with a lot of the angst of the human condition, just writ large. Adam was created to be the ultimate evolutionary step for mankind, but he broke from his creators. Seems reasonable that those creators might try again, and come up with a "hero" who would be less problematic. I guess the logline would be something like "What happens when Adam Warlock is confronted by someone who is better at doing his job than he is?"
Byron: Hmmm… Cosmic guest star list please! (Genis-Vell on a cover?)
Ron Marz:
Yes, Genis-Vell appears in the story, and obviously we're getting Gamora and Pip the Troll. I don't think I'm giving away too much by saying that Doctor Strange will be appearing as well, both because he fits the tone of the story, and frankly because I wanted to write Doctor Strange again. We'll have a few other guest stars, but I want to keep them under wraps for now.
Byron: What has me super excited about this limited series is the news that Ron Lim and yourself will be introducing a new character with Warlock ties. (Puh-leeeze do not be an iteration of the Magus!) Without spoilers, can you tell readers anything about this villain or hint at what the connection to Adam may be? Fans like detective work.
Ron Marz:
The "without spoilers" part is a little tricky here. What I can say is that the antagonist for this series is very much a reflection of Adam Warlock, but it's not the Magus, and it's not the Goddess from Infinity Crusade. More than that, I'd like to keep that identity under wraps for as long as possible. I want to preserve some sense for the readers of not knowing what's coming. We as a culture are so keen to always know what's next that I think we've lost some of the magic of experiencing a story and not knowing what's ahead.
Byron: Agreed. … Talk a little more about seeing your script come alive through the pulse-pounding pencils of Ron Lim!
Ron Marz:
Ron Lim drew the first comic script I ever wrote, and he was the primary artist I collaborated with in the first couple of years of my career. I learned a huge amount about doing this by working with Ron Lim, so coming full circle and working with Ron again is just an absolute pleasure. You develop a rhythm when you click with an artist, and you can almost work in shorthand. I know what Ron does, and he knows what I do, how I approach a page. So there's a lot of trust. There's also the simple fact that Ron does beautiful work and is a great storyteller. Knowing that an artist is going to deliver on every page is a huge boon in making comics.
Byron: Ron, what other projects in which you are involved can you tell readers about?
Ron Marz:
I'm part of the narrative team for Diablo IV video game, which will be released in June from Blizzard, so that's a big chunk of my time. In terms of comics, the Resolution graphic novel that Andy Lanning and I wrote will be released soon via the Zoop crowdfunding platform. Andy and I also co-wrote a Twilight Imperium graphic novel for CMON Games that comes out this year, and we're doing a new horror series for Heavy Metal as well. The hardcover collection of my Swamp God serial should be out from Heavy Metal soon. I've got a few projects still to be announced from both U.S. and international publishers. And I also served as a story consultant on an Indian television series that will debut later this year on streaming. No rest for the wicked.
Dynamic Forces would like to thank Ron Marz for taking time out of his busy schedule to answer our questions. Warlock: Rebirth #1 from Marvel Comics is slated to be on sale April 19th!
A note from Byron: Since the writing of this interview, the identity of the book's antagonist has become publicly known. For more, check out:
https://www.marvel.com/articles/comics/eve-warlock-makes-her-debut-in-ron-marz-and-ron-lim-s-warlock-rebirth
For more news and up-to-date announcements, join us here at Dynamic Forces,
www.dynamicforces.com/htmlfiles/
, "LIKE" us on Facebook,
www.facebook.com/dynamicforcesinc
, and follow us on Twitter,
www.twitter.com/dynamicforces
.
TOM TAYLOR TAKES JON KENT INTO THE WORLD OF 'INJUSTICE'
02/06/23 @ 12:11 pm EST
Source:
DC Comics
| Categories:
DC
|
Comments
(0) |
E-mail Article
|
Add a Comment
Tom Taylor has been keeping a secret from you. When the critically-acclaimed writer announced that he would be continuing Jonathan Kent's story in
Adventures of Superman: Jon Kent
, he didn't tell you why. Not only will the miniseries see a rematch between Jon and Ultraman, but it will also take DC's younger Superman to a place he's never been before. The battle with Ultraman will force Jon to explore the multiverse, and one of the places he'll end up will be greatly familiar to fans of Taylor and his work for DC. It's a place of war, a place of betrayal, and a place of…
Injustice
.
Yes, DC has revealed that
Adventures of Superman: Jon Kent
not only continues Jon's story that Taylor began in
Superman: Son of Kal-El,
but also builds on the legacy of storytelling he crafted for the popular DC video game franchise, which hasn't been seen in a DC comic book since the
Injustice 2
series concluded in 2018. But how exactly will Jon find himself in
Injustice's
harrowing world, in which Batman finds himself fighting for survival against a tyrant Superman?
In a DC interview, Taylor said, "A lot of people know the premise of this series: Ultraman, the man who kept Jon Kent, who enslaved him for so long, who essentially took his childhood from him, he's out there in the multiverse murdering Kal-Els. Val-Zod, and someone who we won't give away just yet, come to Jon Kent and let him know that they believe he's the only one who could stop him.
"So, that's what everybody knows, but what they don't know is where in the multiverse that's going to lead Jon. One of those places—and a very important part—is the world of
Injustice
."
Adventures of Superman: Jon Kent #1
by Tom Taylor, Clayton Henry and Jordie Bellaire will be available in print and as a digital comic book on March 7.
'THE EXORCIST': BLUMHOUSE, UNIVERSAL & PEACOCK HORROR REDO SETS OLIVIA MARCUM
02/06/23 @ 11:51 am EST
Source:
Deadline
| Categories:
MIsc
|
Comments
(0) |
E-mail Article
|
Add a Comment
Olivia Marcum is the latest to join Blumhouse, Universal, Peacock and Morgan Creek's next installment of
The Exorcist,
Deadline
reports
.
She will star in the continuation of the original horror pic alongside previously announced Academy-Award nominee Leslie Odom Jr., Ann Dowd, Lidya Jewett and Ellen Burstyn, who is reprising her role as Chris MacNeil, in the fresh new take of the beloved property – a continuation of the quintessential possession horror film. The studios behind the latest redo scooped up the franchise rights for $400M.
The pic, the first in a new trilogy, is currently in production for an Oct. 13 release this year on the big screen. David Gordon Green of the recent Blumhouse/Miramax
Halloween
trilogy directs. Scott Teems (
Halloween Kills, The Quarry
), Danny McBride (
Halloween Kills, Halloween
) and Green teamed up for the story being penned by Peter Sattler (
Broken Diamonds
) and Green.
The original 1973
The Exorcist
counts a global box office of $441M, making it the highest grossing horror film for a 44-year-long run. The picture was also nominated for ten Oscars, including one for Burstyn, who was nominated for Best Actress. The film also nabbed the honor of being the first horror film ever nominated for Best Picture.
GRANT MORRISON'S 'BATMAN' SOLD OUT ONLINE, TOPS DC BEST SELLER LIST
02/06/23 @ 11:22 am EST
Source:
ComicBook
| Categories:
DC
|
Comments
(0) |
E-mail Article
|
Add a Comment
"Temporarily out of stock." That's the notice awaiting Amazon shoppers trying to buy a copy of Grant Morrison's
Batman
Omnibus Vol. 1, which soared to the #1 spot on the retailer's DC Comics & Graphic Novels section of the Amazon Best Sellers list.
DC Studios co-chief James Gunn named the book — the first of three super-sized collections comprising Morrison's Batman and son saga — as an inspiration for
The Brave and the Bold
, a live-action film introducing the DC Universe's Batman and Robin. The book has also sold out on online retailers like Barnes & Noble, which has similarly posted a notice that the book is "temporarily out of stock online."
Last week, Gunn and his DC Studios co-chair Peter Safran revealed the first ten projects of their DC slate, including the live-action feature films
Superman: Legacy
,
The Authority
, and
Supergirl: Woman of Tomorrow
, and the HBO Max series
Booster Gold
. Gunn then tweeted the "touchstone" comics inspiring "the feel, the look, or the tone" of the new DC Universe to his 1.5 million Twitter followers, including:
Batman by Grant Morrison Omnibus Vol. 1,
Grant Morrison and Frank Quitely's
All-Star Superman: The Deluxe Edition, The Authority
Omnibus, and
Absolute Swamp Thing by Alan Moore: Volume One.
After paperback editions of
Supergirl: Woman of Tomorrow
and
Booster Gold: Past Imperfect
sold out online, Gunn tweeted: "Just talked to [DC Chief Creative Officer and Publisher] Jim Lee about everything selling out, but the fine folks at @DCComics will have more coming soon." (via
ComicBook.com
)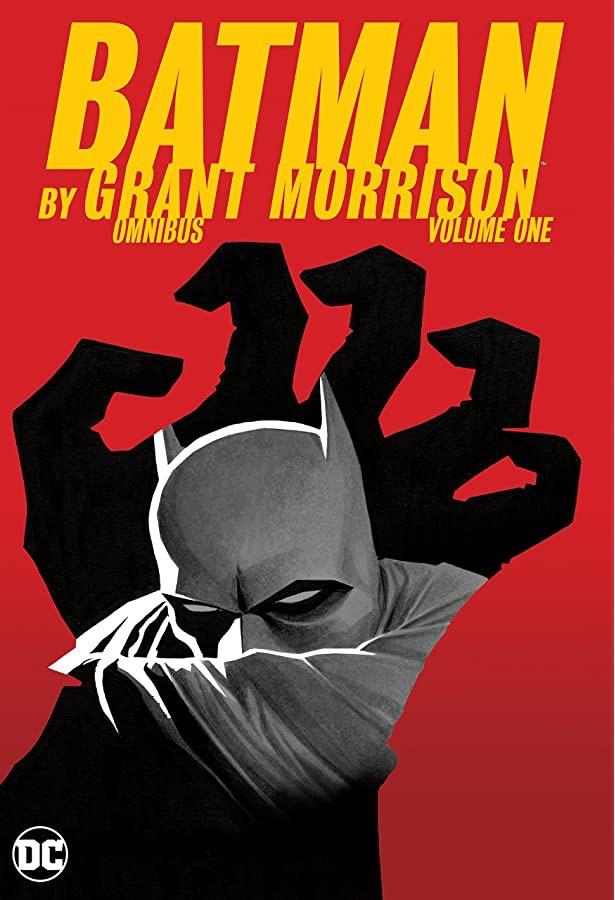 'THE CONSULTANT' TRAILER: CHRISTOPH WALTZ IS THE WORLD'S CREEPIEST BOSS IN AMAZON PRIME VIDEO THRILLER
02/06/23 @ 11:03 am EST
Source:
Variety
| Categories:
MIsc
|
Comments
(0) |
E-mail Article
|
Add a Comment
In "The Consultant," Christoph Waltz's Regus Patoff is a pandemic-era corporate worker's nightmare.
"For those who work remotely, you have one hour to get here, or you'll be terminated," he says in a trailer for the dark comedy-thriller series below, via
Variety
.
The series explores the sinister relationship between boss and employee. When Patoff is hired as a consultant to improve the business at the app-based gaming company CompWare, employees experience new demands and challenges that put everything into question, including their lives. The cast also includes Nat Wolff as Craig, Brittany O'Grady as Elaine and Aimee Carrero as Patti.
"The Consultant" is based on Bentley Little's 2015 novel of the same name. Tony Basgallop serves as creator and showrunner, and executive produces alongside pilot director Matt Shakman, Waltz, Steve Stark and Andrew Mittman. Kai Dolbashian produces.
The series hails from MGM Television and Amazon Studios.
Full trailer:
https://youtu.be/Rj6gQdEyGXI