'WHEN YOU FINISH SAVING THE WORLD': TRAILER, RELEASE DATE REVEALED
11/29/22 @ 2:20 pm EST
Source:
Deadline
| Categories:
MIsc
|
Comments
(0) |
E-mail Article
|
Add a Comment
A24 has unveiled the release date and first trailer for its mother-son dramedy
When You Finish Saving the World
, written and directed by Oscar-nominated actor Jesse Eisenberg (FX's
Fleishman Is in Trouble
).
The film starring Academy Award winner Julianne Moore (
Lisey's Story
) and
Stranger Things
' Finn Wolfhard will bow in theaters on January 10, 2023 — opening against Hidden Empire Film Group's horror
Fear
, Sony's thriller
Missing
, Lukas Dhont's A24 pic
Close
and Sony Pictures Classics' Hugh Jackman-led drama
The Son
from Oscar-winning filmmaker Florian Zeller.
Based on Eisenberg's 2020 Audible Original audio drama of the same name,
When You Finish Saving the World
watches as Evelyn (Moore) and her oblivious son Ziggy (Wolfhard) seek out replacements for each other as Evelyn desperately tries to parent an unassuming teenager at her shelter, while Ziggy fumbles through his pursuit of a brilliant young woman at school.
The film also starring Alisha Boe (
Do Revenge
), Jay O. Sanders (
Bardo
), Billy Bryk (
Ghostbusters: Afterlife
) and Eleonore Hendricks (
The Mountain
) made its world premiere at the 2022 Sundance Film Festival before going on to open Cannes Critics' Week. Ali Herting, Dave McCary and Emma Stone served as its producers. (via
Deadline
)
To see the trailer, click
here
.
SCOTT SPEEDMAN NABS VILLAIN ROLE IN THRILLER 'SUNFLOWER'
12/01/23 @ 9:06 pm EST
Source:
Hollywood Reporter
| Categories:
MIsc
|
Comments
(0) |
E-mail Article
|
Add a Comment
Scott Speedman is going bad.The actor, most recently seen co-starring on ABC's
Grey's Anatomy
, has joined the cast of
Sunflower
, the thriller that
Lovecraft Country
creator Misha Green is writing and directing for Lionsgate.Jurnee Smollett and Isabel May are already on the call sheet for the feature that will shoot in South Africa in spring of 2024.In
Sunflower
, two women, played by Smollett and May, struggle to escape from a deranged college professor who holds them hostage on a remote sunflower farm. Speedman is playing the deranged college professor. (via
The Hollywood Reporter
)
'THE BOY AND THE HERON' WINS MAJOR NY FILM CRITICS AWARD
12/01/23 @ 2:33 pm EST
Source:
ComicBook
| Categories:
MIsc
|
Comments
(0) |
E-mail Article
|
Add a Comment
The Boy And The Heron
is set to arrive in theaters in North America on December 8th. Following a solid theatrical run in Japan, the latest from Studio Ghibli, titled "
How Do You Live
" in its country of origin, is already receiving wide acclaim before it hits the West. Originally billed as the last film from legendary director Hayao Miyazaki, Ghibli's latest has been granted prestigious recognition by the New York Film Critics Circle. The Circle ranked
The Boy And The Heron
as the best animated film of this year, which is impressive considering some of its competition. (via
ComicBook.com
)
Here is the film's official English trailer:
https://youtu.be/t5khm-VjEu4
FIRST LOOK AT 'CREEPSHOW' VOLUME 2 #5: SERIES' FREAKY FINALE
12/01/23 @ 2:22 pm EST
Source:
Skybound
| Categories:
Creepshow
|
Comments
(0) |
E-mail Article
|
Add a Comment
Today Skybound unveiled a horrifying first look at Creepshow Vol. 2 #5, the finale of the second volume of the smash-hit comic book anthology based on Greg Nicotero's hit Shudder TV series produced and licensed by Cartel Entertainment. Season 4 of the Shudder TV series of the same name is out now on AMC and AMC+. Brian Witten is overseeing on behalf of Nicotero's Monster Agency Productions. Creepshow Vol.2 #5 features stories by Saladin Ahmed (Miles Morales: Spider-Man), Artyom Topilin (I Hate This Place), DB Andry (Resonant) & Tim Daniel (End After End), and Matthew Roberts (Manifest Destiny). The conclusion to the second volume of Creepshow arrives in comic book shops on January 17, 2024. In the freaky finale, "Sinister" Saladin Ahmed and "Hair-Raising" Artyom Topilin first spin a horrifying yarn about a politician who tries to protect the youth from "dangerous" comic books in "Burning Ambition"! Then, "Dastardly" DB Andry & "Terrifying" Tim Daniel are joined by "Murderous" Matthew Roberts to tell the story of a boy who sacrifices the things he loves to feed the monster under his bed in "Keep It Fed"! In addition to the main cover by Guillem March (Batman), Creepshow Vol. 2 #5 comes with an incredible lineup of variant covers, including a cover by Artyom Toplin and the final cover in the set of 1:10 incentive connecting covers by iconic horror artist Skinner. Creepshow Volume 2's all-star creative roster also includes Garth Ennis (Preacher, The Boys), Becky Cloonan (Wonder Woman), Phil Hester (Gotham City: Year One), Michael Wash (The Silver Coin), Dan Watters (Homesick Pilots, Arkham City), Abigail Larson (Sandman Universe: The Dreaming), Zoe Thorogood (It's Lonely at the Centre of the Earth), Joel Farrelly (Tell Me a Story), Nick Dragotta (East of West), Alisa Kwitney (Mystik U), and Goran Sudžuka (Ghosted, Year Zero). The Creepshow comic miniseries deal was brokered by Striker Entertainment. Creepshow Volume 2 #5 (of 5) (Lunar Codes below SRP $3.99) will be available at comic book shops and digital platforms including Amazon Kindle, Apple Books, comiXology, and Google Play on Wednesday, January 17, 2024.
The full list of covers is below:
Creepshow 2 #5 CVR A by Guillem March (1123IM256)
Creepshow 2 #5 CVR B by Artyom Topilin (1123IM257) 
Creepshow 2 #5 CVR C by Skinner (1:10 Incentive) (1123IM258)
JACKPOT AND BLACK CAT'S LUCK RUNS OUT IN NEW TEAMUP SERIES
12/01/23 @ 2:16 pm EST
Source:
Marvel
| Categories:
Marvel
|
Comments
(0) |
E-mail Article
|
Add a Comment
Felicia Hardy and Mary Jane Watson have always had more in common than they think, and this March, they'll combine their wits, expertise, and superpowers to take down an emerging new threat in JACKPOT AND BLACK CAT! The four-issue limited series is written by Celeste Bronfman, who penned both Mary Jane's first outing as Jackpot earlier this year in
Amazing Spider-Man
#925 and her first solo issue as Jackpot that hits stands in January. Bronfman will be joined by rising Marvel star Emilio Laiso, the acclaimed artist known for his recent work on
Guardians of the Galaxy
and
X-Men Unlimited
. The series' covers will come from renowned artist Adam Hughes. After teaming up in Jed MacKay and C.F. Villa's Eisner-nominated
Black Cat & Mary Jane: Beyond
one-shot as well as the
Mary Jane & Black Cat
"Dark Web" tie-in series, Mary Jane and Felicia Hardy have risen to be one of Marvel's most dynamic duos. Now that Mary Jane is an up-and-coming super hero herself, they'll take their bond to the next level on an action-packed adventure to take down a villain that's blackmailing… EVERYONE, including Black Cat and Mary Jane. Tough choices and daring missions await as Mary Jane and Black Cat become entangled in a plot that's brought the world to its knees. LUCK BE THE LADIES! When someone blackmails Black Cat into a public and blatant crime spree, Jackpot comes to her aid! What classic Spider-Villain is behind the blackmail?! Someone with history with at least one of our titular heroines! "MJ's been a hero since day one, and I'm so excited to continue her journey as Jackpot – this time with Felicia Hardy by her side!" Bronfman shared. "Opposites attract, and I've always loved the push and pull of their friendship. Expect them to butt heads through heists, betrayals, and the unexpected!" Check out the debut issue's cover now and be there for Mary Jane and Black Cat's next great caper when JACKPOT AND BLACK CAT #1 hits stands in March.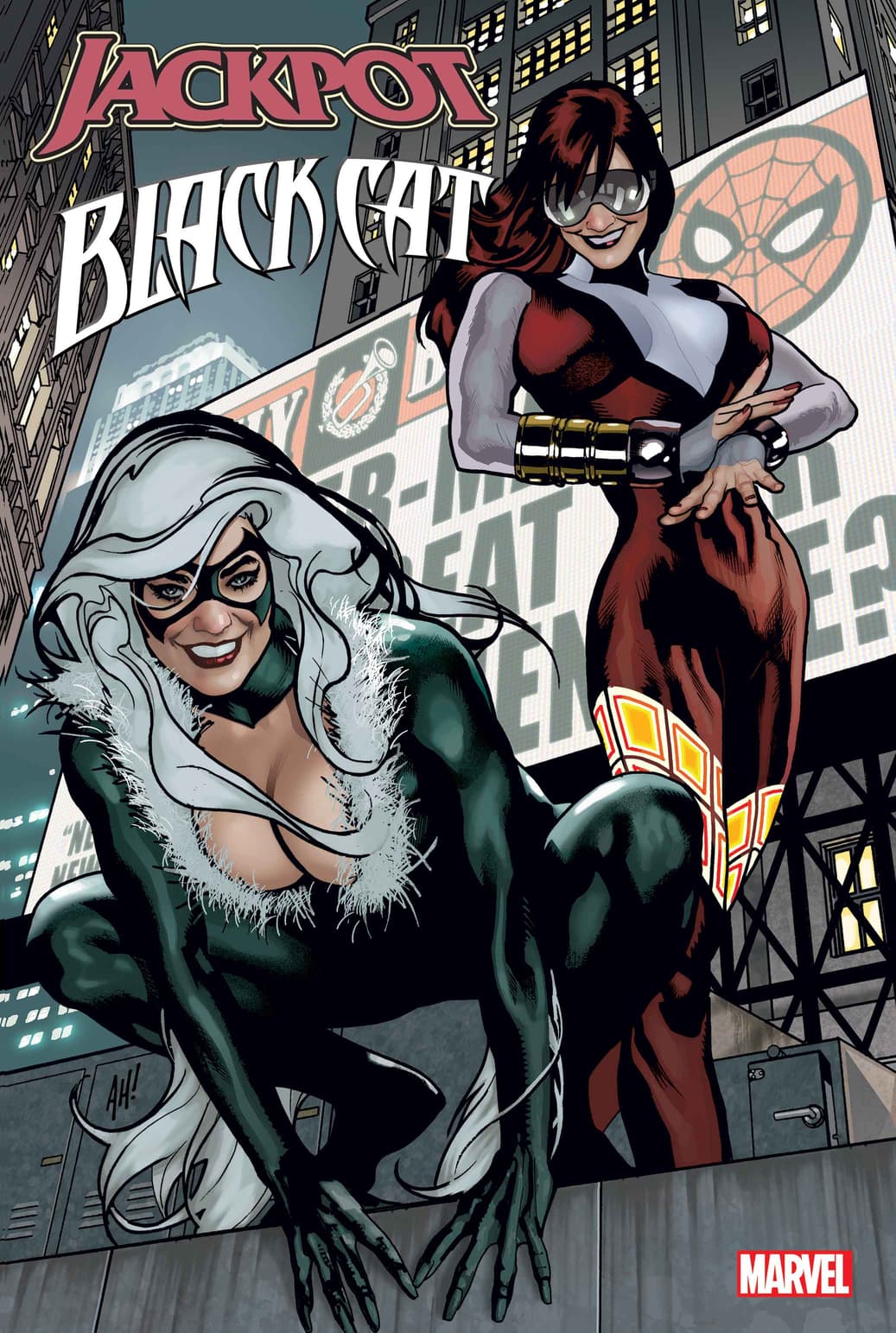 ADRIANNE PALICKI BEARISH ON 'THE ORVILLE' RETURNING
11/30/23 @ 7:48 pm EST
Source:
TV Line
| Categories:
MIsc
|
Comments
(0) |
E-mail Article
|
Add a Comment
It sounds, more than ever, as if
The Orville
's days exploring the cosmos may be over.The Seth MacFarlane-captained space saga has been MIA since August 2022, and many signs have pointed to
The Orville
being spacedocked — especially given how long it took to get Season 3 launched. Hulu, though, has yet to confirm that the expensive, VFX-heavy series won't be returning.But now, in a visit to Michael Rosenbaum's
Inside of You
podcast, Adrianne Palicki said, "No, no longer doing that," when asked about her leading role on the series. "I think there's talk that it could possibly be something that certain people want to do…," she continued, choosing words carefully, "but it's a really difficult show to shoot, man." Hulu has yet to confirm or deny the fate of the expensive, VFX-heavy series. (via
TV Line
)
'FURIOSA' TRAILER: 'MAD MAX: FURY ROAD' PREQUEL STARS ANYA TAYLOR-JOY
11/30/23 @ 7:38 pm EST
Source:
Hollywood Reporter
| Categories:
Mad Max
|
Comments
(0) |
E-mail Article
|
Add a Comment
The trailer for
Furiosa
has been released (below), giving
Mad Max
franchise fans their first sense of the long-awaited
Fury Road
prequel. As expected, the intense footage is nearly wall-to-wall action, explosions, and frantic driving.Director George Miller's next adventure in his post-apocalyptic wasteland stars Anya Taylor-Joy (
The Queen's Gambit
) as Imperator Furiosa. She stars alongside Chris Hemsworth, Tom Burke, Nathan Jones, Angus Sampson and Quaden Bayles in supporting roles. The screenplay is by Miller and Nico Lathouris, who also helped pen
Fury Road
. The film's full title was also revealed:
Furiosa: A Mad Max Saga
, which gets the franchise-friendly "Mad Max" in there even though that character is not expected to appear. The official description: "As the world falls, young Furiosa is snatched from the Green Place of Many Mothers and into the hands of a Biker Horde led by the Warlord Dementus. While two Tyrants war for dominance over the Citadel, Furiosa survives many trials as she plots a way back home through the Wasteland." (via
The Hollywood Reporter
)
Trailer:
https://youtu.be/XJMuhwVlca4
TIM BURTON WRAPS PRODUCTION ON 'BEETLEJUICE 2'
11/30/23 @ 3:09 pm EST
Source:
Deadline
| Categories:
MIsc
|
Comments
(0) |
E-mail Article
|
Add a Comment
Warner Bros.
Beetlejuice 2
has wrapped filming, Tim Burton has announced.This is not a shock considering the movie only had two days left of shooting once the SAG-AFTRA strike ended.While there have been many pivots on the 2024 theatrical release calendar, we've been informed by studio insiders all along that
Beetlejuice 2
will meet the highly savored Warner Bros. post-Labor Day weekend release date which has been a fertile ground for horror movies; big pics like
It
and
The Nun
launching to the month's highest openings.
Beetlejuice 2
reunites Michael Keaton, Winona Ryder and Catherine O'Hara from the original cast of the 1988 movie. Joining in the mix this time around is
Wednesday
star Jenna Ortega, Willem Dafoe, Monica Bellucci and Justin Theroux.
Beetlejuice
further propelled Keaton's star power after
Mr. Mom
with a domestic gross of $75M. The pic repped Burton and Keaton's first go-round together before the filmmaker championed the comedic star for the title role of Warner Bros. 1989
Batman
which made $251.4M domestic, $411.5M WW at the box office. (via
Deadline
)
THE HIDEAWAY ENTERTAINMENT LANDS ALIEN SPEC 'LEVEL UP'
11/30/23 @ 2:59 pm EST
Source:
Deadline
| Categories:
MIsc
|
Comments
(0) |
E-mail Article
|
Add a Comment
The Hideaway Entertainment has snapped up rights to
Level Up
, a high concept spec script from screenwriters David Matalon (
Totally Killer
) and Matthew Altman (
Feed the Devil
).A sci-fi action comedy,
Level Up
is about a man who wakes up bound and blindfolded in a top-secret facility deep beneath Area 51, soon discovering that he has amazing but inexplicable new abilities. His only hope to escape is the alien he's imprisoned with… and she hates humans. But as they navigate their way out, their unconventional alliance becomes the key to saving the world from an impending global catastrophe. Jonathan Gray and Matthew Rhodes will produce on behalf of The Hideaway Entertainment, alongside Navid McIllhargey of Vandal Entertainment and Erik Olsen of Apocalyptic Entertainment. The Hideaway's Ryan Cassells will serve as executive producer. The team is currently meeting with directors and plans to shoot next year. (via
Deadline
)
AN UNLIKELY NEW HERO JOINS THE BATTLE IN 'TRANSFORMERS' #4
11/30/23 @ 2:54 pm EST
Source:
Skybound
| Categories:
Transformers
|
Comments
(0) |
E-mail Article
|
Add a Comment
Today Skybound, in collaboration with leading toy and game company Hasbro, revealed an impressive lineup of variant covers and interior pages for Daniel Warren Johnson's TRANSFORMERS #4. The fourth issue of the smash hit series, TRANSFORMERS, will be available on shelves in comic book shops January 10, 2024. TRANSFORMERS #4 continues the Energon Universe and the all-new era of the iconic TRANSFORMERS franchise from Daniel Warren Johnson (Extremity, Do a Powerbomb) and colorist Mike Spicer (Stillwater, Murder Falcon). When the Decepticons attack the Autobots at their weakest moment, an unlikely new hero joins the battle! With human and Transformer robots lives at stake, can Optimus Prime unlock the true power behind the Matrix of Leadership to save them both? In addition to the main cover by Daniel Warren Johnson and Mike Spicer, the stacked list of variant covers for TRANSFORMERS #4 includes a wraparound cover by Jonboy Meyers (Teen Titans), a 1:10 incentive variant continuing the connecting cover series by Orlando Arocena (Mighty Morphin Power Rangers), a 1:25 incentive variant by Sanford Greene (Bitter Root), and a 1:50 incentive variant by Andrea Milana (Cobra Commander) & Annalisa Leoni (Oblivion Song). The Energon Universe officially began in June 2023 with the surprise first appearance of iconic TRANSFORMERS character Jetfire in Void Rivals #1, introducing the historic new collaboration between Hasbro and Skybound, with TRANSFORMERS and G.I. JOE comics finding a new home with the publisher. The Energon Universe expands in December with Duke #1, a limited series from Joshua Williamson (DC's Superman, Dark Ride), Tom Reilly (The Thing) and Jordie Bellaire (W0rldtr33). This will be followed by the launch of Cobra Commander #1 in January 2024, from Joshua Williamson, Andrea Milana and Annalisa Leoni. Fans should expect can't-miss moments from every issue of the Energon Universe, as secrets are unveiled along the path to answering the BIG questions, including #WhereIsMegatron. TRANSFORMERS #4 (Lunar Codes Below $3.99) will be available at 
comic book shops
 and digital platforms including Amazon Kindle, Apple Books, comiXology, and Google Play on Wednesday, January 10, 2024.
The full list of variant covers is below:
TRANSFORMERS #4 Cover A by Daniel Warren Johnson & Mike Spicer (1123IM342)
TRANSFORMERS #4 Cover B by Jonboy Meyers (1123IM343)
TRANSFORMERS #4 Cover C (1:10 Copy Incentive) (Connecting) by Orlando Arocena (1123IM344)
TRANSFORMERS #4 Cover D (1:25 Copy Incentive) by Sanford Greene (1123IM345)
TRANSFORMERS #4 Cover E (1:50 Copy Incentive) by Andrea Milana & Annalisa Leoni (1123IM346)
TALES WOVEN & BATTLES FOUGHT IN YOUR FIRST LOOK AT 'CODA' #4
11/29/23 @ 10:38 pm EST
Source:
BOOM! Studios
| Categories:
MIsc
|
Comments
(0) |
E-mail Article
|
Add a Comment
BOOM! Studios today revealed a first look at CODA #4, the fourth issue of the new five-issue original series from GLAAD Media Award-winning writer Simon Spurrier (
Damn Them All
), Entertainment Weekly's 2019 Artist of the Year Matías Bergara (
Step By Bloody Step
), color assistant Patricio Delpeche, and letterer Jim Campbell, available in December 2023. As Hum ruminates on his personal connection to stories of the past and how it left him in his current state, the threads of connectedness continue to weave through the tale as he wrestles with feelings over his own body. Meanwhile, Mildew crosses paths with Hum and Serka after a harrowing rescue in the midst of a brutal battle. While things may not turn out how they hope, Serka has a new plan to set things right… CODA #4 features main and variant cover art by series artist Matías Bergara, with variants by Ariel Olivetti (
Once Upon a Time at the End of the World
), and Bengal (
Star Wars: The High Republic
). CODA is the newest release from BOOM! Studios' eponymous imprint, home to critically acclaimed original series, including
BRZRKR
by Keanu Reeves, Matt Kindt, and Ron Garney;
Something is Killing the Children
by James Tynion IV and Werther Dell'Edera;
Grim
by Stephanie Phillips and Flaviano;
Stuff of Nightmares
by R.L. Stine and A.L. Kaplan;
Damn Them All
by Simon Spurrier and Charlie Adlard;
Once Upon a Time at the End of the World
by Jason Aaron, Alexandre Tefenkgi, Leila del Duca, and Nick Dragotta;
Know Your Station
by Sarah Gailey and Liana Kangas;
A Vicious Circle
by Mattson Tomlin and Lee Bermejo;
The Neighbors
by Jude Ellison S. Doyle and Letizia Cadonici;
Ghostlore
by Cullen Bunn and Leomacs;
Sirens of the City
by Joanne Starer and Khary Randolph;
Coda
by Simon Spurrier and Matías Bergara;
Rare Flavours
by Ram V and Filipe Andrade, and the upcoming
Underheist
by David and Maria Lapham. The imprint also publishes popular licensed properties, including
Dune: House Harkonnen
from Brian Herbert, Kevin J. Anderson, and Michael Shelfer;
Mighty Morphin Power Rangers
by Melissa Flores and Simona Di Gianfelice; and
The Expanse: Dragon Tooth
by Andy Diggle and Rubine. CODA #4 will be available in comic shops December 27, 2023. It is available for pre-order at your local
comic shop
. Digital copies can be purchased from content providers, including comiXology, iBooks, Google Play, and Kindle.
Coda #4 (2023) A Main: JUL230009
Coda #4 (2023) B Variant: JUL230010
Coda #4 (2023) C 1:10 INCV: JUL230011
Coda #4 (2023) D 1:25 INCV: JUL230012
Coda #4 (2023) E Unlockable Var: JUL230013
Be sure to catch up on the series and pick up the
Coda Deluxe Edition Hardcove
r, available wherever
books are sold
.