'THE WITCHER' SEASON 2: REBECCA HANSSEN REPORTEDLY CAST AS QUEEN MEVE
11/27/20 @ 10:56 am EST
Source:
Redanian Intelligence
| Categories:
MIsc
|
Comments
(0) |
E-mail Article
|
Add a Comment
The Witcher
is still filming its second season and there have been lots of reports from the sets lately, including pictures of stars Henry Cavill, Anya Chalotra and Freya Allan in costume. The one thing that has been rather hard to come by is casting updates.
But today,
Redanian Intelligence
reports that Scottish actress Rebecca Hanssen will take on the role of Meve, who is the queen of Lyria and Rivia in the books. In Season 2, Hanssen will appear in an unknown number of episodes directed by Sarah O'Gorman and Ed Bazalgette, who are in charge of episodes 3-4 and 5 and 8, respectively.
Hanssen has featured in multiple film- and television projects, including Netflix's
Enola Holmes
(alongside Henry Cavill), and Amazon's
Lore
. She will also play a role in the upcoming video game
Baldur's Gate III
, a continuation of the popular RPG series.
NEW IMAGE FROM DISNEY AND PIXAR'S 'LUCA' RELEASED ONLINE
01/18/21 @ 3:36 pm EST
Source:
Empireonline
| Categories:
Disney
|
Comments
(0) |
E-mail Article
|
Add a Comment
Even with their most fantastical stories, Pixar films are often rooted in personal, relatable and very human experiences ripped straight from the heads and hearts of its filmmakers. Take
Inside Out
, which Pete Docter drew from the changing emotions of his own daughter, or last year's
Onward
, which took specific moments and memories from the life of director Dan Scanlon before wrapping them in elves and D&D references. The legendary animation studio's next movie,
Luca
, is another mix of fact and folklore – the first feature from director Enrico Casarosa, who previously helmed short
La Luna
.
Luca
tells the story of a young boy and his friend who appear completely human and normal when they're out of the water, but they are really mysterious sea creatures. Their lives begin to change when they befriend a young girl on the surface. This week,
Empire
released a brand new photo from the film, and you can check it out below.
Luca
is set to hit theaters on June 18th.


RETRO 'WANDAVISION' POSTERS RELEASED BY MARVEL
01/18/21 @ 3:26 pm EST
Source:
Marvel
| Categories:
Marvel
|
Comments
(0) |
E-mail Article
|
Add a Comment
Marvel
and Disney+ have released two retro-style posters for the just-debuted
WandaVision
, the series focusing on MCU's the Scarlet Witch and the Vision as played by Elizabeth Olsen and Paul Bettany.
WandaVision
premiered on January 15, 2021, with the release of its first two episodes on Disney+. The other seven episodes are scheduled for release weekly until March 5.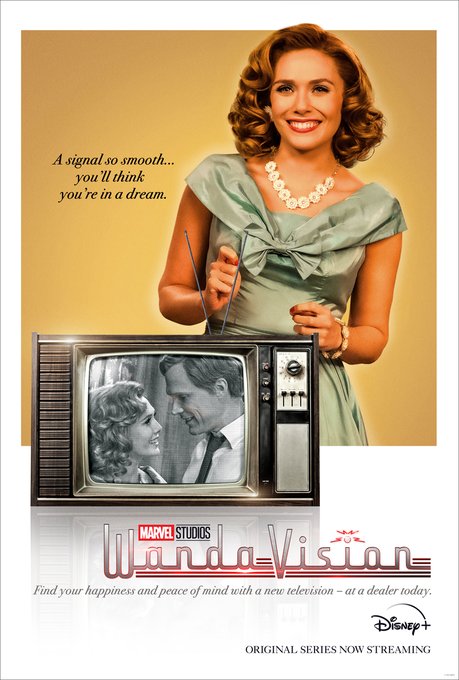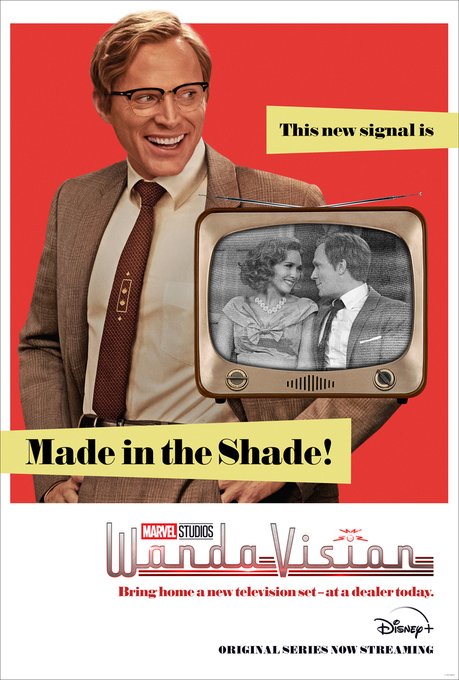 A NEW 'GREEN LANTERN' BOOK SHINES IN APRIL
01/18/21 @ 4:04 pm EST
Source:
DC Comics
| Categories:
DC
|
Comments
(0) |
E-mail Article
|
Add a Comment
Beginning on April 6, DC's Green Lantern Corps are back in a new
Green Lantern
#1 by Geoffrey Thorne and Dexter Soy! Spinning out of
Future State: Green Lantern
and
Infinite Frontier
, John Stewart is at the center of the new series—plus
Young Justice
's Teen Lantern and
Far Sector
star Sojourner "Jo" Mullein! As this new Green Lantern saga begins, the newly formed United Planets and the Guardians of the Universe hold an intergalactic summit to decide who can best serve and protect the cosmos from danger.
With the majority of Green Lanterns called back to Oa, John Stewart arrives alongside Teen Lantern Keli Quintela, whose homemade gauntlet could be one of the most powerful and unstable weapons in the universe. With the entire landscape of the universe in flux, is this the end of the Green Lantern Corps...or a new beginning?
As the new
Green Lantern
series progresses, Jo Mullein (
Far Sector
#10 arrives on February 2) joins the Corps to find out why the Central Power Battery exploded. Jo and Keli are on the case—are they the World's Finest Lanterns?? What will this dynamic duo uncover as they investigate!?
This bold new story kicks off in DC's
Infinite Frontier
#0 on March 2, where fans will see Dexter Soy's incredible Green Lantern artwork for the first time.
Green Lantern
#1, written by Geoffrey Thorne (
Future State: Green Lantern, Truth & Justice
) with art by Dexter Soy (
Batman & the Outsiders, Red Hood and the Outlaws
) and a cover by Bernard Chang, plus a card stock variant cover by Bryan Hitch, arrives on April 6.
NEW 'ETERNALS' PROMO ART SHOWS OFF THE COSTUMES
01/18/21 @ 3:08 pm EST
Source:
ComicBook
| Categories:
Marvel
|
Comments
(0) |
E-mail Article
|
Add a Comment
Newly discovered promotional artwork for Marvel's
Eternals
movie offers a new glimpse at the characters in their costumes. Marvel's
Eternals takes place after the events of Avengers: Endgame. The film will involve both the Celestials and the Deviants, part of Jack Kirby's wider cosmic mythology. In the comics, the Celestials created the Eternals as an evolutionary offshoot of humanity. The Celestials intended them to be the protectors of the Earth. The Deviants, another evolutionary branch, instead seeks to wipe out humanity. Director Chloé Zhao helms the Marvel Studios film adaptation. Zhao also says she wrote the screenplay, though Marvel hasn't updated the film's official credits to reflect that yet. (via ComicBook)

The Eternals cast includes Angelina Jolie as Thena, Richard Madden as Ikaris, Kumail Nanjiani as Kingo, Lauren Ridloff as Makkari, Brian Tyree Henry as Phastos, Salma Hayek as Ajak, Lia McHugh as Sprite, Don Lee as Gilgamesh, Gemma Chan as Sersi, and Barry Keoghan as Druig. Kit Harrington also stars as Dane Whitman, a human who possesses a magic sword that transforms him into the Black Knight.

Eternals opens in theaters on November 5th.


JUSTICE LEAGUE AND TEAM RWBY JOIN FORCES IN A NEW DIGITAL FIRST SERIES
01/18/21 @ 3:39 pm EST
Source:
DC Comics
| Categories:
DC
|
Comments
(0) |
E-mail Article
|
Add a Comment
Following the fun and excitement of comic book limited series like
gen:LOCK
and the first
RWBY
, Rooster Teeth and DC are joining forces once again, this time to combine the worlds of their popular anime/manga series with the World's Greatest Super Heroes in
RWBY/Justice League
, a weekly Digital First series debuting on participating digital platforms such as Comixology, Amazon Kindle and Apple on Tuesday, March 9, with new chapters released every week.
RWBY/Justice League
will also be released in print as a monthly seven-issue series, launching Tuesday, April 27. Each print issue will contain two digital chapters.
Written by Marguerite Bennett (
Future State: Kara Zor-El, Superwoman, RWBY, DC Comics Bombshells
) and featuring art by Aneke (
Future State: Batgirls
), Stephanie Pepper (
The Mummy
) and Emanuela Lupacchino (
Future State: Gotham City Sirens, Birds of Prey
), this seven-issue monthly miniseries brings Team RWBY face to face with DC's paragons of justice.
RWBY/Justice League
introduces fans of manga and superheroes to the Bruce Wayne, Clark Kent and Diana Prince of Remnant, fighting with Team RWBY. A new Grimm is running rampant across the island of Patch, and Ruby and Yang must team up with a young red and blue-clad farm boy to stop it! Meanwhile, Blake meets a mysterious woman who's suddenly appeared on Menagerie, but her purpose for being there remains a secret. And why does she act like she hasn't been around modern society?
Featuring a stunning cover by Mirka Andolfo (
RWBY, Harley Quinn, Green Arrow, Wonder Woman
) and a card stock variant cover by Simone Di Meo (
Future State: Harley Quinn
), this unique team up is sure to be a hit with fans of superheroes and manga alike!
'THOR 4': MATT DAMON REPORTEDLY CAST IN MARVEL SEQUEL
01/18/21 @ 10:05 am EST
Source:
The Direct
| Categories:
Marvel
|
Comments
(0) |
E-mail Article
|
Add a Comment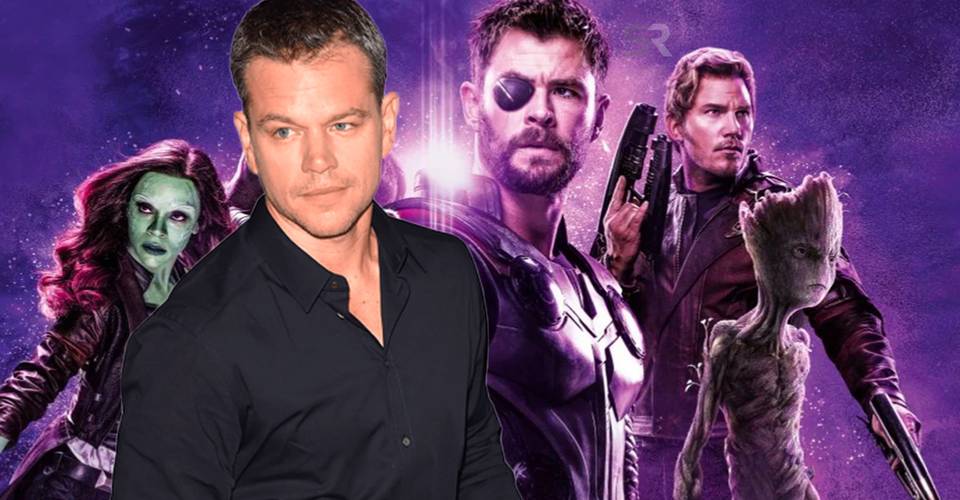 Matt Damon has reportedly joined the already stacked cast of
Thor: Love and Thunder.
The Direct
reports that, according to numerous Australian news outlets, the Academy Award winner landed in Sydney, Australia Saturday via a private jet to begin his mandatory quarantine ahead of production.
While he is yet to star in an MCU project, Damon is no stranger to the Marvel Universe, and specifically the
Thor
franchise. He previously had a cameo in
Thor: Ragnarok
as an actor playing Loki in the Asgardian stage play at the beginning of that film.
It is unknown what role in the film Damon might play.
Thor: Love and Thunder
is set to hit theaters on February 11, 2022.
'RIVERDALE': "CHAPTER SEVENTY-EIGHT: THE PREPPY MURDERS" PHOTOS RELEASED
01/18/21 @ 9:53 am EST
Source:
The CW
| Categories:
Archie
|
Comments
(0) |
E-mail Article
|
Add a Comment
The CW
has released photos for "Chapter Seventy-Eight: The Preppy Murders", the second episode of
Riverdale
's fifth season.
Riverdale returns on Wednesday, January 20th at 8 p.m. ET/PT on The CW. "Chapter Seventy-Eight: The Preppy Murders" airs Wednesday, January 27th.




'DAREDEVIL' STAR VINCENT D'ONOFRIO REPORTEDLY IN TALKS TO RETURN AS KINGPIN
01/18/21 @ 9:45 am EST
Source:
We Got This Covered
| Categories:
Marvel
|
Comments
(0) |
E-mail Article
|
Add a Comment
As of December 2020, the rights to
Daredevil
returned to Marvel Studios following Netflix cancelling Hornhead's TV series two years prior. The ball is now in Kevin Feige's court when it comes to reintroducing Matt Murdock and his assembled supporting cast back into the MCU, then, although he's officially keeping quiet on whether that's happening right now. The widespread feeling is, however, that the characters of
Daredevil
will return, and probably sooner rather than later.
That includes the hero's archenemy, too, as
We Got This Covered
reports that Vincent D'Onofrio is currently in talks to reprise his role as Wilson Fisk AKA Kingpin in the MCU.
It is unknown exactly what form this comeback would take, but we're being told that the actor has begun early talks to return as the master villain. Of course, D'Onofrio's powerhouse turn as Fisk across
Daredevil
seasons 1 and 3 (as well as a guest spot in season 2) was one of the most wholly acclaimed parts of the show, so it's no surprise that he's being invited back.
Also, let us not forget that Kingpin began his comic book life as a Spider-Man foe in
Amazing Spider-Man
#50.
QUEEN LATIFAH'S 'THE EQUALIZER': NEW TRAILER RELEASED
01/18/21 @ 9:36 am EST
Source:
CBS
| Categories:
MIsc
|
Comments
(0) |
E-mail Article
|
Add a Comment
CBS
has released a new trailer for
The Equalizer,
a reboot of the classic series now starring Queen Latifah.
The series chronicles the life of Robyn McCall, an enigmatic woman and single mother to teenage daughter Delilah, with a mysterious background who uses her extensive skills to help those with nowhere else to turn, acting as a guardian angel and a defender for those who cannot defend themselves while pursuing her own redemption.
The Equalizer
series premieres Sunday, February 7, immediately following Super Bowl LV, on the CBS Television Network. New episodes air Sundays at 8:00-9:00 PM ET/PT on CBS.
Trailer:
https://youtu.be/zgCBbz_hlkc
'BATWOMAN': "PRIOR CRIMINAL HISTORY" PREVIEW RELEASED
01/18/21 @ 9:25 am EST
Source:
The CW
| Categories:
DC
|
Comments
(0) |
E-mail Article
|
Add a Comment
On the heels of last night's premiere of the second season of
Batwoman
,
The CW
has released a preview for next week's show.
The episode, titled "Prior Criminal History", airs on Sunday, January 24th.
Preview:
https://youtu.be/-44PhuffwUk