'DUNE': DENIS VILLENEUVE SCI-FI EPIC CROSSES $100M AT DOMESTIC BOX OFFICE
11/26/21 @ 2:30 pm EST
Source:
Deadline
| Categories:
MIsc
|
Comments
(0) |
E-mail Article
|
Add a Comment
In a benchmark that was to be expected, Warner Bros./Legendary's feature adaptation of Frank Herbert's
Dune
has clocked past $100 million at the domestic box office. This brings the global running total to north of $370M; the ultimate exclamation point here for the Denis Villeneuve-directed movie being $400M WW.
Dune
made $400K on Thanksgiving yesterday, sending its domestic total to $100.1M,
Deadline
reports.
Just because
Dune
crossed this threshold stateside doesn't mean it's a victory lap for the studio's controversial theatrical-day-and-date HBO Max 2021 strategy (Villeneuve's Canadian homeland had
Dune
on an exclusive theatrical window during its run there). The mind wonders how much more money
Dune
could have made.
Dune
crosses $100M in its 35th day of release, making it the second movie to go past the century mark on Warner's annual slate after Legendary's
Godzilla vs. Kong
(which made that amount of money in 12 weekends of release).
While
Dune
was on HBO Max during its first 31 days in theaters, it's now exclusively theatrical, currently playing in 1,312 theaters with a Thanksgiving weekend outlook of $2.26M over three days and $3.2M since Wednesday which will bring its running U.S./Canada total to $102.4M by Sunday.
Warner Bros. is injecting some extra steroids into the all-star ensemble, booking it back into Imax auditoriums on Dec. 3. The movie had 73 minutes shot in Imax, and the large format exhibitor drove 22% of the movie's $41M opening weekend ticket sales, and 20% of its overall domestic total, 13% of the pic's overall global tally.
SNL'S PETE DAVIDSON & COLIN JOST BUY A STATEN ISLAND FERRY TO PARTY ON
01/22/22 @ 3:18 pm EST
Source:
Deadline
|
Comments
(0) |
E-mail Article
|
Add a Comment
In the category that some people have too much money,
SNL's
Pete Davidson
and
Colin Jost
have teamed with New York real estate agent and comedy club The Stand co-founder
Paul Italia
to buy a decommissioned Staten Island ferry for $280,100.00. A bargain at twice the price. The boat, named the
John F. Kennedy
, is to be turned into a live entertainment space. Originally commissioned in 1965, the ferry was taken out of service in August due to mechanical issues and auctioned off by the Department of Citywide Administrative Services. New York Mayor Eric Adams tweeted his encouragement for the move: "I love this idea. What a great way to give an NYC icon a second life. Let us know how we can help and we'll be there for the maiden voyage." The last two decommissioned ferries ended up in the scrapyards. It's expected that the renovation project will end up costing millions of dollars, but according to Italia, the very first step of the project was the acquisition of the boat.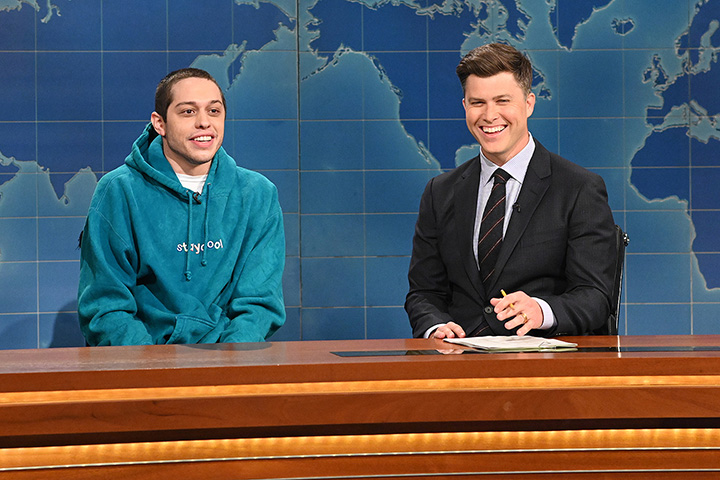 COLIN FARRELL'S PENGUIN INSPIRED BY THE GODFATHER
01/22/22 @ 3:03 pm EST
Source:
Movie Maker
|
Comments
(0) |
E-mail Article
|
Add a Comment
Press for the upcoming
Matt Reeve's
The Batman
is growing and the folks over at
MovieMaker
had a chance to talk to
Colin Farrell
about his take on Oswald Cobblepot aka the Penguin. While not his first comic book villain, Farrell played Bullseye opposite of
Ben Affleck's
Daredevil, the actor believes the inspiration for this take on his new villain comes from a classic film. "There's a certain amount of brokenness in Oz that, I think, as a reference, not for me performance-wise, but just emotionally, as a reference for Matt -- I think Fredo from
The Godfather
was a bit of a reference." Fredo Corleone, played by
John Cazale
, was considered the weakest brother in the crime family and he eventually betrays his brother Michael and is killed for it. Farrell continued: "Matt was just talking about somebody who had very real and very lofty ambitions, but never really had the opportunity or the chance to explore them, and was maybe looked upon as someone who was handicapped, whether it was psychologically, intellectually -- Fredo was frowned upon as less than the other brothers, and maybe Oz as well, in his life, was looked upon as somebody who wasn't capable. And so that's one of the things that fuels Oz." According to the actor, his character is only in five or six scenes with
Paul Dano's
Riddler being the main antagonist. But Farrell is already set to reprise the role in a Penguin-centric spinoff series on HBO Max.
The Batman
makes it theatrical debut on March 4th.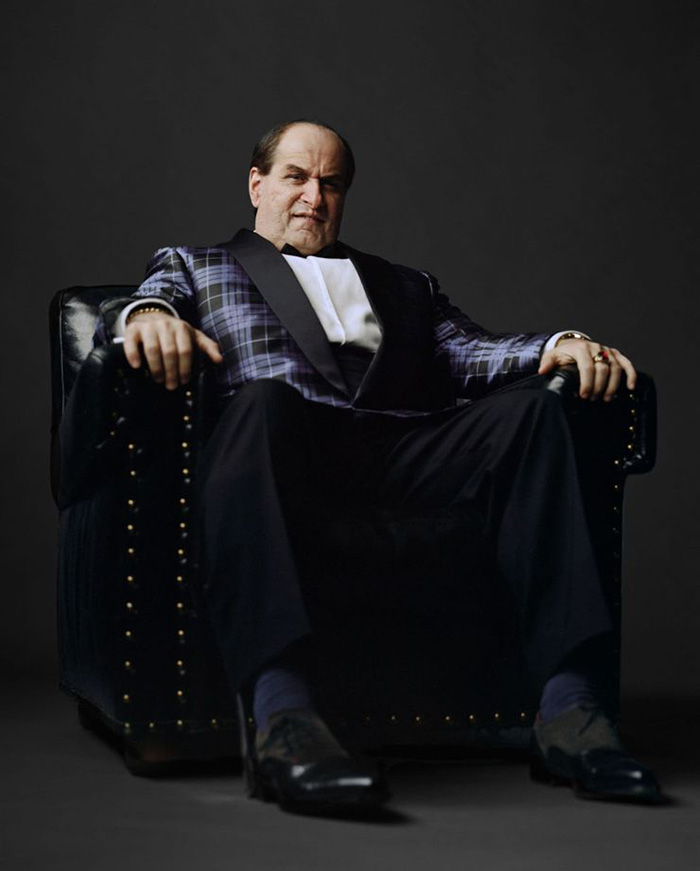 ARNOLD SCHWARZENEGGER IN MINOR CAR ACCIDENT
01/22/22 @ 2:49 pm EST
Source:
Deadline
|
Comments
(0) |
E-mail Article
|
Add a Comment
Reports of former Terminator actor and ex-California Governor
Arnold Schwarzenegger
having been in a cart accident are coming in with photos of the actor shown at the scene. The accident happened about a mile from Schwarzenegger's home at the intersection of Sunset Boulevard and Allenford Avenue near Paul Revere Charter Middle School according to LAFD officials. The incident involved his GMC Yukon, a Toyota Prius and a Porsche Cayenne with photos showing the GMC up on top of the Prius. The only reported injury was to an unidentified woman who was taken by paramedics to a hospital, but her injuries were described as minor. Shwarzenegger's involvement was not confirmed by officials and the cause of the crash is under investigation. TMZ has photos from the scene.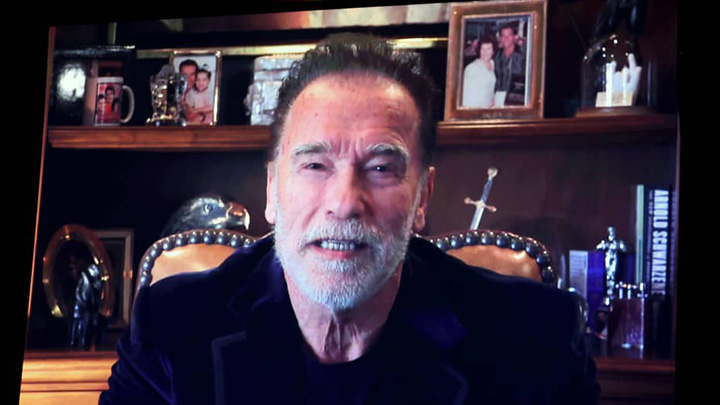 SPIDER-MAN SWINGS BACK TO THE TOP OF THE BOX OFFICE
01/22/22 @ 2:36 pm EST
Source:
Deadline
|
Comments
(0) |
E-mail Article
|
Add a Comment
While last week the reboot/continuation of the
Scream
franchise bumped
Spider-Man: No Way Home
out of the top spot, this extremely quiet weekend in theaters looks to see the Wall-Crawler swing his way back up in his sixth week to a decent $13.5 million which will take the film's domestic total up to $720.4 million.
Scream
on the other hand will have a -61% drop in its second week with $11.7 million taking its domestic total to $50.6 million. While that is roughly the same drop that last entry in the franchise had,
Scream 4
only made $7 million it's second weekend putting the latest take ahead of the game.
Sing 2
is expected to be third with $8.27 million,
Redeeming Love
opens in fourth with $4 million and
The King's Man
rounds out the top five with $1.76 million. While the post Martin Luther King holiday weekend had become a good launching ground for new films, the studios have moved any big openings to later in the year because of Omicron including both Sony's
Morbius
and Marvel's
Doctor Strange in the Multiverse of Madness
.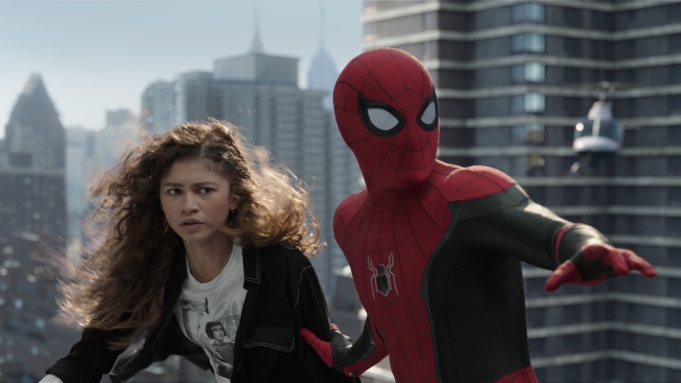 MARY ELIZABETH WINSTEAD TO JOIN STAR WARS: AHSOKA SERIES
01/22/22 @ 2:23 pm EST
Source:
Deadline
|
Comments
(0) |
E-mail Article
|
Add a Comment
Mary Elizabeth Winstead
has signed on to the
Star Wars
universe to play an unannounced character on the upcoming
Ahsoka
series for Disney+. The
Kate
and
Birds of Prey
actress joins a cast with
Rosario Dawson
set to reprise her role of Ahsoka Tano and
Natasha Liu Bordizzo
set to play Sabine Wren. Both characters were introduced to the franchise through animated series, Ahsoka debuted in
Star Wars: The Clone Wars
while Sabine was part of
Star Wars: Rebels
where Ahsoka later appeared. Both series were made by
Dave Filoni
who is writing this new series along with producing it with
Jon Favreau
. The two are the driving force behind
The Mandalorian
where Dawson made her first appearance as the former Jedi padwan. The series is also expected to feature an appearance by
Hayden Christensen
as Anakin Skywalker as well as follow up on the Rebels plot that was hinted at in Ahsoka's Mandalorian appearance as the two are searching for their friend Ezra Bridger who was last seen with Grand Admiral Thrawn. The character of Thrawn, made popular by both novels and animated appearances, was name dropped by Ahsoka in her only live-action appearance so far. Star Wars: Ahsoka is expected to start filming soon. Winstead has already been loosely tied to the franchise as she is in a long-term relationship with Obi-Wan Kenobi actor
Ewan McGregor
who will be returning to the franchise this year.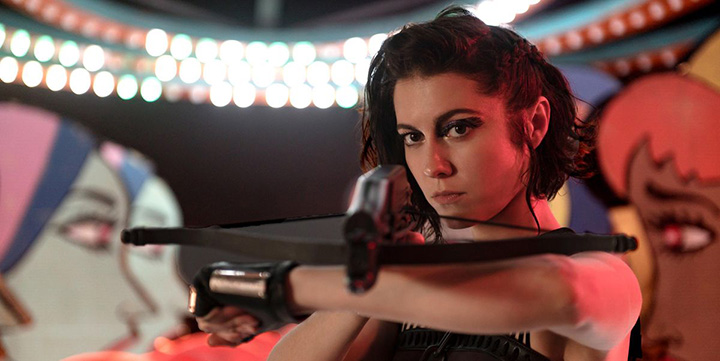 'STAR WARS: AHSOKA' TO REPORTEDLY START SHOOTING SOON
01/21/22 @ 5:11 pm EST
Source:
ComicBook
| Categories:
Star Wars
|
Comments
(0) |
E-mail Article
|
Add a Comment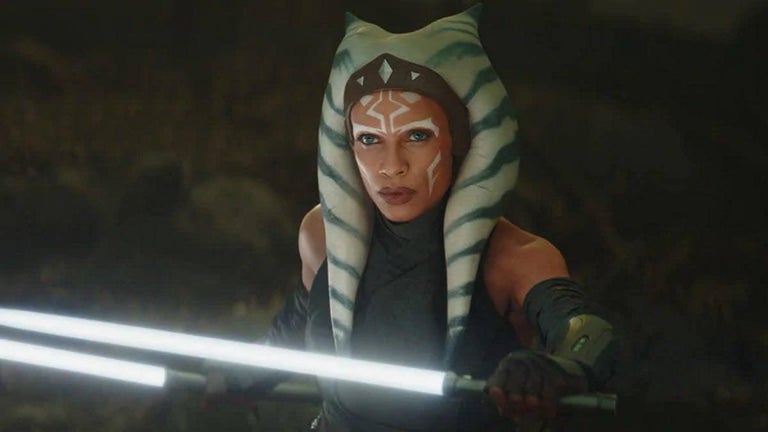 With new episodes of
Star Wars: The Book of Boba Fett
debuting each week on Disney+, many fans are entirely caught up in that adventure, but there's a lot more to look forward to if you're a fan of the galaxy far, far away, with
Production Weekly
recently noting that
Star Wars: Ahsoka
is heading into production by the end of the month.
Lucasfilm often keeps a tight lid on their various productions as to avoid drawing more attention than necessary to such productions, so while
Production Weekly
is typically accurate, it's unclear if the series is still on track to start shooting imminently or if there could have potentially been any delays due to surges in COVID numbers.
In addition to
Ahsoka
seemingly starting production shortly, the report also notes that
The Mandalorian
will seemingly wrap up filming on its third season by March. Based on the post-production process on other series, this could mean Season 3 of
The Mandalorian
manages to debut on the streaming service by the end of the year.
Despite all of these promising updates about the slate of upcoming Star Wars series, it's hard to take any of these updates as guarantees. In recent weeks, a number of highly anticipated projects have gone on hiatus as the Omicron variant of the coronavirus has seen a massive surge in cases. At one point, rumors even emerged that Season 3 of
The Mandalorian
would be going on a break, only for those rumors to have been refuted. (via
ComicBook.com
)
'STAR TREK: PICARD': WHOOPI GOLDBERG'S CASTING REVEALED IN SEASON 2 TRAILER
01/21/22 @ 5:03 pm EST
Source:
Deadline
| Categories:
Star Trek
|
Comments
(0) |
E-mail Article
|
Add a Comment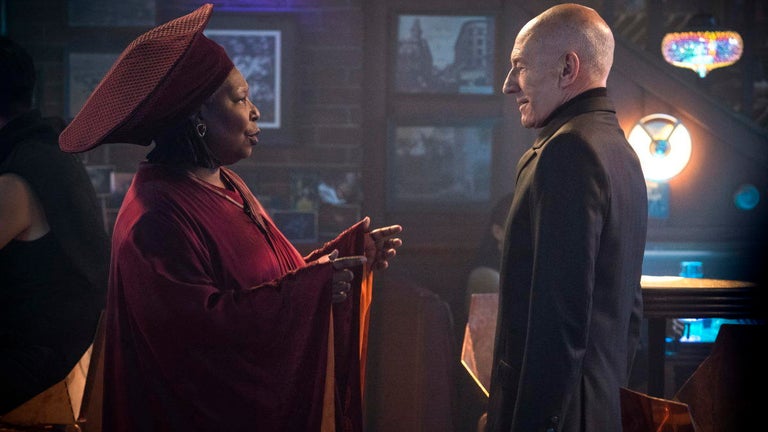 The fans asked for it and Whoopi Goldberg has obliged.
Goldberg is returning to the
Star Trek
universe in season 2 of Paramount+'s
Picard
, reprising the role of Guinan in multiple episodes.
She played the El-Aurian bar hostess on
Star Trek: The Next Generation
from 1988 to 1993.
"I'm going to need some tea: Earl Grey, piping hot," she says to an emotional Picard (Patrick Stewart) in the first trailer for the season premiering on March 3 below.
Stewart invited Goldberg to join him in the new series while visiting her ABC talk show
The View
in January 2020 while promoting the Season 1 premiere. (via
Deadline
)
Trailer:
https://youtu.be/OyuddrlFajs
'KNIVES OUT 2' EXPECTED TO DROP IN LATE 2022
01/21/22 @ 4:53 pm EST
Source:
Variety
| Categories:
MIsc
|
Comments
(0) |
E-mail Article
|
Add a Comment
You can expect to see the next installment of Daniel Craig as Private Detective Benoit Blanc in "Knives Out 2" streaming on Netflix this fall.
Variety
is reporting that writer and director Rian Johnson's hotly-anticipated sequel is expected to release in theaters and the streaming platform in the last quarter of 2022.
In addition, the film is expected to also make a festival run before its release, although it's unknown which ones it's expected to debut at.
With this added layer, we can expect the sequel to be a possible awards hopeful for Netflix next year. The streamer is expected to dominate the Oscar season once again this year, with Jane Campion's "The Power of the Dog," Adam McKay's "Don't Look Up" and Lin-Manuel Miranda's "Tick, Tick … Boom!" being heavy favorites to receive best picture attention.
Details surrounding the film are still under wraps, with production wrapping in September 2021. Along with Craig reprising his role, Johnson has assembled an exciting who's who of Hollywood A-list talent which includes Kathryn Hahn, Ethan Hawke, Edward Norton, Dave Bautista, Kate Hudson, Janelle Monáe, Leslie Odom Jr, Jessica Henwick and Madelyn Cline.
'MISSION: IMPOSSIBLE 7' AND '8' DELAYED, GET NEW RELEASE DATES
01/21/22 @ 4:48 pm EST
Source:
Hollywood Reporter
| Categories:
MIsc
|
Comments
(0) |
E-mail Article
|
Add a Comment
Mission: Impossible 7
is on the move once again.
The Tom Cruise tentpole will now open July 14, 2023 with Paramount and Skydance pushing it off its Sept. 30, 2022 date. Paramount and Skydance also have a new date for
Mission: Impossible 8
, which will open June 28, 2024. It previously was set for July 7, 2023.
This is the latest of several moves for
Mission: Impossible 7
over the past 20 months as concerns of COVID-19 continue to shape the theatrical landscape. In April 2020, in the early months of the pandemic, Paramount pushed the project from July 2020 to December 2020. That date did not hold, as
M:I 7
moved from Nov. 19, 2021 and then to May 27, 2022.
"After thoughtful consideration, Paramount Pictures and Skydance have decided to postpone the release dates for
Mission: Impossible 7
&
8
in response to delays due to the ongoing pandemic. The new release dates will be July 14, 2023, and June 28, 2024, respectively. We look forward to providing moviegoers with an unparalleled theatrical experience," Paramount and Skydance said in a statement.
Cruise, Paramount and Skydance still have
Top Gun: Maverick
on the calendar for May 27, 2022. The date is not expected to move. (via
THR
)
FREE COMIC BOOK DAY: 'SPIDER-MAN/VENOM' KICKS OFF WELLS & ROMITA JR.'S 'AMAZING SPIDER-MAN' RUN
01/21/22 @ 4:42 pm EST
Source:
Marvel
| Categories:
Marvel
|
Comments
(0) |
E-mail Article
|
Add a Comment
Marvel Comics will celebrate Free Comic Book Day this year with THREE separate Free Comic one-shots, each offering readers new and old an exciting entry point into some of Marvel's biggest upcoming stories and characters!
Announced last week, Spider-Man is gearing up for a brand-new era just in time for the character's 60th anniversary! Fans who pick up FREE COMIC BOOK DAY: SPIDER-MAN/VENOM #1 will see the very beginning of the major storylines writer Zeb Wells and legendary artist John Romita Jr. have planned for their run on AMAZING SPIDER-MAN, including Tombstone's first steps towards becoming Spidey's most terrifying villain.
FREE COMIC BOOK DAY: SPIDER-MAN/VENOM #1 will also give fans a chance to check out the thought-provoking work Al Ewing, Ram V, and Bryan Hitch are doing on VENOM! The groundbreaking changes this mastermind trio has in store for the symbiote mythos starts here!
FREE COMIC BOOK DAY: SPIDER/VENOM #1 will be available exclusively through Diamond Comics. Check with your local comic shop regarding availability.
Stay tuned for more FREE COMIC BOOK DAY 2022 announcements and pick up these extraordinary one-shots when they arrive on May 7!