CREEPY NEW MONSTER REVEALED ON NEW 'THE WITCHER' SEASON 2 CLIP
11/26/21 @ 10:10 am EST
Source:
Netflix
| Categories:
MIsc
|
Comments
(0) |
E-mail Article
|
Add a Comment
Netflix
is teasing a few new Witchers as well as some of the creatures Geralt will face throughout the season in Season 2 clips of the returning
The Witcher
.
On a brand new clip, we are introduced to the dangerous Myriapod!
The Witcher
Season 2 hits Netflix on December 17th.
You can check out the clip here:
https://twitter.com/i/status/1463900293746200579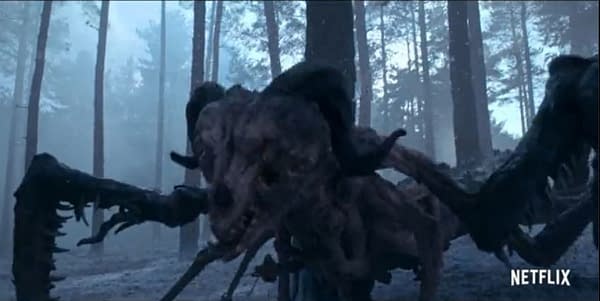 DON'T GET YOUR HOPES UP FOR GHOST RIDER IN SHE-HULK
08/16/22 @ 1:48 pm EST
Source:
Deadline
|
Comments
(0) |
E-mail Article
|
Add a Comment
With all of the cameos planned for the upcoming
She-Hulk: Attorney at Law
, the one you shouldn't get your hopes up for is an appearance of the Spirit of Vengeance. In one of the trailers, eagle-eyed fans noticed a poster for a "nny Blaze" and the speculation that Johnny Blaze aka Ghost Rider would me appearing in the series. Turns out, that's not happening. The poster is for magician Donny Blaze, being played by
Rhys Coiro
, the acting husband of series director
Kat Coiro
. While the couple tried to play down the characters connection to Ghost Rider during the series red-carpet premier, head writer
Jessica Gao
made it even clearer. "He's not Ghost Rider — his name is Donny Blaze, just a magician who picked a stage name that he thought was going to get a lot of attention. He's big character in his episode but he is not Ghost Rider." So, you're saying there's a chance? Coiro added that the only person that could answer more about Ghost Rider would be
Kevin Feige
.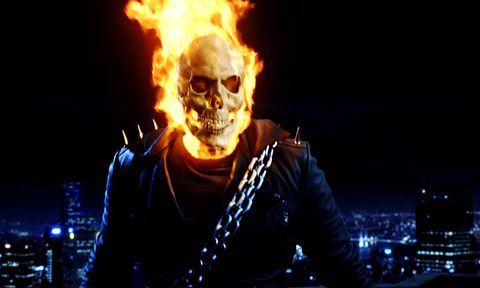 DWAYNE JOHNSON KEPT BLACK ADAM OUT OF SHAZAM!
08/16/22 @ 1:37 pm EST
Source:
Vanity Fair
|
Comments
(0) |
E-mail Article
|
Add a Comment
When
Dwayne Johnson
signed on to play Black Adam, the original plans was to have him debut in the
Shazam!
movie. How did it change to the character getting his own film? Well, that was Johnson fighting for it. He told
Vanity Fair
: "When the first draft of the movie came to us, it was a combination of Black Adam and
Shazam
: Two origin stories in one movie. Now that was the goal, so it wasn't a complete surprise. But when I read that, I just knew in my gut, 'We can't make this movie like this. We would be doing Black Adam an incredible disservice.' It would've been fine for Shazam having two origin stories converge in one movie, but not good for Black Adam." Johnson then went to talk to the studio executives: "I said, 'I have to share my thoughts here. It's very unpopular' because everybody thought, 'Hey, this script is great, let's go make this movie.' I said, 'I really think that you should make
Shazam!
, make that movie on its own in the tone that you want. And I think we should separate this as well.'" He made his point well and the standalone
Black Adam
movie will be in theaters on October 21, 2022.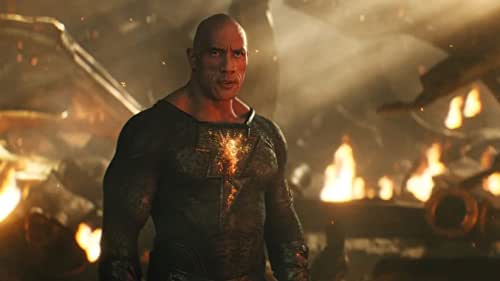 PRIME ANNOUNCES RINGS OF POWER RELEASE SCHEDULE
08/16/22 @ 1:28 pm EST
Source:
Deadline
|
Comments
(0) |
E-mail Article
|
Add a Comment
Amazon Prime Video has released the schedule for their upcoming
The Lord of the Rings: The Rings of Power
series. It will start with a two-episode debut on September 1st airing at 9 pm EST / 6 pm PST. From there the rest of the series will follow a one-episode-a-week schedule that will conclude with the series finale on October 14th. The episodes will drop at midnight on Fridays EST/ 9pm PST on Thursdays. The series is based on the J.R.R. Tolkien's fabled Second Age of Middle-Earth's history, taking place thousands of years before the events of the Lord of the Rings trilogy. But with the fact that some of the characters live a very long time, there will be some familiar faces (played by new actors). The cast includes:
Cynthia Addai-Robinson, Robert Aramayo, Owain Arthur, Maxim Baldry, Nazanin Boniadi, Morfydd Clark, Ismael Cruz Córdova, Charles Edwards, Trystan Gravelle, Sir Lenny Henry, Ema Horvath, Markella Kavenagh, Joseph Mawle, Tyroe Muhafidin, Sophia Nomvete, Lloyd Owen, Megan Richards, Dylan Smith, Charlie Vickers, Leon Wadham, Benjamin Walker, Daniel Weyman,
and
Sara Zwangobani.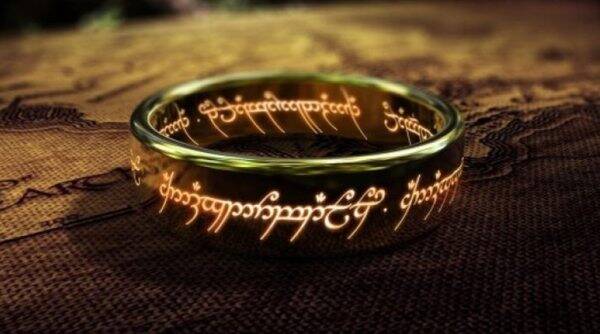 SHE-HULK HEAD WRITER TALKS ABOUT HER LOVE OF THE CHARACTER
08/16/22 @ 1:06 pm EST
Source:
Variety
|
Comments
(0) |
E-mail Article
|
Add a Comment
How did
Rick and Morty
writer
Jessica Gao
end up as the head writer on She-Hulk: Attorney at Law? Well, it started when she pitched for the
Black Widow
movie and her treatment included Jennifer Walters. Gao told Variety: "She was my favorite character from the comics, and I just wanted to see her in the MCU. At one point, I think it was [Marvel executive] Brad Winderbaum who said, 'It kind of feels like you're pitching us She-Hulk movie with Black Widow in it.'" And now we're just a couple days away from the series premier, and the series is pretty close to what she originally pitched. " All the kind of key foundational elements were there: Emil Blonsky/Abomination was always in the pitch. Bruce was always in the pitch. I didn't know if I could use them. I didn't know what their relationship was to Abomination anymore. But I thought, you know what? This is what I want — so I'll just pitch it. Thankfully, they liked all of it." Besides Blonsky and Bruce, we are also getting Wong and Daredevil. Gao spoke on if there were characters they weren't allowed to use. "Oh, yeah, there were plenty, plenty, plenty. In the writers' room, we would mine the movies and the comics for characters that we wanted to use, especially characters where we thought we could find very funny, character-specific reasons that they would be embroiled in some sort of legal issue. Certain characters really lend themselves to stuff like that. There'd be times where we'd really fall in love with our own genius, and then a certain point down the road, we'd have to ask my precious Kevin whether or not we could actually use these characters. Half the time, we couldn't. I think the biggest bummer that we did experience was not being allowed to use any Spider-Man adjacent characters, because we had a lot of Spider-Man fans in the room."
She-Hulk: Attorney at Law
debuts on Disney+ this Thursday, August 18th.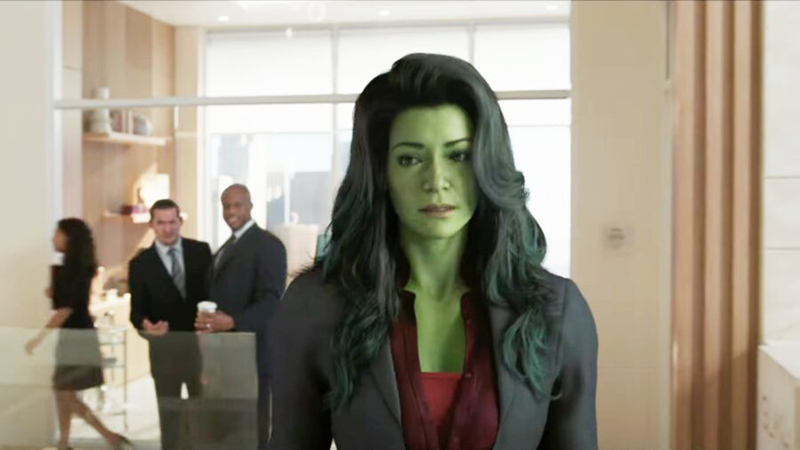 EZRA MILLER SEEKING HELP FOR 'COMPLEX MENTAL HEALTH ISSUES'
08/16/22 @ 12:50 pm EST
Source:
Variety
|
Comments
(0) |
E-mail Article
|
Add a Comment
The Flash
star
Ezra Miller
has announced
that they will be seeking treatment for 'complex mental health issues'. Miller has been in the news a lot with various legal issues, assault, and abuse allegations that has not only been fodder for the headlines but has given the newly minted Warner Bros Discovery at lot to consider when it comes to the release of Miller's latest film. Miller says in a statement: "Having recently gone through a time of intense crisis, I now understand that I am suffering complex mental health issues and have begun ongoing treatment. I want to apologize to everyone that I have alarmed and upset with my past behavior. I am committed to doing the necessary work to get back to a healthy, safe and productive stage in my life." The actor was recently charged with felony burglary in Vermont that involves several bottles of alcohol being taken from a home when the owners were away. Back in 2020 video of Miller choking a woman outside a bar in Iceland surfaced. They've also been arrested twice in Hawaii this year, once for disorderly conduct and harassment. The harassment charge was dropped, and Miller plead guilty to misdemeanor disorderly conduct and paid a $500 fine. It's said that Warner Bros Discovery is supportive of Miller's decision to seek help. No word on how it will affect the release of The Flash which is currently scheduled to be released June 23, 2023.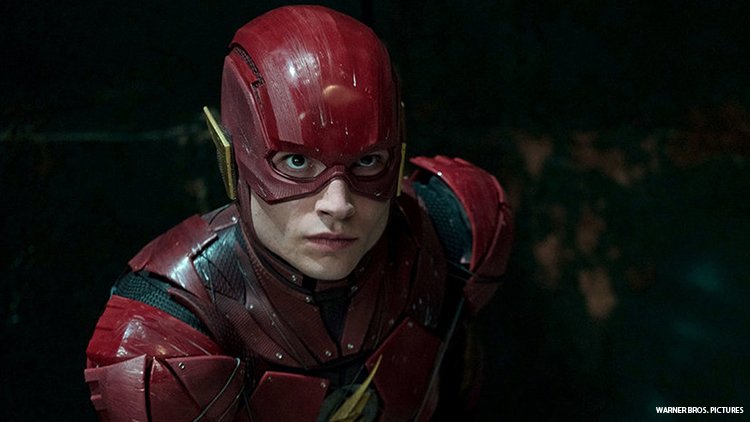 DEL TORO OPENS HIS CABINET OF CURIOSITIES THIS OCTOBER
08/15/22 @ 4:38 pm EST
Source:
YouTube
|
Comments
(0) |
E-mail Article
|
Add a Comment
Netflix has
released a trailer
for
Guillermo Del Toro's
new series
Cabinet of Curiosities
. The plan is to release two episodes a day for four days straight starting on October 25th and concluding on October 28th, just in time for Halloween. Del Toro said of the series in a statement: "With
Cabinet of Curiosities
, we set out to showcase the realities existing outside of our normal world: the anomalies and curiosities. We hand-picked and curated a group of stories and storytellers to deliver these tales, whether they come from outer space, supernatural lore, or simply within our minds. Just in time for Halloween, each of these eight tales is a fantastical peek inside the cabinet of delights existing underneath the reality we live in." There series has quite a cast that includes
Rupert Grint
,
Tim Blake Nelson
,
Ben Barnes
,
Crispin Glover
,
F. Murray Abraham
,
Andrew Lincoln
,
Martin Starr
,
Peter Weller
,
Eric Andre
,
Sofia Boutella
,
Steve Agee
,
Elpidia Carrillo
,
Tenika Davis
and many others. Del Toro will serve as the series host.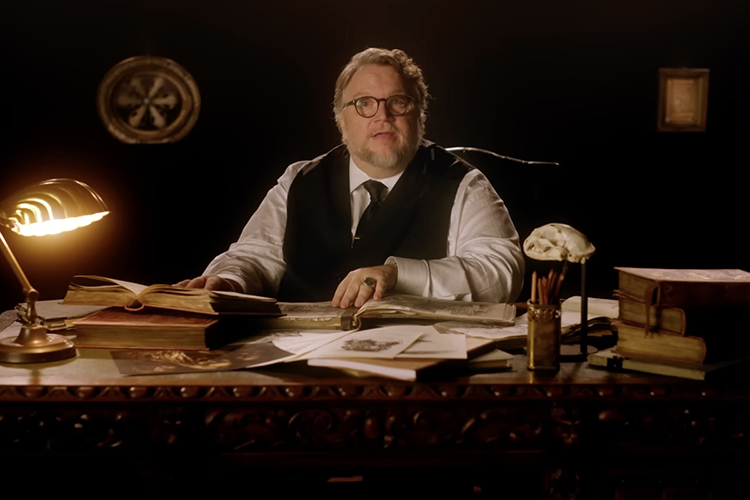 THE CONTINENTAL IS ON THE MOVE
08/15/22 @ 4:19 pm EST
Source:
Deadline
|
Comments
(0) |
E-mail Article
|
Add a Comment
With
John Wick: Chapter Four
working its way towards theaters in March of next year, it's a good time to check in on the prequel series
The Continental
which has been in the works for Starz. Well, the latest news has the series moving over to NBCU's streamer Peacock after having been announced four years ago. The three-part event series
is said
to be a better fit for the streamer that also recently acquired the rights to the films. Starz has shifted it's focus to more female skewing series like their hit
Outlander
. Also, Lionsgate is said to be on the verge of selling the cable network as soon as next month.
The Continental
will debut on Peacock sometime in 2023. The series stars
Colin Woodell
as a young Winston Scott (a role played by
Ian McShane
in the films), who is dragged through 1975 New York to face a past he thought he'd left behind. This is the story of how he gets control of the hotel. The series also stars
Ayomide Adegun
,
Peter Greene
,
Mel Gibson
,
Ben Robson
,
Hubert Point-Du Jour
,
Jessica Allain
,
Michael Prada
and
Nhung Kate
.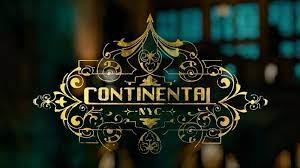 PEACEMAKER, PENGUIN AND MORE MOVING FORWARD AT HBO MAX
08/15/22 @ 4:03 pm EST
Source:
Deadline
|
Comments
(0) |
E-mail Article
|
Add a Comment
Since the Warner Bros Discovery merger and the cancellation of
Batgirl
, there has been a lot of rumors that HBO Max was going to have their scripted programming gutted and fear for the second series of
Peacemaker
, the planned Penguin spinoff of
Matt Reeves'
The Batman
and the announced
Green Lantern
series were all in trouble. A new report from
Deadline
says that a number of third-party projects in development have been released recently, but there are no major changes planned for the in-house/Warner Bros. TV – produced scripted slate other than the already announced reduction of kids and family programming.
Peacemaker
,
Penguin
and
Green Lantern
are all still moving along, as are an upcoming
Dune
series and an
IT
series adaptation. Dune is currently casting, and IT has been fast-tracked for development. The new "normal" is starting to take shape since
David Zaslov
has taken over, and while we don't have a good feel for the DC Films, it looks like DC Television is moving forward without change.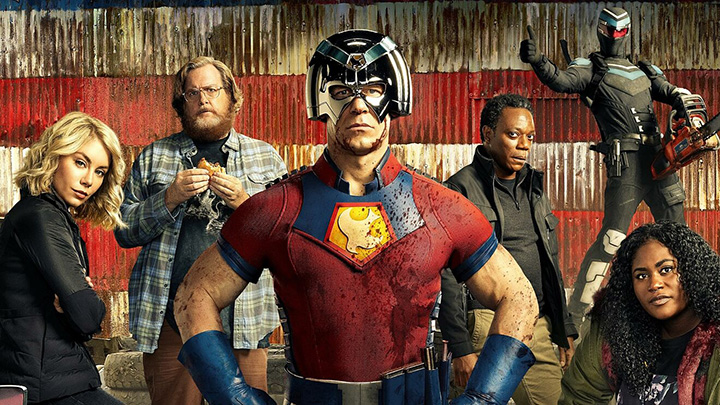 LAYOFFS HIT HBO AND HBO MAX
08/15/22 @ 3:54 pm EST
Source:
Deadline
|
Comments
(0) |
E-mail Article
|
Add a Comment
The expected layoffs to hit HBO and HBO Max that had been rumored since the Warner Bros Discovery merger have finally hit, but with a few small surprises. Overall, about 70 people are being laid off today which is roughly 14% of the staff with the majority coming from the HBO Max side. These include folks from Non-Fiction Originals, International, Acquisitions, Casting and Live-Action Family Originals. The last department being scaled back significantly according to
Deadline
. The one place was expected to be hit, if you believed the rumors, was the Scripted Team, but that has remained virtually intact other than a few responsibility changes. One other change is that the comedy departments for HBO and HBO Max are being merged together, the idea being there are a lot of overlap between the two comedy departments, more so than between the two brands drama departments.
NEXSTAR BECOMES MAJORITY OWNER OF THE CW
08/15/22 @ 3:43 pm EST
Source:
Deadline
|
Comments
(0) |
E-mail Article
|
Add a Comment
The CW has new ownership as Nexstar Media Group is set to take a 75% ownership stake in the network while previous 50/50 owners Paramount Global and Warner Bros Discovery will each retain 12.5% share of the network. The name of the network was the merger between Paramount's former name CBS, which is where the 'C' comes from and Warner Brothers which is where the 'W' comes from. Word is that the network won't look drastically different in the near term, but the long-term plan is to expand to a broader audience with cost-conscious programming. It's an interesting deal in that Nexstar is going to absorb the CW's existing debt but not pay any cash or stock up front. Currently the CW is said to be the only broadcast network that has been operating at an ongoing loss for a while now. Existing scripted shows from Paramount and WBD will run through 22-23 season, but after that Nexstar will have the option to extend the partnership. Expect to see massive cuts in budgets and an increase in unscripted shows that are most cost efficient.