BACK TO PRESS FOR 'BATMAN BEYOND' #37
11/08/19 @ 12:16 pm EST
Source:
DC Comics
| Categories:
DC
|
Comments
(0) |
E-mail Article
|
Add a Comment
The Dark Knight of Neo-Gotham has returned to protect the streets, but it's not Terry McGinness. Not even close!
The debut of a "Beyond" version of Batwoman in the pages of
Batman Beyond
#37 ("First Flight, Part One") was a big hit with fans when it went on sale October 23, and DC is making sure that any readers that missed it get a second chance as the publisher announced plans to return to press for a second printing of the comic book, written by Dan Jurgens with art by Sean Chen, Sean Parsons, Chris Sotomayor and Travis Lanham.
An amnesia-stricken Terry McGinnis walks the streets of Gotham, untraceable by Terry's younger brother Matt, or Bruce Wayne. Since Batman hasn't been seen for days, many of Neo-Gotham's citizens fear him wounded or dead. Just when the city's criminals think it's safe to crawl out of their holes to threaten the safety of the town, a familiar figure in a black and red costume appears, dealing swift and terrible justice to these evildoers, then vanishing just as swiftly.
When reporter Jack Ryder is live at a hostage situation, he witnesses first hand this grim avenger at work, thinking for sure that Batman has returned. But on live TV it looks like the mystery behind Batman's disappearance only deepens, when it's revealed that this Batman is actually a Bat-
woman…
And just to make things interesting, issue #37 ends with a bang, with the return of Blight, who won't rest until he's put an end to Bruce Wayne!
"With the increased awareness of Batwoman in the zeitgeist, it's great to see readers respond as they have with the debut of this version of the character," said Bob Harras, SVP and Editor-In-Chief, DC. "No matter what the era, Batman's 'family' of characters are every bit as compelling as his rogues gallery, and it'll be fun to see where Dan, Sean and the crew go from here."
This second printing is expected to arrive in participating comic book stores on Wednesday, November 27.
FIRST LOOK AT 'JIM HENSON'S THE DARK CRYSTAL: AGE OF RESISTANCE' #9
07/10/20 @ 5:00 pm EST
Source:
BOOM! Studios
| Categories:
MIsc
|
Comments
(0) |
E-mail Article
|
Add a Comment
BOOM! Studios revealed today a first look at the next story arc of JIM HENSON'S THE DARK CRYSTAL: AGE OF RESISTANCE, a twelve-issue comic book series based on stories from writers Jeffrey Addis and Will Matthews, of the critically acclaimed Netflix series
The Dark Crystal: Age of Resistance.
The series introduces untold histories of key characters from the show, and feature explosive events tying into the award-winning series from The Jim Henson Company,
The Dark Crystal: Age of Resistance.
JIM HENSON'S THE DARK CRYSTAL: AGE OF RESISTANCE #9, available in July 2020, begins an all-new arc presenting the origin story of All-Maudra Mayrin, Gelfling leader and pivotal character from the acclaimed show
The Dark Crystal: Age of Resistance
, presented by a new creative team of writer Matthew Erman (
Long Lost
) and artist Jo Mi-gyeong (
Beastlands
). Mayrin takes her place as the leader of all Gelfling clans, but she feels unprepared for the great responsibility before her. When whispers of a Gelfling rebellion reach her, she must decide who she can trust—and if she herself is truly worthy of this responsibility.
The Dark Crystal is the groundbreaking 1982 film directed by Jim Henson and Frank Oz, featuring never-before-seen puppetry in a fantasy adventure about a young Gelfling who embarks on a quest to save his world from the vicious Skeksis by restoring the lost shard of the broken dark crystal. A prequel television series, The Dark Crystal: Age of Resistance, premiered on Netflix on August 30, 2019.
JIM HENSON'S THE DARK CRYSTAL: AGE OF RESISTANCE #9 (OF 12) features a main cover by illustrator Mona Finden, variant connecting cover by artists Kelly and Nichole Matthews (
R.L. Stine's Just Beyond
), and variant cover art by Jen Bartel (
Willow
) and Jake Wyatt (
Ms
.
Marvel
).
JIM HENSON'S THE DARK CRYSTAL: AGE OF RESISTANCE is the latest release from BOOM! Studios' ambitious Archaia imprint, home to graphic novels such as
Bolivar
by Sean Rubin;
Mouse Guard
by David Petersen;
Girl in the Himalayas
and
New World
by David Jesus Vignolli;
Jane
by Aline Brosh McKenna and Ramón Pérez;
Persephone
by Loïc Locatelli-Kournwsky and licensed series including Lev Grossman's
The Magicians
by Lilah Sturges and Pius Bak;
Jim Henson's The Power of the Dark Crystal
and
Jim Henson's Labyrinth: Coronation.
Print copies of JIM HENSON'S THE DARK CRYSTAL: AGE OF RESISTANCE #9 (OF 12) will be available for sale on July 15, 2020 at local comic book shops (use
comicshoplocator.com
to find the nearest one) or at the BOOM! Studios webstore. Digital copies can be purchased from content providers, including comiXology, iBooks, Google Play, and Madefire. A softcover edition of JIM HENSON'S THE DARK CRYSTAL CREATION MYTHS: THE COMPLETE COLLECTION is now available in bookstores everywhere.
DYNAMITE: CELEBRATE COSPLAY WITH CROWDFUNDED COMICS!
07/10/20 @ 4:56 pm EST
Source:
Dynamite
| Categories:
Dynamite
|
Comments
(0) |
E-mail Article
|
Add a Comment
Dynamite unveils the Cosplay Celebration of the year on Indiegogo!
Up right now
, fans can get deals and bundles on cosplay collectibles and more.
As one of the only publishers prominently featuring cosplayers consistently on covers, Dynamite is proud to work with these talented members of the comics and geek community. There are few ways for someone to express their fandom and craft at a higher level than some of the top cosplayers, who spend countless hours on costuming, hair, makeup and more, sometimes to wear and portray it for just a single day. The art of cosplay is in the roots of Dynamite and its biggest characters, with signature 1970s Red Sonja artist Frank Thorne hosting look-a-like contests at early conventions and Barbara Leigh gracing the cover of Vampirella back in 1978. The cosplay cover has always been tied to Vampirella, with models like Sascha Knopf, Julie Strain, Maria Di Angelis and more representing the character in the Harris era.
This new celebration of that legacy tips its hat to all the great cosplayers who work with Dynamite today, month in and out. Names such as Ashley Du, Jackie Geohner, Joanie Brosas, Jenifer Ann, Shannon Kingston and many more have featured on covers as Vampirella, Red Sonja, Dejah Thoris, Sheena, Barbarella and others.
In the campaign on Indiegogo, collectors can get several special packages. For just $5, the cosplay covers for all three latest first issues of Vampirella, Red Sonja and Dejah Thoris can be had, with assorted extra issues too! Or choose your favorite character and get a big helping of cosplay covers for them. Special edition trading cards signed by Ashley Du, Jackie Goehner, Shannon Kingston and Jenifer Ann make an appearance as well. Or go for a whole pack of cosplay inspired trading cards with one-of-a-kind sketch cards. Signed and CGC graded comics round out the offerings.
Get Your Cosplay Deals Here!
CELEBRATE ULTRAMAN DAY WITH A SNEAK PEEK OF RISE OF 'ULTRAMAN' #1
07/10/20 @ 4:53 pm EST
Source:
Marvel
| Categories:
Marvel
|
Comments
(0) |
E-mail Article
|
Add a Comment
Ultraman has been a pop culture icon for over 50 years and this September, Marvel Comics will proudly contribute to the franchise's incredible legacy with RISE OF ULTRAMAN #1! Writers Kyle Higgins (
Mighty Morphin Power Rangers
,
Winter Soldier
) and Mat Groom (
Self/Made
) will join superstar artists Francesco Manna (
Avengers
,
Fantastic Four
) Michael Cho (
Captain America
) and Gurihiru (
The Unstoppable Wasp
) to reimagine the thrilling beginnings of the Ultraman phenomenon. In honor of Ultraman Day, the celebration of Ultraman's first public television appearance in 1966, head over to
marvel.com
for a first look at the highly anticipated premiere issue including exclusive preview pages, a variant cover gallery, and more. Stay tuned for more news about Marvel's exciting collaboration with Tsuburaya Productions and don't miss THE RISE OF ULTRAMAN #1 when it hits stands September 9th!
THE RISE OF ULTRAMAN #1 (of 5) Written by KYLE HIGGINS & MAT GROOM Art by FRANCESCO MANNA with MICHAEL CHO and GURIHIRU Cover by ALEX ROSS
COMIC-CON AT HOME FRIDAY SCHEDULE: CHARLIZE THERON, 'THE WALKING DEAD,' 'HELSTROM'
07/10/20 @ 4:49 pm EST
Source:
Variety
| Categories:
MIsc
|
Comments
(0) |
E-mail Article
|
Add a Comment
This year's virtual Comic-Con@Home has announced its schedule for Friday, July 24. The highlights are below.
The virtual event replaces the annual San Diego Comic-Con, the largest fan convention in North America, which was to be held July 22–26 at the San Diego Convention Center, until the COVID-19 pandemic forced its cancellation.
In June, Comic-Con International — the non-profit organization that oversees SDCC and its sister event, WonderCon in Anaheim, Calif. — announced it was moving forward with the virtual event on the same dates. This time, however, the event is free and open to all.
Friday's events include panels for all three of AMC's "Walking Dead" series, Hulu's new Marvel series "Helstrom," and creatives like Charlize Theron, Joss Whedon, and Robert Kirkman. (via
Variety
)
All times are Pacific Daylight.
10–11 a.m.
Charlize Theron: Evolution of a Badass – An Action Hero Career Retrospective — the Oscar-winner reflects on her career in action films
"Summer Camp Island," "The Fungies," and "Tig N' Seek" — featuring the cast and show creators from the HBO Max animated series Myke Chilian ("Tig N' Seek"), Stephen P. Neary ("The Fungies"), and Julia Pott ("Summer Camp Island").
11 a.m.–12 p.m.
"Adventure Time: Distant Lands – BMO" — featuring the cast and producers of the HBO Max animated series, including Glory Curda, Olivia Olson, Niki Yang, and executive producer Adam Muto, moderated by "Steven Universe" star Michaela Dietz.
"Vikings": A Look Back with the Lothbroks — featuring the cast and creator of the History show, including Travis Fimmel, Katheryn Winnick, Alex Ludwig, Clive Standen, Jordan Patrick Smith, and showrunner, writer and executive producer Michael Hirst.
12–1 p.m.
"Fear the Walking Dead" — featuring the cast and creators of the AMC series, including Lennie James, Alycia Debnam-Carey, Colman Domingo, Danay Garcia, Karen David, Jenna Elfman, and Rubén Blades, showrunners and executive producers Andrew Chambliss and Ian Goldberg, and the Walking Dead Universe chief content officer Scott M. Gimple.
"Infinity Train" — featuring the creators of the animated HBO Max series, including series creator Owen Dennis, supervising director Madeline Queripel, and show writers Alex Horab, Lindsay Katai, and Justin Michael.
Collider: "Don't Look Deeper" — featuring the cast and creators of the Quibi series, including Don Cheadle, Emily Mortimer, Helena Howard, director Catherine Hardwicke, and co-creator Jeffrey Lieber.
1-2 p.m."The Walking Dead" — featuring the cast and creators of the AMC series, including Norman Reedus, Melissa McBride, Jeffrey Dean Morgan, Lauren Cohan, Josh McDermitt, Seth Gilliam, Ross Marquand, Khary Payton, Paola Lazaro, showrunner and executive producer Angela Kang, executive producer and director Greg Nicotero, and the Walking Dead Universe chief content officer Scott M. Gimple.
2–3 p.m.
"The Walking Dead: World Beyond" — featuring the cast and creators of the AMC series, including Aliyah Royale, Alexa Mansour, Hal Cumpston, Nicholas Cantu, Nico Tortorella, Julia Ormond, Joe Holt, showrunner and executive producer Matt Negrete, and the Walking Dead Universe chief content officer Scott M. Gimple.
Entertainment Weekly: Brave Warriors — a conversation with actors playing "today's male heroes," including Joseph Morgan ("Brave New World"), Aasif Mandvi ("Evil"), Jocko Sims ("New Amsterdam"), Henry Ian Cusick ("MacGyver"), and Michael Mando ("Better Call Saul").
3–4 p.m.
"Helstrom" — featuring the cast and creators of the new Hulu series based on the Marvel Comics character, including Tom Austen, Sydney Lemmon, Elizabeth Marvel, Robert Wisdom, Ariana Guerra, June Carryl, Alain Uy, and showrunner Paul Zbyszewski.
"Robot Chicken," "Final Space," "Primal," and "Samurai Jack" — featuring the creators of the HBO Max animated series, including Seth Green, Matthew Senreich, Genndy Tartakovsky, Carl Jones, Henry Bonsu, and Olan Rogers.
"The Capture" — featuring the cast and creators of the new Peacock drama series, including Holliday Grainger, Callum Turner, Ron Perlman, Laura Haddock, Famke Janssen, and executive producers Ben Chanan and Rosie Alison.
4–5 p.m.
"Bob's Burgers" — featuring the cast and creators of the Fox animated series, including H. Jon Benjamin, John Roberts, Kristen Schaal, Eugene Mirman, Dan Mintz, Larry Murphy, and executive producer Loren Bouchard.
Robert Kirkman at Home — a Q&A with the creator of "The Walking Dead."
"Crossing Swords" — featuring the cast and creators of the new Hulu animated series, including Adam Ray, Tara Strong, Seth Green, Alanna Ubach, Adam Pally, Yvette Nicole Brown, and creators John Harvatine IV and Tom Root.
5-6 p.m.
A Zoom with Joss Whedon — no further information is listed on the Comic-Con site, though Whedon has been a regular Comic-Con presence for years.
"Archer @Home" — featuring the cast and executive producer of the FXX animated series, including Aisha Tyler, Chris Parnell, Judy Greer, Amber Nash, Lucky Yates, and executive producer Casey Willis.
Unboxing "Pandora" — featuring the cast and creators of the CW drama series, including Priscilla Quintana, Oliver Dench, Ben Radcliffe, and executive producers Mark A. Altman, Steve Kriozere, and Thomas P. Vitale.
7–8 p.m.
The 32nd Annual Will Eisner Comic Industry Awards — the yearly awards ceremony for comics creators, hosted by actor and comedian Phil LaMarr.
GOTHAM PD SERIES FROM MATT REEVES, TERENCE WINTER SET IN 'THE BATMAN' WORLD ORDERED AT HBO MAX
07/10/20 @ 12:10 pm EST
Source:
Variety
| Categories:
DC
|
Comments
(0) |
E-mail Article
|
Add a Comment
Variety
is reporting that HBO Max has given a series commitment to a drama set in the Gotham police department from Matt Reeves and Terrence Winter.
The untitled series will be set in the world Reeves is creating for the feature film
The Batman
, with the intent being to launch a new Batman universe across multiple platforms. It is said to build on the film's examination of the anatomy of corruption in Gotham City. It is the first project announced under Reeves' new overall deal with Warner Bros. Television Group.
Winter is writing and executive producing the series. Reeves will executive produce under his 6th & Idaho banner along with the company's Daniel Pipski and Adam Kassan. Dylan Clark will also executive produce with 6th & Idaho's Rafi Crohn co-executive producing. Warner Bros. Television is the studio.
This show will now be the second specifically about Gotham's police department. Fox aired the drama series
Gotham
from 2014 to 2019 for five seasons and 100 episodes. The show chronicled the career of Jim Gordon prior to Batman's first appearance in Gotham City.
'WATCHMEN' LEADS 2020 TV CRITIC AWARDS
07/10/20 @ 10:50 am EST
Source:
ComicBook
| Categories:
DC
|
Comments
(0) |
E-mail Article
|
Add a Comment
It's been nearly seven months since HBO's limited series
Watchmen
ended, but the show feels more relevant now than ever. The hit series, which takes place 30 years after the beloved comic, was well-received by all, earning a 95% score on Rotten Tomatoes. It's no surprise to learn that the series is currently tied for most nominations at the TV Critics Awards. Nominees were announced yesterday, and
Watchmen
earned four.
Watchmen
, which was helmed by Damon Lindel of (
LOST
,
The Leftovers
), has been recognized by the TV Critics Association for Individual Achievement in Drama (Regina King), Outstanding Achievement in Movie or Miniseries, Outstanding New Program, and Program of the Year. The only series to also earn four nominations was Netflix's
Unbelievable
. (via
ComicBook
)
Currently, there are no plans to make a second season of
Watchmen
. The series is available on all HBO platforms.
For a list of all TV Critics Award noms (via THR),
click here
.
NEW 'THE MANDALORIAN' THEME SONG MUSIC VIDEO
07/10/20 @ 10:38 am EST
Source:
Inside the Magic
| Categories:
Disney
|
Comments
(0) |
E-mail Article
|
Add a Comment
With the major success
The Mandalorian
has had, both as a series on the Disney+ streaming platform and in popular culture (we see you, Baby Yoda), it's no surprise that the
Star Wars
show continues to be marketed in new ways.
Most recently, Swedish composer Ludwig Göransson performed
The Mandalorian
theme song in a music video directed by Isaac Ravishankara. (via
Inside the Magic
)
Music Video:
https://youtu.be/rXJa1YcV6OQ
'DOOM PATROL': BEHIND-THE-SCENES PHOTOS FROM "FINGER PATROL"
07/10/20 @ 10:34 am EST
Source:
DC Universe
| Categories:
DC
|
Comments
(0) |
E-mail Article
|
Add a Comment
Can Season 2 of
DC Universe
's
Doom Patrol
get any weirder? When it comes to the World's Strangest Heroes, the answer is always yes.
Take the show's current episode, "Finger Patrol". It has everything, from playdates to 1970s cop shows.
If you're wondering how all this madness comes to life, check out these behind-the-scenes photos from the making of "Finger Patrol."
"Finger Patrol" is streaming now on DC Universe. New episodes of
Doom Patrol's
second season drop every Thursday.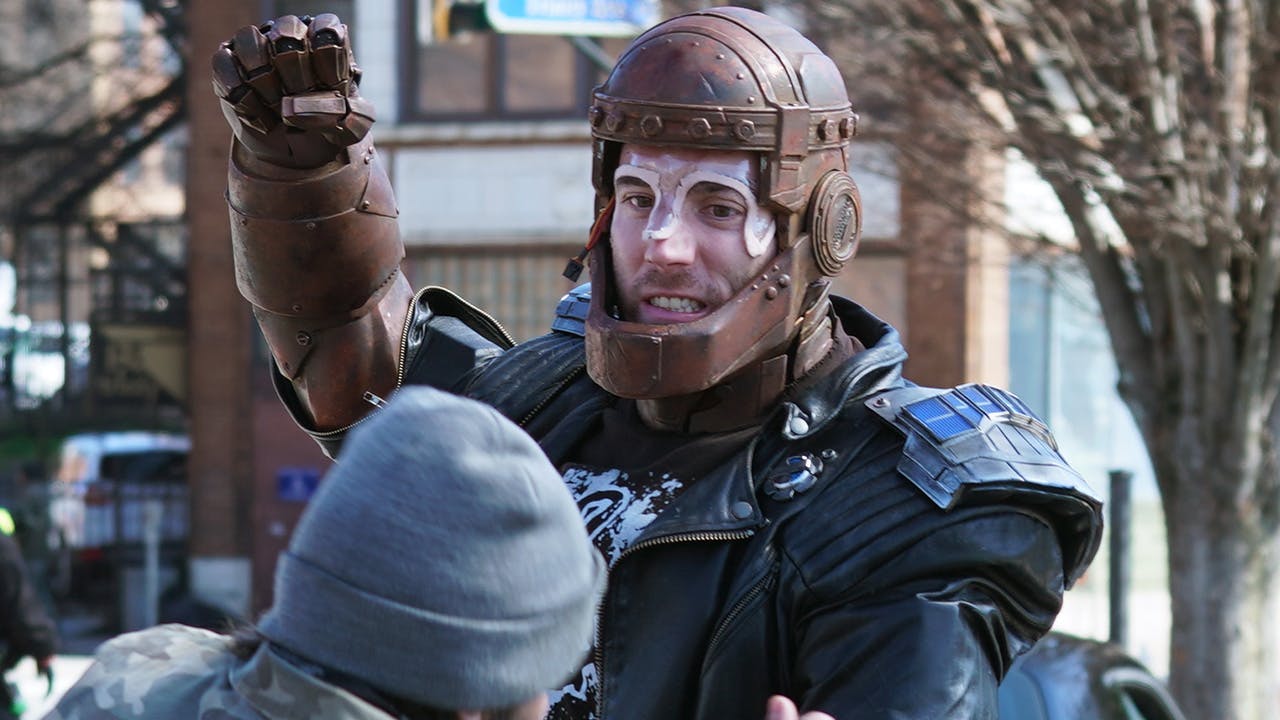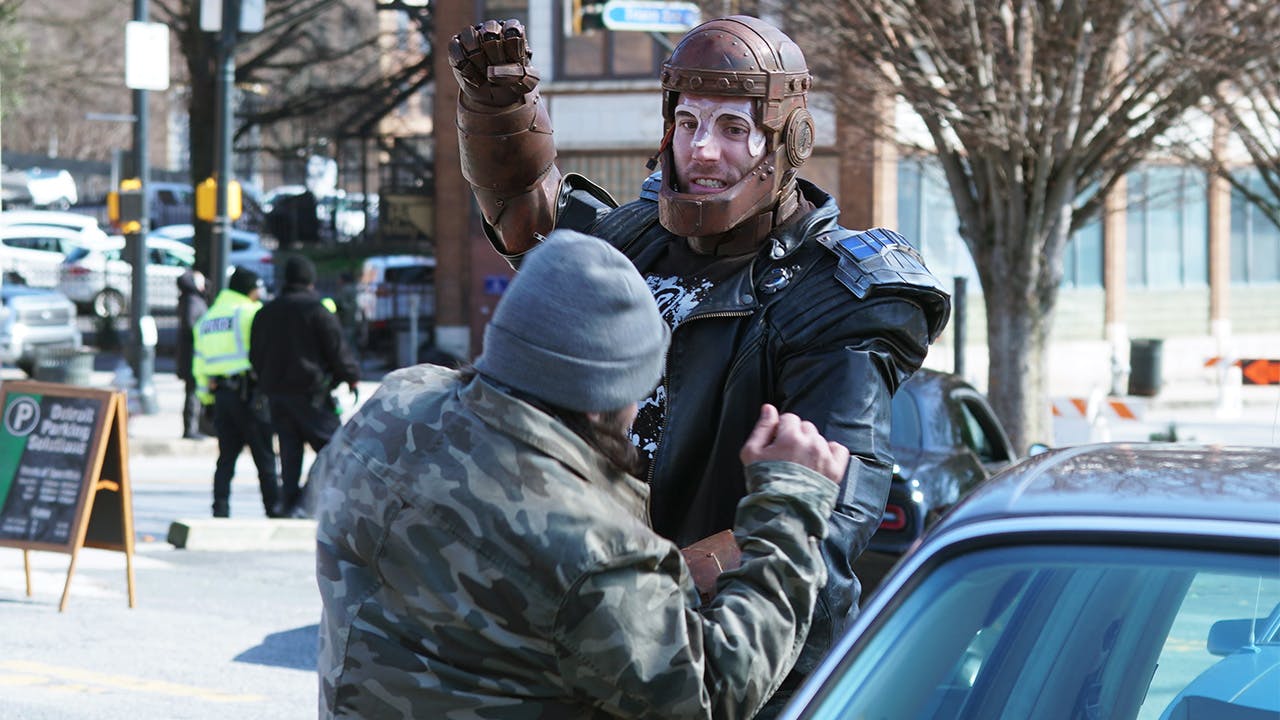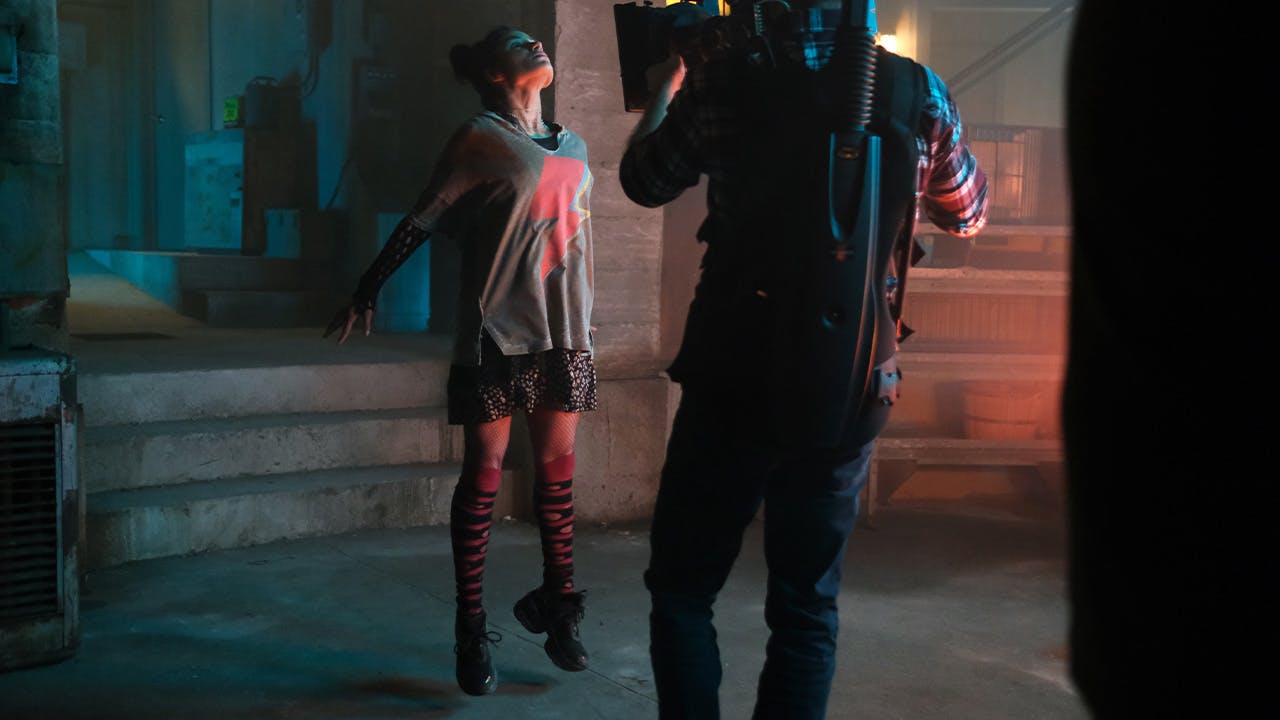 TWO NEW OCTOBER ANTHOLOGIES GIVE FANS TWICE THE SCARY FOR HALLOWEEN
07/10/20 @ 10:22 am EST
Source:
DC Comics
| Categories:
DC
|
Comments
(0) |
E-mail Article
|
Add a Comment
October always brings stories of ghosts, goblins, fright and picking out our favorite candies for Halloween. But this year, DC's got twice the spooks and scares for comic book fans with two anthology titles featuring the World's Greatest Super Heroes in tales of fear and terror!
LEGEND OF THE SWAMP THING HALLOWEEN SPECTACULAR #1
DC invites you to welcome Swamp Thing to your witching hour festivities. In this 48-page collection of six all-new stories, the Guardian of the Green reveals past lives and the unforgettable horrors that befall those who cross his path. From ancient Rome to present day, Swamp Thing stalks these ghostly and ghastly tales—all of which are best read by the light of a jack o' lantern!
Writers Tom King (
Strange Adventures, Swamp Thing: Roots of Terror, Swamp Thing Winter Special
), James Tynion IV (
Batman
), Vita Ayala, Phillip Kennedy Johnson (
The Last God: The Fellspyre Chronicles
) and Ram V (
Catwoman, Justice League Dark
) are among the writers penning these creepy tales with Domo Stanton (
House of Whispers
), Mike Perkins (
Lois Lane
), Emma Rios and Christian Ward providing the bone-chilling artwork.
Legend of the Swamp Thing Halloween Spectacular
#1 is priced at $5.99 and debuts on Tuesday, October 6, 2020 at all open and operating comic book stores and participating digital retailers.
DC: THE DOOMED AND THE DAMNED #1
It was a dark and stormy night when the creatures of the DC universe began to emerge from their lairs into the cool evening air. Tales of the macabre, the murderous, and the morbid abound in this spine-chilling special about monsters and mayhem! What happens when Batman encounters a true urban legend after speaking its name three times in a mirror, or when Madame Xanadu enlists the help of Man-Bat to take town shadowy specter? And who can stop an intergalactic demon from turning people into frog beasts? Only the unlikely team up of Green Lantern and Etrigan! All this and seven more fang-tastic tales to trick your treats and bob your apples!
This prestige format one-shot features some of comics best scary storytellers, including writers Carmen Maria Machado (Hill House Comics'
The Low, Low Woods
), Marv Wolfman, Ken Porter, John Arcudi, Saladin Ahmed, Alyssa Wong, Travis Moore and others. Artists contributing to this blood-curdling comic include Riley Rossmo (
Martian Manhunter, Constantine: the Hellblazer
), Mike Perkins, Leonardo Manco, Travis Moore, Tom Mandrake and others.
This 80-Page one-shot is priced at $9.99 and arrives at open and operating comic book stores and participating digital retailers on Tuesday, October 13, 2020.
'TRAIN TO BUSAN 2: PENINSULA' HITS THEATERS THIS AUGUST BEFORE STREAMING ON SHUDDER
07/10/20 @ 10:12 am EST
Source:
MovieWeb
| Categories:
MIsc
|
Comments
(0) |
E-mail Article
|
Add a Comment
Train to Busan Presents: Peninsula
is set to hit theaters in the U.S. next month.
Movieweb
reports that the highly-anticipated zombie sequel will indeed be making its way to theaters on August 7. This cements it as one of the first new movies that will arrive once theaters reopen. Additionally, it has been announced that Shudder has acquired exclusive streaming rights to the movie.
Peninsula
is set to debut in 150 theaters across the U.S. and Canada. Well Go USA is additionally looking to rerelease the originally
Train to Busan
in theaters later this month. Those screenings will include an exclusive first look at the sequel.
The
Train to Busan 2
trailer was released back in April. It revealed that the sequel will change things up quite a bit.
Peninsula
centers on Jung-seok, a soldier who previously escaped the diseased wasteland. He is forced to relive the horror when a covert assignment is handed to him. The mission comes with two simple objectives: retrieve and survive. When his team unexpectedly encounters survivors, their lives will depend on whether the best, or worst, of human nature prevails in dire circumstances.
Director Yeon Sang-Ho is returning to helm the follow-up. Gang Dong-won and Lee Jung-hyun star. As for the streaming release, Shudder intends to release it sometime in early 2021. However, a precise date has yet to be revealed.