'Y: THE LAST MAN' STARTS PRODUCTION
10/28/20 @ 7:15 pm EST
Source:
Deadline
| Categories:
MIsc
|
Comments
(0) |
E-mail Article
|
Add a Comment
Production has started in Toronto on
Y: The Last Man
, the upcoming Diane Lane-starring FX on Hulu drama series based on the Eisner Award-winning DC Comics series.
There are two new cast changes on the project as Ashley Romans and Olivia Thirlby have joined the series, replacing originally cast Lashana Lynch and Imogen Poots, respectively. Romans will play Agent 355; Thirlby will play Hero Brown. In February, Ben Schnetzer was cast as the male lead Yorick Brown, replacing Barry Keoghan who had exited the projects. Also no longer part of the series is Timothy Hutton, who played the U.S. President in the original pilot. That part is believed to have been reworked as part of many creative changes on the show. Hutton also was replaced on the upcoming
Leverage
reboot after he faced sexual assault allegations in March.
With new showrunner Eliza Clark, who was brought in after the
Y
pilot had been picked up to series last year, the revamped series was about to start shooting in March when all production was forced to shut down because of the fast growing coronavirus outbreak. Shooting got underway this week in Toronto, FX on Hulu original programming president Nick Grad said. (via
Deadline
)
Y: The Last Man
is scheduled to air sometime in 2021.
'THE BOYS' CAST CELEBRATES SEASON 3 WRAP WITH NSFW VIDEO FOR FANS
09/17/21 @ 7:24 pm EST
Source:
ComicBook
| Categories:
The-Boys
|
Comments
(0) |
E-mail Article
|
Add a Comment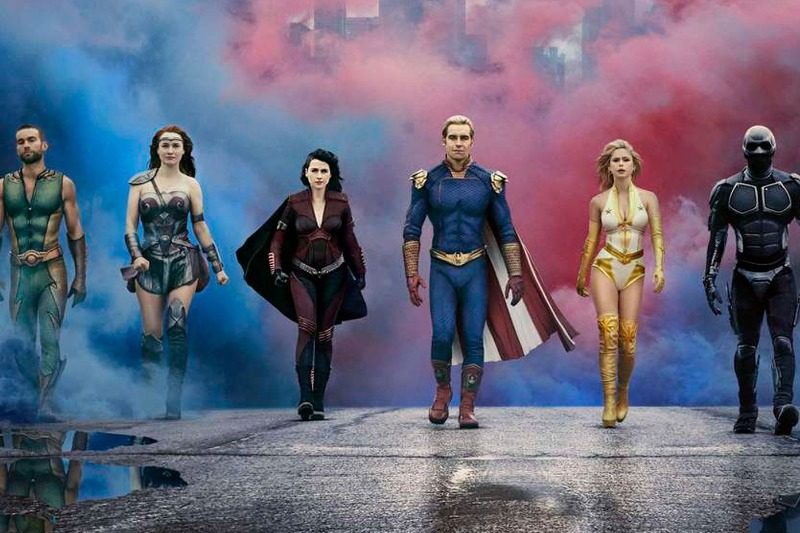 Last week brought the news that
The Boys
season three had officially wrapped production and now a new video compiled from set features the all-star cast confirming the news.
Featuring a fresh look at several returning cast members can be seen, along with teases of the new characters like Jensen Ackles' Soldier Boy (who refrains that he's going to get drunk after the wrap). We also get a glimpse of series star Karl Urban delivering a rousing speech to the crew, even going so far as to say: "I think this is going to be our best season yet." Check it for yourself below!
"We had written Soldier Boy long before I cast Jensen. The majority of the guys we were looking at for that part were actually quite older than Jensen," series creator and showrunner Eric Kripke said about Ackles' casting. "Because it's a World War II hero. But it's so funny how these things sometimes happen. Jensen called me and I'm not on the show anymore but we keep in touch and text every so often. But he happened to call me and we were just chatting and I'm like well I'm prepping Season 3 of the show, and I have this character Soldier Boy, and it was a real pain to cast, and I haven't really found anyone. Hey, wait a minute, do you want to do it? I sent him the script, and he's like, oh my God, I totally want to do this. Less than a week later, he was cast. He just happened to call that day, is one of the big reasons he got that part."
Other newcomers set to appear in season three of the hit Amazon show include Sean Patrick Flannery (
The Boondock Saints
) as a supe called Gunpowder, a character that has roots in the comics and was briefly featured in the first season of the show (naturally played by a different actor). Plus Miles Gaston Villanueva (
The Resident
) will play Supersonic, an ex-boyfriend of Erin Moriarty's Starlight, and Nick Wechsler (
Revenge
) as Blue Hawk. Laurie Holden (Andrea on AMC's
The Walking Dead
) will also appear as "Crimson Countess", a counterpart to the Scarlet Witch.
Both seasons of
The Boys
are now streaming on Amazon Prime. It's unclear when the third season will premiere but a 2022 debut seems likely. (via
ComicBook.com
)
NSFW Video:
https://twitter.com/i/status/1438895533238722571
CHAYKIN'S 'TIME²' CELEBRATES 35TH ANNIVERSARY WITH OMNIBUS HC EDITION
09/17/21 @ 7:07 pm EST
Source:
Image
| Categories:
Image
|
Comments
(0) |
E-mail Article
|
Add a Comment
Graphically experimental, narratively daring, and visually explosive, Howard Chaykin's
Time
² was a work ahead of its time2—and remains so today.
In February 2022—just in time2 to celebrate the project's 35th anniversary—fans will be treated to the long-awaited conclusion—finally!—in a special omnibus hardcover edition from Image Comics.
In addition to remastered versions of the project's debut in the
American Flagg! Special
and its long-out-of-print first two volumes, "The Epiphany" and "The Satisfaction of Black Mariah," the
Time
²
Omnibus
completes the trilogy with the new 48-page volume "Hallowed Groundº," plus many never-before-seen extras.
"
Time2
remains among my most personal works in my fifty plus years in comics, and I couldn't be more grateful to see it back in print, with this final volume, before I take the midnight subway to its final destination," said Chaykin.
Time²
omnibus hardcover edition (ISBN: 978-1-5343-2110-6, Diamond Code OCT210066) will be available on Wednesday, February 16 and in bookstores on Tuesday, February 22. It can be pre-ordered at your local
comic book shop
or
independent bookstore
or via Amazon, Barnes & Noble, Books-a-Million, and Indigo.
Time²
omnibus will also be available for purchase across many digital platforms, including Amazon Kindle, Apple Books, and Google Play.
IT'S FINALLY TIME FOR 'NO TIME TO DIE'
09/17/21 @ 7:01 pm EST
Source:
Deadline
| Categories:
James Bond
|
Comments
(0) |
E-mail Article
|
Add a Comment
After 18 months of delay due to the pandemic, tickets are finally available for MGM/United Artist Releasing/Eon's 007 movie
No Time to Die.
Daniel Craig's swan song as the MI6 agent with a license to kill opens Oct. 8 in the U.S. and Sept. 30 in the United Kingdom.
If you want to see the pic early, Fandango also posted showtimes for early access screenings on Wednesday, Oct. 6.
The Cary Joji Fukunaga-directed movie will feature 40 minutes extra of expanded Imax aspect ratio footage shot with the large format exhibitor's 15/70mm film cameras. It's the first Bond movie ever shot with Imax15/70 film cameras.
Also,
No Time to Die
will be shown in 3D and RealD making it the first film in the franchise's 59-year history to be released in that format.
In addition,
No Time to Die
will be booked in the jaw-dropping ScreenX / 4DX formats. ScreenX, the 270-degree exhibition format, will expand specially selected sequences of the Bond pic onto the left and right side walls of the auditorium, surrounding audiences with extended imagery which naturally fills their peripheral vision. CJ 4DPLEX worked closely with MGM Studios, Eon Productions, and the filmmakers to ensure the highest quality presentation of the film and selected key scenes and exclusive imagery for the ScreenX versions.
In
No Time to Die,
Bond has left active service and is enjoying a tranquil life in Jamaica. His peace is short-lived when his old friend Felix Leiter (Jeffrey Wright) from the CIA turns up asking for help. The mission to rescue a kidnapped scientist turns out to be far more treacherous than expected, leading Bond onto the trail of a mysterious villain armed with dangerous new technology. Ana de Armas, Rami Malek, Lea Seydoux, Ralph Fiennes, Christoph Waltz, Naomie Harris, and Billy Magnussen star. (via
Deadline
)
BUFFY SUMMERS MAKES HER FINAL STAND IN 'THE LAST VAMPIRE SLAYER'
09/17/21 @ 6:52 pm EST
Source:
BOOM! Studios
| Categories:
Buffy
|
Comments
(0) |
E-mail Article
|
Add a Comment
BOOM! Studios, in collaboration with 20th Television, is proud to announce BUFFY THE LAST VAMPIRE SLAYER, a brand new four-issue comic book series out December 2021. From acclaimed writer Casey Gilly (
Femme Magnifique, You Died
) and artist Joe Jaro (
Firefly
) comes a dystopian tale of the iconic Slayer, Buffy Summers, like you've never seen her before.
In a world ruled by darkness, Buffy Summers is the last Slayer. A magical catastrophe has ended the Slayer line and nearly blotted out the sun, allowing vampires to prey on humanity unimpeded. Now in her 50s, Buffy wages a desperate one-woman fight against the forces of evil. That is, until she stumbles across something she hasn't seen in a long time – hope, in the form of a prophecy and the young girl who carries it...
Casey Gilly is the mother of a toddler, a horror fan, and a comics writer. The first two prepared her for the third. Her work can be seen in
Star Wars Adventures, My Little Pony: Generations, You Died,
and
Femme Magnifique.
"It's been such a privilege to tell a story from Buffy's mid-life years. We so often see women in their 50's being overlooked, but our Slayer refuses to become convenient and invisible. I hope fans who, like me, grew up with teenage Buffy and now find themselves approaching middle age, can see their current selves in her--someone heroic, wise, and maybe just a little bit salty. There is so much I'm excited for with this series, but I truly cannot wait for y'all to see the gorgeous work Joe Jaro has done bringing BUFFY THE LAST VAMPIRE SLAYER to the page. He is incredible!" said Gilly.
Jose "Joe" Jaro is a Filipino American comic book artist and character designer. His published works include sequential and cover art for Lion Forge Comics, Image Comics, Zenescope, Action Lab Comics, as well as numerous indie books. He has also produced character designs for Powerhouse Animation Studios. You can find him on Instagram @joe_jaro.
"I've been a fan of Buffy and the Buffyverse since my school days. It was a great mix of action, horror, and comedy. I'm so excited to now be able to draw Buffy and the rest of the Scooby gang, and add our own twist to her story as a creative team," said Jaro.
Buffy the Vampire Slayer
premiered on March 10th, 1997. The Emmy and Golden Globe-nominated series ran for seven seasons from 1997-2003. Chosen to battle vampires, demons and other forces of darkness, Buffy is aided by a Watcher who guides and teaches her as she surrounds herself with a circle of friends called the Scooby Gang.
BUFFY THE LAST VAMPIRE SLAYER #1 features main cover art by acclaimed illustrator Ario Anindito (
Star Wars: The High Republic
) and variant cover art by fan favorite artists Rod Reis (
New Mutants
), Dani Pendergast (
Magic
), Jakub Rebelka (
Judas
,
Origins
), and Giuseppe Camuncoli (
Undiscovered Country
).
"The Buffy Summers you meet in this series is a hardened warrior who has reached an age no one ever thought a Slayer would live to see, but it's cost her too much along the way," said Elizabeth Brei, Editor, BOOM! Studios. "Casey and Joe perfectly capture the iconic hero's indomitable spirit and reveal a side of Buffy we've never seen before in this limited series that changes the future of the Buffyverse forever!"
BUFFY THE LAST VAMPIRE SLAYER is the newest release from BOOM! Studios' eponymous imprint, home to critically acclaimed original series, including
BRZRKR
by Keanu Reeves, Matt Kindt, and Ron Garney;
Proctor Valley Road
by Grant Morrison, Alex Child, and Naomi Franquiz;
We Only Find Them When They're Dead
by Al Ewing and Simone Di Meo;
Seven Secrets
by Tom Taylor and Daniele Di Nicuolo;
Something is Killing the Children
by James Tynion IV and Werther Dell'Edera;
Once & Future
by Kieron Gillen and Dan Mora;
The Many Deaths of Laila Starr
by Ram V and Filipe Andrade; and
Eve
by Victor LaValle and Jo Mi-Gyeong. The imprint also publishes popular licensed properties, including
Dune: House Atreides
from Brian Herbert, Kevin J. Anderson, and Dev Pramanik;
Mighty Morphin
and
Power Rangers
from Ryan Parrott, Marco Renna, and Francesco Mortarino; and
Magic
from Jed McKay and Ig Guara.
Print copies of BUFFY THE LAST VAMPIRE SLAYER #1 will be available for sale in December 2021 exclusively at local comic book shops (use
comicshoplocator.com
to find the nearest one) or at the BOOM! Studios webstore. Digital copies can be purchased from content providers, including comiXology, iBooks, Google Play, and Kindle.
NEW 'LOST BOYS' MOVIE STARRING NOAH JUPE AND JAEDEN MARTELL SET AT WARNER BROS.
09/17/21 @ 6:47 pm EST
Source:
Variety
| Categories:
MIsc
|
Comments
(0) |
E-mail Article
|
Add a Comment
Warner Bros. is planning to take another bite out of 1980s cult hit
The Lost Boys
, with a modern-day take starring Noah Jupe and Jaeden Martell.
Jupe starred in the
A Quiet Place
films and appeared in
The Undoing
and
Honey Boy
, while Martell was part of the It movies ensemble and starred in the
Defending Jacob
series as well as appearing in
Knives Out
and
Masters of Sex
.
Jonathan Entwistle will direct with Randy McKinnon, who is working on
Static Shock
for Warner and DC, writing the new version, the studio confirmed.
Brian Kavanaugh-Jones and Fred Berger are producing through Automatik. Zac Frognowski and Josh Glick are executive producers.
Joel Schumacher directed the original
Lost Boys
in 1988, starring Corey Haim, Corey Feldman, Kiefer Sutherland, Jason Patric, Alex Winter, Dianne Wiest and Jami Gertz in the story of two boys who move to a California beach town with their mother and get involved with a gang of stylish bikers who happen to be vampires. (via
Variety
)
ORIGINAL ART ON THE EXP FRIDAY 7-8 PM ET; COMIC COLLECTIBLES MONDAY NIGHT 6-8 PM ET!
09/17/21 @ 9:55 am EST
Source:
The Experience
| Categories:
MIsc
|
Comments
(0) |
E-mail Article
|
Add a Comment
Join Dynamic Forces Friday Night (9/17/21: 7-8pm ET) for Original Art
AND Comic Collectibles on Monday Night (9/20/21: 6-8pm ET)!
on THE EXP!
Tune in to watch at The EXP
Tune in FRIDAY, WEDNESDAY and MONDAY NIGHT to see RARE and LIMITED Comic Book Collectibles
ORIGINAL ART SHOW - 9/17/2021 Friday 7-8 PM ET
DYNAMIC FORCES COMIC COLLECTIBLES SHOW 9/20/2021 Monday 6-8 PM ET
DYNAMIC FORCES COMIC COLLECTIBLES SHOW 9/22
/2021 Wednesday 6-8 PM ET
Featuring Silver/Bronze Age, Signed Books, Sketch Covers, Variant Covers, Original Art
and MUCH MORE!
Be sure to join Dynamic Forces for 1 hour of Original Comic Art and 2 hours of Limited Edition Comic Collectibles Every Monday, Wednesday and Friday!
Original Art Show Fridays from 7-8 PM ET and
Dynamic Forces Comic Collectibles Show Monday and Wednesdays from 6-8 PM ET!
ALSO, remember to check out Dynamic Forces for other rare Comic Collectibles
'ARCHIE'S HOLIDAY MAGIC ANTHOLOGY' DELIVERS LAUGHS AND LIFE LESSONS
09/17/21 @ 9:51 am EST
Source:
Archie Comics
| Categories:
Archie
|
Comments
(0) |
E-mail Article
|
Add a Comment
This holiday season, fans can curl up with a feel-good story for the season with ARCHIE'S HOLIDAY MAGIC SPECIAL #1 (ONE-SHOT), arriving December 8 from Archie Comics. As the iconic character celebrates 80 years, the anthology will explore Archie and the Riverdale gang's past, present, and future with a heartwarming release that pays homage to celebrated holiday classics and modern romance stories.
It's Christmas Eve in Riverdale, and Archie still can't decide who should be his date for the annual Snow Ball -- Betty or Veronica? As the constant indecision leaves Archie in crisis, he is soon visited by a spirit guide that will help him rediscover the meaning of the season. Readers will be treated with delightfully fresh artistic takes on classic Archie Comics franchises including "Little Archie" and "Life With Archie"
in this can't-miss anthology one-shot spearheaded by Archie's Senior Director of Editorial Jamie L. Rotante.
The all-new anthology will feature three separate stories penned by top writers including Micol Ostow, Michael Northrop, and J. Torres. Ostow is very familiar with the streets of Riverdale, previously writing the RIVERDALE: THE TIES THAT BIND
original graphic novel and RIVERDALE
comic book series for Archie Comics, alongside the best-selling RIVERDALE original novel series for Scholastic. Northrop is most recently known for his massively successful
Dear Justice League
and its follow-up
Dear Super-Villains
graphic novels for DC Comics. Meanwhile, J. Torres has a long history with Archie's classic characters including JINX: LITTLE MISS STEPS.
"We were definitely inspired by the Archie reboot series from Mark Waid and Fiona Staples, and feel-good Hallmark movies for this fun and heartwarming anthology," explains Rotante. "We think it's a perfect way to celebrate 80 years of Archie by taking a trip through different eras of Archie's life as he ultimately rediscovers the importance of friendship and community during the holiday season.
In regards to the creative talent contributing to the anthology, Rotante goes on to note, "I'm so thrilled to be working with the creative team on this book! Micol has such a knack for the characters' modern day voices, while J. Torres is a master of sentimental storytelling, especially involving the younger versions of the characters. It has also been a bucket list of mine to work with Michael Northrop, and his comedic voice works so well in this future scenario. We've also got three amazing artists contributing to this project. Gretel, Arielle, and Dan all have beautiful, animated styles that fit perfectly to each era in Archie's life and I'm so excited for Archie fans to see their art for the first time here."
MARVEL'S JUNGLE HERO FINDS NEW LIFE IN 'KA-ZAR: LORD OF THE SAVAGE LAND'
09/17/21 @ 9:37 am EST
Source:
Marvel
| Categories:
Marvel
|
Comments
(0) |
E-mail Article
|
Add a Comment
Last week, fans bore witness to an exciting evolution for a classic Marvel hero in KA-ZAR: LORD OF THE SAVAGE LAND #1. The Stan Lee and Jack Kirby creation is back from the dead with terrifying new powers as him and his family, Shanna the She-Devil and his son Matthew, protect their home from strange new enemies in the new limited series from writer Zac Thompson and artist Germán García with colorist Matheus Lopes. And readers can expect even more Savage Land thrills and mesmerizing artwork when this extraordinday saga continues in KA-ZAR: LORD OF THE SAVAGE LAND #2 on October 13th!
"The response to KA-ZAR: LORD OF THE SAVAGE LAND #1 blew me away! Thank you to everyone who's picked up the book, talking about the awe-inspiring art, and getting excited about this bold new era for Marvel's mighty jungle lord!," Thompson said. "This is just the beginning! In the coming months we'll be taking readers to many different environments within the Savage Land and meeting the people who call these places home! There's a massive adventure ahead filled with HUGE fights, painful evolution, family drama and... the truth about the mysterious Weaver... and his horrific Polyscion creations that could destroy the Savage Land forever."
Pick up KA-ZAR: LORD OF THE SAVAGE LAND #2 when it hits stands on October 13th!
'ELI ROTH'S HISTORY OF HORROR' SEASON 3 GETS FIRST TRAILER
09/17/21 @ 10:19 am EST
Source:
ComicBook
| Categories:
MIsc
|
Comments
(0) |
E-mail Article
|
Add a Comment
As we head towards Halloween, many horror fans will look to revisit their favorite frightening films to get them into the spirit of the spooky season, with AMC offering audiences even more excitement by delivering Season 3 of
Eli Roth's History of Horror
, a series which dives deep into a variety of beloved subgenres.
While the series itself might not be entirely unsettling, each episode is an informative exploration of the evolution of different of subgenres, with Season 3 set to explore holiday-related horror, mad scientists, and apocalyptic scenarios. (via
ComicBook.com
)
Check out the trailer for Season 3 of
Eli Roth's History of Horror
below before it premieres on AMC+ on September 25th and on AMC on October 1st.
Trailer:
https://youtu.be/HdQBNNMxLMA
A breakdown of Season 3's topics can be found by
clicking here
.
'VENOM: LET THERE BE CARNAGE' TV SPOT DROPS
09/17/21 @ 9:23 am EST
Source:
Sony Pictures
| Categories:
Marvel
|
Comments
(0) |
E-mail Article
|
Add a Comment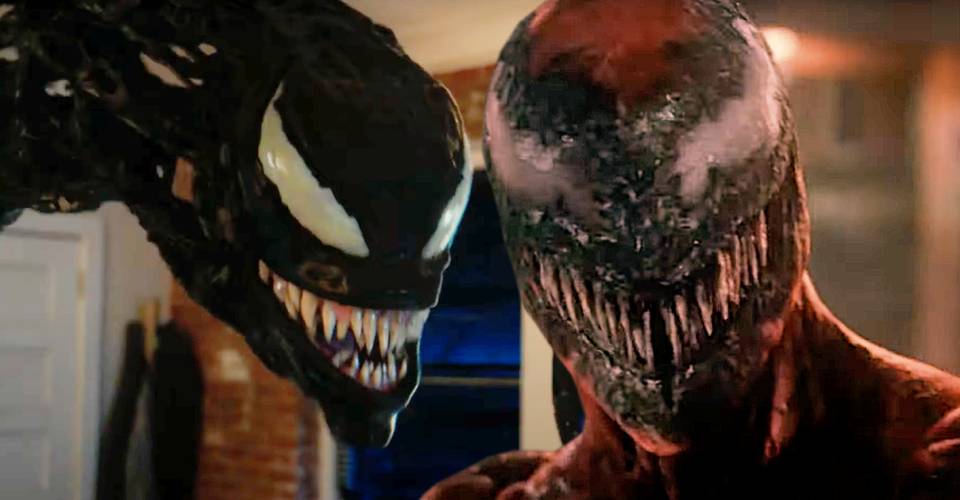 Sony Pictures
has dropped a new TV spot for its coming Spidey U. release,
Venom: Let There Be Carnage,
with new footage revealed.
Venom: Let There Be Carnage
opens only in theaters on October 1.
TV spot:
https://youtu.be/ZuPtpyLB53c