'THE BATMAN' ENLISTS COMPOSER MICHAEL GIACCHINO
10/21/19 @ 1:09 am EST
Source:
Hollywood Reporter
| Categories:
DC
|
Comments
(0) |
E-mail Article
|
Add a Comment
THR
reports that composer Michael Giacchino has said yes to
The Batman
. Filmmaker Matt Reeves surprised a crowd Friday at an event at London's Royal Albert Hall, where Giacchino and fellow composer David Arnold were engaging in some friendly competition by comparing works they've done.
When Reeves took the stage, he got down on one knee in a mock proposal, asking Giacchinoto board his project, as captured in a
video
from an attendee, and reported by
Empire
journalist Chris Hewitt.
Giacchino is no stranger to the superhero movie business, having composed scores for
Spider-Man: Homecoming
(2017),
Spider-Man: Far From Home
(2019),
The Incredibles
(2004) and
The Incredibles 2
(2018). He also has Marvel's
Doctor Strange in the Multiverse of Madness
coming up.
Robert Pattinson is starring in
The Batman
, and this week a flurry of castings saw Zoe Kravitz join as Catwoman and Paul Dano board as the villain the Riddler. Jeffrey Wright is also on the call sheet as Commissioner Gordon.
Warner Bros. is set to release
The Batman
on June 25, 2021.
MARVEL REVEALS NIC KLEIN'S 'THOR' COVER
11/15/19 @ 10:35 pm EST
Source:
Marvel
| Categories:
Marvel
|
Comments
(0) |
E-mail Article
|
Add a Comment
The King of Asgard embarks on a new journey this January when superstar creative team Donny Cates and Nic Klein begin their epic run on THOR! A momentous occasion such as this calls for a fresh look and Klein delivered a bold new design for the God of Thunder! Check it out in all its glory in Nic Klein's Party Variant and keep your eyes peeled for more THOR #1 cover reveals coming your way!
THOR #1 by Donny Cates and Nic Klein is on sale this January in comic shops, on the Marvel Comics App, and on Marvel.com! To find a comic shop near you, visit
www.comicshoplocator.com
or call 1-888-comicbook.
THOR 1 KLEIN PARTY VARIANT - AUG199022
JAE LEE AND JUNE CHUNG UNVEIL NEW COVER FOR THE RED MOTHER #1
11/15/19 @ 10:30 pm EST
Source:
BOOM! Studios
| Categories:
MIsc
|
Comments
(0) |
E-mail Article
|
Add a Comment
​
BOOM! Studios is proud to reveal new variant cover art by artists Jae Lee and June Chung (
Something is Killing the Children
) for THE RED MOTHER #1, the premiere issue of an all-new original comic book series from acclaimed writer Jeremy Haun (
The Beauty, The Realm
) and artist Danny Luckert (
Regression
) about a young woman who survives a tragedy, only to be cursed with the ability to see the dangers that hide in plain sight and then forced to deal with the terrible consequences, available in December 2019.
There are dark things just beyond this reality. Horrors that we cannot quite see. Things wanting to get in. After losing her eye and the man she loves during a brutal attack in an alley, Daisy McDonough is left trying to put the pieces of her life back together. Just when she thinks she can start the process of healing and moving on, she begins to see strange things through her new prosthetic eye.
She can see the Red Mother. And the Red Mother can see her right back!
THE RED MOTHER #1 also features a main cover illustrated by series writer Jeremy Haun and a variant cover by series artist Danny Luckert.
THE RED MOTHER is the newest release from BOOM! Studios' eponymous imprint, home to critically acclaimed original series, including
Once & Future
by Kieron Gillen and Dan Mora;
Something is Killing the Children
by James Tynion IV and Werther Dell'Edera;
Faithless
by Brian Azzarello and Maria Llovet;
Abbott
by Saladin Ahmed and Sami Kivelä;
Bury The Lede
by Gaby Dunn and Claire Roe;
Klaus
by Grant Morrison and Dan Mora; and
Folklords
by Matt Kindt and Matt Smith. The imprint also publishes popular licensed properties including Joss Whedon's
Firefly
from Greg Pak and Dan McDaid;
Buffy The Vampire Slayer
from Jordie Bellaire and David López;
Angel
from Bryan Edward Hill and Gleb Melnikov; and
Mighty Morphin Power Rangers
from Ryan Parrott and Daniele Di Nicuolo.
Print copies of THE RED MOTHER #1 will be available for sale December 11, 2019 exclusively at local comic book shops (use
comicshoplocator.com
to find the nearest one) or at the BOOM! Studios webstore. Digital copies can be purchased from content providers, including comiXology, iBooks, Google Play, and Madefire.
THE SEQUEL TO THE ICONIC STORY 'THE CROOKED MAN' ARRIVES
11/15/19 @ 10:26 pm EST
Source:
Dark Horse
| Categories:
Dark Horse
|
Comments
(0) |
E-mail Article
|
Add a Comment
Legendary HELLBOY creator Mike Mignola, acclaimed artist Zach Howard, award-winning colorist Dave Stewart, and letterer Clem Robbins are collaborating on a sequel to the iconic HELLBOY story THE CROOKED MAN. In HELLBOY & THE B.P.R.D.: THE RETURN OF EFFIE KOLB, years after he banished the infamous backwoods demon known as the Crooked Man, Hellboy returns to Appalachia when a young psychic warns Tom Ferrell of looming danger. But the Crooked Man's house is no longer empty, and threats both new and old simmer in the Virginia woods.
"Sometimes you create a character, they perform their function, and that's it," said series writer Mike Mignola. "Other times you finish with them and they just refuse to get back in their box. Tom Ferrell is one of those characters. Even as I was writing
The Crooked Man
I knew there was a whole lot more to that guy. And Effie Kolb… It turns out there are worse things you can do to a character than turn them into a horse."
"Getting to stand in the shadows of the two legends that made The Crooked Man is an honor," said Zach Howard. "Mignola asking me to draw the sequel is an opportunity I have not taken likely, and I've given my absolute best to live up to his wonderful creation. This will be my final sequential art as a freelance comic book artist, and I couldn't ask for a better end to this chapter of my career."
HELLBOY: THE CROOKED MAN by Mignola and celebrated illustrator Richard Corben was originally published by Dark Horse Comics as a 3-issue mini-series in 2008 and is included in HELLBOY: THE COMPLETE SHORT STORIES Volume 1.
Dark Horse Comics will publish the debut issue of the thrilling, two-part HELLBOY & THE B.P.R.D.: THE RETURN OF EFFIE KOLB series on February 19.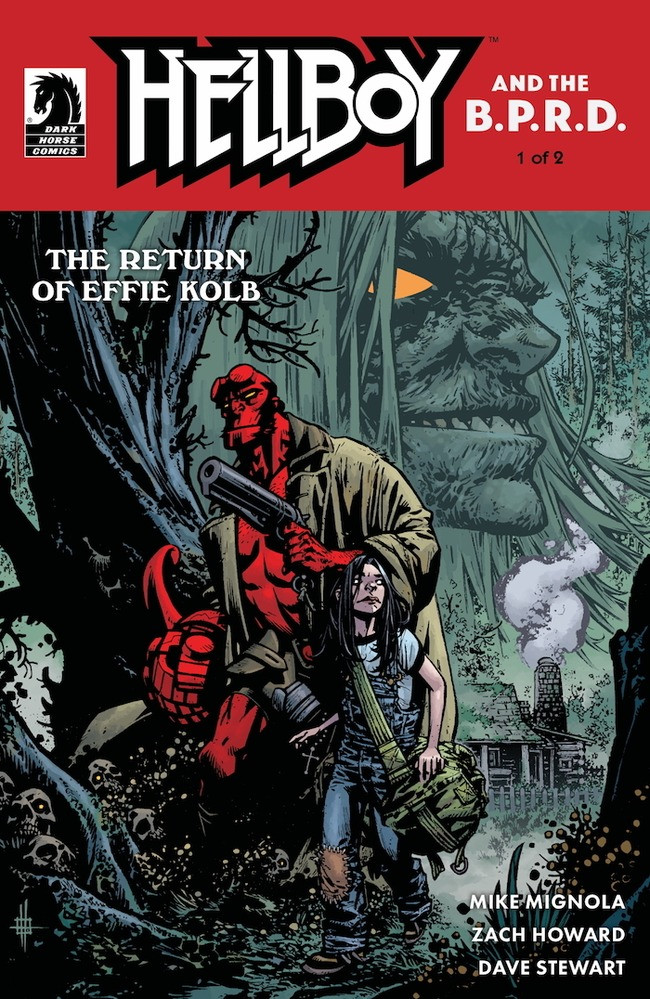 'LOKI': SOPHIA DI MARTINO TO CO-STAR WITH TOM HIDDLESTON IN MARVEL SERIES
11/15/19 @ 10:22 pm EST
Source:
Variety
| Categories:
Marvel
|
Comments
(0) |
E-mail Article
|
Add a Comment
Variety
reports that
Yesterday's
Sophia Di Martino is in talks to join Tom Hiddleston in Disney+ and Marvel's
Loki
limited series.
Hiddleston is reprising the role of the antihero with
Sex Education
and
Daybreak
director Kate Herron helming the series.
Rick & Morty
scribe Michael Waldron penned the pilot and will act as show creator and exec produce the series.
Though it's not been confirmed, the story is expected to follow Loki as he pops up throughout human history as an unlikely influencer on historical events. It is unknown who Di Martino will be playing in the series.
Marvel had no comment on the casting. Production is expected to start at the beginning of 2020.
LISTEN TO RAI'S THEME SONG, LYRICS BY DAN ABNETT!
11/15/19 @ 10:17 pm EST
Source:
Valiant
| Categories:
MIsc
|
Comments
(0) |
E-mail Article
|
Add a Comment
The brand-new
RAI series makes its action-packed debut next Wednesday (November 20th), and metal band A Sound of Thunder is celebrating the can't-miss comic with the song 'Break Free!'

Featuring lyrics by series writer Dan Abnett, "Break Free" is offered exclusively through the band's Kickstarter as a companion to their new album Parallel Eternity. The catchy single also comes with an exclusive RAI #1 variant cover by Paul Pelletier, which is an homage to Derek Riggs' cover for Iron Maiden's album Somewhere in Time. The limited edition variant is available with the modern trade dress (500 copies) and classic trade dress (200 copies).




Dan Abnett is a veteran of the comic industry, but this was his first time writing lyrics for a song! Here's what he has to say about the new experience:

"I've never been asked to write lyrics before (though I've written a few songs over the years - never published or performed). It was, I guess, quite daunting to get a piece of music sent to me. A Sound of Thunder make a deliciously powerful noise… how could I write something worthy of that soaring music? How could I come up with anything that would work for Nina's amazing voice?

"First, I decided to try something 'general'. I didn't think it would be useful to tie the lyrics into anything story-specific with the new comic series, because plot advances all the time. I tried to think more about Rai's over all situation: his background, his origin, his eternal clash with Father, so the song could be more of an anthem that worked for Rai generally, across his 'career'. I also didn't want to be too 'on the nose', and make the words too direct or specific.

"My musical tastes are broad and eclectic. I listen to music a lot, but when I work it has to be 'lyric free (soundtracks, ambient etc) so the 'words' don't get in the way. Songs with lyrics tend to get airplay in the car, or when I'm not working. There was something about the track that made me think of old favourites, especially Rush, circa "Grace Under Pressure"…. The pace, the power of the drums, the muscular strength of the music. I thought it would be fun to do (try to do!) what a band like Rush did so well, which is to write a straight-up SF based track, nothing tongue in cheek or knowing, just unashamedly in its own world.

"I listened to the file a lot, and wrote lyrics that I thought 'fitted'…even adding timings. I am a complete amateur. The band's first reaction was - unsurprisingly - that I'd written 'too much"… that I'd covered every square inch of sound with words, too literally, filling in everything. To be fair, I always imagined that - at best - anything I wrote would be a simple springboard for their work. I didn't expect it to be kept intact.

"I guess I had a novice's unwitting luck, because once they got in the studio and started to work on it, they ended up keeping a surprising amount…and even turning sections of the track that had been intended to be lyric-free into lyrical elements. I was delighted that they liked it and were inspired by it. I was even more delighted to hear the end result. It's epic, and I have to admit I got chills hearing the band play and Nina power into the words. I am flattered that so much of my scrawling made it to the final cut.

"I helped make a song, but the band did all the heavy lifting, and I hope I didn't give them an uphill struggle. The track is better than anything I could have imagined. And in the process, they made me a fan. I'm a little bit in awe, to be honest. When you work with people who really know what they're doing, and who have proper expertise in an area you know nothing about, its enlightening: to see something happen, to see the skillful ease with which they work a project into shape. It was fun, it was educational, and it was a privilege. We should all leave our creative comfort zones more often, and learn from the way other people do their things.

"When can we do it again?"

Listen to a sample of 'Break Free' here: https://youtu.be/mMktCwt18a8

The Rai theme song and variant covers are available exclusively on Kickstarter here: http://kck.st/2MYaAX0

RAI #1 goes on sale November 20th.
YOUR FIRST LOOK AT GABBY RIVERA & ROYAL DUNLAP'S B.B. FREE #2
11/15/19 @ 5:40 pm EST
Source:
BOOM! Studios
| Categories:
MIsc
|
Comments
(0) |
E-mail Article
|
Add a Comment
BOOM! Studios today revealed a first look at b.b. free #2, the latest issue of the all-new original series from acclaimed author Gabby Rivera (
Juliet Takes a Breath
) and debut artist Royal Dunlap (
Buffy The Vampire Slayer
), an adventure about finding your strength and your truth when the whole world is against you, available in December 2019.
Years after the Plague That Ate Greed wiped out the ultra rich, b.b. free and her dad live in a small, close-knit community in the Florida Islands, where everything is shared and everyone's got each other's backs. b.b. is getting to be a teenager, though, and she's starting to get more and more interested in the world beyond her swamp.
After discovering that her father was not the person she had always believed him to be, b.b. is on the run to the only person she can trust: her radio show partner, Chulita. But with b.b.'s mysterious powers getting stronger everyday, and her father's mysterious organization on her trail, b.b. won't find the safe haven she expects… and she may be putting her only friend in danger.
b.b. free #2 features main cover art by series artist Royal Dunlap and variant cover art by Natacha Bustos (
Moon Girl and Devil Dinosaur
).
b.b. free is the latest release from BOOM! Studios' critically acclaimed BOOM! Box imprint, home to popular original series such as
Lumberjanes
by Shannon Watters, Grace Ellis, Brooklyn A. Allen, and Noelle Stevenson;
Giant Days
by John Allison, Lissa Treiman, and Max Sarin;
The Backstagers
by James Tynion IV and Rian Sygh;
Heavy Vinyl
by Carly Usdin and Nina Vakueva;
Fence
by C.S. Pacat and Johanna The Mad; and
Goldie Vance
by Hope Larson and Brittney Williams.
Print copies of b.b. free #2 will be available for sale December 11, 2019 exclusively at local comic book shops (use
comicshoplocator.com
to find the nearest one) or at the BOOM! Studios webstore. Digital copies can be purchased from content providers, including comiXology, iBooks, Google Play, and Madefire.
FIRST LOOK AT "CRISIS" PART 1: 'SUPERGIRL' PHOTOS RELEASED
11/15/19 @ 5:36 pm EST
Source:
The CW
| Categories:
DC
|
Comments
(0) |
E-mail Article
|
Add a Comment
The CW
has released a first official look at "Crisis on Infinite Earths" Part 1 in photos from
Supergirl
.
"Crisis on Infinite Earths" kicks off on Sunday, December 8 on
Supergirl
, runs through a Monday episode of
Batwoman
and that Tuesday's episode of
The Flash
. That will be the midseason cliffhanger, as the shows go on hiatus for the holidays and return on January 14 to finish out the event with the midseason premiere of
Arrow
and a "special episode" of
DC's Legends of Tomorrow
, which launches as a midseason series this year and so will not have an episode on the air before the Crisis.
Here are photos from the Dec. 8 episode of
Supergirl
.
ROBERT DOWNEY JR. CONFIRMED TO RETURN AS IRON MAN IN NEW DISNEY+ SERIES
11/15/19 @ 5:29 pm EST
Source:
Epic Stream
| Categories:
Marvel
|
Comments
(0) |
E-mail Article
|
Add a Comment
Epic Stream
reports that it has been confirmed that Robert Downey Jr. will be reprising his role as Iron Man for a new Disney+ series.
The confirmation comes from
Thor: Ragnarok
star Jeff Goldblum, who recently told
Buzzfeed
that he has been working on
Marvel's What If ...?
series. According to Goldblum, he's not the only one who has recorded some dialogue with Downey.
"I went to the Disney studios and I recorded the Grandmaster's voice for an episode of a show that's gonna be on Disney+ that's called
What If...?
," Goldblum said. "It's an animated version of all the characters we know and love from Marvel and this episode included the Grandmaster and Iron Man, so Robert Downey will do a voice for that, and Korg. Taika Waititi had already recorded his voice for that, so yeah, for a couple hours I enjoyed doing that."
What If...?
is expected to air on Disney+ in mid-2021.
'JOKER' BECOMES FIRST R-RATED MOVIE TO HIT $1 BILLION
11/15/19 @ 5:20 pm EST
Source:
Variety
| Categories:
DC
|
Comments
(0) |
E-mail Article
|
Add a Comment
Variety
reports that Warner Bros.'
Joker
will on Friday become the first R-rated movie in history to earn over $1 billion at the global box office.
Joaquin Phoenix's twisted take on the Batman villain marks the seventh movie this year (and first that's not from Disney or Marvel) to join the elusive billion-dollar club. Among Warner Bros.' movies, it's only the fourth to reach that milestone after
Aquaman
and fellow Batman films
The Dark Knight
and
The Dark Knight Rises
.
Given its modest $62.5 million budget,
Joker
has become one of the most profitable movies of all time.
Joker
set numerous records since debuting on Oct. 4, including biggest domestic opening weekend for the month of October ($96 million). In the weeks leading up to its release,
Joker
elicited security concerns over its depiction of a mass murderer. It also drew outrage from the families and friends of survivors of the 2012 Aurora, Colo., movie theater shooting during
The Dark Knight Rises
. But mounting concerns didn't impact ticket sales, and
Joker
maintained a huge draw in theaters among moviegoers across the globe.
EXCLUSIVE ARMY OF DARKNESS STORY ONLY ON HUMBLE BUNDLE!
11/15/19 @ 5:16 pm EST
Source:
Dynamite
| Categories:
Dynamite
|
Comments
(0) |
E-mail Article
|
Add a Comment
Dynamite has just a few days left to go on its mega-gigantic Humble Bundle. Add it all up, and you can get almost 350 issues and 12,000 pages of comic books & more for under $20. That's a deal! Check out all the tiers and make sure to sneak in your purchase before it ends soon!
Don't miss the
Dynamite 15th Anniversary Bundle
<- CLICK!
Your friends at Dynamite want to show you this sweet Army of Darkness story. It's written by Scott Duvall, who Ash Williams fans may remember from
Army of Darkness / Bubba Ho-Tep.
The art is masterfully handled by Edu Menna and Jordan Michael Johnson, with colors and letters by Salvatore Aiala and Taylor Esposito. Fitting for a Humble Bundle stuffed full of great books, Ash is on a book tour. But he has bad experiences with a certain book...
Before or after you read the story, check out this interview with Scott about the story -
CLICK!
And probably after you finish it, check out Scott's page-by-page commentary on the issue -
CLICK!