'IRON FIST' RETURNS TO MARVEL THIS JANUARY
10/20/20 @ 4:29 pm EST
Source:
Nerdist
| Categories:
Marvel
|
Comments
(0) |
E-mail Article
|
Add a Comment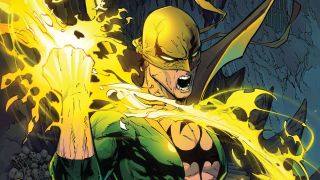 Marvel Comics' deadly living weapon is back to fight the good fight. Danny Rand, better known as the Immortal Iron Fist, returns.

Nerdist reports the hero makes his comeback in Iron Fist: Heart of the Dragon, a new limited series set for release in January 2021. Veteran Marvel scribe Larry Hama, best known for his epic runs on classic titles like Wolverine and G.I. Joe, will write the series. On interior art will be David Wachter (Teenage Mutant Ninja Turtles), with covers by Billy Tan. The solicit is below.

Iron Fist: Heart of the Dragon #1 (OF 6)

Larry Hama (W) • David Wachter (A) • Cover by Billy Tan

An Iron Fist Epic From Legendary Creator Larry Hama!

Someone is killing the ancient dragons that power the Heavenly Cities, and only Iron Fist and the Deadly Weapons can stop them… if they can discover who they are in time! Zombie armies, mystical portals, dragon hearts, some of the Marvel Universe's deadliest fighters all converge in one action-packed extravaganza, and the fate of all worlds hangs in the balance! Larry Hama and David Wachter are building a story that hits as hard as the Iron Fist itself!

'THE BATMAN': JIM LEE DRAWS ROBERT PATTINSON'S COSTUME
12/03/20 @ 8:26 am EST
Source:
ComicBook
| Categories:
DC
|
Comments
(0) |
E-mail Article
|
Add a Comment
Superstar comic book artist and DC publisher Jim Lee took to social media today to share a sketch of Batman. That happens all the time, of course, but this time is a tiny bit different: the costume he drew is the look that Robert Pattinson is rocking in Matt Reeves'
The Batman
.
Matt Reeves' version of the Dark Knight Detective feels like it pays a bit of homage to the 2013/2014 DC Comics publishing event
Batman: Zero Year
from writer Scott Snyder and artist Greg Capullo. That story, which explored Bruce Wayne's earliest days in the Batman costume, used a kind of "proto-Batman" design that the character wore during the storyline.
Lee, who has a best-selling Batman run under his belt, has not drawn the comic regularly since the start of The New 52 in 2011, when the publishing line relaunched and a series of high profile creative teams took over the book, staying for long periods of time on the title. He has, however, drawn a handful of pieces that depict DC heroes in the costumes worn in the interconnected films like
Aquaman
and
Batman v Superman: Dawn of Justice
, including for steelbook Blu-ray cases.
Pattinson will be playing a version of Batman who is in his second year as a masked vigilante in
The Batman
, according to various sources. The movie is expected to dial into the noir detective angle that first defined Batman's comics, rather than the colorful and fantastical superhero stories that he has since been inserted into. (via
ComicBook
)
The Batman
is set to premiere in theaters on June 25, 2021.
'THE FLASH': FIRST FIVE EPISODE TITLES FOR SEASON 7 REVEALED
12/02/20 @ 11:58 pm EST
Source:
CBR
| Categories:
DC
|
Comments
(0) |
E-mail Article
|
Add a Comment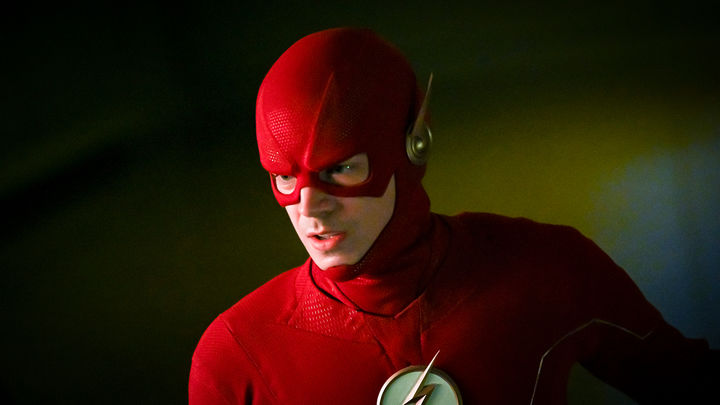 The titles for the first five episodes of
The Flash
's Season 7 have been revealed, a few of which have some rather interesting names.
Courtesy of The CW (via
CBR
), the names of the season's inaugural five episodes are "All''s Well That Ends Wells," "The Speed of Thought," "Mother," "Central City Strong" and "Fear Me." As of this writing, there are no available synopses for the episodes, though the titles of the season premiere and the last episode listed evoke an ominous tone.
Season 7's premiere date is currently being evaluated by The CW. All six seasons of the series are currently streaming on Netflix.
SKYDANCE MEDIA SETS GAL GADOT TO STAR IN 'HEART OF STONE', ORIGINAL SPY FRANCHISE
12/02/20 @ 11:50 pm EST
Source:
Deadline
| Categories:
MIsc
|
Comments
(0) |
E-mail Article
|
Add a Comment
In an eight-figure deal that puts her at the upper levels of the actress salary scale, Gal Gadot has been set to star in
Heart of Stone
, an original international spy thriller hatched by Skydance Media that endeavors to put a female spin on action franchises like
Mission: Impossible
and 007.
Tom Harper, who helmed
The Aeronauts
and
Wild Rose
, is in talks to direct.
The script is by Greg Rucka (
The Old Guard
) and Allison Schroeder, the latter of whom was Oscar nominated for
Hidden Figures
. The film will be produced by Skydance Media's David Ellison, Dana Goldberg and Don Granger, along with Gadot and her Pilot Wave producing partner Jaron Varsano, Bonnie Curtis and Julie Lynn.
Skydance Media is keeping options open on whether this will be a theatrical or streaming bow. (via
Deadline
)
CHADWICK BOSEMAN SMILES DURING BLACK PANTHER COSTUME FITTING IN NEW MCU PHOTO
12/02/20 @ 11:44 pm EST
Source:
The Direct
| Categories:
Marvel
|
Comments
(0) |
E-mail Article
|
Add a Comment
The worst blow for Marvel fans in 2020 came with the tragic passing of
Black Panther
star Chadwick Boseman on August 28. The 43-year-old megastar fought a grueling battle with colon cancer, keeping it secret from the world until the end.
Boseman's friends and colleagues have spent that time paying tribute to him with old photos and heartfelt messages through social media and interviews. The newest of these behind-the-scenes images has just arrived, and it gives a glimpse into one of the earliest moments from his profound tenure in the MCU.
In a new post from the Ironhead Studios' Instagram page, a new image gives a look at Chadwick Boseman taking part in one of his first costume fittings for 2016's
Captain America: Civil War
. Boseman is shown with crew leader Jose Fernandez as Fernandez fits Boseman in an early version of the Black Panther costume, and Boseman seems all smiles. (via
The Direct
)
GEM MINT COLLECTIBLES TEAMS WITH DYNAMITE FOR HIS FIRST EXCLUSIVE VARIANT
12/02/20 @ 11:50 pm EST
Source:
Dynamite
| Categories:
Dynamite
|
Comments
(0) |
E-mail Article
|
Add a Comment
Dynamite is linking up with fan-favorite comic book and collectibles YouTuber Gem Mint Collectibles for his first-ever exclusive variant cover. Featuring a stunning Vampirella by artist Ken Haeser and incorporating Gem's signature diamond imagery,
fans can get this limited collectible comic on Indiegogo now!
"I'm beyond excited to work with Dynamite for my first exclusive cover!" said Stephen Small aka Gem Mint. "Ken did a great job delivering my vision of Vampirella holding a gem surrounded by loot. I know fans of the channel and Dynamite are going to dig this unique cover!"
Today Gem Mint Collectibles is one of the foremost destinations for comic book, graphic novel, statue and trading card collectors on YouTube. Gem got his start on Instagram in 2014 building up his name by selling and trading comics and key issues. Then he kicked off his channel on YouTube and just a couple years later is rounding the corner on 100 thousand subscribers and 15 million views. Fans come to him for his laid back personality, fun streams and discussions with his wife Phie, and all the latest news and reviews. With a specialty in unboxing and analyzing the biggest statues, biggest books and keeping fans updated on the biggest keys, he's an essential source for collectors.
For his first-ever exclusive variant cover, Dynamite brought in acclaimed and multitalented creator Ken Haeser. He's a graduate of the prestigious Kubert School of cartoon and graphic art and is best known for his creator-owned series
The Living Corpse.
His diverse, adaptable style has graced the covers, interiors, and scripts of such wide ranging properties as
Grumpy Cat, Batman, Teenage Mutant Ninja Turtles, Back to the Future,
and much more.
The Indiegogo campaign offers a bounty of options for all kinds of collectors. For the same sweet price, the cover can be had with traditional trade dress, as a virgin logo-free edition, or in black and white. A discounted combo deal offers all three main variants as one package. Fans looking for something more one-of-a-kind or collectible can opt for copies signed or remarked by Ken Haeser, or CGC graded copies!
With Gem Mint's prestige among statue collectors, Dynamite is also offering two of its most popular recent Vampirella statues as an add-on to pledges. A stunning sixth scale piece is modeled after one of the most iconic images of the Daughter of Drakulon by definitive artist Jose Gonzalez. A beautiful bust statue pulls from and expands on superstar Stanley "Artgerm" Lau's sold-out cover for
Vampirella
#2. Stay tuned to the
Gem Mint Collectibles YouTube channel
for a closer look at these statues and discussion of the new variant. And make sure to follow Dynamite across social media for news on any stretch goals or additions to the campaign.
Underneath the exciting new exclusive cover is the yet to be released
Vampirella
#16. This issue kicks off the epic second-year cycle of the smash-hit 50th-anniversary relaunch of Dynamite's flagship character. The always daring, boundary-breaking, critically acclaimed Christopher Priest continues his "Netflix-style" take on the character as he continues to introduce new characters, reimagine classic ideas, and bring in insightful themes. The vampiric vixen must now return to her home planet of Drakulon in search of her missing mother, with whom she has a very complicated relationship. But first she must find the man who brought her to Earth in the first place and re-create the miraculous moment from her origin. Fans can also pick up issue #15 in stores now for a great standalone issue between arcs.
GET YOURS HERE!
AUBREY PLAZA JOINS JASON STATHAM IN GUY RITCHIE'S NEW UNTITLED THRILLER
12/02/20 @ 4:07 pm EST
Source:
Deadline
| Categories:
MIsc
|
Comments
(0) |
E-mail Article
|
Add a Comment
Following her scene-stealing role in the romantic comedy
Happiest Season,
Aubrey Plaza is switching genres as she is set to co-star Jason Statham in the Guy Ritchie untitled thriller formally known as
Five Eyes
. Miramax is producing and financing with STX handling distribution.
The film was sold at the TIFF Virtual sales room and became one of, if not the biggest sale, during the market, as STX aggressively pursued it after working with Ritchie on
The Gentlemen.
Ritchie will direct and produce from a screenplay written by
The Gentlemen
scribes Ivan Atkinson and Marn Davies with revisions by Ritchie. Atkinson will also produce. Miramax will finance and produce with STXfilms, who most recently worked with Ritchie on
The Gentlemen
, is handling worldwide distribution and sales.
The story follows MI6 guns-and-steel agent (Statham) who is recruited by a global intelligence alliance to track down and stop the sale of a deadly new weapons technology that threatens to disrupt the world order. Reluctantly paired with CIA high-tech expert, Fortune sets off on a globe-trotting mission where he will have to use all of his charm, ingenuity and stealth to track down and infiltrate billionaire arms broker. (via
Deadline
)
EASTMAN & LAIRD'S 'TEENAGE MUTANT NINJA TURTLES: THE LAST RONIN' WILL HAVE A MASSIVE SECOND PRINT RUN
12/02/20 @ 3:51 pm EST
Source:
IDW
| Categories:
TMNT
|
Comments
(0) |
E-mail Article
|
Add a Comment
With more than 37,000 current preorders and climbing, IDW is proud to announce that high anticipation for the second printing of
Teenage Mutant Ninja Turtles: The Last Ronin
#1 has necessitated a whopping 50,000-unit print run — the largest reprint quantity in the company's history since their debut 20 years ago! Longtime
TMNT
readers and curious newcomers are invited to visit their local comic book shops next Wednesday, December 9th, to snag a copy of this comic book milestone!
An epic miniseries three decades in the making from the minds of
TMNT
co-creators Kevin Eastman and Peter Laird,
Teenage Mutant Ninja Turtles: The Last Ronin
takes place in a future New York City far different from the one we know today, where a lone surviving Turtle goes on a seemingly hopeless mission to obtain justice for his fallen family and friends. The debut issue hit stands on October 28th, immediately selling out and prompting a new printing that features a re-colored cover by Eastman, Esau Escorza, and Isaac Escorza.
"I want to reach out to all of the incredible fans and comic book retailers who went above and beyond with their support for
The Last Ronin
!" says Eastman. "It's taken thirty-two years to bring it to life, and even in the middle of a tumultuous year of production, you all waited for us to get the job done right… and showed us some serious love! We appreciate you all -- stay safe and stay tuned, because the rest of the series is coming soon!"
The Last Ronin
is based on an unpublished 1987 story concept by Eastman and Laird, with script by Tom Waltz, layouts by Eastman, pencils and inks by Esau and Isaac Escorza, colors by Luis Antonio Delgado, letters by Shawn Lee, and edits by Bobby Curnow. The series will run for five issues, with each issue oversized at 7" x 11" and 48 pages in length. IDW publisher Nachie Marsham says, "The huge success of
The Last Ronin
is a testament to the enduring fandom for
Teenage Mutant Ninja Turtles
and the creative team's ability to knock it out of the park. We're overwhelmed with gratitude for the fans, the retailers, and everyone involved creatively on the project —
The Last Ronin
is a wonderful example of what makes these characters special to so many readers, and to the strength of storytelling in comics."
Fans eagerly awaiting the next chapter in the
TMNT: The Last Ronin
storyline will be looking forward to the January 27th release date of issue #2! Secrets of this dark future will be revealed as The Ronin meets an unexpected new ally and the Foot Clan attempts to thwart his mission of vengeance.
"We hit the ground running with issue #1, and have no intentions of letting up with the second issue or beyond," says Waltz. "If you think the future looks dramatic for our last ronin, just wait until you see the history that has brought him to this point!"
For information on how to acquire copies of
TMNT: The Last Ronin
comic books, please contact your local comic shop or visit
www.comicshoplocator.com
to find a store near you.
HUGH KEAYS-BYRNE, DASTARDLY VILLAINS IN 'MAD MAX' FILMS, DIES AT 73
12/02/20 @ 3:41 pm EST
Source:
Hollywood Reporter
| Categories:
MIsc
|
Comments
(0) |
E-mail Article
|
Add a Comment
Hugh Keays-Byrne, who portrayed Toecutter in
Mad Max
before returning 36 years later to play another villain for Australian director George Miller, Immortan Joe, in
Mad Max: Fury Road
, has died. He was 73.
Brian Trenchard-Smith, who directed Keays-Byrne in the 1975 film
The Man From Hong Kong
(also known as
The Dragon Flies
), reported that the actor died Tuesday in hospital. No other details were immediately available.
Keays-Byrne also was known for his turn as the back-stabbing Grunchlk on the Australian-American series
Farscape
and a 2004 miniseries.
Miller cast Keays-Byrne as the ruthless biker/gang leader Toecutter in the low-budget
Mad Max
(1979), then asked the actor to return to the franchise as Immorten Joe, the oxygen-mask-wearing leader of a post-apocalyptic village who uses women to birth his followers, in
Mad Max: Fury Road
(2015).
In an interview with
USA Today
, the filmmaker said he wanted to bring back Keays-Byrne because an early print of the original
Mad Max
was released with a poor American dub of his voice. "I always felt so guilty about that. I thought I had to make up for it in some way," he said.
Keays-Byrne also was reportedly on board to play the Martian Manhunter in Miller's Justice League film that was set for a 2009 release but abandoned. (via
THR
)
DF News extends its sincere condolences to Mr. Keays-Byrne's family, friends and fans.
'MOTORHEADS': TEEN DRAMA SERIES IN THE WORKS AT IMDB TV
12/02/20 @ 3:34 pm EST
Source:
Deadline
| Categories:
MIsc
|
Comments
(0) |
E-mail Article
|
Add a Comment
Deadline
reports that IMDb TV is developing
Motorheads
from John A. Norris and Cavalry Media, a coming-of-age ensemble drama that leans into the escapism and joy that comes from everything from changing the oil on your first car to your first kiss. In a blue collar steel town trying to reinvent itself, some characters will navigate the hierarchy and rules of high school, while others will be running from a dark past looking for new beginnings.
Norris is currently an EP on The CW's
All American
. Prior to that, he served as a Co-EP on CBS'
Bull,
a Co-EP on ABC's
Deception
and as Supervising Producer on The CW's
One Tree Hill
. Norris was also an EP and Co-Showrunner on VH1's comedy series
Hindsight
.
Says Cavalry Media Co-founder Dana Brunetti, "In such a challenging year, it's refreshing to see IMDb TV be so bullish with an exciting, new and original series. We were fortunate to find a talented and seasoned showrunner like Johnny Norris to bring this idea to life with a thrilling and diverse world of characters and stories."
'WONDER WOMAN 1984' EYES EARLY DEBUT ON DEMAND IN U.K.
12/02/20 @ 3:28 pm EST
Source:
Variety
| Categories:
DC
|
Comments
(0) |
E-mail Article
|
Add a Comment
Wonder Woman 1984
" will play in cinemas in the U.K. for just one month from Dec. 16 before potentially getting a premium video-on-demand (PVOD) release on Sky,
Variety
reports.
It's understood that the deal between Warner Bros. and Comcast-backed pay-TV operator Sky isn't yet complete and exact terms are still being hammered out, but discussions are in advanced stages. While the blockbuster sequel starring Gal Gadot won't appear in theaters and on the movie service day and date, the move signifies unprecedented flexibility on the part of the country's exhibitors.
Sources indicate that the Wednesday, Dec. 16 theatrical release date for
Wonder Woman 1984
first mooted by Warners last week in its international release plan has now been confirmed with local exhibitors. Meanwhile, it's believed that
Wonder Woman 1984
could drop on Sky as early as one month after the movie hits theaters, though this isn't yet confirmed. The film could appear in various forms on Sky — for example, it may be rented via a standard transactional VOD deal through Sky Store, and then land on movie service Sky Cinema.
The Sky deal is a clear sign of the times in the U.K. and it's worth noting that exhibitors are keen for the arrangement to be an exception made in extraordinary circumstances rather than the rule going forward.